Budapest had been on my 'to-do' list for quite a while, and last June I finally got around to it. I made minimal preparation for the visit, just referring to a couple of YouTube videos and beery website links beforehand, so I intended to ad-lib and take it day-by-day, rather than plan it like an SAS operation.
Before I get into the report itself, here's a little montage I made of the visit
TUESDAY 20/06/23
Due to a delayed flight – quelle surprise (or should that be 'micsoda meglepetés')? – we didn't reach our apartment until just gone 11 pm the previous evening, and we didn't have the time (or energy) to go exploring then, so this was our first day of the holiday proper. Our AirBnB, though located bang in the middle (Pest side) of the city, was very quiet, due to being part of a courtyard complex located behind two hefty, locked steel doors to keep the rabble out (or in). Although basic, it was clean, comfortable and excellent value for money.
We ventured out onto the streets and just headed somewhere at random. In less than 20 minutes we were beside the River Danube and the magnificent Hungarian Government Building. After a couple of hours of strolling, I had worked up a thirst, so it was time for the first beer of the holiday. A quick referral to Google maps showed me that the nearest bar was Madhouse – Anker köz 1-3, 1061, Budapest. This was an ex-BrewDog bar, now a brewpub run by Mad Scientist brewery.
For some reason, the staff were reluctant to let anyone near the bar, insisting that they take a seat and order from a QR code-scannable Untappd menu instead. From where I sat, it looked like there were 24 taps behind the counter. There appeared to be quite a diverse choice of brewing styles available, but only two took my fancy, namely: DDH Madhouse 5.5% NEIPA [3.5] which, despite its strength, was somewhat wishy-washy. This was followed by a small glass of All These Flavors And You Choose To Be Salty 10.7% TIPA [3.5], which really was more like a Belgian Dubbel than a TIPA.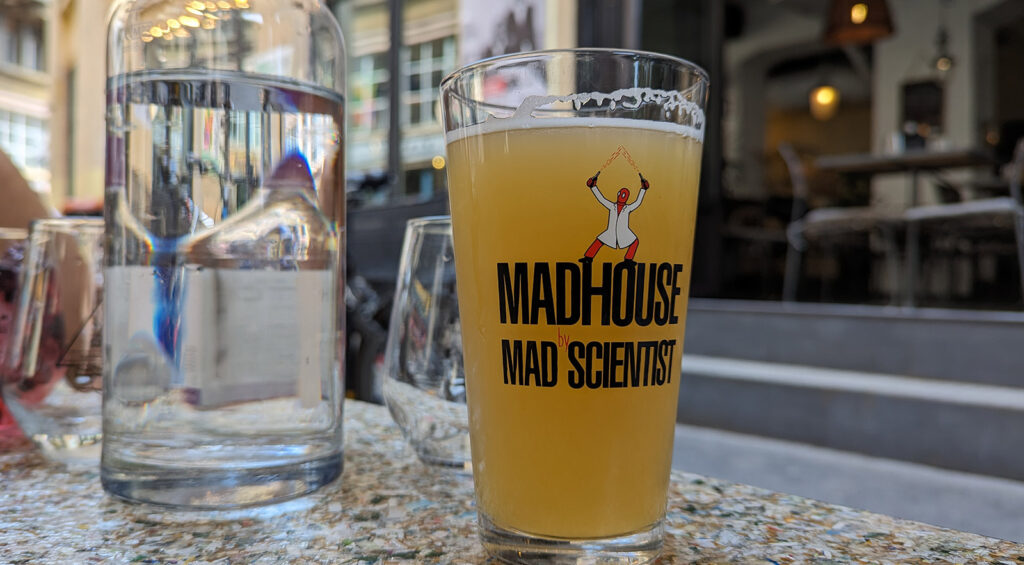 I forget why, but we had to return to base for some reason and on the way back, only two corners away from our flat, I saw another bar. Mental note – next stop! Beerpoint – 1077, Erzsébet krt. 30, 1073, Budapest was a typical corner pub with large screen TVs showing sports. It also had 18 taps, sporting a decent range of beers! I sampled two in here: First up, a Brew Your Mind – Yellow Haze 5.5% NEIPA [3.75] followed by a Fehér Nyúl – Mangdala 5.5% pastry sour [3.5].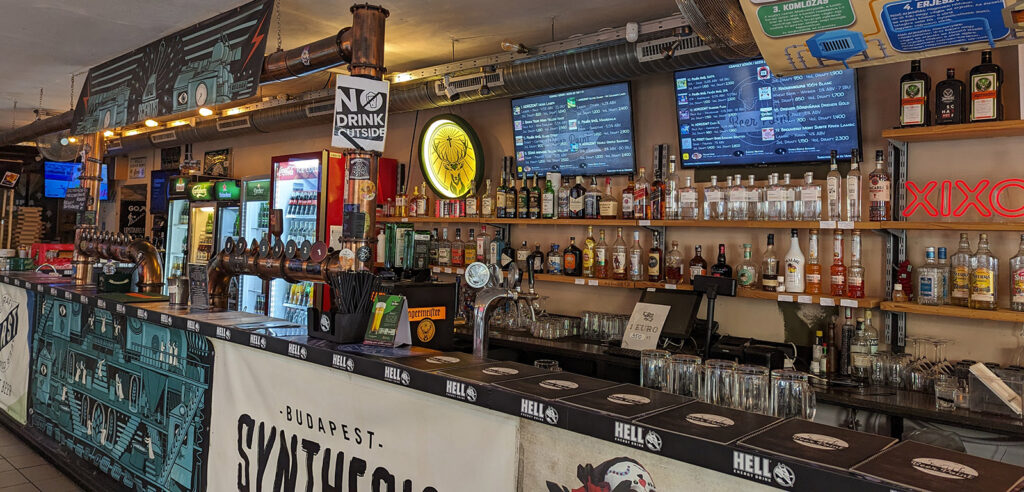 I asked the guy behind the bar for other crafty recommendations in town, and the nearest was just a couple of hundred yards away, so we decided to make that the last stop of the day.
Hops – Wesselényi u. 13, 1077, Budapest was a proper craft microbar with a small frontage to the street and an oil barrel table with two stools outside on the pavement. This was marked up as 'reserved' so we took a seat inside. It seemed to have a pretty decent selection on draft and a couple of big can fridges, but when you looked a bit closer, they were all from a handful of brewers. I opted for a fridge beer in here and chose a can of Tempest (Scotland) – Luminous Spaces 6.0% APA [3.75]. We took our seats inside and the barman duly made his way past us and sat at the aforementioned 'reserved' table outside! Know your place, you lowly punters!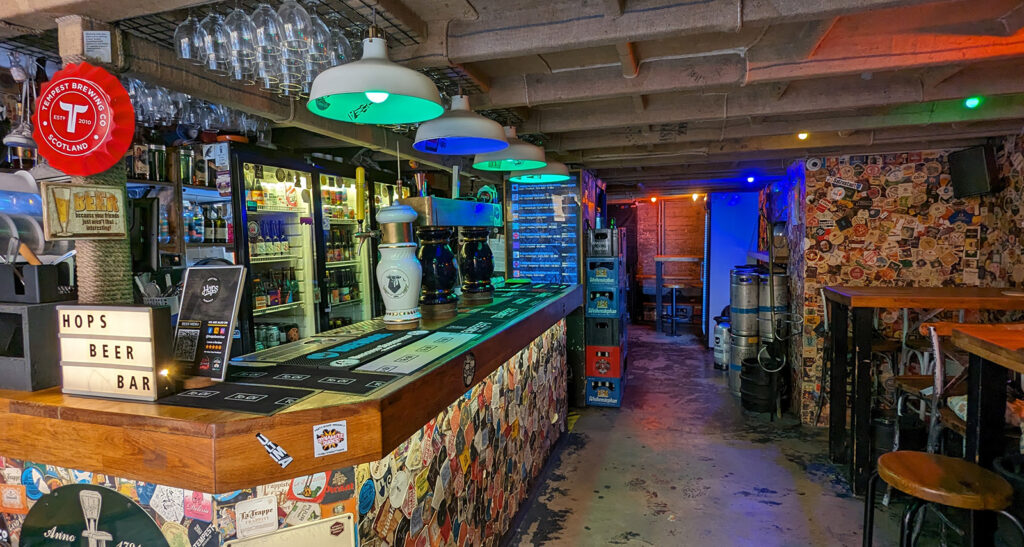 It had been a long, hot day so we decided to call time and made the short walk back to our pit. The guy at Beerpoint had given me some more recommendations, and we would be trying them all over the next few days.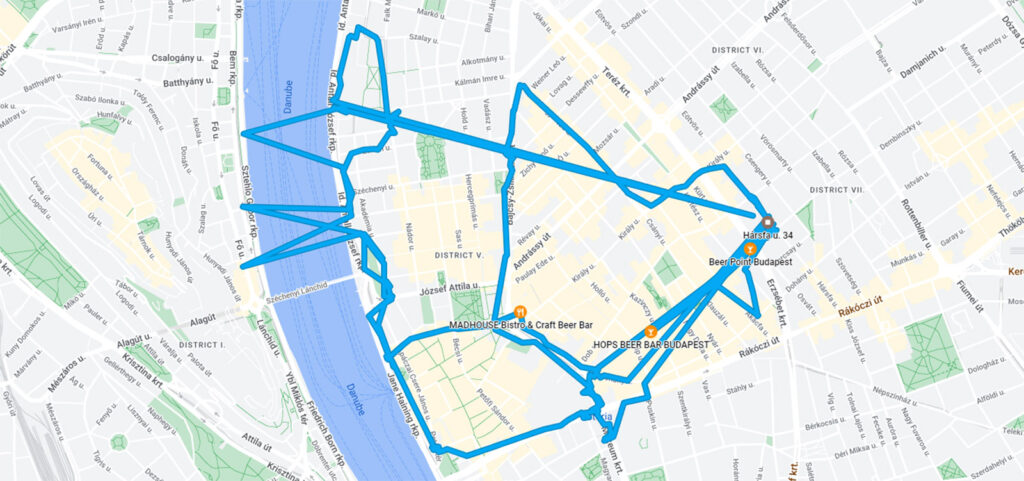 WEDNESDAY 21/06/23
Today started much the same as yesterday – we just set off on foot, mid-morning, with no planned itinerary. We ended up by the Parliament Building again and decided to cross the Margit (Margaret) Bridge to the Buda part of the city. This side of the Danube is much less hectic and, many may argue (with good reason), more scenic than its Pest counterpart. There's no doubt that it is less busy than the main city (apart from the tourist traps) and we found some lovely green spaces to sit to rest and shelter from the heat of the sun on our long way up to the hill to the Castle District.
After a sweltering nine-mile hike I thought I'd done enough to earn a beer! Mrs Belvoir happily agreed, and in a few minutes we were at Csakajósör (which translates to Onlygoodbeer) – Kertész utca 42-44, Budapest. This is basically a dingy side-street bottle shop (we hesitated before entering because we thought it was closed), with a couple of sit-in formica tables for worn-out old geezers like us. A very modest draft selection of six beers, but an absolute wealth of bottled and canned goodies filled every part of the available wall space. to the left was a double fridge, dedicated to Hungarian breweries only. The rest of the place had brews from all over the world, including some canned bangers from the likes of Hudson Valley and Other Half from the USA. Priced at an eye-watering €17 a pop though, I decided to go for something a bit more local!
I chose one draft and one canned beer. The first (on tap) was Dealbreaker – Noise Trade 7.7% DNEIPA [3.5], a Hungarian contract or 'ghost' brewery. Although they have a website (well, a Facebook page at least), I couldn't find where it was actually brewed. It wasn't too bad though. Second up was a can from Geman brewer BrewHeart – Conversations With Blueberry More 5.5% Pastry sour [3.5]. Again, pretty middle of the road, but tasty enough.
I really loved this place despite its appearance and location. Quite a few punters came in for bottles and cans whilst we were there, and it seemed like they were doing good trade, even on a quiet weekday afternoon.
Suitably refreshed, we decided to start the long walk back to our side of the river and take another couple of pubs in on the way back to base. En route, we walked past Kandalló Kézműves – Kertesz u 33, Budapest. It looked interesting enough to backtrack and have a look inside. Sho nuff, they had a pretty good array of taps and the nosh smelled good so we decided to make a pit stop. 20 taps to choose from but time for only the one. I plumped for a Yeast Side – Side of World – New Zealand 6.0% NEIPA [3.75] which was very palatable. We sat at the open front of the pub and enjoyed the evening sun whilst we waited for our food to be served. The pulled pork bun that arrived was equally delicious. Well recommended.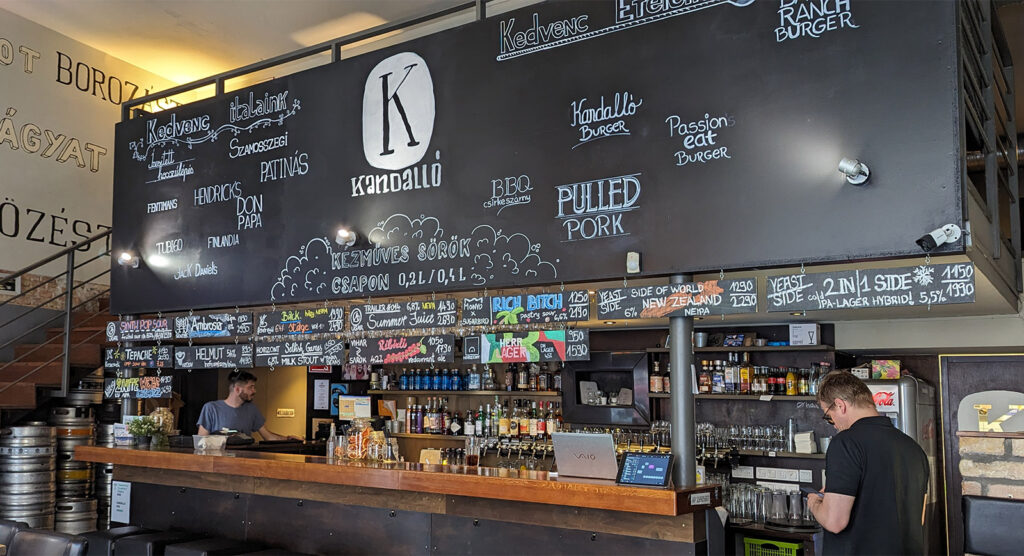 I was totally stuffed from the pork burger at Kandalló so had to literally waddle to our last venue of the day which, thankfully, was en route home. Hopaholic – Akácfa u. 3, Budapest is another dedicated geek craft microbar, with an unassuming frontage on one of the city's busier side streets. This was actually the busiest bar we'd visited so far. On entering, there were seating areas to the left and right of the bar, with another area upstairs directly over the bar. I could imagine this place buzzing later on in the evening.
A choice of a dozen or so taps here, but I went for a Gamma (Denmark) – Unrelenting Highs 8.0% DIPA [4.0]. Ironically the best beer I'd had so far in Hungary!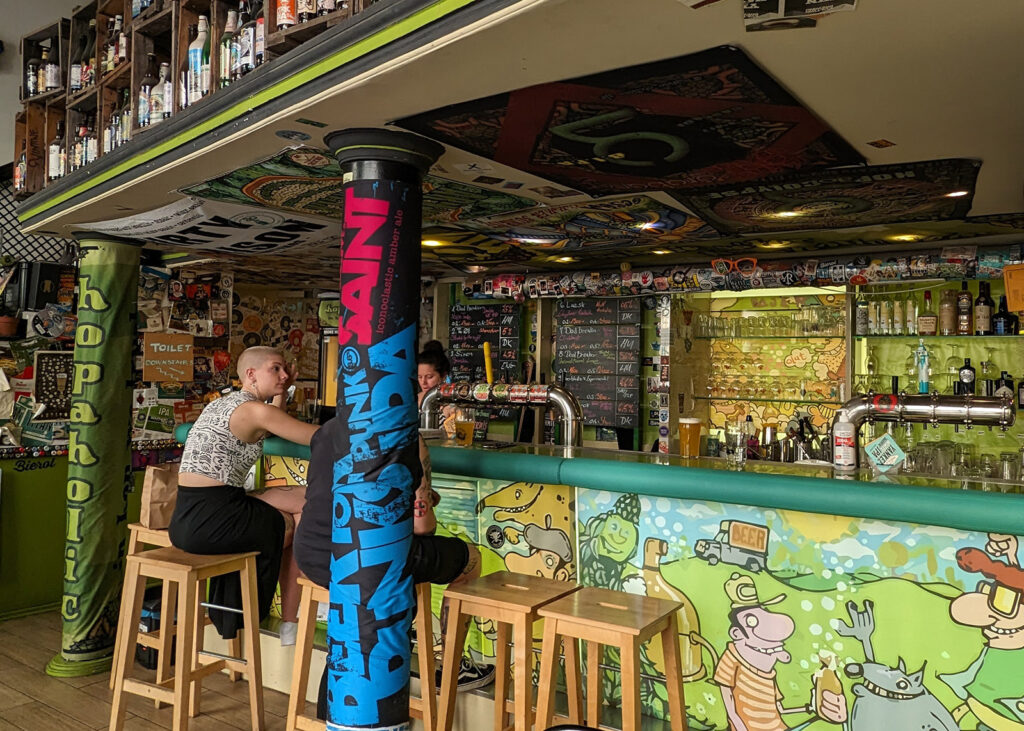 And so to bed. It had been a long day and I certainly was ready for some kip. That was ruined when I was woken up by what I thought were lorries rumbling down our road. Through my eyelids, which seemed stuck to my eyeballs, flashes of light told me it was a thunderstorm. And it was a storm I've not seen the likes of since our visit to Phoenix. The thunderclaps were so frequent that they merged into one another relentlessly for over half an hour, and it was quite an experience! Thankfully it all subsided soon enough, and we were able to get that well-earned kip.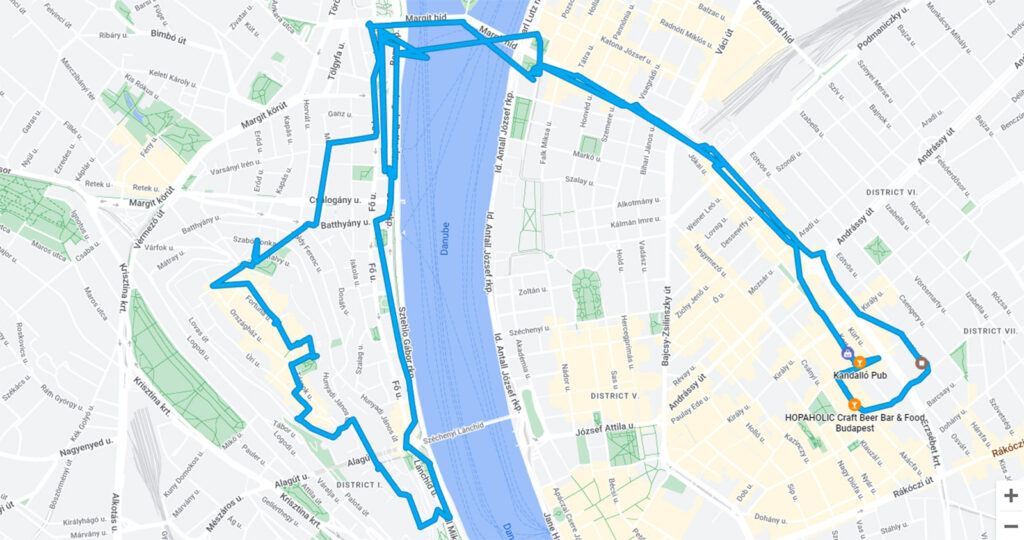 THURSDAY 22/06/23
The next morning's air was somewhat fresher than the claminess of the day before. It didn't last though, and by midday, the temperature was already nearing the thirties. We liked what we saw the previous day and had already decided to cross the river again to explore Margitsziget (Margaret Island) and visit the ancient Roman site of Aquincum.
Margaret Island splits the Danube in two for about 1.6 miles, just to the north of the city. It is a beautiful green space comprising of parks, a musical fountain (or two), Japanese and rose gardens, a mini-zoo, a Medieval monastery and other ruins, plus other stuff that will easily keep you occupied for half a day or more, most of the attractions being free of charge. It is a wonderful, well-kept, green, peaceful, and understandably popular park that other cities should be envious of.
Having spent a pleasant three or four hours exploring the island, we continued the walk north for a further two hours, following the tram line (I recommend you take this, rather than walk!) to the archaeological site of Aquincum, a Roman ruin dating back to the year AD41. The entry fee was a very reasonable HUF2,200 – about £5.15 for both of us (don't forget to ask for your senior discount!) and another interesting couple of hours were spent looking around the site and adjoining (thankfully air-conditioned) museum. It was mid-afternoon by this time, so decided it was beer o'clock.
We retraced our steps and after a short(ish) walk arrived at Mad Garden Buda – Miklós tér 1, 1033, Budapest. This is a render-walled garden on the edge of a housing estate with pop-up beer and food units. The entrance is a gate in the wall with a small sign above that you could easily miss. We did – twice! It's run by Mad Scientist brewery which also has the Madhouse back in the city that we visited on our first day.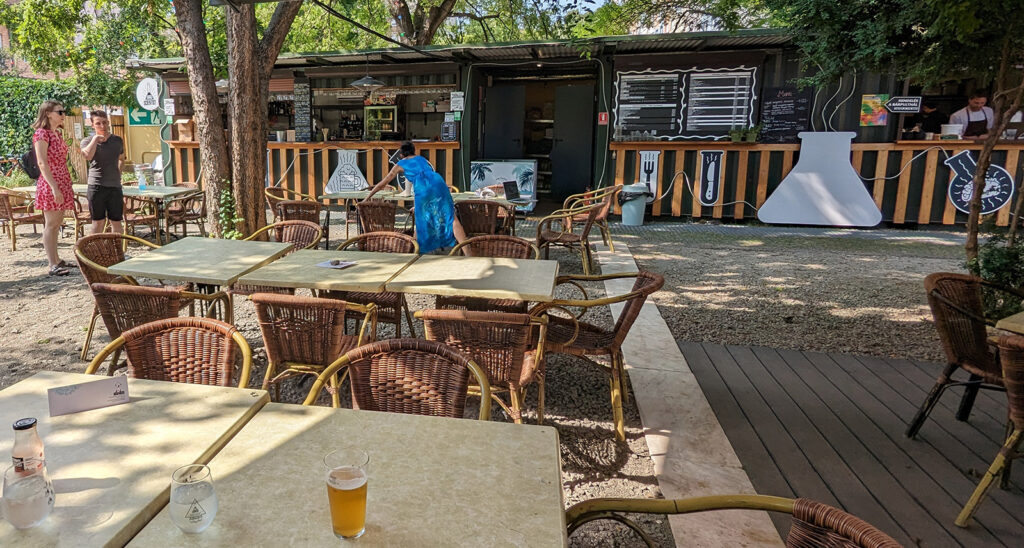 We arrived just at opening time and despite there being only one other couple there, most of the numerous tables had 'reserved' signs on them, so I suspect this place got really busy later on. We snaffled one of the reserved tables anyway and I ordered one of each Quantum Flavourdynamics 8.3% Fruited IPA [3.75] and Szilvás Gombóc 10% Plum dumpling imperial pastry gose [3.75]. Both were enjoyable enough, but I had the impression (so far) that the Hungarians haven't yet quite grasped the concept of 'craft' beer.
I didn't realise until I looked at Google maps that we'd walked over nine miles already and we were both knackered, mainly due to the stifling heat, so we ordered a Bolt (Uber don't operate in Budapest) taxi to our next destination.
20 minutes and six miles later we arrived at KEG Sörművház – Orlay u. 1, 1114, Budapest, another recommendation from the geezer in Beerpoint and what a winner this was. Steps from the street led down to a long, vaulted underground bar reminiscent of some of the Belgian bars and German beer halls, and what a gem for the craft beer drinker! It was only 6 pm and the place was heaving already and looking at the menu – 32 taps available – I could tell why!
I had two in here: Zichovec (Czech Rep) – Nectar of Happiness 17 7.0% NEIPA [4.0] and a UGAR – Trailer #014 – Summer Juice 6.8% NEIPA [4.0]. Both hit the spot and went down a treat with the delicious food we ordered. Another big thumbs-up from me!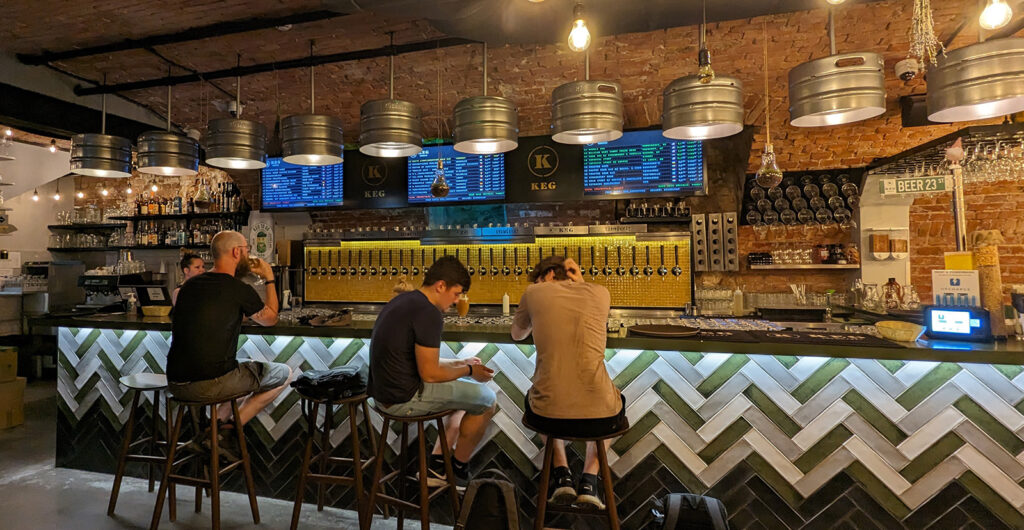 We were still on the 'wrong' side of the river and a couple of miles from our digs so decided to have a slow walk home in the evening sun and call it a wrap. It had been a lovely day out and one that will remember for a long time.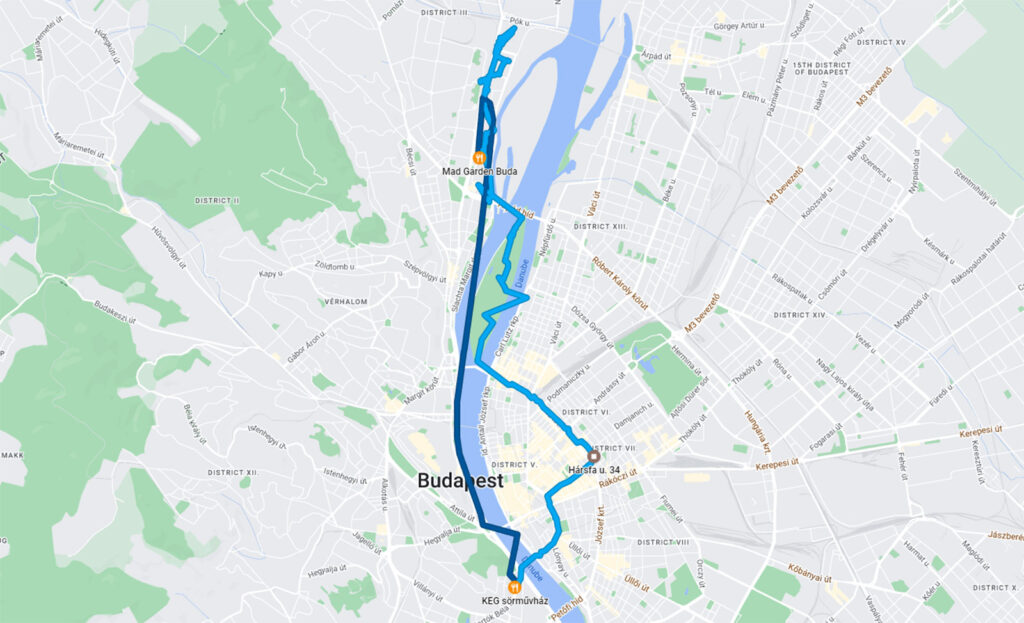 FRIDAY 23/06/23
Today we walked to the Great Market Hall, a huge indoor market selling everything from kippers to slippers. The place was extremely busy with local shoppers and tourists alike. What an amazing place! Our second stop was the Hungarian National Museum. We tried to negotiate our old codger's discount on the entry price, but the woman behind the counter was having none of it! If you like fusty-smelling uniforms and faded pictures of ex-statesmen, then I suppose the entry fee of HUF5,880 (£13.60) was good value. Anyhoos, it killed time until the bars opened!
The first pub of the day was Bölcső – Zenta u. 3, 1111, Budapest. This was another underground bar, but rather dingy with none of the character of KEG, visited the day before. The beer choice was somewhat lacklustre too, with only the Mad Scientist – Trashman 5.3% NEIPA [3.25] taking my fancy. Rather than sit in the gloom of the bar, we elected to sit at one of the pavement tables under the shade of the large parasols. It was hot, hot, hot and it felt like another storm was in the air.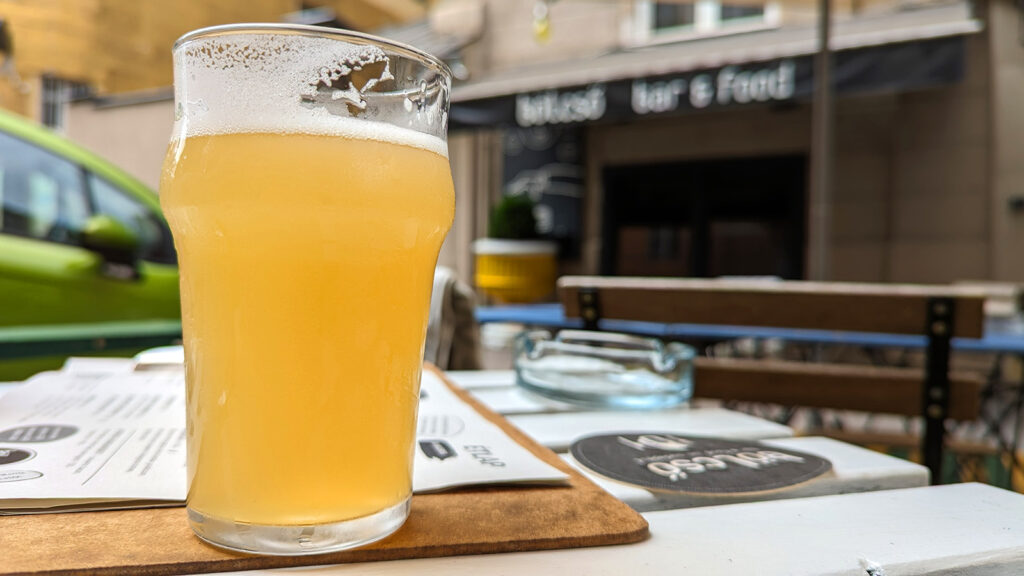 The next stop was a three-mile walk and was one of the original 'ruin pubs' and quite possibly the first to start the craft scene off in the Hungarian capital. 'Ruin pubs', or bars, were originally dilapidated buildings bought by budding entrepreneurs who added some tables and chairs, served cold beer, and called them bars. Initially low-cost venues, they have, over the years, become trendy and somewhat touristy.
Élesztő – Tűzoltó u. 22, 1094, Budapest is probably the best known 'craft' ruin pub. It is gloriously run-down and dirty. You certainly wouldn't take your mother-in-law there. This afternoon some death metal was cranking out of the speakers, and I was in my element! 20 beers on tap available, from which I sampled two: Horizont – Hazy Queen 6.0% NEIPA [3.75] and First Craft – Blueberry Ale 4.5% Fruit beer [3.75]. I'm happy to say I've been to Élesztő, but it's not a place that I would frequent regularly if I were a local.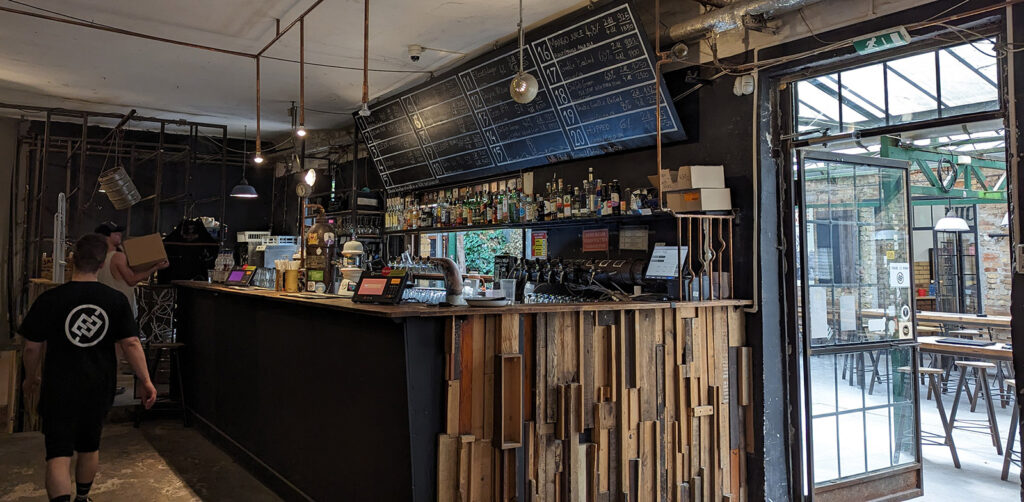 Our third stop of the day was the brewpub Gravity – Lónyay u. 22, 1093, Budapest. Another basement bar with a blink-and-you-miss-it entrance (we did – twice – and had to double back), it couldn't have been a bigger contrast to the murkiness of Élesztő! This place was spotlessly clean and the bar was light and airy, despite its small size and being underground.
The bar took up the length of the room to one side and in one of the opposite corners, the brew kit was visible through glass doors. Gawd knows how they got all that equipment down there! This looked promising! 12 taps here, all serving their own beers. Expectantly, I ordered two: Prototype: Citra Hazy 6.3% NEIPA [3.75] and Equinox – Spring Sour 4.2% Fruited gose [3.75]. Both were delicious and I'm happy to report that these guys have really nailed the craft beer thing! Perhaps they should be giving the others some tips?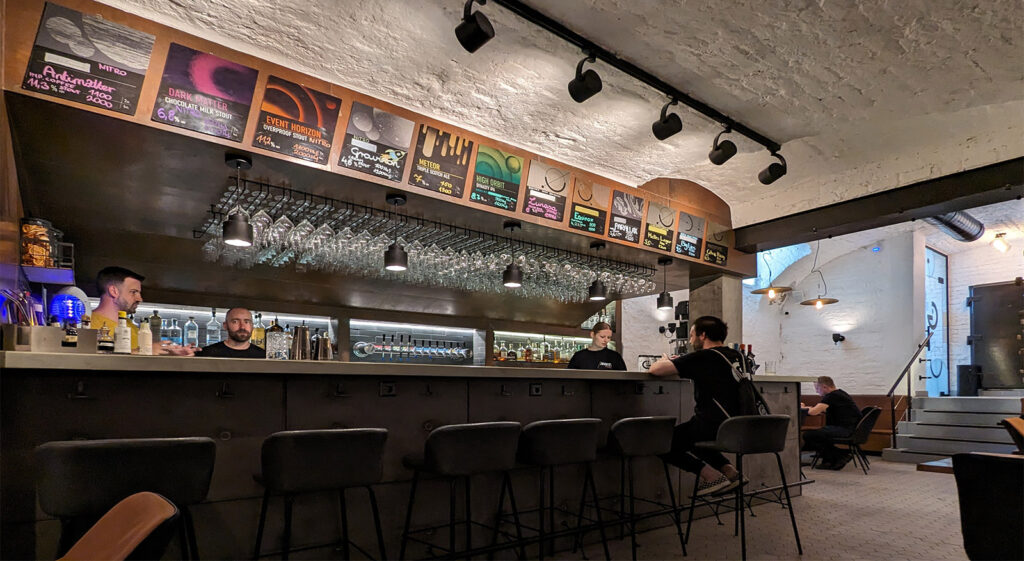 Our fourth, and final stop. of the day was another brewpub we'd spotted a couple of days previously when it was closed. It was on the way back to the AirBnB, so it made sense to pop in whilst passing.
Craft Head – Rákóczi út 29, 1088, Budapest, is a large, pretty corporate-looking affair occupying the entire corner of a city-centre building. It felt like it was trying to cater to more up-market clientele, rather than this common English slob – the large seating area had earlier been reserved for a wedding party and the pub closed to plebs until 6 pm. The bar had a row of 24 taps, but none of the Craft Head beers took my fancy, so I went for a Maltgarden (Poland) – Perfect For Everyday 5.5 Pastry sour [3.75]. It went down with the fancy food we had. I know it was fancy because the chips and salad were served on a slate.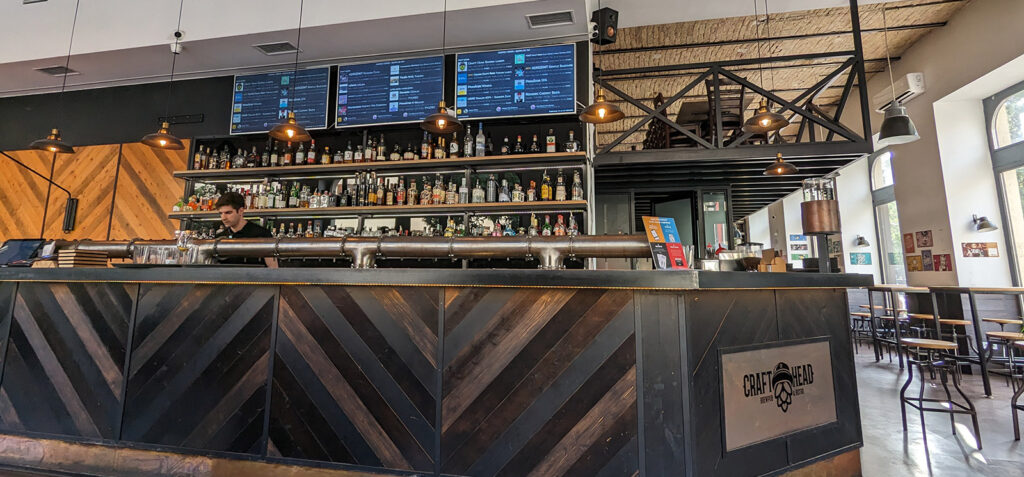 That was another day done. The expected storm never materialised and it was another sticky night's slumber.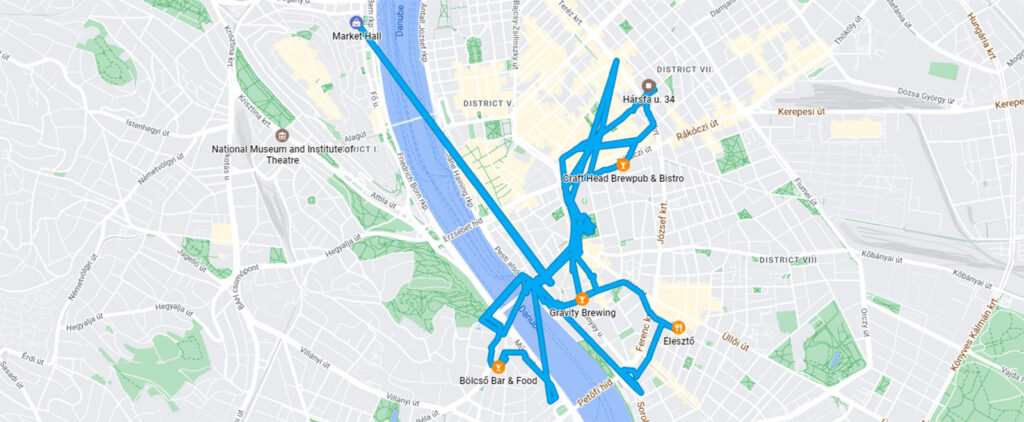 SATURDAY 24/06/23
We had seen several dozens of Harley-Davidson motorcycles around the streets of the city over the last couple of days but not thought twice about it, until the driver of yesterday's Bolt taxi asked us if we were in town for 'the convention'. When we enquired as to the purpose of 'the convention', he told us it was HD120 – the 120th Anniversary of Harley-Davidson, with, it was claimed, tens of thousands of Harleys taking part in the parade. I have no reason to dispute that claim, as the roads were absolutely full of them being ridden up and down by their peacock-strutting, ageing-rocker owners, and the entire city was overwhelmed by the distinctive, rumbling Harley engine sound. Which is great if you're a motorbike enthusiast. Less so if you're a grumpy old twat like me.
We decided to try and get away from the noise and took a walk through the City Park. No such luck! There were hundreds of them there, spoiling the pleasant, if a bit run down, green space. We had a quick nose around the pop-up Asian market which had laid its stalls out on the green and walked around the small (partly dried-up) lake and the Medieval buildings, but the noise was just too distracting. So, ahead of schedule, we sought refuge in a pub (I wasn't complaining).
Our first stop was another brewpub: Rizmajer Sörház – József krt. 14, 1085, Budapest. The choice of beer styles was pretty underwhelming here and, against my better judgment, I went for their Fekete Cherry 5.5% Cherry porter [2.5]. I wish I hadn't bothered it was just like Vimto, with no hint of the 5.5% alcohol that it claimed. I had no desire to try any of the others so we were out of there!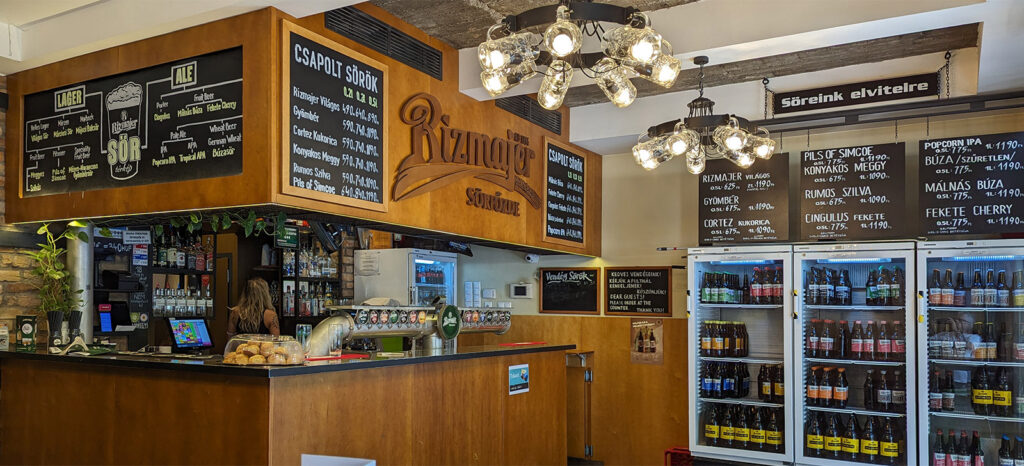 The next stop was at the different end of the spectrum! A chance find we just happened to walk past, Beerselection – József krt. 22-24, 1085, Budapest was more of an off-license than a bar, although it did have plenty of seating, both inside and out on the pavement, plus a little balcony area upstairs overlooking the bar. It had a selection from four taps on the small serving counter, but also no less than 26 bays of refrigerated goodies from all over Europe.
The chap behind the counter seemed impatient for me to make a choice, but when I asked him for advice – "I know everything about beer" he told me – he opened up and became quite chatty. I finally went for a can from a Polish brewery I hadn't heard of before: Magic Road – Beauty – Mango, Pineapple, Banana & Coconut 6.5% Pastry sour [4.0]. I believe this is a contract brewery based in Warsaw but couldn't find any more information. Anyone who knows, please comment below (Gazza Prescott?). I didn't really care – it was a belter!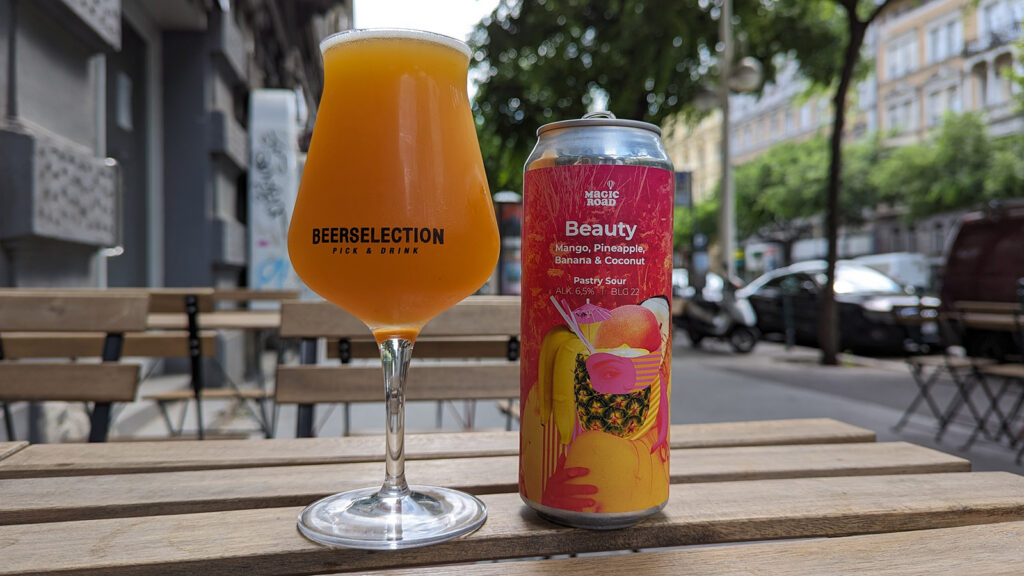 We had already planned to eat that evening at Gringo Amigos 'Mexican Food Factory' so we slowly made our way back, not missing the fact that the route took us past Levendula ice cream parlour (brownie points earned from Mrs Belvoir). We also 'happened' upon another 'ruin pub', the aptly named Ruin Brew – Akácfa u. 54-56, 1073, Budapest. This was also a brewpub, so as I'd just earned my points for the day I thought we'd pop in and sample a couple. My choices were their New England IPA 7.8% NEIPA [3.25] and Lime Gose 4.5% Fruited gose [3.5]. Both beers were pretty average, truth be told, but the place was buzzing with people and there was an open mic session in, er, session. We sat by the open windows and spent a pleasant hour or so.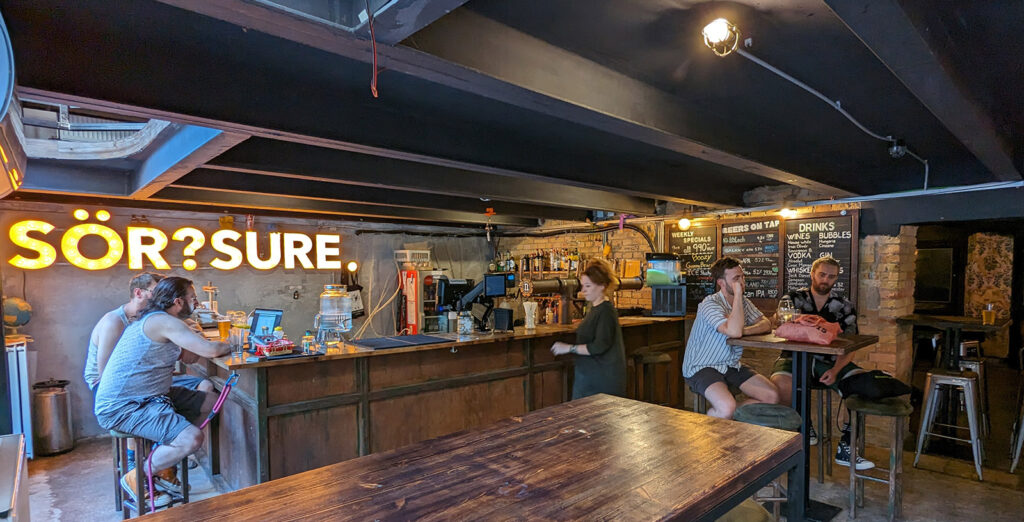 We finally reached Gringo Amigos a bit later than planned and had to wait for a seat, but it was worth the wait! This is a make-your-own, mix-n-match place. Basically, take a tray, join the line and just point at what bread/meat/bean/salad/rice combo you fancy. Amazing place! The wrapped meals were so heavy that I almost had to request a wheelbarrow to get them from the counter to the table. Delicious, great quality food and friendly service. Totally recommended.
I was so stuffed after eating my burrito that I couldn't have drunk another beer, even if I'd wanted one, so it was off back to the apartment for a bit of a lie-down!
SUNDAY 25/06/23
This was our final full day in Budapest so I wanted to visit one of the last recommendations that the geezer from Beerpoint gave me. Hetedik Lépcső – Rákóczi út 13, 1088, Budapest is a rather bland and soulless bar (apart from the unexplainable presence of a giant stuffed mole) with a modest draft selection from eight taps, but they did have an interesting selection of cans and bottles in fridge adjacent to the bar.
The first, a beer from the bar, Chroust (Czech) – Exotic Fruit Salad 2 5.4% Fruited sour [3.5] was disappointingly average so I decided to dip into the fridge. First up, another Czech brewer: Zichovek – Love Is In the Air 7.0% NEIPA [4.0]. I've only just discovered these guys, but they are rapidly becoming one of my favourite European brewers and everything I've had from them so far has been superb.
The second can, a collaboration brew between Piggy (France) and Sibeeria (Czech). Collab Piggy X Sibeeria 9.5% TNEIPA [4.0] was another banger! So, despite my initial impressions, Hetedik was absolutely worth finding!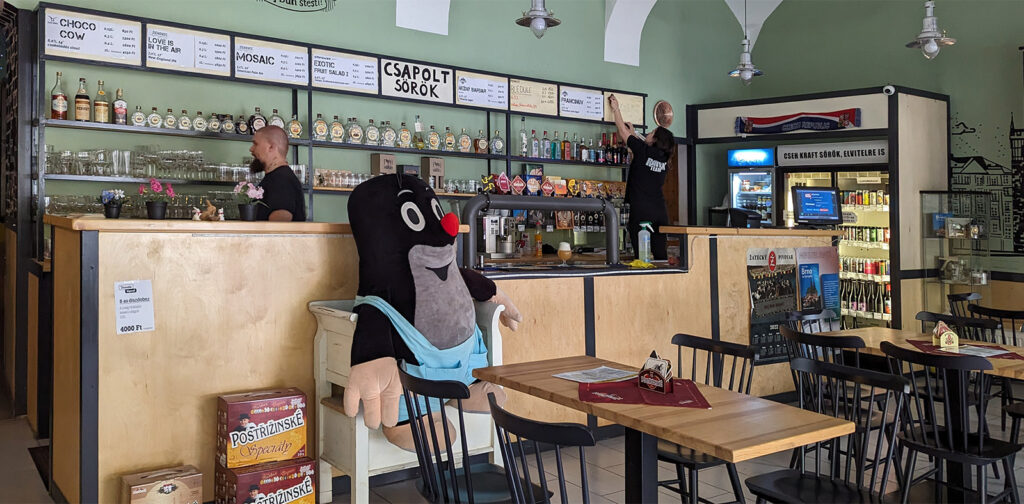 We wanted to cross the river one last time. I Googled 'craft bars' and Ganz Söröző – Ganz u. 6, 1027, Budapest showed up as a short walk from the Buda side of Margaret Bridge. This place was a true micropub, three or four steps down led to a small room consisting of a small bar serving (as far as I could make out) just one single beer on tap. Inside seating was limited to two stools at the bar, the rest being outside on the cobbled forecourt. All the furniture looked forlorn and the place seemed very run-down in general. It did have a certain charm, however, and appeared to be doing a decent trade. We arrived there around tea time and the sun had lost much of its sting, so we sat outside at one of the rickety tables.
Despite the bar's small size, they'd managed to lever in two single fridges and due to the lack of draft offerings, I had a rummage through them. There were cans from a couple of breweries that I hadn't heard of so I tried one of each. hübris – müggy 4.2% fruit beer [3.0] and a Reketye – Limeberry Twist 6.0% Pastry sour [3.5]. Both were exceedingly average and nothing to write about, but despite the dilapidation and lack of quality beer here, it was still a nice place to just sit and kill an hour or so.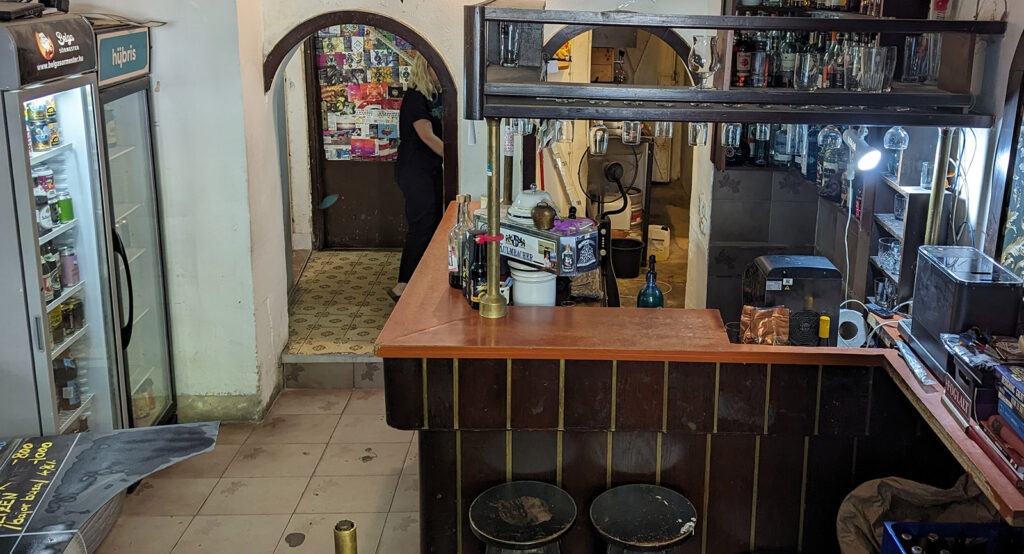 And with that, our Budapest break was all but over. We took a slow walk back to the AirBnB (stopping at Gelarto Rosa for ice cream, of course) taking home a shedload of wings from the Hot Wing Factory for supper.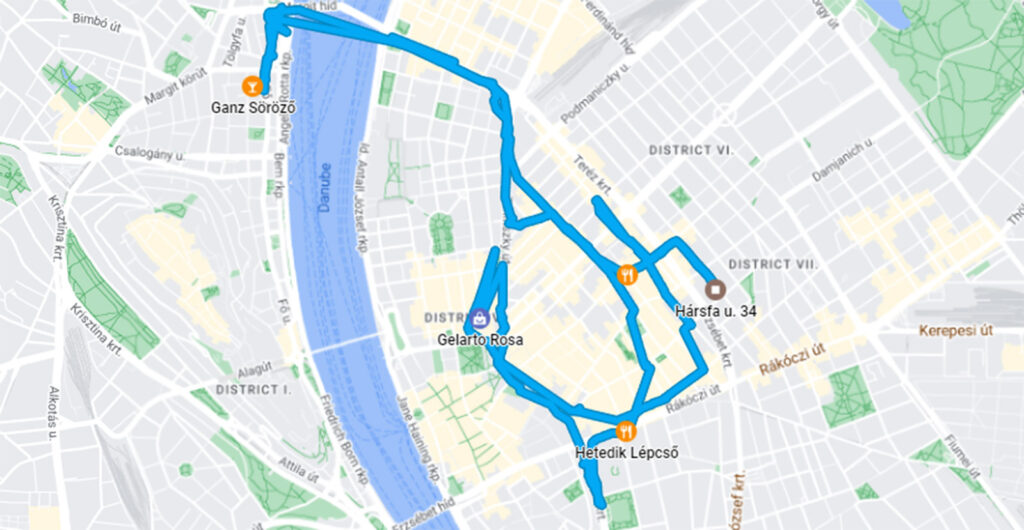 MONDAY 26/06/23
Our flight home wasn't until early evening so we thought we'd find somewhere near the airport shuttle bus stop to stow our bags and have a leisurely stroll around to kill a few hours. We found, of all unlikely places, a Chinese restaurant, that took BOTH our bags for the grand sum of six Euros. It probably costs that per hour in London! As you can see from the route map below, we had a fairly long stroll – 15 miles to be precise!
We rewarded ourselves back in the city centre with a chimney cake (well, we'd pre-burnt the calories hadn't we?) and even had time to pop back to Hops Bar – Wesselényi u. 13, 1077, Budapest – the only place we visited twice. We spent the last hour or so there, in which time I tried two cans: Tempest (Scotland) – Long White Cloud NZ 5.4% Pale [3.5] and an appropriately named Dugges (Sweden) – Jet Set 8.0% DIPA [4.0]. The perfect end to a wonderful week!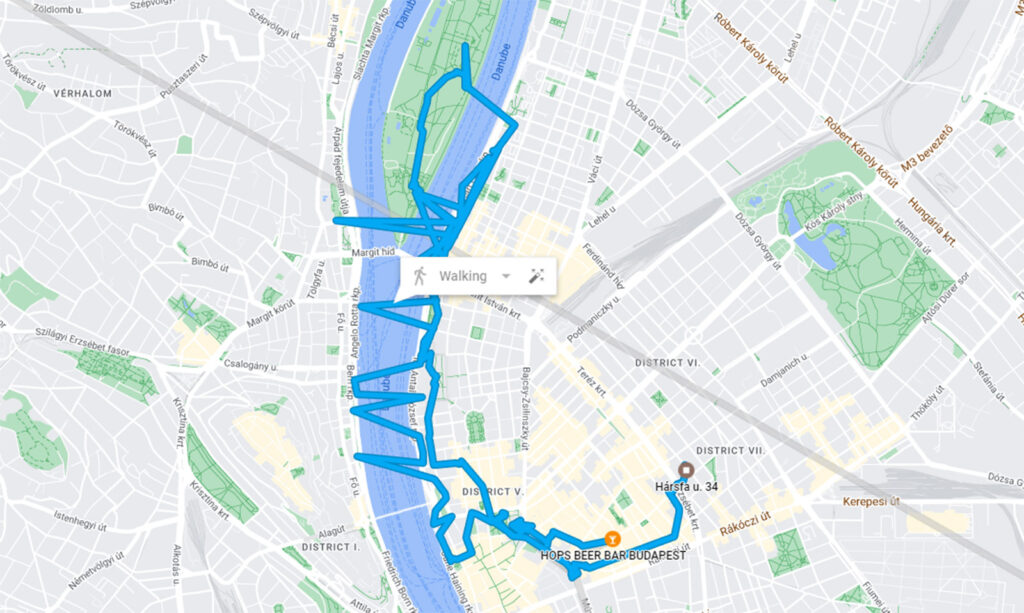 Budapest is a beautiful city, full of culture, history, fantastic architecture, green spaces and, of course, some fantastic bars, even if most of the Hungarian brewers (the ones I sampled at least) haven't quite cracked the craft beer thing yet. But it's not all about the beer (Mrs Belevoir tells me constantly) and Budapest is a perfect getaway destination. If anything, a week's stay was perhaps a little too long, but that's how our flights fell. And that extra few days allowed us to explore the place at a much more leisurely pace.

The numbers in brackets [ ] are my beer scores (out of 5). Find me on Untappd
Some tinnies wot I have necked.
And some further pics from Budapest below.