SATURDAY 08/10/22
The day started off so well! It is an easy ride from Concord to Oakland International Airport, via the BART then changing to the new 3.2-mile long, elevated, driverless AirTrain link to the airport terminal. We arrived at the airport the obligatory two hours early and were through security and sat in the departure lounge in good time for our scheduled 12.55 departure with Spirit Airlines. And that's as good as it got all day.
The flight was delayed time after time, with no explanations given. After hanging about for around nine hours, we finally got off the ground at 7 pm. Although scheduled for a 1h20 flight, we were actually in the air for 59 minutes. A nine-hour wait for a one-hour flight! I wasn't best pleased, to say the least. We finally emerged departures at LAX at around 8.15 pm.
To say Los Angeles airport is busy would be a vast understatement. It is utter frikkin' CHAOS (or at least it was when we were there!). The lines for the taxis are about a mile's walk away and then the ranks are divided up between Uber, Lyft and traditional Yellow Cabs, each rank having individually numbered pick-up points. There were hundreds of people all, of course, trying to get a cab at the same time. The Uber app kept on crashing on my phone due to the demand. I was eventually hooked up with a driver and quoted a fare of $28. The app then crashed and so I had to start the search process again. This time the fare was $36 but wouldn't connect, so I went to ask one of the many waiting Yellow Cab drivers how much they would charge. I was quoted $100! No wonder why there were so many stationary Yellow Cabs.
I tried Uber once more and finally got a reservation, this time for $42! TIP – always book the first Uber fare offered. The price goes up every time you search for the same destination. I have experienced this several times before, and I would imagine it's built into Uber's algorithms. After finding the departure point on the rank, we eventually got picked up and arrived at our AirBnB at around 10 pm. An utter and complete waste of an entire day, the likes of which I'd be happy not to experience ever again in my pathetic life!
SUNDAY 09/10/22
By morning, I'd calmed down a bit and was looking forward to exploring the city. We were based in the suburbs, just east of the Los Angeles River. We wanted primarily to see the 'Laurel and Hardy steps' used in the Oscar-winning film 'The Music Box', then onto Sunset and Hollywood Boulevards. A look at google maps showed that it was about 10 miles away, but we had all day and decided to take a leisurely walk there.
Crossing the (dry) river, passing the magnificent LA Metro station and China Town areas, we soon reached Sunset Boulevard. As streets go, this is a long one! A local told us it was 22 miles from end to end. Whilst parts of the Boulevard are inarguably lovely, we were once again amazed by the appalling scale of homelessness here. There were swathes of semi-permanent encampments on the sidewalks, with shop fronts and alleyways being used as toilets judging by the smell. One of the Uber drivers we used told us that the homeless problem is so much more significant in the West Coast cities than in the East because the weather is so much milder, and the authorities in, say, New York or Boston give homeless people a free bus ticket to the West Coast to relocate there. I'm not sure whether that's true but it wouldn't surprise me at all. He said the current estimate for homeless in LA was around 100,000 which, for such a wealthy and opulent city, is truly heartbreaking.
We eventually found the 'Music Box' steps, which make the climb from North Vendome Street up to Descanso Drive, both just off Sunset Boulevard. To be honest, unless they had been signposted we wouldn't have even recognised them from the film. The so-called Laurel and Hardy Park opposite the entrance to the stairs was equally disappointing, more of a sun-scorched piece of grass than a park. I thought that this iconic duo's film would have been marked in a much grander manner, but at least I can say I've seen them.
After about five miles on Sunset, Mrs Belvoir decided she needed to make tiddles. I had noticed a bar we had passed a few yards back, so I suggested we double-track and go in there (I would need to buy a beer, of course!). 33 Taps – 3725 W. Sunset Blvd, Los Angeles, CA 90026, was a modern, very noisy sports bar. It was rammed with very loud fans watching an NFL game, so we decided to sit on the relatively peaceful patio outside. Mrs Belvoir went in search of the 'rest rooms' whilst I perused the taps at the bar. This place obviously majored in food and was by no mean's a specialist 'craft' bar as evident by the lack of a written beer menu. Although the bar was named 33 Taps, I could only find 14, and after a quick scan, I plumped for a Boomtown – Chavez Ravine 6.5% NEIPA [3.5] which was nowt special but still a welcome and unexpected Brucie bonus.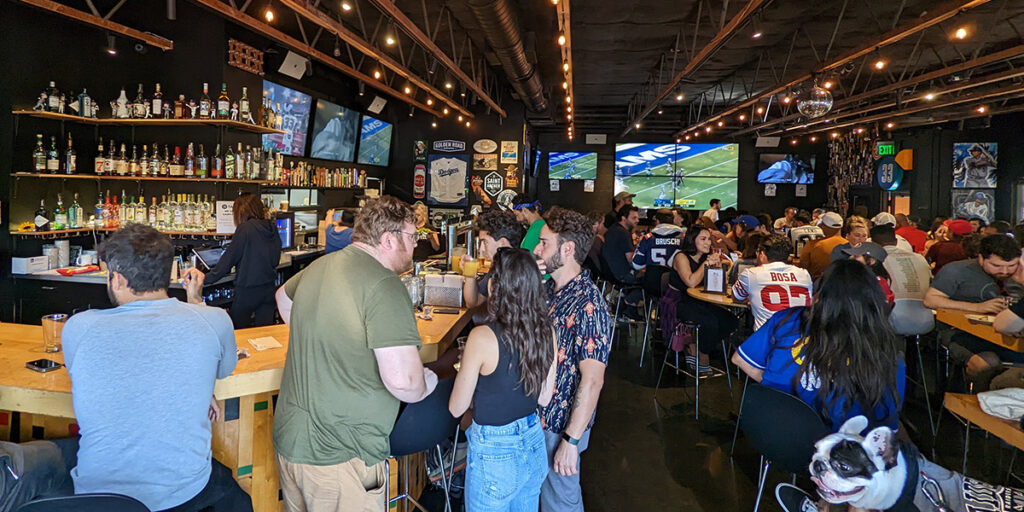 After sipping the beer for half an hour, it was time to move on. I dutifully returned our glasses to the bar and made my way out. We had just reached the pavement when I heard someone shouting after us. A young lady caught us up and asked if I'd been in June Lake last week. Unbelievably, she'd been there at the same time and recognised me from our visit to June Lake Brewery, over 350 miles away! What a coincidence! We did get each other's names but didn't swap contact details so, Haley, if you ever read this, please get in touch!
As I'd had my beery treat, it was only fair that Mrs Belvoir got her ice cream, so the next unscheduled stop was Pazza Gelato, which had a bewildering selection of exotic-sounding flavours. I chose Ube Mochi (sweet potato) which was far tastier than it sounds. With Mrs Belvoir now happy, we continued our walk onward. We eventually joined Hollywood Boulevard, heading for the 'Walk of Fame'. Again the place was generally very dirty and smelly, nothing of which comes over when seen on TV. Even the doorway of the world-famous Fonda Theatre smelled like it was being used as a public bog.
We eventually reached the Walk of Fame, but the pavements were so busy it was difficult to both read all the 'stars' and keep out of everyone's way, so after about half an hour we decided to call it quits. We had been walking for nearly five hours after all! I ordered an Uber to our first brewery destination of the day.
Mumford Brewing – 416 Boyd St, Los Angeles, CA 90013, is a one-room, barren, cold, industrial unit, much devoid of any sort of character. The beer, however, was delish! Despite an array of a dozen taps, they had a 'can pour' promotion on, so I opted for two tinnies: Done Deal 6.9% NEIPA [4] and a brilliantly-named Super Stealth Pigeon 8.8% DNEIPA [4.25]. Both we very enjoyable, but the cold room wasn't so we moved on earlier than planned. Since our visit, this brewery has closed down, which is a shame but no surprise. There are so many breweries out there now, you really have to make an effort with presentation as well as great beer. Mumford, in my opinion, fell sadly short.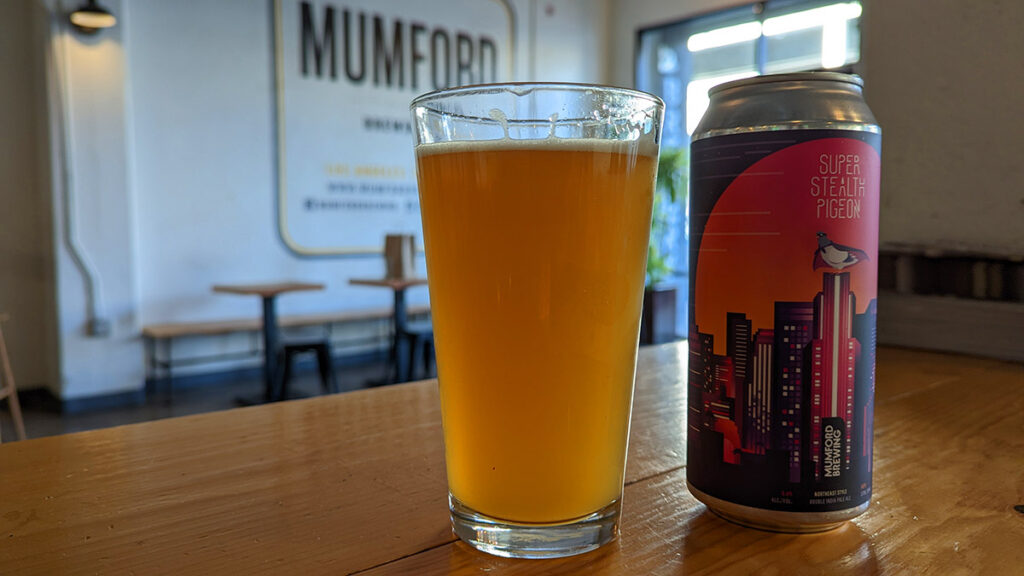 Our next (and last) stop of the day was only a 12-minute walk away, and when we got there, the place couldn't have been a bigger contrast to Mumford's. Arts District – 828 Traction Av, Los Angeles, CA 90013 was a large, split-level bar with a patio area down the side for open-air drinking. It was dusk when we arrived and the inside of the bar was lit to great effect with reds and oranges being reflected in the brewing vessels behind the bar area. No less than 32 taps on offer, but only time to sample a single one. I went for a Strange Powers 7.2% NEIPA [4], which I enjoyed on the patio along with a burger from the franchised food bar.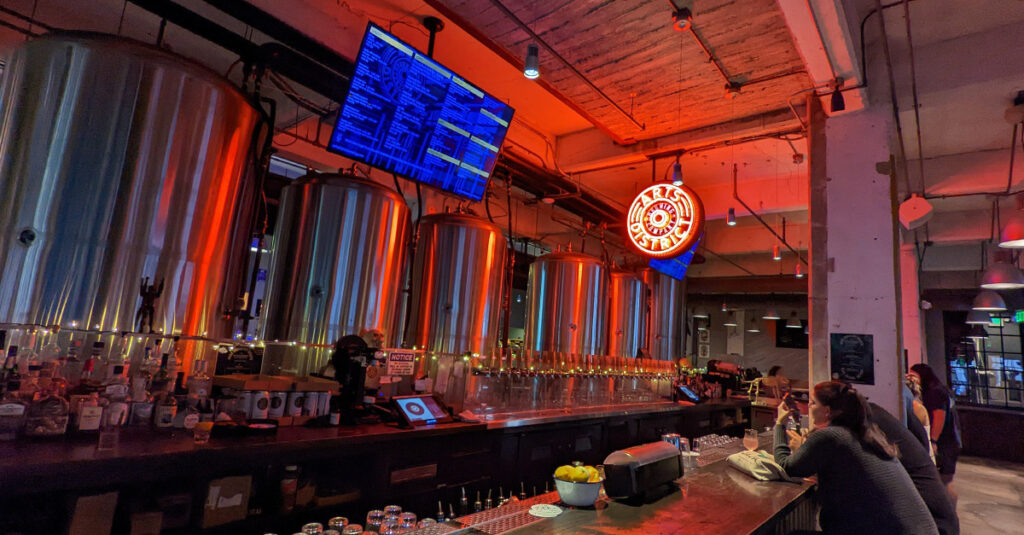 It was dark by now and we are a long way from home so, Uber was our friend, or so we thought! The cab was duly ordered and we were picked up, on time, by our driver, Alexander. Alexander resembled Lemmy, with big grey mutton chops, dressed in black denim and a stetson. His cab was full of Yankie paraphernalia including flags and handcuffs (not the pink fluffy variety either). He told us he was a Veteran and then started moaning about all the immigrants taking over the US and he was getting a bit carried away with it all. I decided to change the subject and started talking about the current conjunction of Jupiter with the Moon and our insignificance in the scheme of things. He seemed to mellow out a bit then, but it's not really what you want, nor expect from a taxi driver. Suffice it to say I didn't tip him.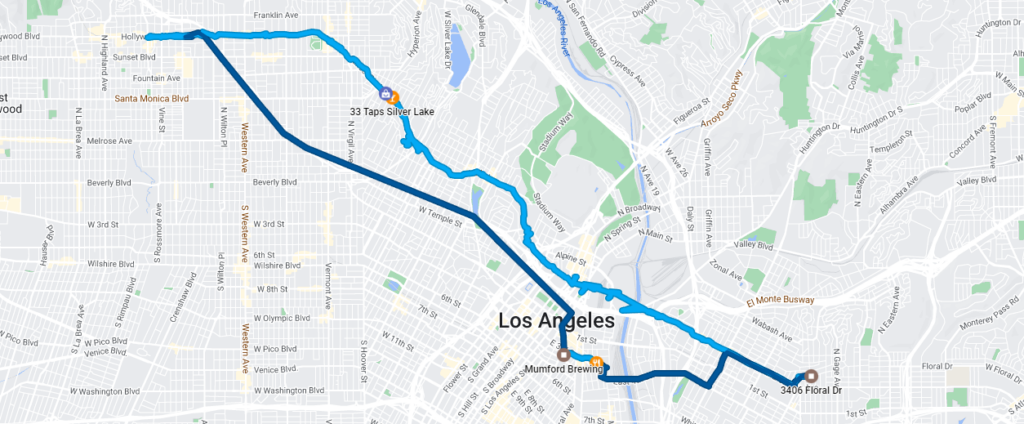 MONDAY 10/10/22
This morning we were both feeling the effects of yesterday's walking so we decided to stay a bit closer to base, choosing to explore the Chinatown area, some of the city parks as well as some of the architecture (yes, L.A. has some old buildings) and (of course) taking in a brewery too.
After about an hour's walk, we arrived at Little Tokyo Art Complex, which is home to the memorial to Ellison Onizuka, the first Asian astronaut. A couple of blocks away is the Gloria Molina Grand Park, which was a pleasant place to sit for a while and people-watch. Next was the Brunswig Building, LA's first five-storey building, built in 1888, and then a bit of the Berlin Wall, donated to Donald Trump from the Citizens of Berlin to commemorate 30 years since its fall. I could hardly conceal my excitement. It was a hot, hot day, and after almost four hours of walking we'd really had enough, so it was time for a beer or two.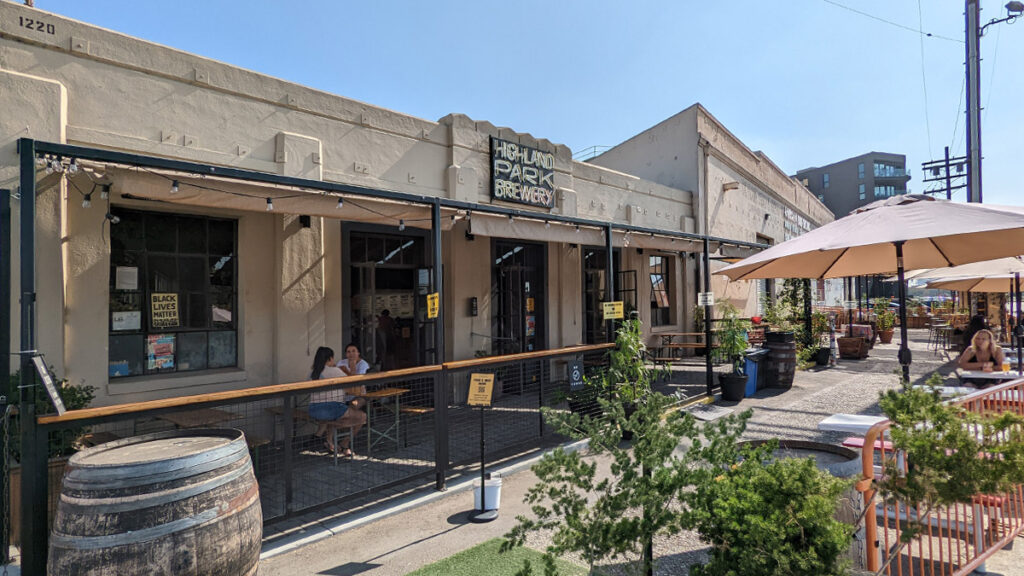 We arrived at Highland Park – 1220 N Spring St, Los Angeles, CA 90012 around mid-afternoon, and the brewery was surprisingly busy for a Monday and (presumably) work day. This was another modern brewery tap with a long corner bar sporting an impressive 32 taps. We found a shaded bench seat outside and sipped some delicious beers for the rest of the day. I sampled three pints here: Wowee 7.3% NEIPA [4.25], DDH Cloud Party 8.3% DNEIPA [4.25] and a DDH Timbo Pils 5.8% American Pilsner [4]. All three were splendid beers and the brewery was well worth the short journey out of town.
It had been another long, hot, strenuous day, so we decided to call time and have an early(ish) night and ordered an Uber back to the AirBnB, as tomorrow we were off to San Diego.
L.A. is a big, big city. Admittedly we only saw a fraction of it, but again I was shocked at how many homeless people struggle to make a life for themselves on the streets. Many of the alleyways and shop fronts are full of rubbish and are used as latrines and the contrast between the perceived high-life style of L.A. and the reality down at street level is just appalling. Again, it's a city that I'm glad I've seen but I don't think I'd return any time soon.


SEE THE REST OF THE WEST COAST WANDER HERE:
Part 1: San Francisco | Part 2: Portland | Part 3: Seattle | Part 4: Sacramento | Part 5: Yosemite Road Trip | Part 7: San Diego | Part 8: Phoenix+
The numbers in brackets [ ] are my beer scores (out of 5). Find me on Untappd
Some tinnies wot I have necked.
And some more pics from Los Angeles below.