SATURDAY 15/10/22
Having arrived the evening before, we'd had an early night, as we were up today at stupid o'clock to get the minibus for our pre-booked tour to see the Grand Canyon. We shared our tour bus with (I'm assuming) an African family and although we couldn't understand what they were saying because it sounded as though they were speaking in Klingon most of the time, their constant manic laughter made the long journey to the Canyon seem much less tedious than it was.
In truth, the journey was anything but boring, with some stunning, if samey scenery. Our driver/guide gave a great running commentary, pointing out how the slightly differing terrain dictated the various vegetation, which wasn't at all obvious to the untrained eye. It was difficult to imagine how the Native Americans (in this area, originally the Sinagua tribe) could ever eke out an existence in such wild countryside. Nowadays, tribes active in the area include the Hopi, Navajo, Tonto Apaches and Yavapai. Read more about the Native American tribes of the Sedona area here. The obligatory touristy stops (I'm cynically assuming so that the driver could get his commission) were at the Red Rock Ranger District Visitor Center, the town of Sedona (for ice cream, obvs) and the Cameron Trading Post.
We finally reached the Canyon at around 1:30 p.m. after what had been a seven-hour drive. By now, the glorious sunshine was being obscured by heavy clouds and there was a real chill in the air due to a combination of our elevation and the wind that went with it. It didn't detract from the breathtaking scenery though. I tried to take some video of the vistas here, but I couldn't really do it justice, so I think I should leave that to the professionals from now on. Here's my effort anyway:
Sadly, after just 90 minutes, our visit was over. In my opinion, it wasn't enough time to explore this monumental sight from a single vantage point. I would have much preferred to have travelled directly to the Canyon and seen it from several different places than wasting time taking the touristy stops beforehand. It was, however, still absolutely worth it and I'm happy to have done it.
The journey back was more direct (barring a single 'comfort' stop) but no less eventful, due to the incredible thunderstorm that seemed to follow our minibus for most of the journey home. I've rarely seen rain this heavy but it didn't seem to phase our driver or the six lanes of traffic around us as he casually drove at 80mph, nose-to-tail with other vehicles in pitch blackness and almost zero visibility. Mrs Belvoir and I just buckled up and tried not to think about the consequences as we marvelled at the sight of massive lightning bolts dancing over the mountains ahead of us.
When we finally got back to base (thankfully intact), the rookie lady driver of the second bus in our party, who was trying to keep up with our driver, was visibly shaken by the ordeal. She came up with an American phrase which I can't remember, but which I translated to 'shitting bricks'. All in all, an eventful, value-for-money, and memorable (albeit beer-less) day.
SUNDAY 16/10/23
We were only ever going to see a tiny fraction of Phoenix. Due to yesterday being 'lost' on the Grand Canyon visit, this would be our only full day here. We saw the location of our AirBnB in daylight for the first time today, and it was a beautiful little annexe in the garden of a historic townhouse situated literally three or four streets away from Downtown Phoenix. Being a Sunday, it was pretty quiet around the town, which is fine with me.
We spent the morning wandering around the various parks, sculptures and artworks, eventually ending up at Chase Field stadium, home of the Phoenix Diamondbacks baseball team. After an ice cream at Melt, Mrs Belvoir was a happy er, Beaver, so it was time to seek beer.
Having had a dry day yesterday (apart from the torrential storm), I was keen to make up for lost time, so had three breweries in my sights for today. First up, it was an Uber ride out to Wren House – 2125 N 24th St, Phoenix, AZ 85008. This is a brewery and taproom in a fairly faceless part of the city, just west of the Downtown area. Despite its relatively small size, there was a mouthwatering selection of beers from sixteen taps. I tried four of them: Early Grande 6.5% NEIPA [4], Dreamy Draw 7.5% DNEIPA [4], Robot Grasshopper 7.2% NEIPA [4.25] and Bride of Frankenwally 9.4% TIPA [4.5], all outstanding beers, with the Frankenwally being one of the best beers of its style I've ever tasted.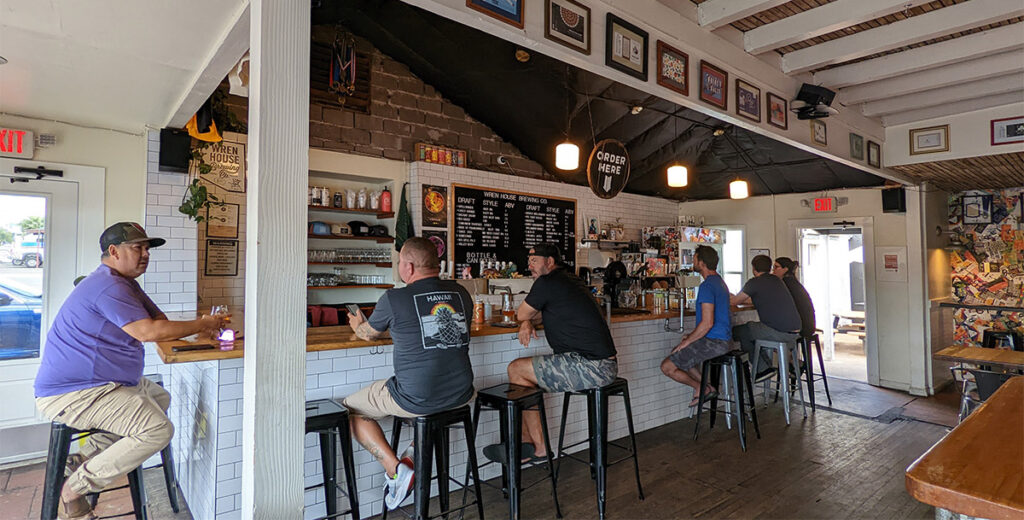 We spent a couple of hours under the shade of the trees in the rough-and-ready but nonetheless pleasant garden out the back before moving on to our second stop, Roses by the Stairs – 509 W McDowell Rd, Phoenix, AZ 85003. Upon arrival, it wasn't immediately obvious how to get into the bar, until a friendly local pointed out a child-style safety gate gap in the ballustrade. I'm still unsure whether it was to stop kids wandering out onto the road, or thick English twats from getting into the pub!
This place was slightly bigger than the last and also had sixteen beers on draft, of which I sampled two: Carry Me Home 6.7% NEIPA [4.25] and Too Many Hats 6.7% NEIPA [4.25], both stonking beers, which were enjoyed over a couple of hours in the gradually setting sun. I've questioned before in my posts why so many great pubs and bars promote their food offerings over their drinks menus. Not this place! Their website is almost 100% focused on their beer, which is how it should be, so good on them.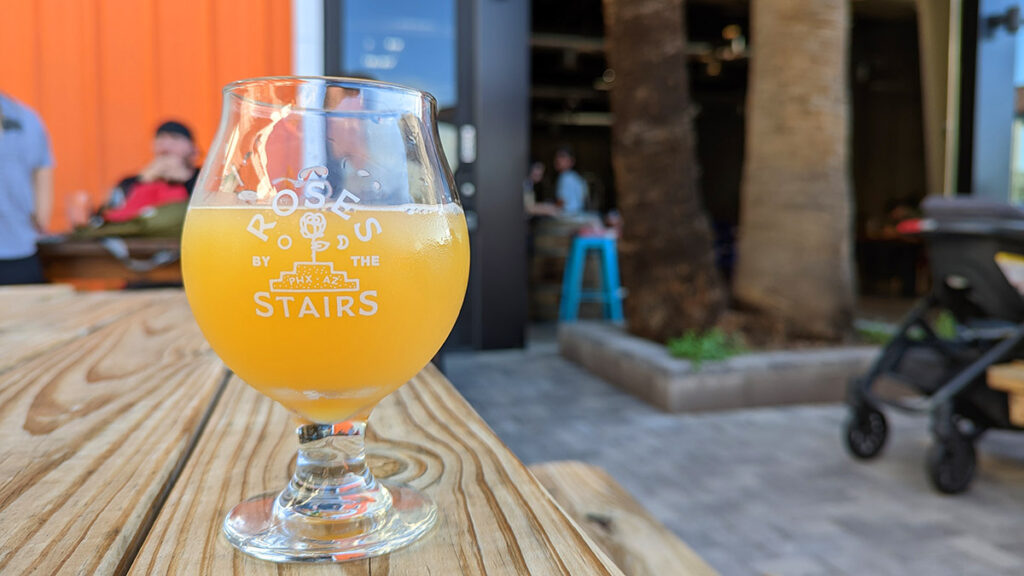 The daylight was beginning to fade now so we decided to head back nearer to base for a last couple and some nosebag before calling it a day. Our final stop, Arizona Wilderness DTPHX – 201 E Roosevelt St, Phoenix, AZ 85004, was only a 15-minute walk away from our digs. A much larger (and commercial) affair than the other two breweries visited today, this place was very busy when we arrived, despite being a Sunday night. We secured a table on the spacious patio and perused the menu. I ordered one beer from the 36 available on tap, a very enjoyable Every Day Is Earth Day 8.4% DNEIPA [4.25]. Unfortunately, due to the size of the pulled pork sandwich I ordered to accompany it, I had no capacity for any more drink when I'd finished it! Never mind, it had been another long, hot, tiring day and I secretly felt a return visit might be on the cards tomorrow. Night night, said Zebedee.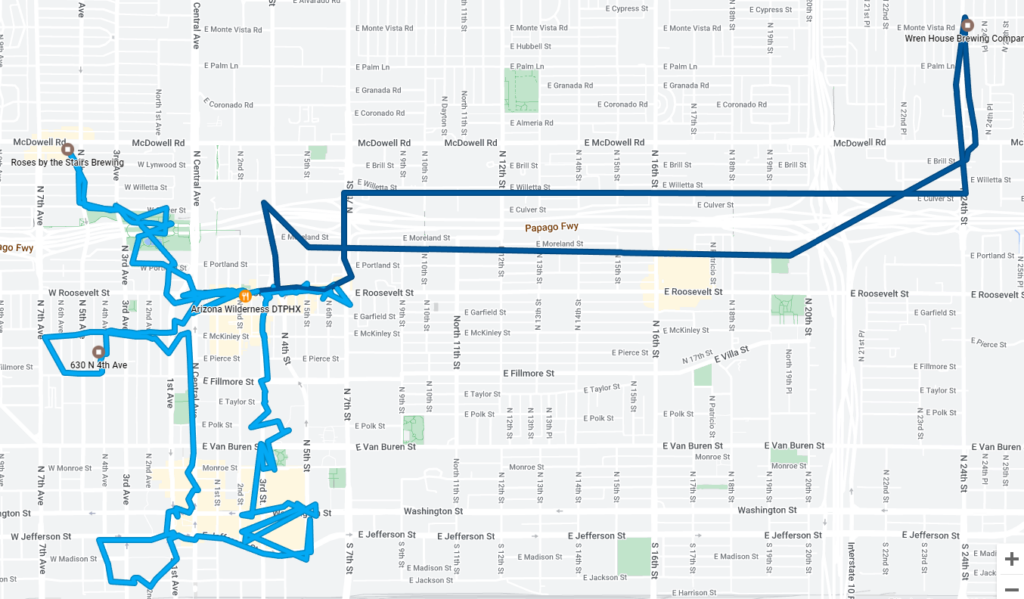 MONDAY 17/10/22
Our flight back to San Francisco wasn't until 5 pm so we had a few hours to kill between vacating our AirBnB and getting a taxi to the airport. Obviously, we didn't want to get too hot and sweaty, so I suggested to Mrs Belvoir that we spend some time sitting in a couple of beer gardens. Good plan!
We locked up our charming AirBnB and wandered into Downtown in search of some breakfast, which we found at the delightfully-named and incredibly busy Breakfast Bitch. We were told that it would be at least 40 minutes before they could take our order, but as we were killing time, it didn't matter so we just sat people-watching over a couple of coffees.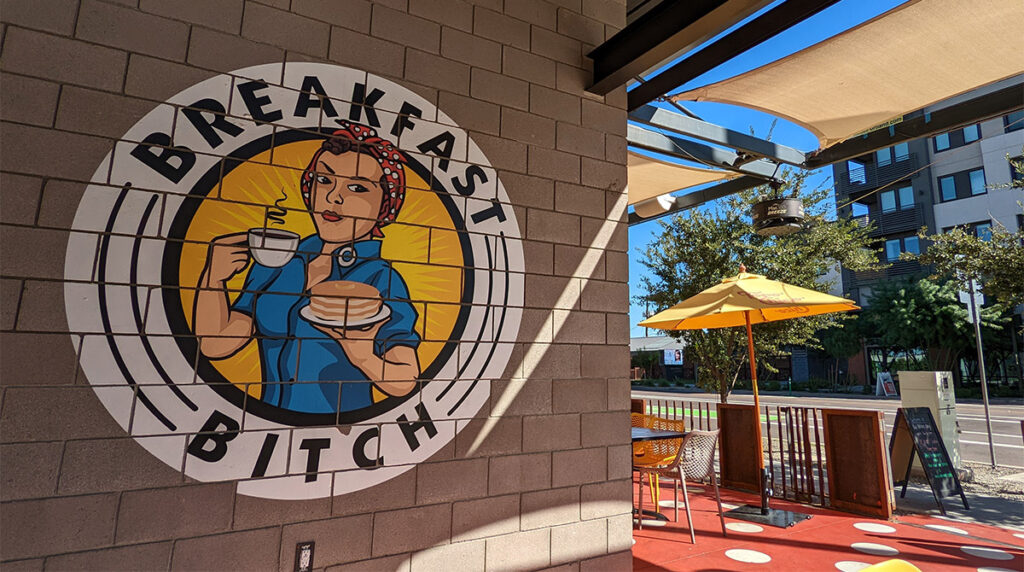 Suitably replete, it was time to attempt a waddle to the first brewpub. First on my list was Huss – 111 N 3rd St, Phoenix, AZ 85004. Alas, it was closed when we got there, despite its website saying otherwise. So onward to the second choice, a place we'd walked past the previous day, Greenwood – 922 N 5th St, Phoenix, AZ 85004. As it was still Monday a.m. we were the only ones in there. I ordered a taster flight of three beers here, namely: Emera Light 3.6% NEIPA [3.75], Warrior 6.5% AIPA [3.75], and Blackberry Gose 4.2% fruited sour [3.75] which were all competently brewed, but sadly unremarkable beers.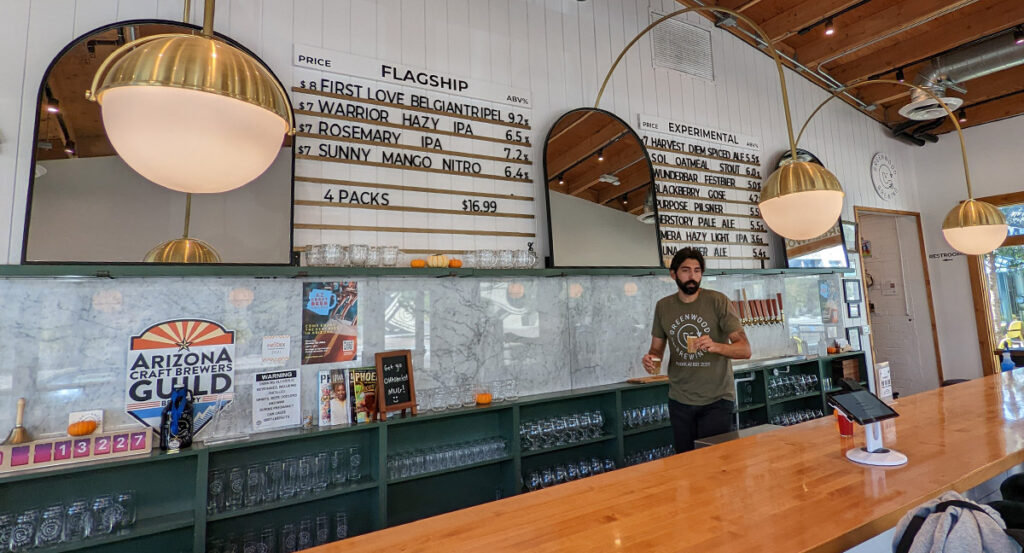 From Greenwood, we were quite close by to Arizona Wilderness, so we decided to make a second visit and kill the rest of the afternoon there until our cab was due to take us to the airport. I'd only had one beer here the day before, so I was determined to make the best of it today! First up was Unlawful Waffle 8.6% DIPA [4]. Question: 'Is that DIPA hazy, barman?' Answer: No!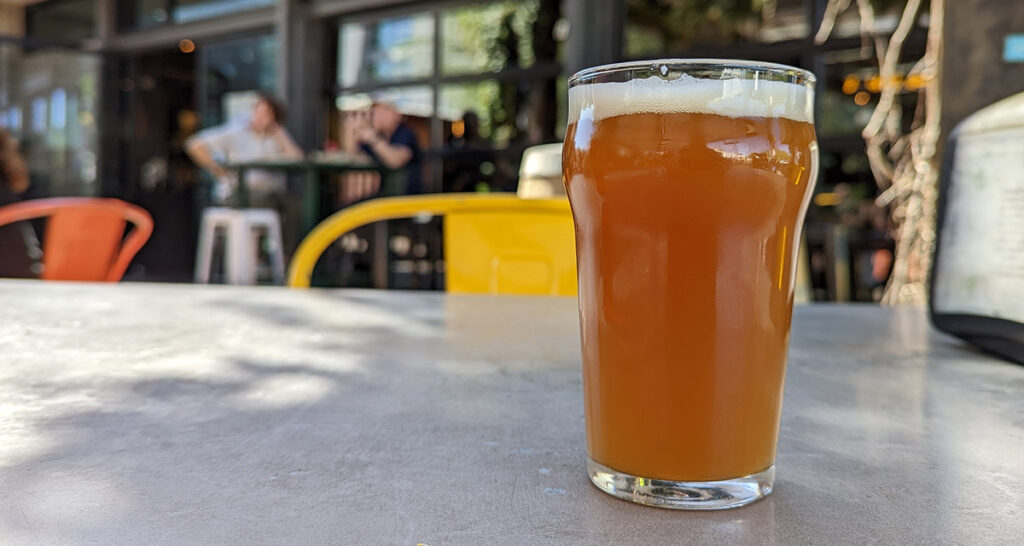 The next two beers were even better: People Power 6.5% NEIPA [4.25] and Dirty Hop Water: Thursday In the Danger Room 7.8% DNEIPA [4.25], both totally delicious and a great finish to our brief but busy visit to Phoenix – a clean, green, well-kept city (at least the fraction of it we saw in Downtown). I would definitely like to return one day and see what the rest of it is like. Seven hours and 700 miles later, we were back at Mark and Sue's house, where I finished the day off with a can of Laughing Monk – Sister Betty 6.8% IPA [4]. Perfick. Tomorrow was our last full day of the holiday.
TUESDAY 18/10/22
We had booked an evening tour of Alcatraz Island with our friends Mark and Sue so, of course, we had plenty of time to do some beers beforehand. A leisurely stroll past the Ferry Building and piers to the Fishermans Wharf and we were well on our way to San Francisco Brewing Co. – 900 North Point St, San Francisco, CA 94109. This was a big, commercial operation, housed in a grand and obviously expensive part of town. By experience, I held a theory that breweries bearing their home city's name have a penchant for producing average beer. Happily, I was proven wrong at this place having sampled their excellent KARL 6.7% NEIPA [4.25].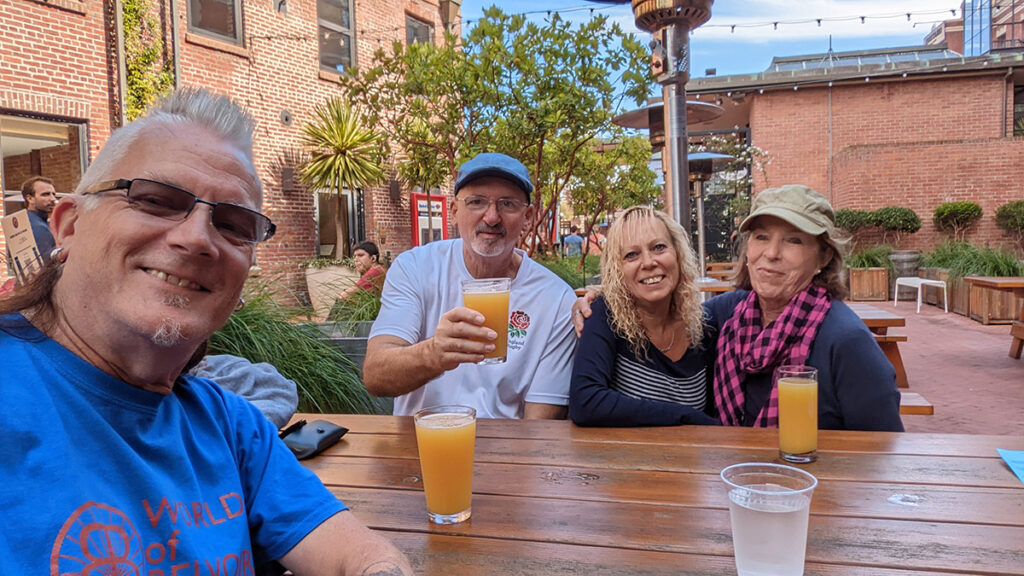 Just the one here, as we had to get some nosh before the Alcatraz tour and their food menu tickled no one's fancy. So it was a short Uber hop to 21st Amendment – 563 2nd St, San Francisco, CA 94107, a much more homely place than the last venue with a much more exciting menu. The beer I ordered; Brew Free! or Die 7.0% AIPA [3.75], was tasty enough. Another pleasant hour was spent here until it was time to get another taxi to Pier 33 to join the long queue for our ferry to Alcatraz.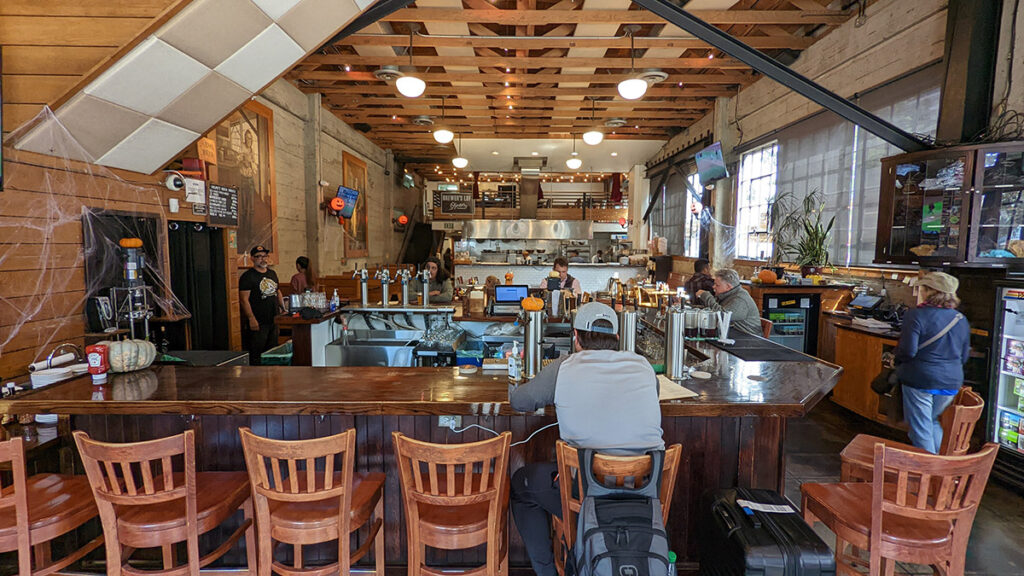 The Alcatraz tour itself was extremely interesting, very good value for money and a must-do if you're ever in the area. By 7 pm we were back on land and it was time to head back to Concord on the BART for the last time. Back at base after making a slight detour to Rocco's Ristorante Pizzeria for some takeaway supper, it was tinny time again and I raided Mark's fridge for a New Glory – Gummy Worms 5.8% Hazy IPA [3.75]. A nice finish to another exhausting day.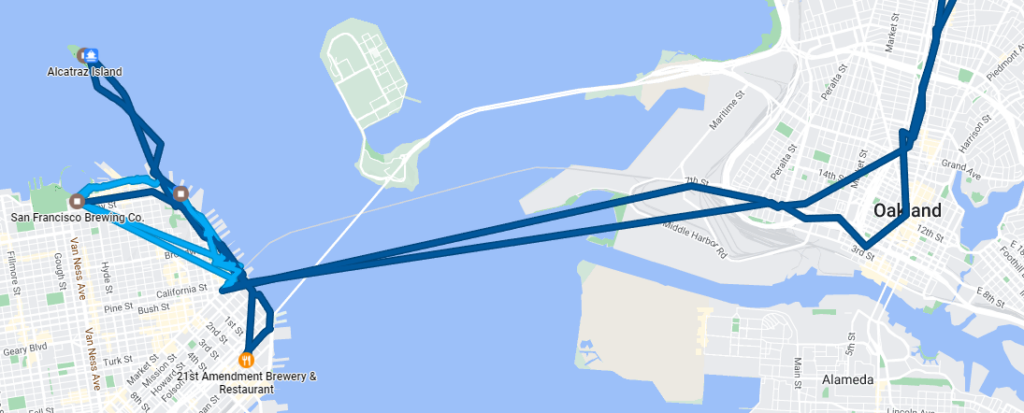 WEDNESDAY 19/10/22
Incredibly, it was time to go home to the UK today. Where did the previous four weeks go? Luckily, our flight wasn't until about 4 pm, so we used the time, of course, to go to the pub. Bar of choice was a second visit to local favourite, the Hop Grenade – 2151 Salvio St Suite J, Concord, CA 94520, which we had visited about two weeks earlier. We had a couple of rounds in here. First up, I went for the Flatland – Beachfront Avenue 6.7% fruited sour [4], followed by a Cooperage – Vapor Juicebox (2022) 6.6% NEIPA [4], a belter of a beer and memorable finish to a wonderful holiday.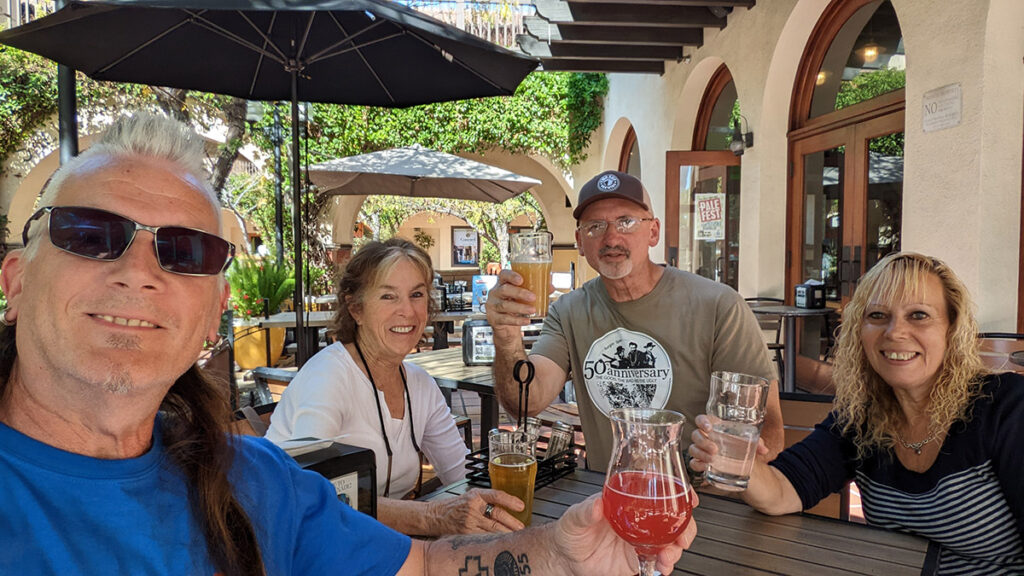 This month-long trip was an incredible experience. However, visiting so many cities in such a short time left us little time to explore any of the places in any meaningful way. The distances between cities meant basically that every third day was written off with travelling and it was utterly exhausting. Am I glad I did it? Definitely. Would I do it again? Probably not in the same format. I'll probably have another month and pick three or four cities to explore in some depth, rather than being on a schedule all the time.
Highlights of the trip, for me, were the Hop Garden in Sacramento, and June Lake Brewing, along with the sites of Yosemite and, of course, the Grand Canyon. I'd certainly like to see more of Phoenix and also return to San Francisco one day.
Heartfelt thanks once again to our dear friends Mark and Sue for putting us up (and putting up with us!) in their beautiful home in Concord, for organising the Reno/Yosemite road trip and also for chauffeuring us around unnecessarily, beyond the call of duty.


SEE THE REST OF THE WEST COAST WANDER HERE:
Part 1: San Francisco | Part 2: Portland | Part 3: Seattle | Part 4: Sacramento | Part 5: Yosemite Road Trip | Part 6: Los Angeles | Part 7: San Diego
The numbers in brackets [ ] are my beer scores (out of 5). Find me on Untappd
Some tinnies wot I have necked.
And some more pics from Phoenix below.