This visit was actually a rearranged trip, the original having been cancelled two years previously because of the Covid-19 malarky. Then, the plan was to fly into Porto, then bus to Lisbon and fly home from there.
As it happens, because flight routes have changed since lockdown, we were doing it the opposite way and on June 21st 2022 we flew out to Lisbon on the first leg of our Portuguese break.
Because this trip was primarily about the beer (don't tell Mrs Belvoir), I'd already researched the beer scene and come up with a lot of recommendations. Here's my Google map for Lisbon:
Arriving at Lisbon airport, we promptly found the 'AeroBus' stop outside the terminal and awaited the cheap shuttle bus to take us into the city. Despite a sign saying that the shuttle ran every ten minutes, after a wait of about thirty minutes with no sign of a bus, we were approached by a taxi driver who informed us that the service had been suspended until further notice. He pointed to a sign on the bus shelter which said so. Unfortunately, neither Mrs Belvoir nor I can read Portuguese.
After offering his (rather expensive) taxi service to us (we politely declined as he was cash-only and we didn't have any), we entered the adjacent metro station and tried to figure out a) how to purchase a ticket and b) which station to get off at. We sussed out a) quite quickly, with the help of a friendly local. Point b) was a bit trickier, and of course, we ended up on completely the wrong side of town. We finished up getting an Uber. At least they didn't want cash.
Our AirBnB was duly located in the Belém district, and by early evening we were installed in our new temporary home. It was a lovely apartment, but we were soon to find out why it was so cheap. It had been a long day and there was really no time to go beer hunting, so we just had a meal in a nearby eatery and went back to have an early kip so that we were refreshed for our first day's exploring tomorrow. Or so we thought.
AirBnB advertised this place as being handy for the tram into town. And it was. The tramline was literally right outside our window, and they rumbled by with monotonous regularity every 10 minutes or so. Until 2 am. And started again at about 5.30 am. We were also directly underneath the flight path of planes taking off from Lisbon airport. And the icing on the cake (literally) was that the ovens for the bakery, situated immediately beneath our flat, roared into life at 7 am on the dot. We certainly weren't going to get any meaningful sleep here, that was for sure.
WEDNESDAY 22/6/22
On the first day of our holiday proper, rather than take the tram into town, we decided to walk and get a feel for the place. When we booked the flat, we didn't realise how far out of town the Belém district is from the main city. It was a good five miles or so into the main areas, but we had no schedule so it didn't matter. Despite being very overcast and drizzling with rain, we walked along the ex-industrial seafront. // Big warning here! Most of the walkways are stoned with a patchwork of very shiny ceramic-looking tiles. They are very slippery in the dry and lethal in the wet, especially when some of the pavements are very narrow and the traffic and trams pass by with seemingly little regard for pedestrians. Please be careful! \\ Eventually reaching the more 'picture book' areas of the town about an hour and a half later, we had a few hours of just general nosing around and getting used to the layout of the place, and by about 2 o'clock, it was beer time. Yaaay!
The first establishment on the list was Crafty Corner R. de São João da Praça 95, 1100-519 Lisboa, a one-roomed bar with an open frontage onto a cobbled alley, offering 12 beers on tap. I had a flight of five, consisting of: Praxis – IPA 6.4%, HopSin – American IPA 6.5%, Lince – Ariana 6.0%, Aldeana – Pale Ale 6.7% and Oitava Colina – Joe APA 5.5%. They were all pretty average, to be honest, the Aldeana being best of the bunch, but I enjoyed them all.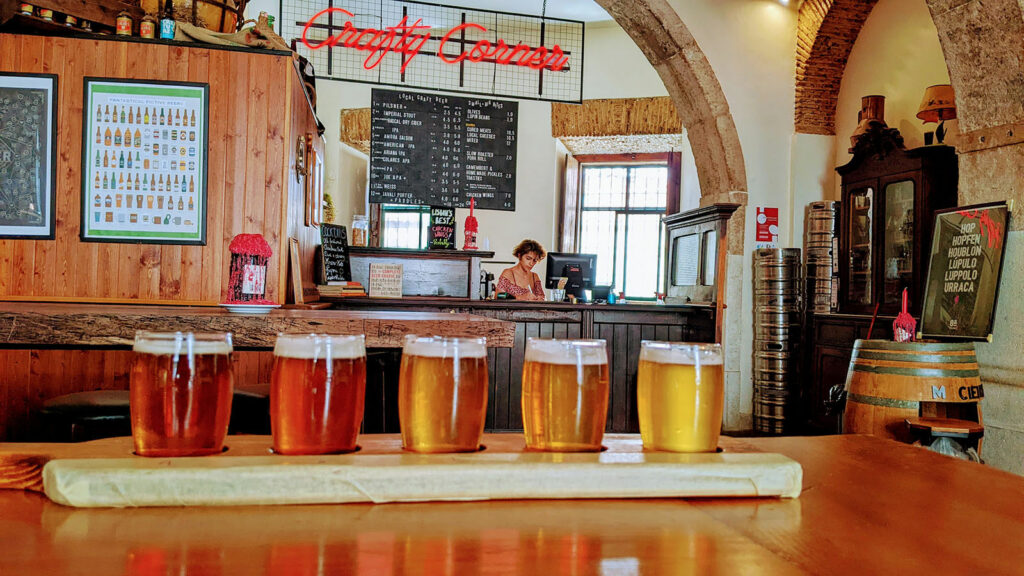 Onwards, and a leisurely 40-minute stroll away took us to the Duque Brewpub Calçada do Duque 51, 1200-156 Lisboa, another one-roomed establishment, with a couple of tables outside on the steep killer-tiled terrace. I tried just the one here, Duque – SOURreal 5.0%, which was only slightly tart but very refreshing in the building heat of the day.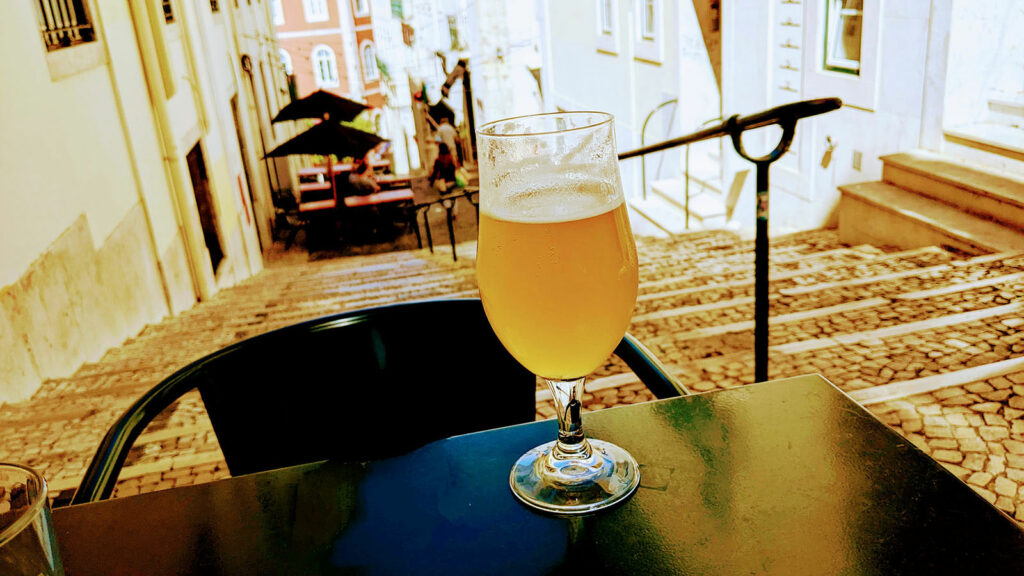 After another hour of meandering around the tiled streets (it was dry by this time but we still had to mind our footing), we arrived at 8a Graça (Oitava Graça) R. Damasceno Monteiro 8A, 1170-112 Lisboa, where I sampled two of their own creations: Devil's DIPA at 8.0% and Sour Imperial Gose at 7.3%, both very tasty. Another tiny bar, this time with an industrial feel, and additional seating out on the street, overlooking Lisbon and out to the sea. Very relaxing, (albeit windy) and it was worth the hike up the hill for both the views and the beer.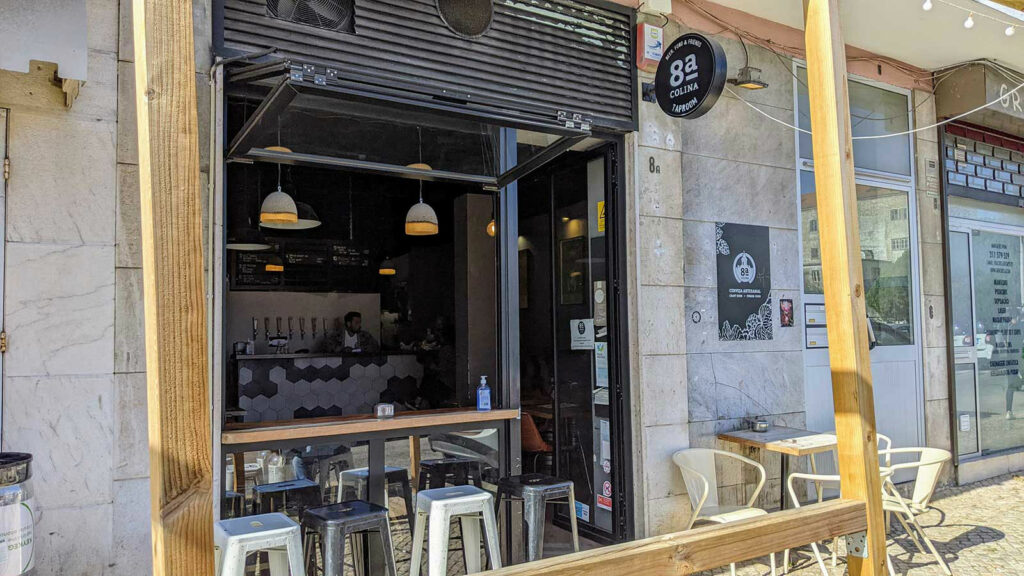 It was approaching evening now, so it was decided that the next stop would be the last, and in another half an hour or so, we were at 21 Gallas Brewpub R. Angelina Vidal 53A, 1170-122 Lisboa. Again, I tried just two of their own beers, Simcoe IPA 6.0% and Dona Filipa 9.0%, a Double NEIPA, the latter of which turned out to be the best beer of the day and a nice way to round off the evening. Home now for some kip – or not!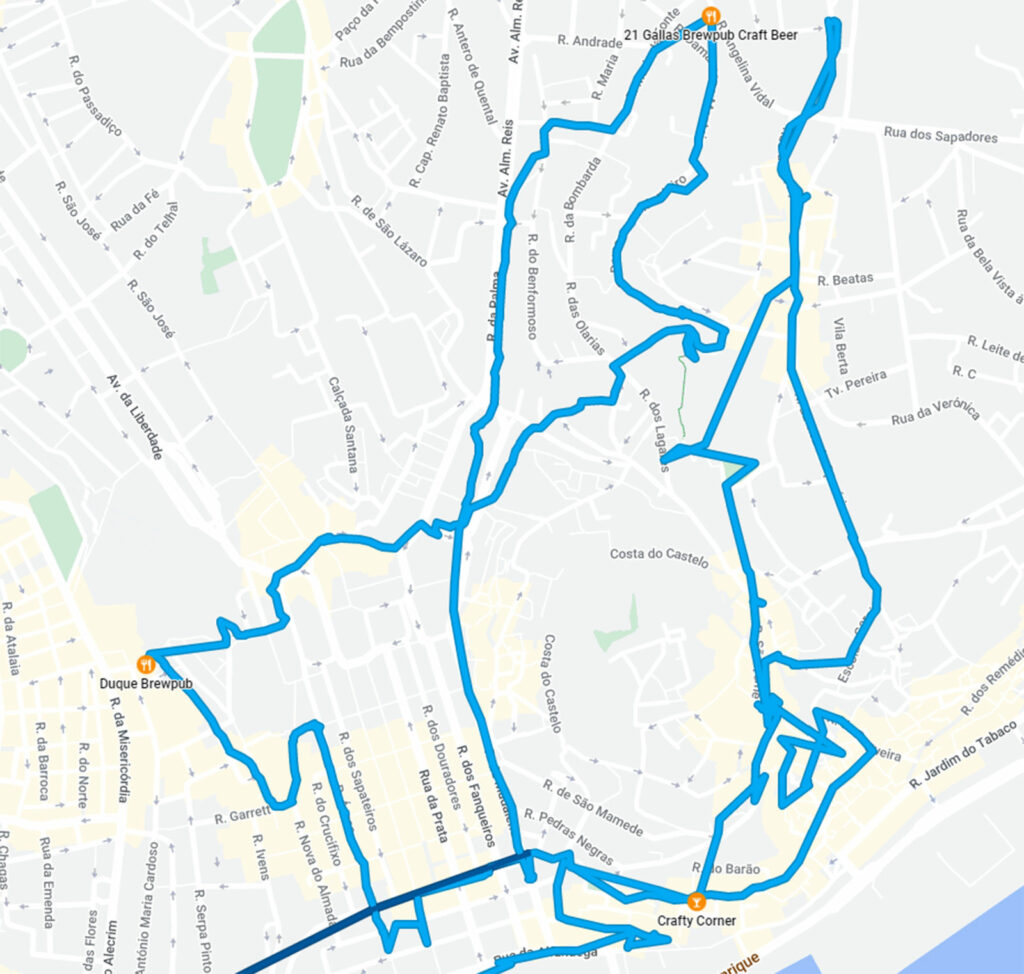 THURSDAY 23/6/22
A five-minute stroll from our front door was the World-famous Pastéis de Belém, bakers of (amongst other things) the traditional Portuguese custard tarts, or Pastéis de Nata. The shop was more full of masked Oriental tourists taking photographs than paying customers, but I waited my turn and bought two very reasonably priced and delicious custard tarts for breakfast. Well worth the wait.
There was more touristy stuff to be done before starting on the peeve, and today we decided to do the famous Tram 28, which starts (or finishes, depending on which way you travel) at Martim Monez and finishes (ditto, vice-versa) at Campo de Ourique. We walked through some pretty dodgy-looking areas to get to the stop at Martim Monez, but (obviously) still here to tell the tale! The tram's route meanders around the twisty (and sometimes insanely steep) streets of the old city, some of them being so narrow you feel you could almost stretch out and touch both sides! The trip lasts about 40 minutes and cost (I think) less than 4 Euros. If you're going to do Tram 28, be sure to get a window seat. If the window seats are all taken, it's worth hanging back for another 10 minutes or so to catch the next one. We did, and it was totally worth the short wait.
By about 2 o'clock, we (well, only me actually) began to think about beer and first on today's list was The Beer Station Largo duque de Cadaval 17 Quiosque D, 1200-160 Lisboa. After doubling back several times, we eventually located the place underneath the terrace we were standing on and duly made our way down the steps toward its door, which was open. Alas, the pub itself wasn't (until 4 pm), so the owner directed us to the establishment next door and told us to ask for 'an IPA'.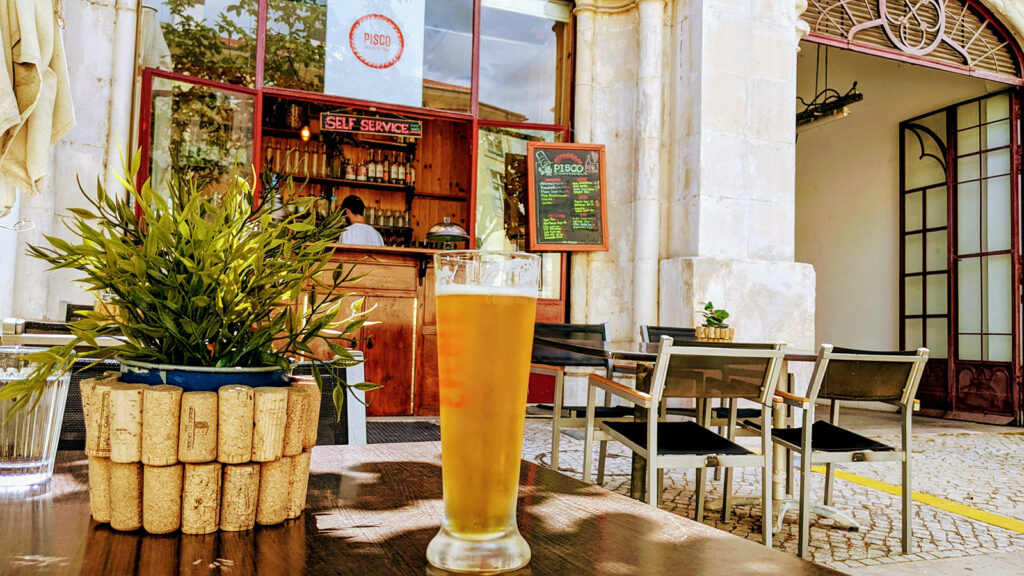 The Pisco Peruvian Bar Largo Duque Cadaval, 1200-090 Lisboa, was basically a serving hatch in the side of the building, with a 'SELF SERVICE' sign hanging above it. What they actually meant was no table service, which I didn't actually twig onto until after about 10 minutes of sitting at the table, waiting for someone to take the order. I went to the bar and asked for an IPA, as instructed. The beer served was a 5.9% Dois Corvos 1 of 6 Cold IPA. Disappointingly average, but it would suffice whilst waiting for next door to open. At the stroke of 4 o'clock, we moved a couple of yards across the, er, yard, to sit outside the aforementioned Beer Station. The four-tap selection here wasn't inspiring, so I delved into the well-stocked can fridge and found a Dois Corvos X Basqueland (Spain) collaboration brew, TOPA! an 8.0% Double NEPA. I love Basqueland beers, and this was a stunner!
Whilst searching for this place a little earlier, we had noticed signs in various windows such as 'NOT A STATION' and 'NO TRAINS'. I asked the owner of the Beer Station (now there's a clue) what the significance of that was, and he told us that the buildings were originally on the periphery of the courtyard leading to an underground railway station that was decommissioned many decades ago. Every day's a learning day.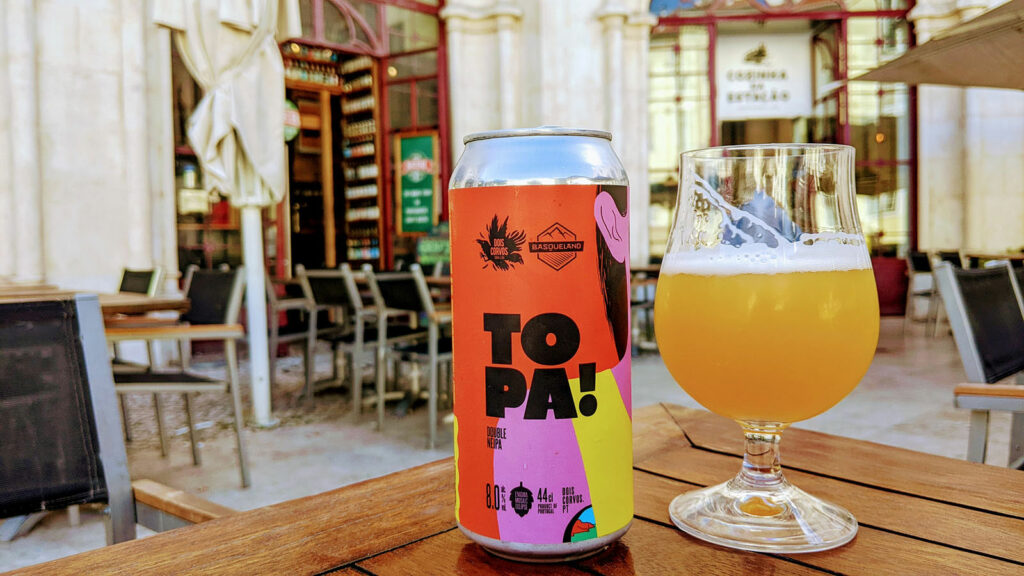 The next stop was only a fifteen-minute walk away, and by about 5.30 we had reached the Sacarrabos Beer Co. R. Moeda 12, 1200-275 Lisboa. Another brewpub, this one had around 15 taps, of which I sampled two: Sovina 500 Double IPA 7.3% and one of their own brews: Crocodilo APA at 6.0%. The former was the better of the two, by some margin. Sacarrabos was OK, but I didn't feel like there was anything there to attract me back again. We decided to take the long trudge back by Shanks's Pony and call in one further place en route to our AirBnB.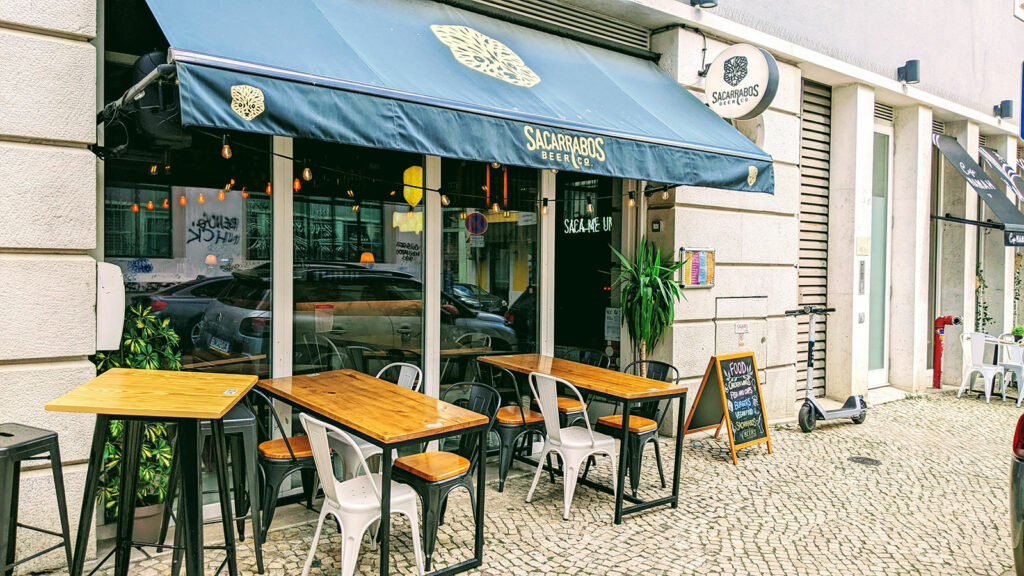 Just before 8 o'clock, we arrived at our last call of the day, the excellent Quimera Brew Pub
R. Moeda 12, 1200-275 Lisboa. Situated just off the main street, it is easy to miss. But once found, everything about it is charming. Entering through a shaded courtyard, you enter a stone-walled vault which to me – and to anyone of a certain age and location to remember – was reminiscent of the old (now closed) Cornhill Vaults in Lincoln. The place had real character, as did the owner, who came over to explain the beer menu at our table. The pub has 12 taps, all offering Quimera beers. I chose a flight of four which were promptly delivered and described once more. Excellent service. I chose a Bloody Mary Sour 4.3% DIPA at 7.0%, NEIPA at 5.3% and finally a Raspberry Sour at 4.7%. They were all good, the sours being better than the IPAs. They weren't face-puckeringly sour like some of your favourite Belgian Lambics, but very acceptable nonetheless. If you visit but one pub whilst in Lisbon, make it the Quimera!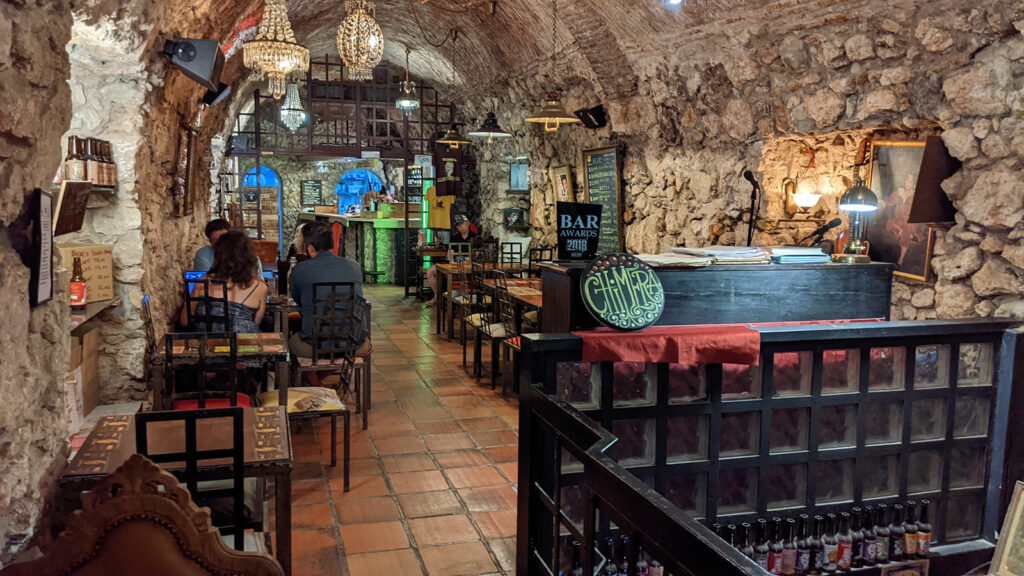 Embarrassingly, we walked out of Quimera without paying and the poor barman had to run about five minutes down the road to catch us. We backtracked to pay our dues, of course… and that was the end of our second full day. A short hike back to the digs to try and get some shut-eye between trams. All to do again tomorrow.
FRIDAY 24/6/22
Another morning and early afternoon was spent just wandering and taking in the sights, including the massive Time Out Food Hall, so busy we couldn't find a seat, despite its size. After a strenuous uphill trek to see the Castelo de São Jorge and have a well-earned ice cream, we settled on a more modest family-run establishment amid the maze of tiered streets of the Alfama district. Incredulously, some motor vehicles still drive through these streets, when it was obvious that even a donkey would've struggled to get through.
Thoroughly knackered, but now well fed, it was time to get watered (read: 'beered'). First on today's list (and fortuitously nearest to our current location) was Outro Lado Beco do Arco Escuro 1, 1100-585 Lisboa. In another blink-and-you-miss-it location, it is situated up a cobbled side alley, but once in you are rewarded with a magnificent array of 15 taps from some fantastic craft breweries. This was by far the best selection (IMO) I'd seen so far in Lisbon.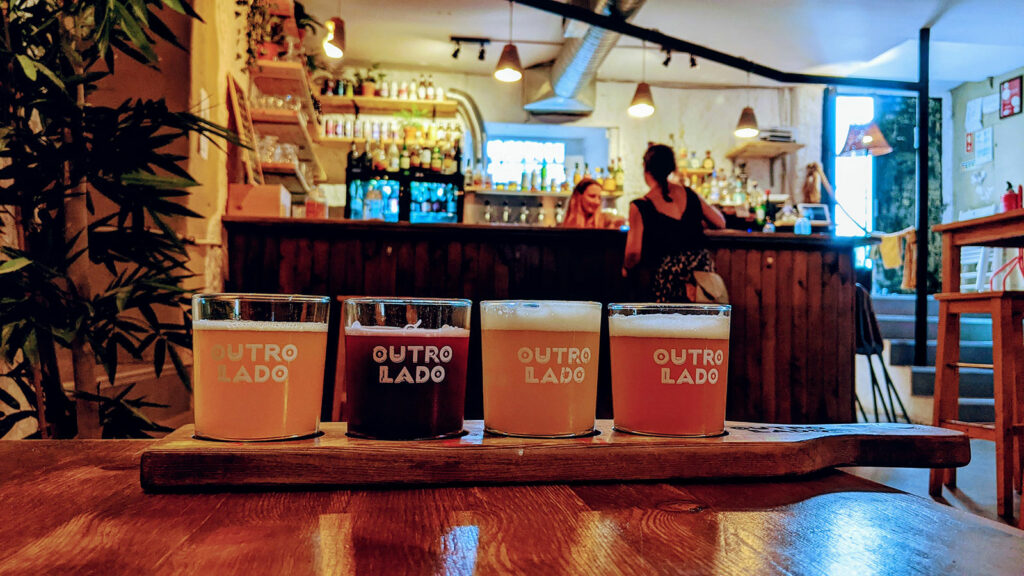 The place itself was a little dingy, due to there not being any window light, but the beer selection and the pleasant bar lady more than made up for the lack of sunlight! I opted for a flight of four beers: Nepomucen (Poland) – Time for Tropics a pastry sour at 7.5%, Sibeeria (Czech Republic) – Blackcurrant Sorbet, a 4.4% Berliner Weisse, Aguarela (Portugal) – Impressing an 8.0% DIPA and another one from Sibeeria – Star Factory 6.5% IPA. They were all mightily tasty and impressive – and a great start to the evening. Well recommended.
Another 30-minute's walk and another mile away, we arrived at Sputnik Craft Beer R. Andrade 41A, 1170-014 Lisboa. This bar was a bit trendier, with large plate glass windows to the frontage and a light, airy, modern feel to the inside. This was possibly the busiest bar we'd seen so far. The modest 10 taps offered up mainly local breweries. I sampled three tasters: a Dois Corvos – Creature 6.3% and two from Letra – Plata, a Fruited Berliner Weisse at 5.0% and Rebendita, a 6.0% Milkshake IPA, which was absolutely lush.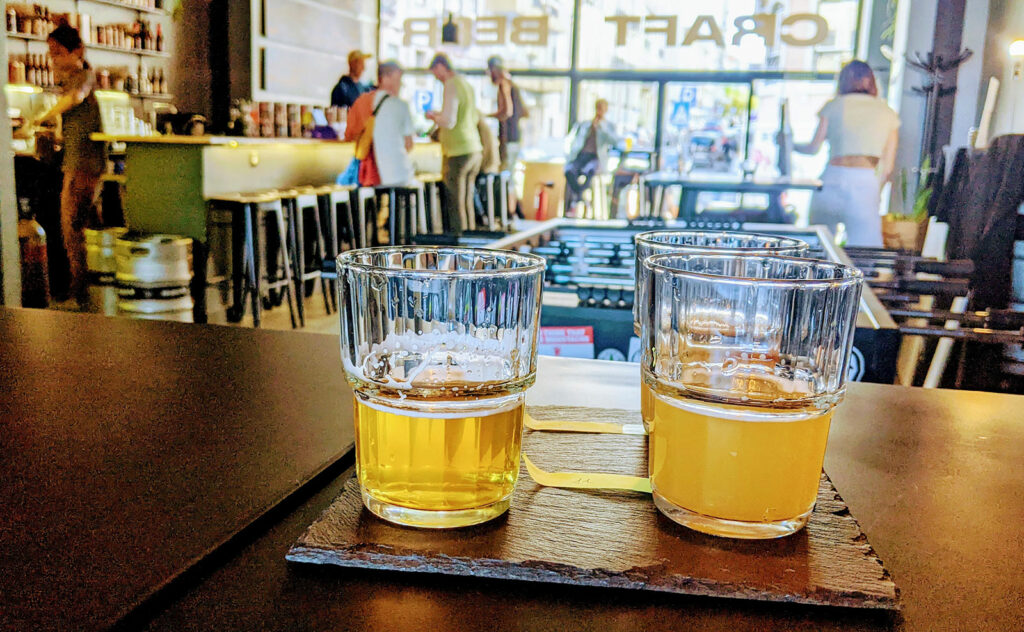 Our last port-of-call was supposed to be Livraria Ler devagar R. Rodrigues de Faria 103 – G 0.3, 1300-501 Lisboa. It is a bizarre industrial unit/library/art centre/bar hybrid, and part of the LX Factory. Alas, tonight there was no beer (except some dusty and presumably warm) bottles on the back shelf and the bar appeared permanently closed. The LX Factory itself, situated underneath the supporting columns of Ponte 25 de Abril – Lisbon's own Golden Gatesque bridge (designed by the same geezer) – is now a bustling avenue of various bars and eateries and it seemed very popular with the trendies. Not for these old duffers though, and we decided to call it a night. Tomorrow we were starting our second leg of the holiday and travelling to Porto.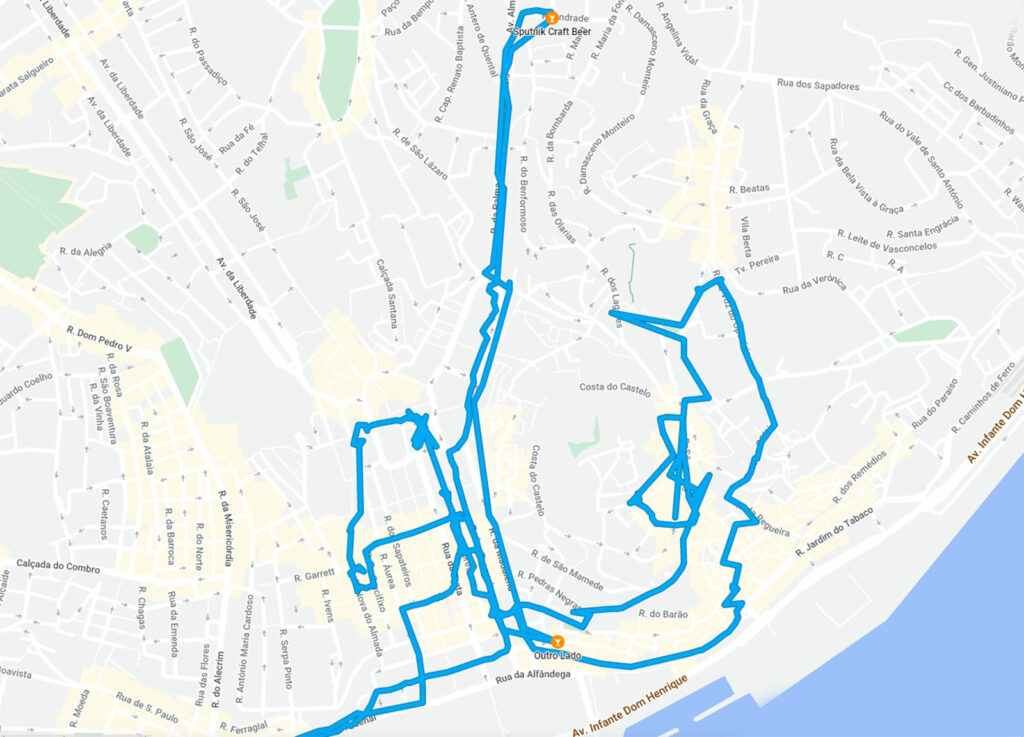 Lisbon is a big city, lovely in parts and underwhelming in others. Once you're in the centre it's very walkable (though I estimate we walked about 40 miles over the three days), despite the steep hills and the killer paving tiles. I wouldn't go out of my way to return any time soon but would not put anybody off visiting. I'm glad we've been and hope the above report gives any potential beery tourists at least some pointers.
Thanks to Gazza Prescott and Owen Ogletree for their recommendations whilst researching this trip.

See the second leg of our Portuguese trip: Pt.2 – Porto
Find me on Untappd
Some tinnies wot I have necked.
And some more pics from Lisbon below.