SATURDAY 25/6/22
We made the 186-mile journey from Lisbon to Porto by coach for an insanely cheap price of 11 Euros each. The journey was comfy enough and took in some lovely scenery along the route, although the large, loud woman in front was taking constant calls on speaker phone and the girl across the aisle was jabbing her mobile for the entire four-hour ride, save for preparing a rolly at the one 'comfort' stop we took. I felt like snatching her phone off her and chucking it out of the window. Kids, eh?
Upon arrival in Porto, we decided to Uber straight to the AirBnB, rather than fart about negotiating the public transport only to end up miles away again, which could be my speciality subject on Mastermind. Again, we found our digs to be a good distance (seven miles) out of the main town in the Matosinhos district. The tram route was, once more, right outside our accommodation. Thankfully, due to the thickness of the stone walls and the depth of the building, this time the trams rolled by unheard from our room.
Here's the map I'd prepared for our Porto trip:
We dropped the bags and had a quick freshen up, and then it was off to explore. After half-sussing the tram tickets (the system must have been devised by a committee of mathematicians or sadists, or maybe a select combo of each), we boarded the tram… and a half-hour later got off at completely the wrong stop! A short exploratory wander around some dodgy-looking side streets told us we were in the wrong district and as it was getting dark we decided to eat. We found a local restaurant that looked popular with the locals and ordered some tapas, which included my first taste of chicken gizzards, and jolly nice they were too. I had a glass of the ubiquitous Super Bock which tasted like your Nana's wee-wee, but it's all they had. A google search revealed we weren't too far from the Brewpub Fabrica Nortada R. de Sá da Bandeira 210, 4000-427 Porto.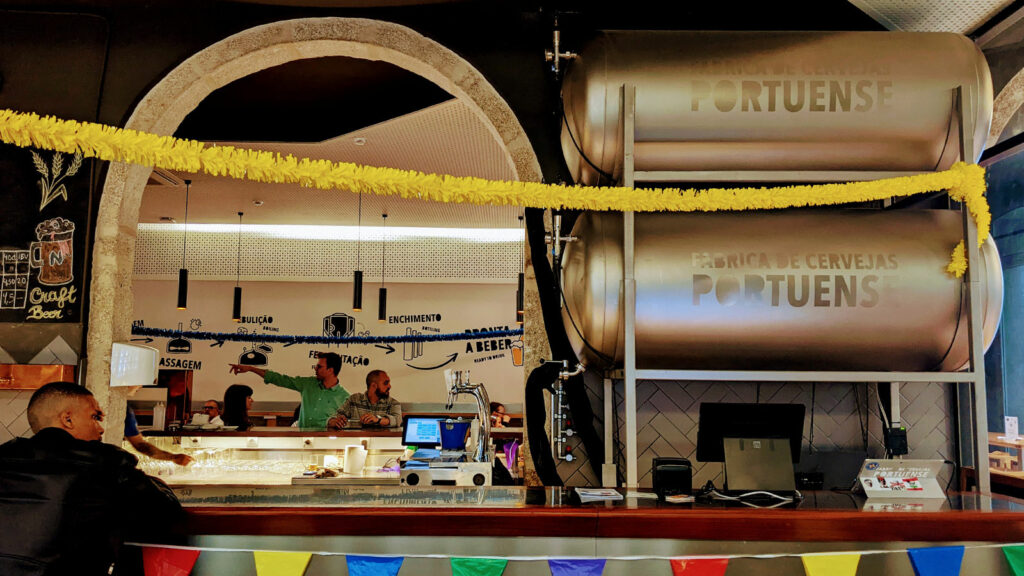 Immediately upon entering, it was obvious that the place was busy with diners, rather than beer drinkers, and the unimaginative beer menu reflected that. After some deliberation on whether to walk out or not, I opted for an India Pale Ale 6.0%, which was a wishy-washy excuse of the style. I struggled to finish it and we were about to leave, when the chap sat behind us struck up a conversation so, to be polite I stayed for another. This time a 5.3% Weisse Beer, not one of my favourite styles and obviously not of the brewer's either. The chap turned out to be a Brazilian-American from New York who had sold his hostel business in the States and emigrated to Portugal to attempt to start up a similar business in Porto. I managed to finish the beer and wished him well for his new venture. Time for bed said Zebedee.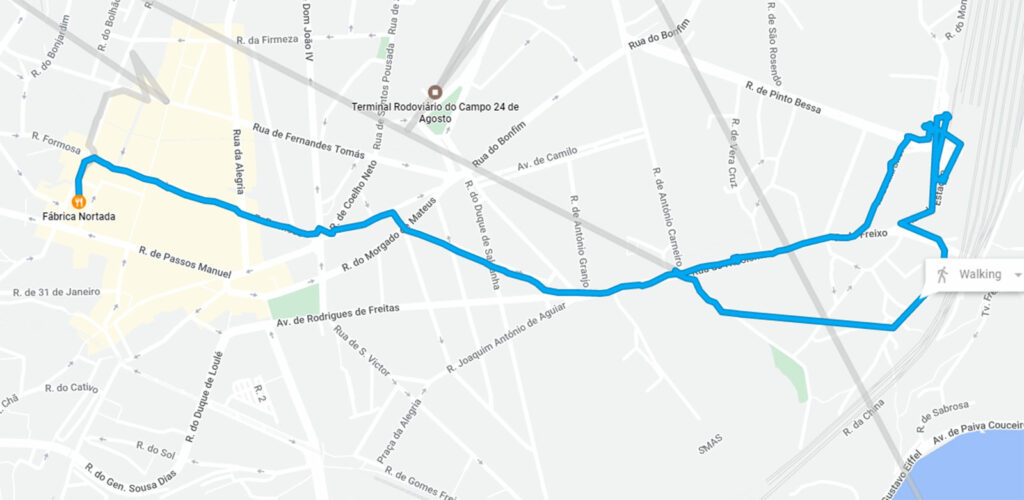 SUNDAY 26/6/22
After consulting the signage at the tram stops, ticket office, tourist information, Lonely Planet guide and google reviews, I finally worked out how the tram tickets worked – only I didn't, 'cos I paid too much for the zones we were travelling to/through/in – and we were off for the first day in Porto proper. This time we alighted the tram at a more suitable stop and walked through the main town on our way to the picture-card pretty and touristy Av. Gustavo Eiffel, the main walk along the Douro Riverside which is lined with eateries and trinket stalls, whilst hoards of tourists browse and stand watching the various buskers and street entertainers. It was a lovely atmosphere and actually not too busy.
Wanting to get away from the main tourist hotspots for something to eat, we wandered to the far end of the Avenue we encountered a paved ramp. The Calçada das Carquejeiras takes you to the upper level of the town via a 28% incline. For some inexplicable reason, we decided to make the climb. Halfway up, gasping for breath, we encountered a lady, accompanied by an Al Capone lookalike on her arm, making the descent in killer five-inch heels. I felt like a right amateur. I bet I was a far better beer drinker than her, though.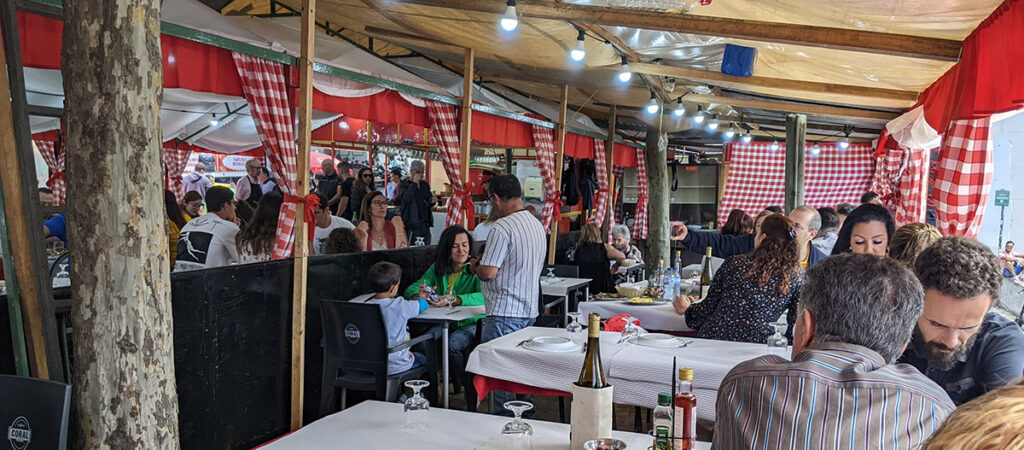 At the top, we found a large, make-shift tented eating place, obviously hugely popular with locals and exuding a marvellous meld of garlic and barbeque smells. After regaining composure and breath, we decided to stop for something to eat, so we joined the queue to get in and after a short wait we were shown to a table. There was no written menu and the waiter had no English, but after some translation help from the chap on the table beside us we ordered (we thought) pork for me and grilled fish for Mrs Belvoir.
Ten minutes later we had a colossal plate of barbequed chicken and enough chips to keep the average MacDonalds open for a week. Great food and astounding value for money – always look where the locals eat, rather than use the tourist areas. The place afforded great views over the Douro River Valley and it was a magnificent accidental find. We enjoyed the food (and another glass of Nana's wee-wee), taking in the sights and atmosphere. The place didn't have a google or Facebook entry (I suppose because it was only temporary/seasonal) so I can't give you an actual address, other than 'at the top of the ramp'.
Full to bursting, we exercised it off by walking through town, back towards the Ponte Luiz I, the iconic bridge that spans the Douro River. To the left on the approach to the bridge was our first beer stop. CAL Craft Beers Av. Vimara Peres 56, 4000-544 Porto. A strange little place inside, that didn't seem to know whether it wanted to be a restaurant or a bar. They had, if I remember correctly, four taps behind the small bar, all serving 'CAL'-branded beers. I managed to coax out of the miserable bloke behind the counter (who seemed to be pre-occupied with keeping people out of the toilet) that these were all brewed by Post Scriptum brewery, although due to the small size of the place, I really couldn't imagine these beers being exclusive to CAL. I suspect they were just rebadges.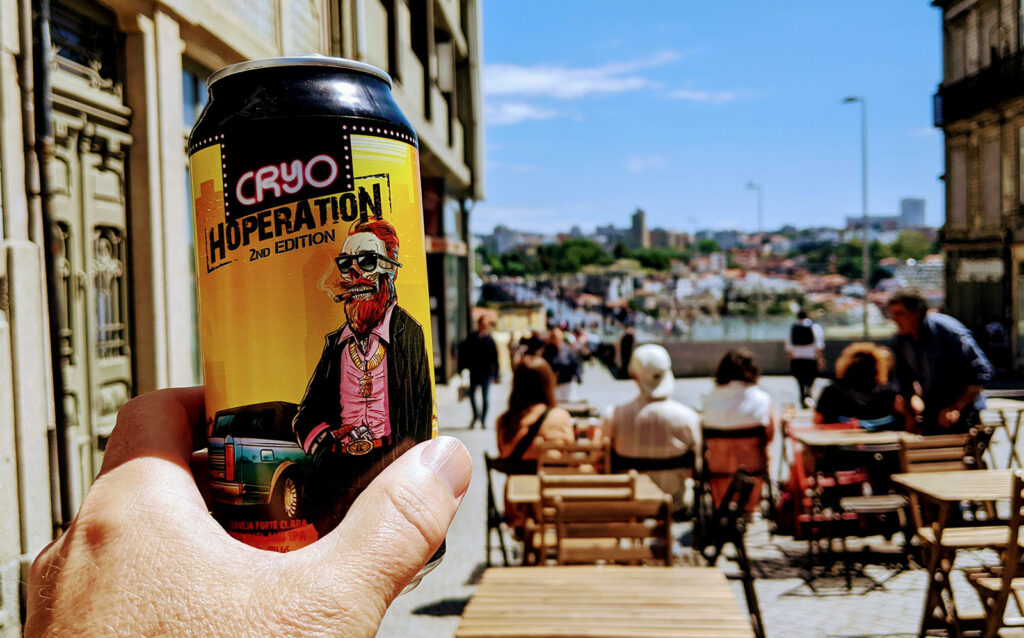 I had a rummage in the fridge and selected another Post Sriptum beer: Cryo Hoperation 2nd Edition, a 7.2% NEIPA which was totally hip (thanks Gazza) and fab. We sat outside on the busy pedestrianised walkway people-watching for a couple of hours, during which I had another can from the fridge, this time a Dois Corvos X Brewfist (Italy) collab – Scigoli Lingua Double NEIPA at 8.0%. Stupendous! We tried to revisit this place several times over the next few days, but despite its superb location and hundreds of people passing by constantly, we never found it open again. Along with the fact they don't seem to have a web presence or Facebook page makes me doubtful it will be around for long. I hope I'm wrong.
Next on the list was Armazém da Cerveja R. Formosa 130, 4000-254 Porto. Another specialist bar with a very ordinary shop-looking frontage, but once in you immediately realise that this place knows what it's good at! As well as the 12 beers on tap, there was a shed-load of cans and bottles in the cold room behind the bar, visible through a window. From the taps, I chose a Fuerst Wiacek (Germany) – Jejune, a luscious 6.8% American IPA. We sat at one of the tall tables next to another couple, who immediately commented on my Yards Brewing (Philadelphia) T-shirt, asking me if I'd actually been there. When I confirmed that I had, we struck up a conversation. It turned out that Adam and his lovely lady (I'm embarrassed to say I've forgotten her name) were from Pennsylvania and knew the brewery well. Small world.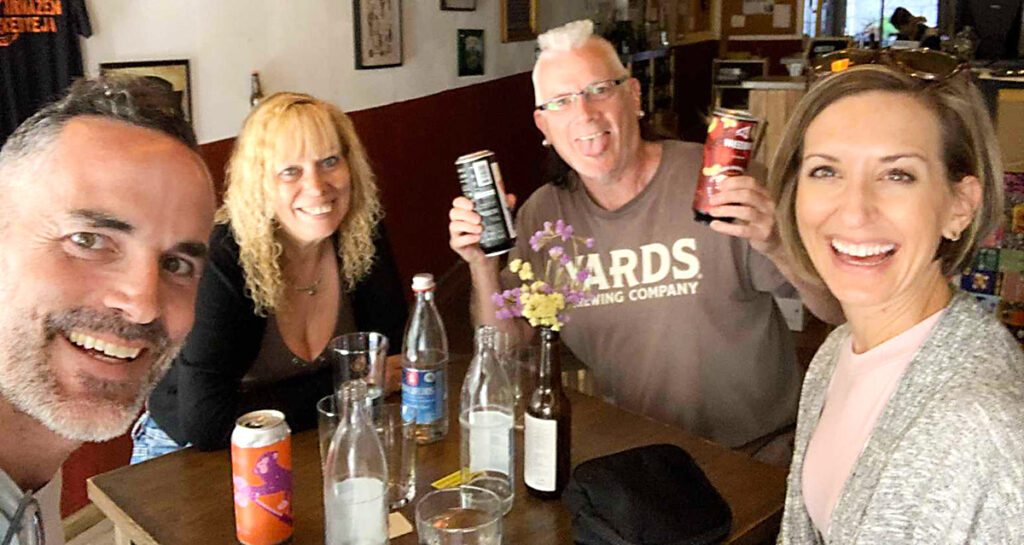 Adam and I decided to do a can share and selected one each from the back room. I chose a Sibeeria (Czech Republic) – Yummy/Gelato Strawberry & Rhubarb 5.4% pastry sour, which was frickkin' awesome and he went for a Nepomucen (Poland) – Maria, a 5.4%, fruited Berliner Weisse, also mighty tasty. Adam told us he worked for some kind of tech company and had recently, along with his co-workers, had his name etched into a plaque attached to a probe (oo-er, missus) destined for the moon (or Mars, I can't remember), which I thought was pretty damn cool! We enjoyed their company for an hour or so, then it was time for the next and last beer stop of the day.
Letraria Porto Rua da Alegria 101, 4000-042 Porto, advertises itself as 'Porto's Beer Garden', but we elected to sit inside as the early evening had sprung a chilly breeze, despite the pleasant sunshine.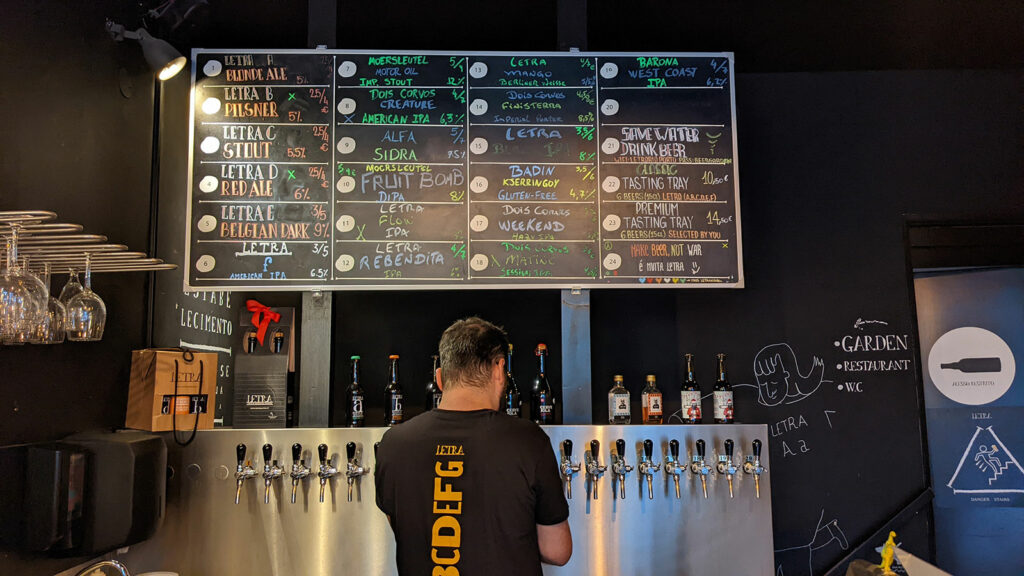 An impressive 24 taps here, but just two sampled: Moersleutel (Netherlands) – Fruit Bomb Batch #1 8.0% which was fantastic, and one of their own beers, Letra – Mango Berliner Weisse BA 5.5% which was also very tasty. The evening was drawing on now and we had to find the station for the 50-odd minute tram ride back, so we decided to call it a day in order to be back at the flat before we turned into pumpkins.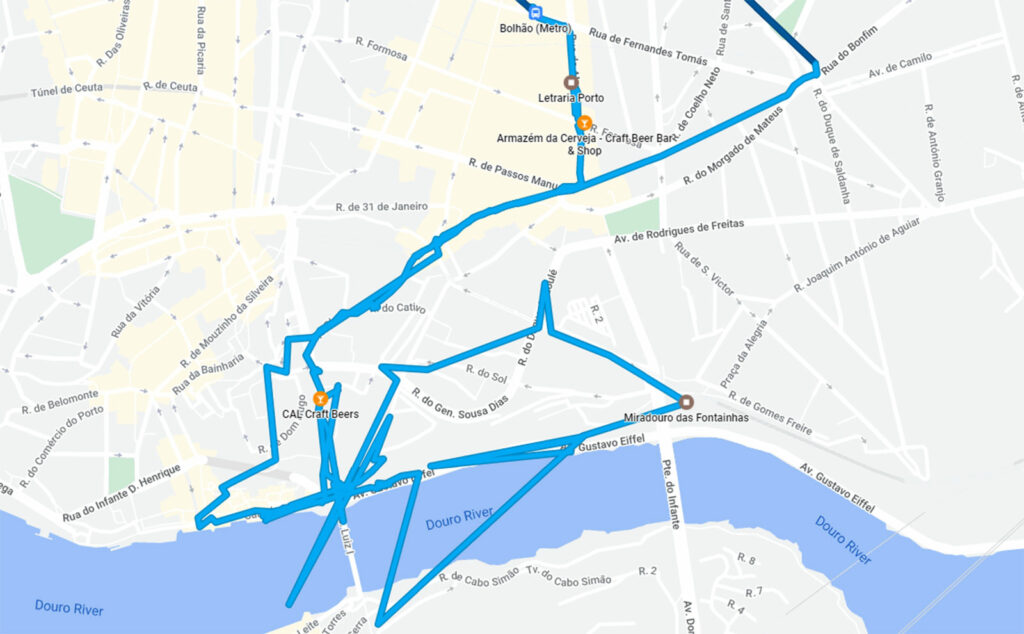 MONDAY 27/6/22
Today, we decided to cross the Ponte Luizi I and explore the other side of the river, along the Av. de Diogo Leite. This side of the river is, as you would expect, somewhat quieter. It's a little less characterful too, but still has many bars and eateries along the front, along with another rather large food hall, whose name escapes me. We ambled along the riverfront, browsing the gift stalls until we reached the terminal for the Teleférico de Gaia Cablecar. The cable car runs along the length of Av. de Diogo Leite, back to the Ponte Liuz I and serves no other purpose than to be for tourists, as far as I could fathom. Anyway, we took the bait and paid €6 each to make the 600 metre, five-minute ride back to the bridge. It wasn't particularly good value for money, but at least I can now say 'done that' and it did actually afford fantastic views of Old Porto.
By 3 o'clock it was time for a beer and today's first visit was to the newest addition to Porto's craft beer scene, Baobab Rua do Almada 377, 4000-303 Porto, which had only opened eight weeks previously. And you could tell! The place was immaculately clean, the paintwork blindingly white with large expanses of unadorned wall. It all felt a little too clinical. I really hope it develops some character. The place was a single room, with a WC off to one side. No cellar room, no storage area, no office. Nowt! It just shows how simple it is to set up a craft bar nowadays, but I can't help thinking that the owner would struggle once the business takes off. The beer selection, although small, was pretty decent.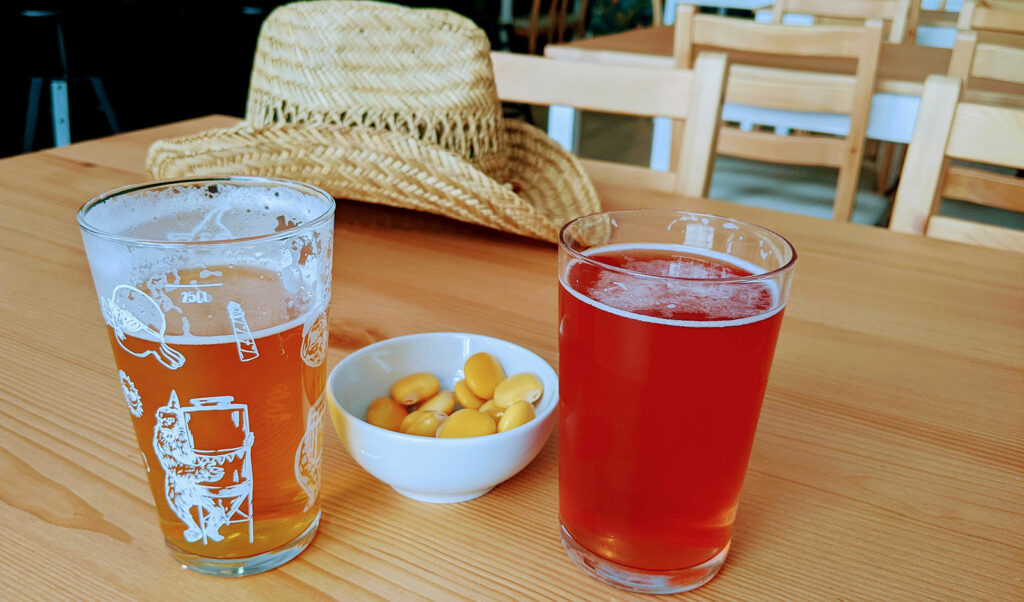 I chose two beers: Dois Corvos – Benta APA 5.4% and a Maltgarden (Poland) – Trunk Full of Fruits, a 3.5% fruited Berliner Weisse, both of which were fine. The beers came with a complimentary bowl of beans. I thought they were a bit leathery, but ate them anyway. Apparently you're supposed to bite and split the outer shell to squeeze out the contents and then discard the skin (thanks Gazza!). A bit late now, but at least you'll know how to eat them. I bet the bar lady thought I was a right doilum! Before we left, the owner told us of another recent start-up, so we decided to make that the next port of call.
An hour's walk and a mile or so later, we arrived at Cask Beer R. da Arménia 54, 4050-066 Porto, tucked away in a cobbled street, adjacent to the main riverside road. Upon entering, it was immediately apparent that these guys knew what they were doing! Despite the bar's name, they didn't serve any cask beer, but did have thirteen on tap plus shed loads of bottled and canned choices. I must say the cans seemed a bit on the expensive side, for example, a can of Ārpus beer would set you back around between 11-13 Euros, something you could get for maybe seven or eight quid in the UK. No matter, there was a great selection on draft to go at!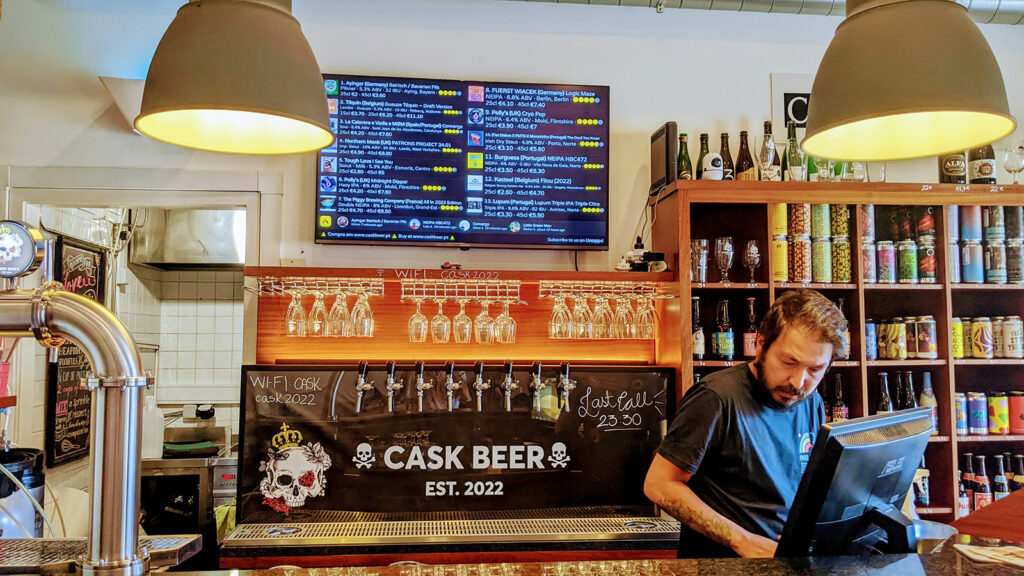 I ordered four: Piggy (France) – All in 2022 Edition 8.0% DIPA, Burguesa (Portugal)- NEIPA HBC472 at 6.0%, Fuerst Wiacek (Germany) – Logic Maze, a 6.8% NEIPA and a Lupum (Portugal) – Triple IPA Citra a whopping 9.6% DNEIPA. All massive, massive beers. Not content with those, I also dipped into the fridge and bought a can from another German brewery, BrewHeart – Tour de France at 8.0%. Again, a cracking DNEIPA. All the beers I had here were superb.
Cask Beer had been open for three months. Their location, I felt, was a bit off-track and I'm not sure what the skull logo had to do with cask beer, but everything else they were doing right, and I'm sure these guys will make a massive impression on the Porto craft beer scene. Totally recommended!
Our last call for the day was Catraio R. de Cedofeita 256, 4050-174 Porto. Catraio 'Craft Beer shop & Bar' was a pub on three levels, with a winding staircase from the street level taking you to a covered second bar, which lead to a raised outdoor terrace. The 'kitchen' was a hipster with a home-barbeque precariously perched on the stairs outside. Very H&S, and I'm sure he would've been pulled up by the authorities in the UK! Anyway, he was doing a roaring trade. It felt all very ramshackle-make-do, but it all seemed to work.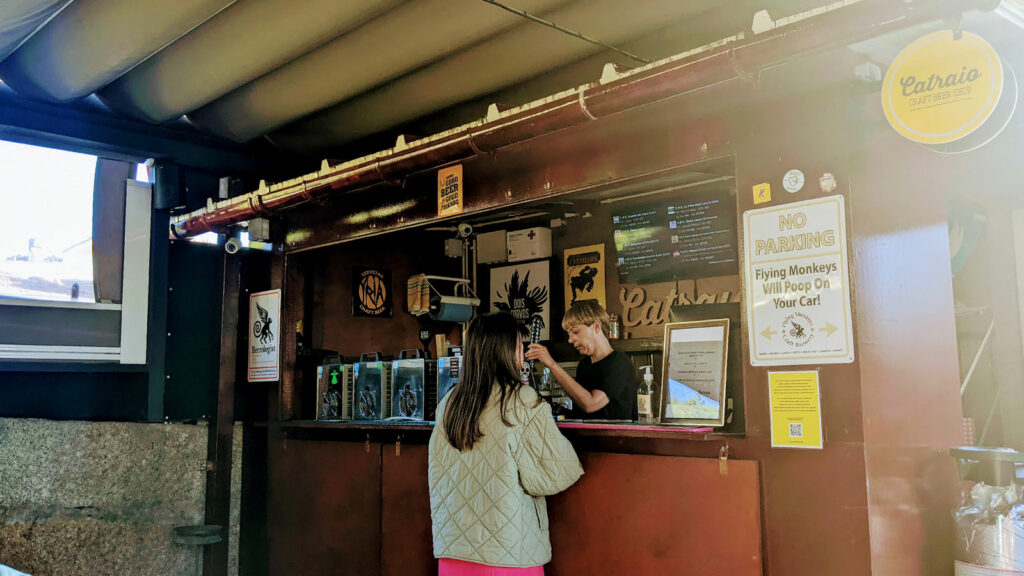 It's hard to say how many beers were available as the taps were spread over two bars, but the overall offering seemed good. We located a table in the second bar area. Only 10 taps here! Mrs Belvoir ordered some food from Chef Makeshift whilst I fetched beer. Two sampled here: Piratas – Sailing the Milky Way 22:02, a 4.5% fruited Gose and a Maltgarden – Red Carpet Stars, a banger 8.2% DIPA.
The food was basic but tasty and good value. Both beers were delicious and a great end to another very tiring day. More adventures tomorrow.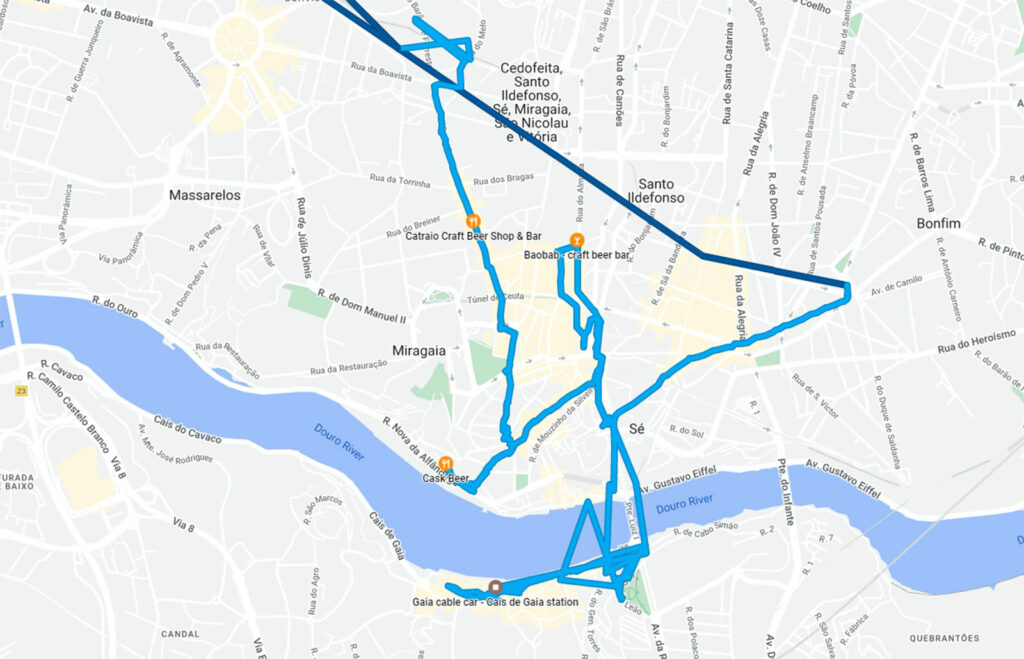 TUESDAY 28/6/22
A full day's walking around today, general sight-seeing, including the magnificently decorated São Bento Station (the Portuguese sure do like their tiles) plus the Museo do Vitral and after about eight miles, we thought we'd earned a beer or two. First stop was Cervejaria do Carmo (Goulden Draak) Praça de Carlos Alberto 124, 4050-526 Porto. As the name might suggest, they majored on Belgian-style beers. I chose one from the tap: Madam Lindinha Lucas – The Margarita Gose Solo 5.0% followed by a bottle of 6% APA from Athor (Argentina). I couldn't work out the provenance of the former, despite asking the lady behind the bar for some gen. I got the impression that they like to say they brew their own, but suspect it's all contracted. Whatever, both beers were very average, and summed the whole place up for me really.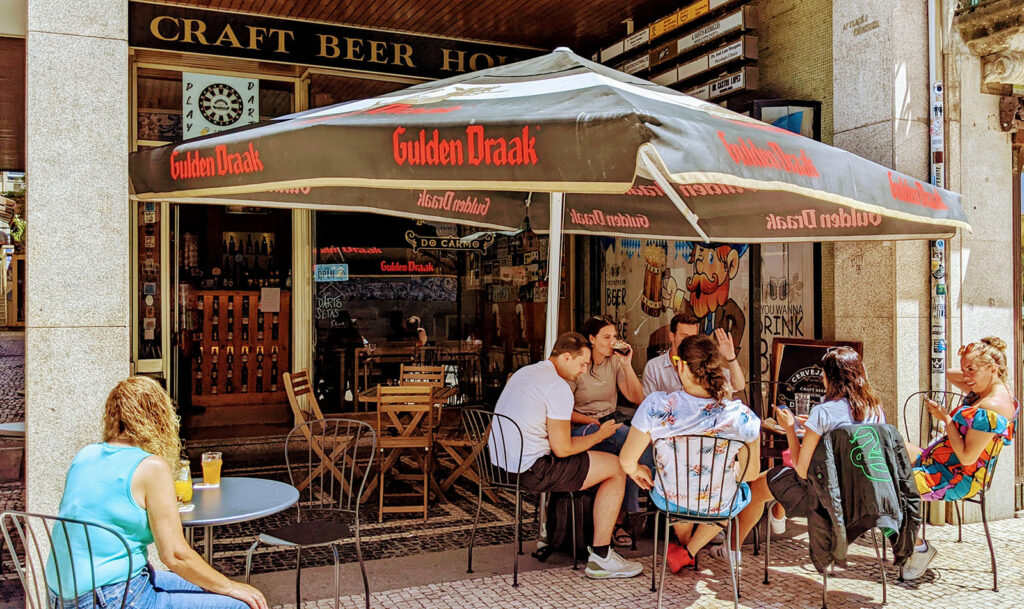 We sat outside in the sun but the constant screeching of the 'walk now' alarm of the nearby pedestrian crossing was starting to grate on our nerves and we quickly drank up and left.
Time had taken us by surprise today, so we decided to find some food before walking back to the tram. I had spotted a tucked-away spit-n-sawdust Asian restaurant on our first day in Porto, so we decide to eat there before making a second visit to the superb Armazém as it was on our way back to the station. The Royal Nobab Grill & Halal Restaurant was obviously catering for the local Asian population as many popped in and out during our short stay for the food. The menu was simple and basic but delicious and marvellous value for money. As I said before – always eat with the locals!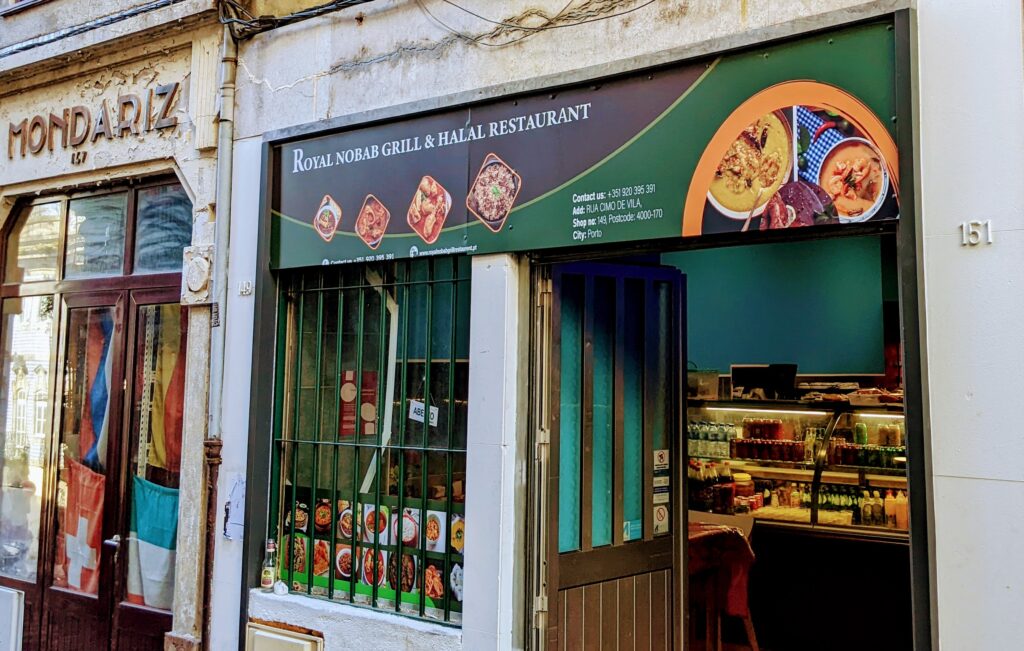 On to the Armazém now, but unfortunately only time for two. I had one on draft; Attik (Spain) – Bushido, a superb 6.5% DDH IPA, and a can (that I had spotted on our last visit) selected from the cold room – Three Little Birds, a stunning 8% Double NEIPA from Dutch hop masters Floem. Time to head towards the tram.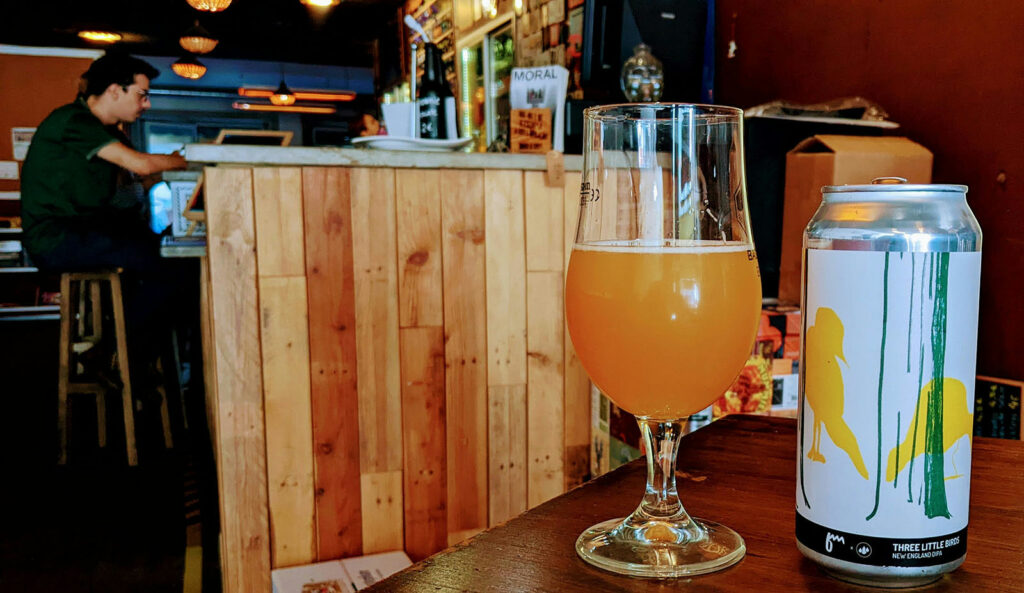 We had visited a bar near our digs in the Matosinhos district the previous evening only to find it was closed on Mondays, so rather than call it a night we made the short walk from our home tram stop to HopTrip R. Heróis de França 617, 4450-159 Matosinhos, our last call of the night and boy, was it a winner! Despite a superb selection of 15 on tap and dozens more in cans, I was limited to two, as their card machine was kaput and I only had a few Euros on me. No matter, I would make a return visit tomorrow with plenty of dosh! I chose two from the wall: Fuerst Wiacek – Nodding Dog 6.8% NEIPA and a Maltgarden – Most Beautiful Places 8.2% Imperial IPA.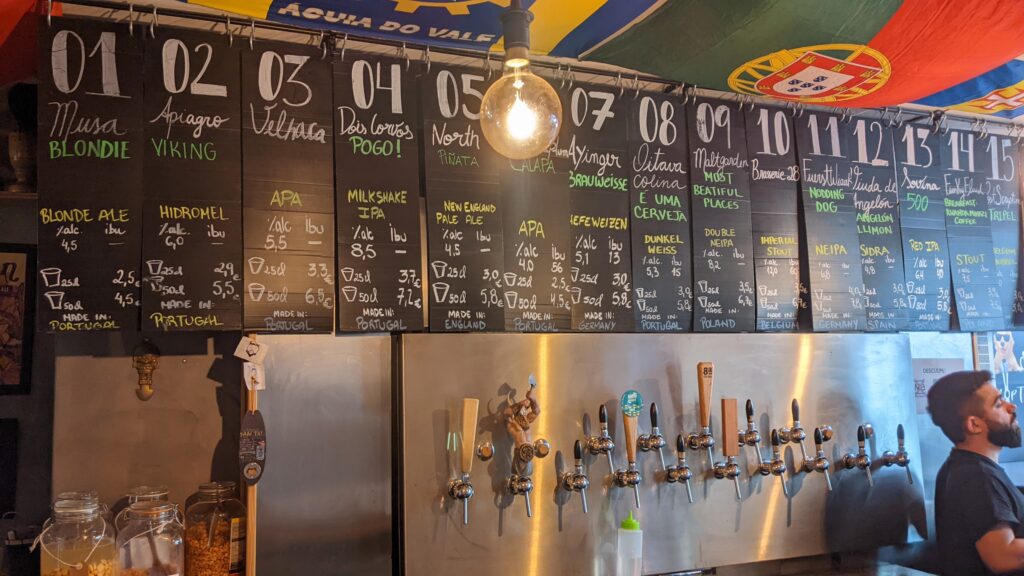 A perfect finish to the evening and, to be honest, I was ready for my pit! Tomorrow was our last full day and we were going to make the most of it.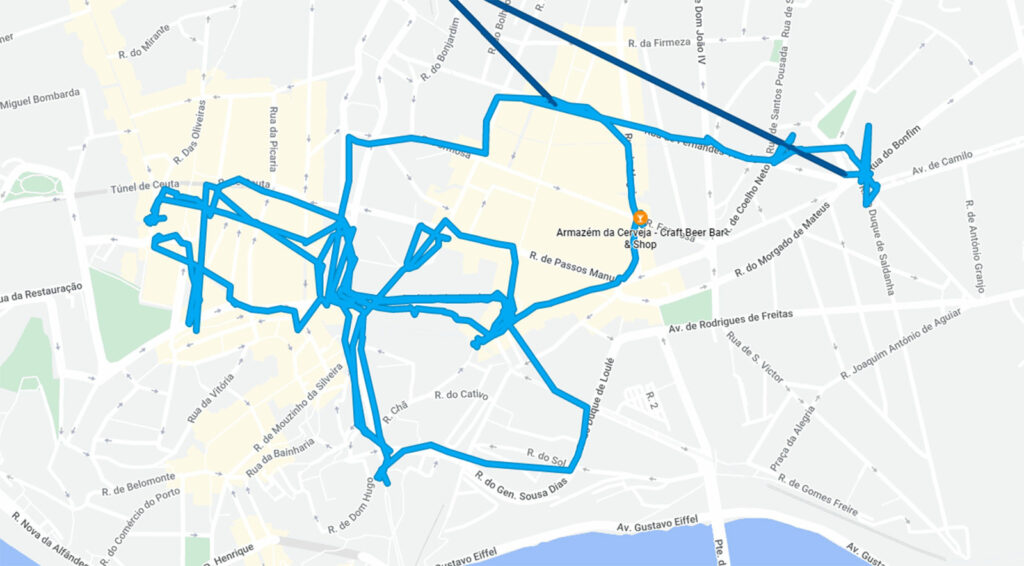 WEDNESDAY 29/6/22
By now, we'd seen most of what we wanted, so our last day was spent just browsing around the shops and sitting around the various squares enjoying the street entertainers and general people-watching.
By mid-afternoon, it was food time and I decided that before I went home, I had to try the traditional Portuguese dish of Francesinha. This is a heart attack on a plate, a sandwich of sausage, ham and steak with fried egg top and bottom, smothered in melted cheese and coated in a spicy sauce. It was a Herculean effort for me to actually finish it and the lady that took our order had asked me if I wanted fries with it! Luckily, I had declined.
Totally pigged-out, it was a good job we had chance to burn calories during the fair walk to the first bar, Musa das Virtudes Passeio das Virtudes 28, 4050-629 Porto. A small entrance off the street led to a long, narrow bar running back from the frontage. The plain stainless steel-topped bar had 15 taps behind it. Truth be told, the beer choice here was pretty lacklustre. I chose two, both from Post Scriptum, Calapa, a 4% APA and Catarônica, a 7% sour. Both were below average, which was strange as I'd had a superb Post Scriptum at the CAL bar a couple of days before. The overall atmosphere was lacking here, but I couldn't really put my finger on what it was. Hey-ho, time to move on.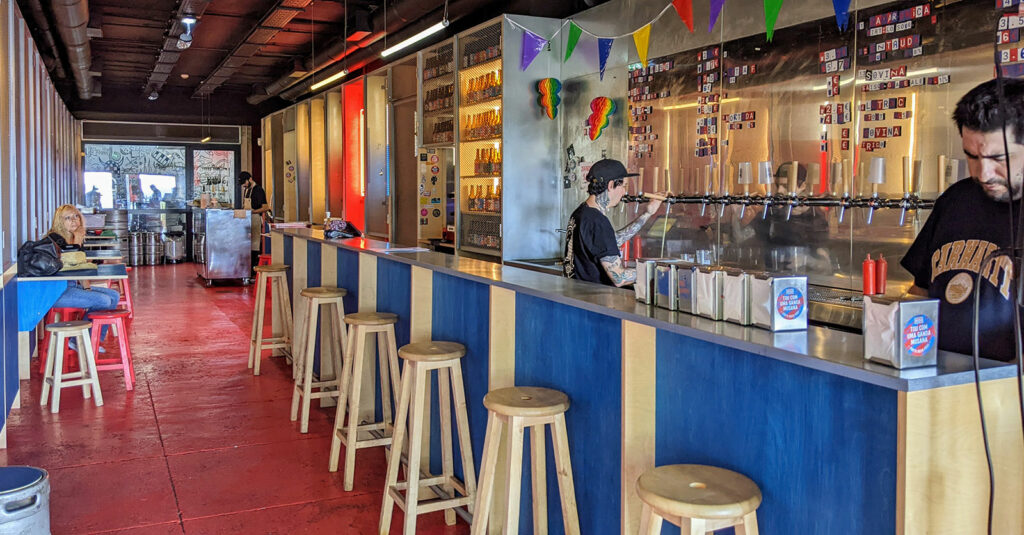 Next on the list (and our last bar visit in the city) was a tiny brewpub, A Fábrica da Picaria
Rua da Picaria 72, 4050-477 Porto. This bar had a tiny space at the front which, by any definition of the term, was a micropub. I selected two from the nine taps on the bar: A Fábrica American Pale Ale 5.0% and a Milkshake IPA at 6.2%. Sadly again they were both below par and we decided to cut our losses and make our way back to the HopTrip at Matosinhos for the last drinkies of the holiday.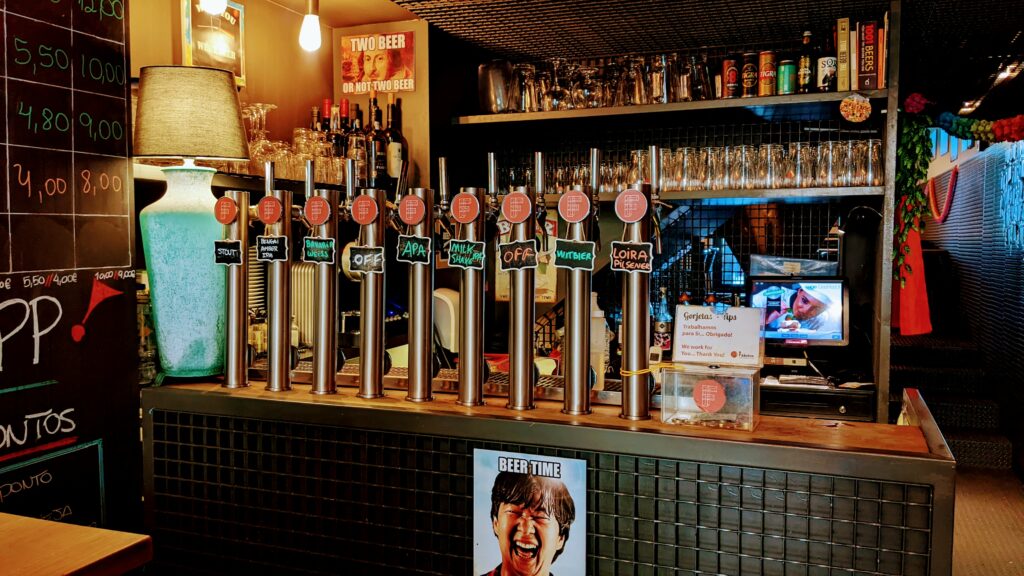 In the event, Mrs Belvoir decided to call it a night and go back to the AirBnB early to pack our bags and do wifey stuff (is that PC? – I never know nowadays). I reached HopTrip to find it bustling both inside and out. The beer menu had changed slightly since last night's visit and I chose one on tap from local boys Dois Corvos – POGO 8.5%, an OK Milkshake IPA, but this was blown out of the water by my last selection, a can of Prizm (France) – On Phone Lines & Letterheads – a monster, monster 10% Triple NEIPA. A superb beer to finish the holiday on and I couldn't have chosen better.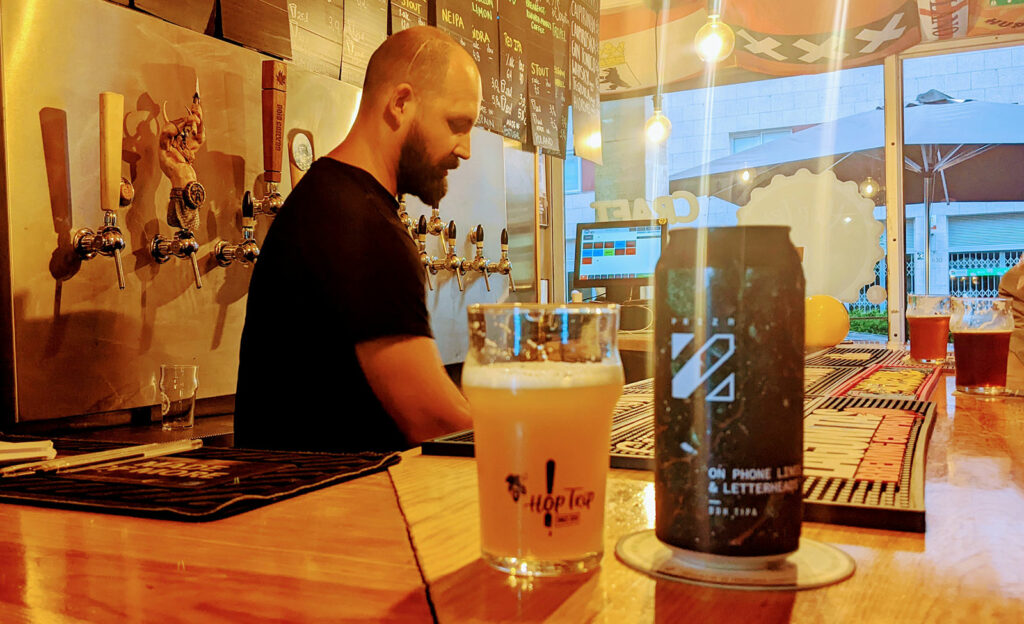 And that was it. Time to take the short walk back to the digs and prepare for the flight home tomorrow.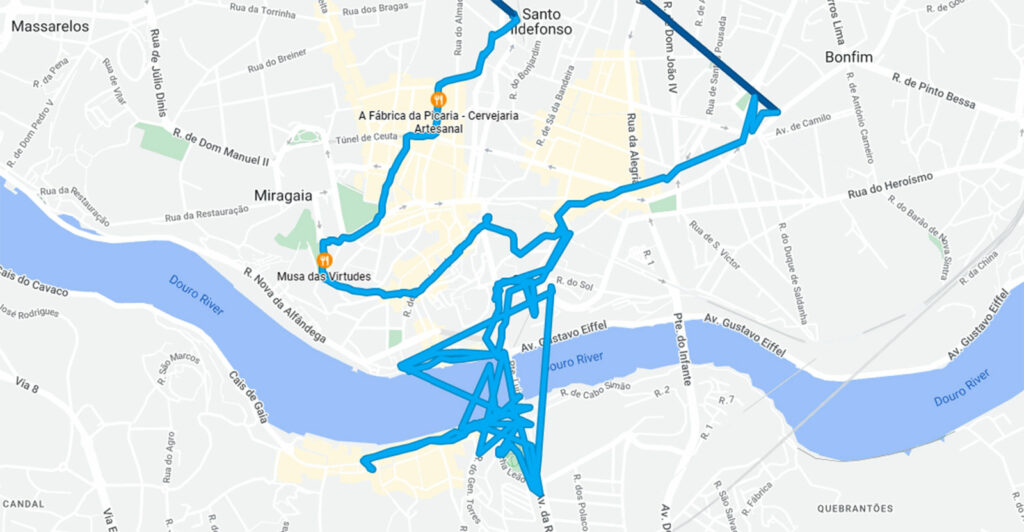 Overall, I enjoyed Portugal. Porto (IMO) was better than Lisbon in every way (but of course, much more touristy). Both cities were easily walkable (I estimate we covered around 80 miles on foot over the whole nine days) although public transport was cheap if that was your option. Ubers are another really cheap alternative, especially if there are two or more sharing.
Highlights for me (beer-wise) were the Quimera and Outro Lado in Lisbon, and Cask Beer, Armazém and especially HopTrip in Porto (although the latter is a fair way out of the main city). The craft beer scene seems to be burgeoning in both cities, but more so in Porto. It was a little frustrating that many of the craft establishments didn't open until around 4pm, but I guess that's the norm in many European countries where socialising doesn't really get going until early evening at least.
I hope my brief reports give you some insights into the beer scene in Portugal. Many thanks to both Gazza Prescott and Owen Ogletree for their recommendations whilst planning this trip. Go check their web sites.


See the first leg of our Portuguese trip: Pt.1 – Lisbon
Find me on Untappd
Some tinnies wot I have necked.
And some more pics from Porto below.