This Brittany visit report was originally written for the Newark CAMRA newsletter in July 2005.
---
Mr & Mrs. Belvoir had a short visit to St. Barthlemy, a lovely quiet village in Brittany. Our hosts were Mike and Lynda Carrie, Newark branch CAMRA members, who moved out there about two years since and now try to earn a few Euros by letting out rooms.
Mike was a perfect host, showing us the sights around the area and introducing us to the culture, especially the bars!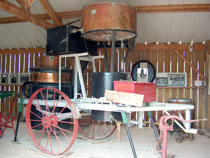 The traditional drink in Brittany is cider, either still and cloudy similar to those made here or, more commonly, slightly sparkling and clear, although the sediment remains in the bottle.
Available either dry (brut) or sweeter (doux), they are made on the farms where the apples are grown, the flavour obviously differing with type of apple, growing conditions, and the way in which the juice is treated after pressing.
Cider, or cidre was available in every bar, café and supermarket we visited, although it was much more fun visiting the farms where they are made and purchasing them directly from the farmer. I won't bore you with tasting notes; suffice to say all those sampled were very drinkable, especially from a cup and saucer, which is the traditional way in these parts!
The Bretons are fiercely proud of their product and apparently some Breton cider-producing areas are even pressing (see what I did there?) for their own Appelation D'Origine Controle (AOC) to guarantee authentic, high-quality local production, as with French wines.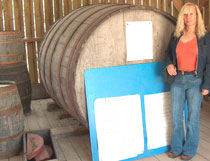 Not so easy to find, but made from the same apples is Eau de Vie or 'Water of Life', a throat-ripping poteen-type brew still made by some farmers. Not sure whether this was legal, but we were served some from under the bar. I was assured that it was a really smooth sample. If it was, I would hesitate to try the rough stuff!
A lot of Brittany's cider history can be seen at the farm at Pleudihen whose outbuildings house the Muse de la Pomme et du Cidre (Apple and Cider Museum), which we also visited and where we pictured the antique still that was used to make the Eau de Vie.
We also found some very good bottle-conditioned Breton beers, but I'll save that for another day. Our short stay in Brittany was very enjoyable, big thanks to Mike and Lynda.