FRIDAY 31/8/18
For this leg of the journey, we decided to get a hire car, which Tracey had volunteered to drive. Although I was very grateful and more than happy to have her do the driving duties, it was a little disconcerting that she went to get in the car on the wrong side when we set off 🙂 It was almost 300 miles to Pittsburgh so most of our time would be spent travelling today.
It was gone 10 o'clock before we got on our way. We made a stop at Brecknock Township in search for something to eat at around 2ish. Asking for recommendations in a 'gas' station proved fruitless, but one of the other customers overheard our request and offered to show us to 'the best diner in town'. He got in his car and proceeded to lead us around a couple of blocks, where he indicated for us to stop. He even got out of his car and opened the door for us to go in. What a genuinely nice man!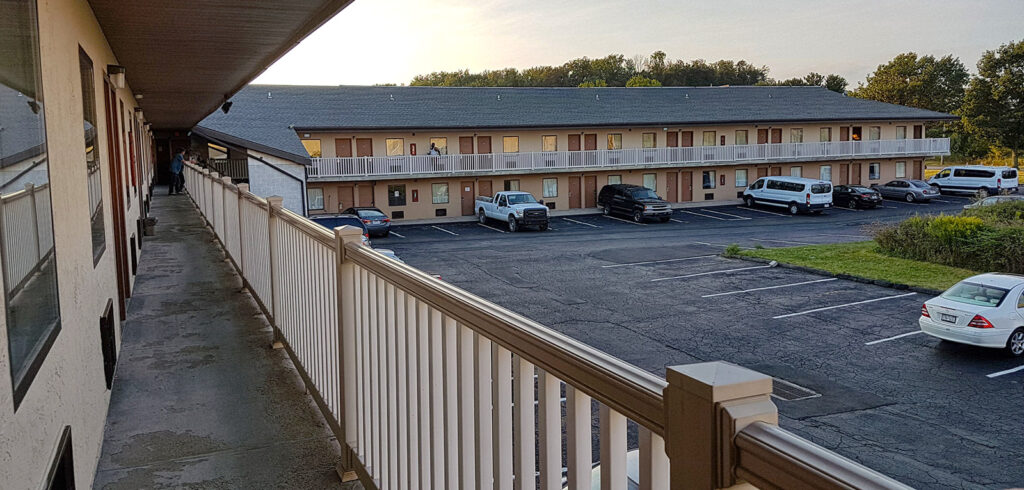 About five hours later, we reached our destination – The Hilltop Inn, our first taste of an American Motel. And it was everything I expected! Tatty magazines, stale cakes and broken coffee machine in the reception. Peeling woodwork outside, grimy tobacco-stained walls and frayed curtains in the room, and a television which looked like it was made in the '60s, with a coat hanger for an aerial. All that was missing was an Anthony Perkins lookalike. But it was cheap and comfortable and although some of the residents looked a bit scary, they seemed chatty and friendly enough. We booked in and freshened up and as time was marching on – it was about 19.30 by this time – it was beer o'clock.
An eight-mile taxi ride took us to the Grist House Craft Brewery – 10 E Sherman St, Pittsburgh, PA 15209, and it was busy here tonight. The tap area was a wooden built lean-to off the main brewery building, spilling out onto the yard, where there were several marquees and a food van selling British 'FISH & CHIPS'. 'Yes, we DO mean fries' read a sign attached to the van! After queueing at the van for half-an-hour to get some nosebag for the girls, I was finally allowed some beer. It was worth the wait: pints of Hazedelic Juice Grenade 6.4% NEIPA and Space Cactus 6.8% NEIPA, both brewed on-site, both spectacular. One of the locals told us about another brewery that was literally a few minutes' walk away, and what a contrast that was!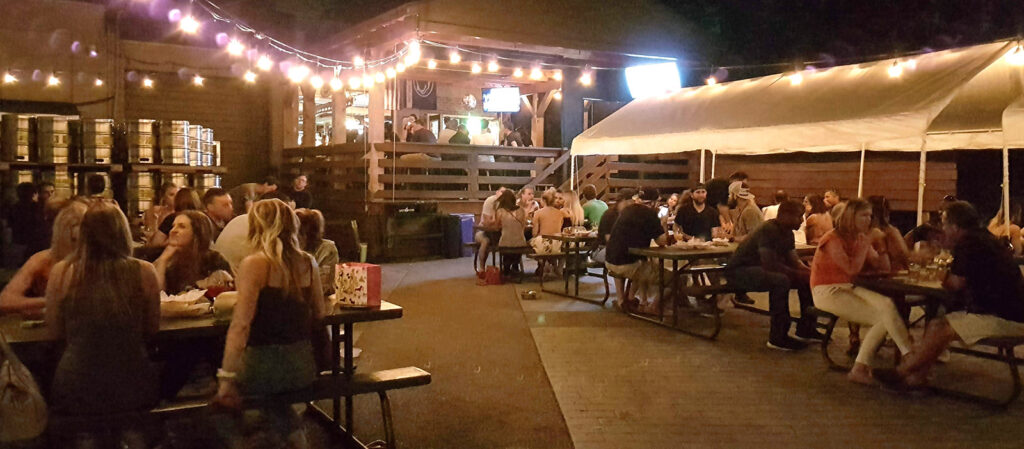 Strange Roots Experimental Ales – 501 E Ohio St, Pittsburgh, PA 15209, a small, one-roomed bar set back off the street was empty when we got there, which we thought odd for this time on a Friday night. When we tasted the beer though, it became apparent why! Now, I'm all for experimentation, but I'm not so keen on being the guinea pig. I tried two here: Desert Wolf 5.1% IPA, which was just about neckable, but the Summer Ghost 5.1% Farmhouse Saison was undrinkable and hands-down the worst beer of the whole trip. In hindsight, I wish we'd stayed for another one at the Grist House, but no matter, onward to the next stop.
Another 8-mile Uber ride and we were dropped off at Hitchhiker Brewing – 190 Castle Shannon Blvd, Pittsburgh, PA 15228. This was a bijou town-centre tap room (although the brewery is in another part of town) which, though busy, wasn't overcrowded. I tried a flight of three in here: a 15th & Canal 5.8% APA, 7.1% Spatial Influence NEIPA (which was superb) and an Into the Fade 8% Double NEIPA. Much needed after the shite we'd just suffered back at Roots.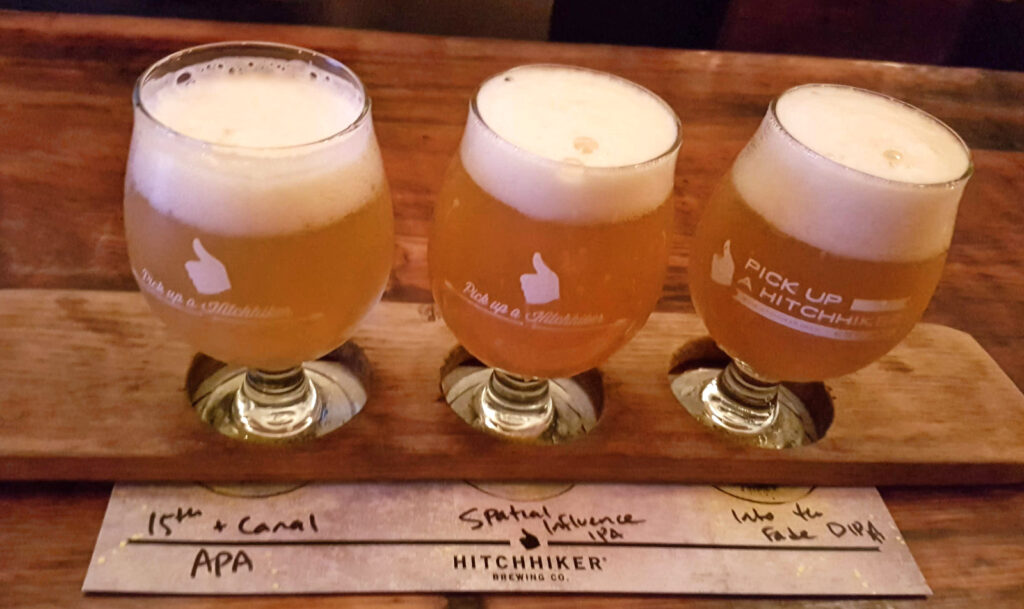 Time was getting on now, but we had to make up for a lost day's drinking due to the car journey! Another short cab ride took us to the Korner Pub – 4 Bower Hill Rd, Pittsburgh, PA 15228. Looking like a supermarket from the outside, with a big neon-lit Coors sign in the window, I wasn't expecting much. It turned out OK. Stepping through the doors to find it rammed with customers, we managed to find some table space, sharing with some locals, and I ordered a pint of Hop Knife 6.2% IPA by Tröegs Independent Brewing which was a very tasty nightcap before calling it a night. It was nearly half-past midnight by now and it had been another very tiring day. Tomorrow we were going to explore the city.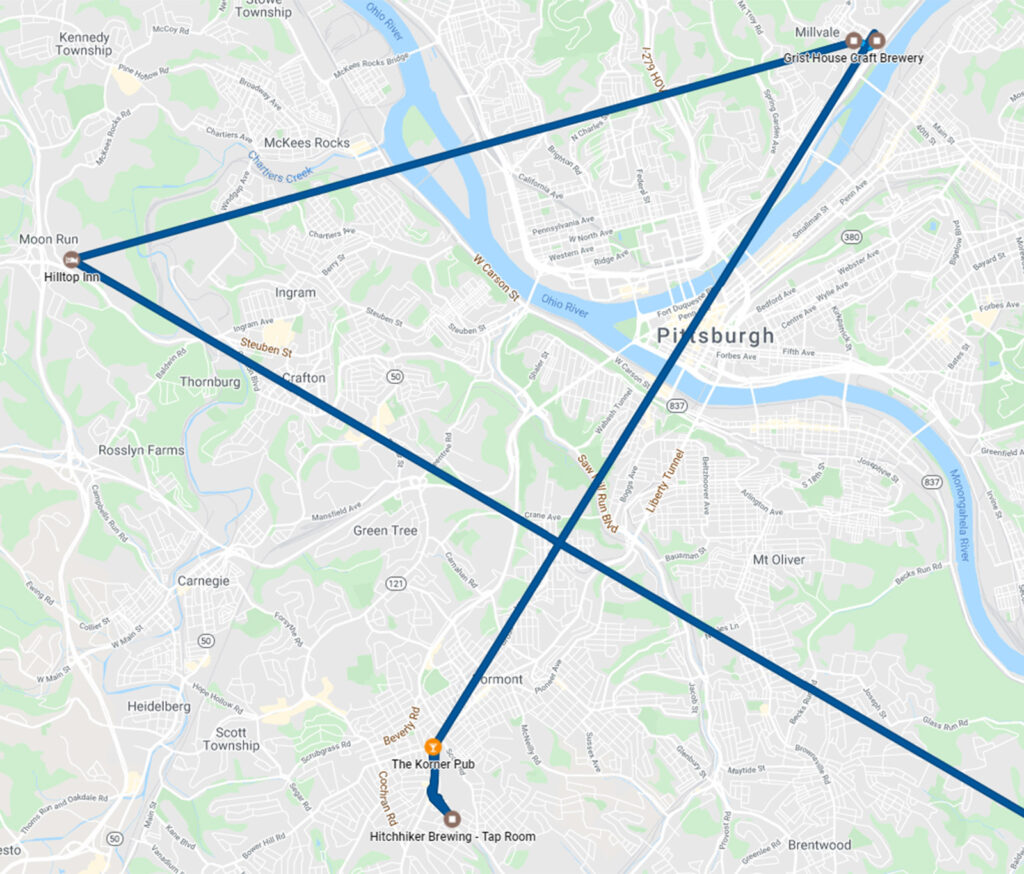 SATURDAY 1/9/18
A little sightseeing this morning, starting at the PNC Park, home ground of the Pittsburgh Pirates baseball team, followed by brunch (it's like a cross between breakfast and lunch, apparently) at Nola on the Square, 24 Market Square, Pittsburgh, PA 15222, a New Orleans-style restaurant. It appears to be another venue that has closed since our visit which is a real shame as it had excellent table service and some really delish food here, accompanied by a 7% Two Hearted Ale IPA from Bell's which wasn't anything special but started the day off nicely.
Our bit of non-beer culture for the day was the Andy Warhol Museum, where we spent an interesting hour-and-a-half before getting all pop-arted out and having to find more beer, this time at Mike's Beer Bar AKA Beerhead – Boggs Building LP, 110 Federal St, Pittsburgh, PA 15212. An amazing beer supermarket-cum-bar with over 500 beers, 80 of them on tap, plus a great food menu. Beerhead is one of a franchise of specialist beer bars springing up around the NE of the States. A great concept, I wonder where they got the idea from? Anyway, back to the beer. We sat out on the street and I ordered three: Strawberry Mango Smoosh 7.8% Milkshake DIPA from Separatist Beer Project, 6.2% Victorious IPA #2 NEIPA from Victory and a 6.3% Misfits & Misanthropes #13 from Helltown, which was totally wowsers!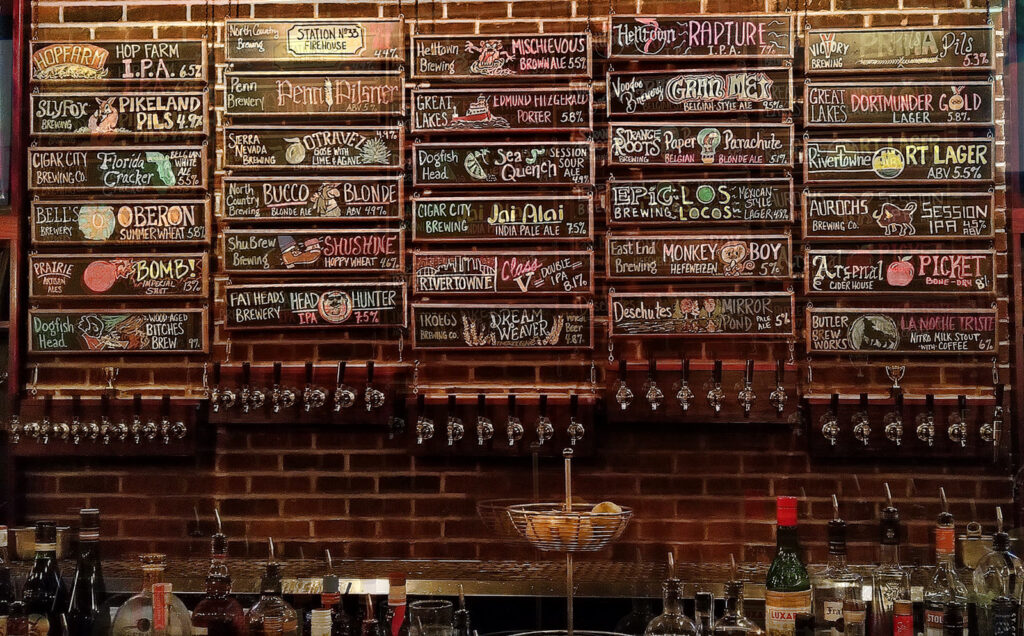 Suitably refreshed, it was time for a bit more sightseeing and me and Chris decided we'd take the girls up the funicular, fnar fnar! The Duquesne Incline has a 19th-Century wooden cable-car running up and down every few minutes. There were fairly long queues and the short ride cost $5 but, once at the top, the sweeping views of the city below were totally worth it. By the quaint little payment kiosk (built in 1877), we found the Coal Hill Steakhouse, where we sat on the balcony sipping glasses of ice-cold Pepsi (no comments, please) and taking in the views below. Without a doubt, Pittsburgh was the most picturesque city we had visited on the whole tour so far.
On the way back into town, we passed The Tap Room, 555 Grant St, Pittsburgh, PA 15219, and thought we'd pop in for one. We shouldn't have bothered. A very lacklustre choice in here. We should've left but we all needed a rest and some respite from the sun. I opted for a 6% 60 Minute IPA from Dogfish Head, which was decidedly average. Move on there…
Next was a quick one at Sharp Edge Bistro – 922 Penn Ave, Pittsburgh, PA 15222, where I wasn't expecting much of the 6.8% Samuel Adams NEIPA from Boston Beer Company, but it was surprisingly good. Just the one here before we made the two-minute walk to the Proper Brick Oven & Tap Room – 139 7th St, Pittsburgh, PA 15222, where we spent another hour and I had a pint of 7.5% Jal Alai IPA from Cigar City, which was OK, at best.

We all elected to finish the evening back at Beerhead where we spent another hour until 10 o'clock, when we decided to call it a night. I chose a 6% Wild Sour Series: Synchopathic from Desthil, which was stupendously good and the perfect end to our short stay in Pittsburgh. Tomorrow was a long drive toward the Canadian border and our next stop, Erie.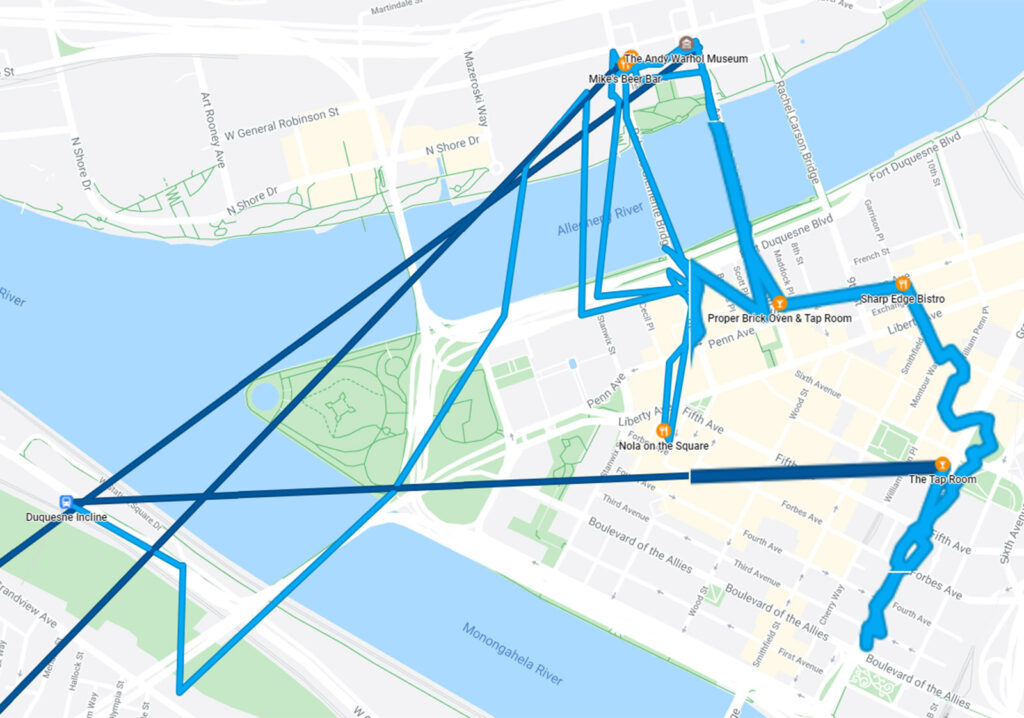 Pittsburgh was, from the little we saw of it, a lovely, safe and well-organised city with lots of green and community space and a thriving craft beer scene. Highly recommended for a visit.


SEE THE REST OF THE AMERICAN ADVENTURE HERE:
Part 1: Boston | Part 2: New York | Part 3: Washington | Part 4: Philadelphia | Part 6: Erie & Buffalo | Part 7: Hamilton & Toronto