THURSDAY 24/8/18
Around 08.30 we boarded a BoltBus bound for New York, a journey of about four-and-a-half hours and 200 miles. The bus was comfy enough and the ride smooth. On the roads there didn't seem to be any lane discipline, vehicles swapping lanes on a whim, but it all seemed to work well enough. I'd be interested in what it says in the US Highway Code (if there is one?). The bus dropped us off at a road-side terminus somewhere between the Lincoln Tunnel and the Theater (sic) District and, obviously, by this time we were bustin' for both a pee and a beer, so we decided to find the nearest bar whilst we figured out where we were in relation to our pre-booked AirBnB.
Rounding a couple of corners, we found Hellcat Annie's Tap Room – 637 10th Ave, New York, NY 10036. Two banks of 10 taps each in here, but I must've been so excited I forgot to make a note of what I drank in here. How remiss! Suffice to say I enjoyed it. Suitably refreshed, we upped again to find our digs.
We duly found our flat, where we unpacked, freshened up, and then off out again, this time toward ICONYC Brewing – 43-63 11th St, Long Island City, NY 11101, which was a mere 20 minutes' walk away. This was a tiny space that served as the tap for the brewery just across the road. Only ICONYC beers in here, but we tried them all! As you can see from the bill, it was a hell of a session. Three hours later, we were the only customers left and we sensed our host wanted to get home, so we called it a day. A great little place and well recommended.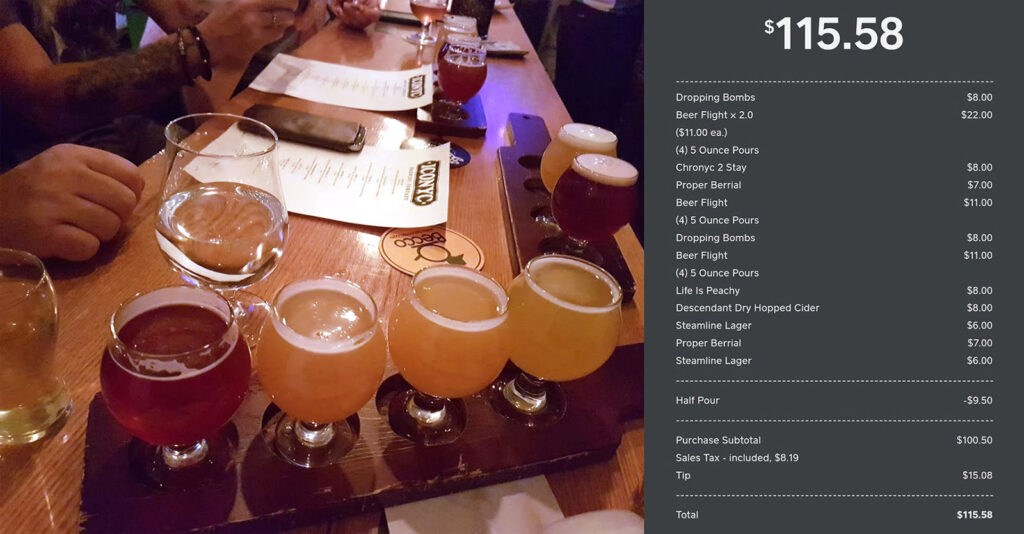 FRIDAY 25/8/18
Breakfast, and I'm feeling I will soon look like an egg. We decided to walk into town today. It was a fairly long one – four miles – but it gave us time to look round and get a feel for the city. Plus the traffic was that busy it was going nowhere quickly. We had the day part-planned and were going to do the touristy thing today, starting with the water tour. So we set off toward the Gantry Plaza State Park, where we could board the boat.
En route, we stumbled upon the Fifth Hammer brewery. The shutters were up but the brewer was too busy to come and talk to us, so we made a mental note to go back later to get some beer (we didn't make it!).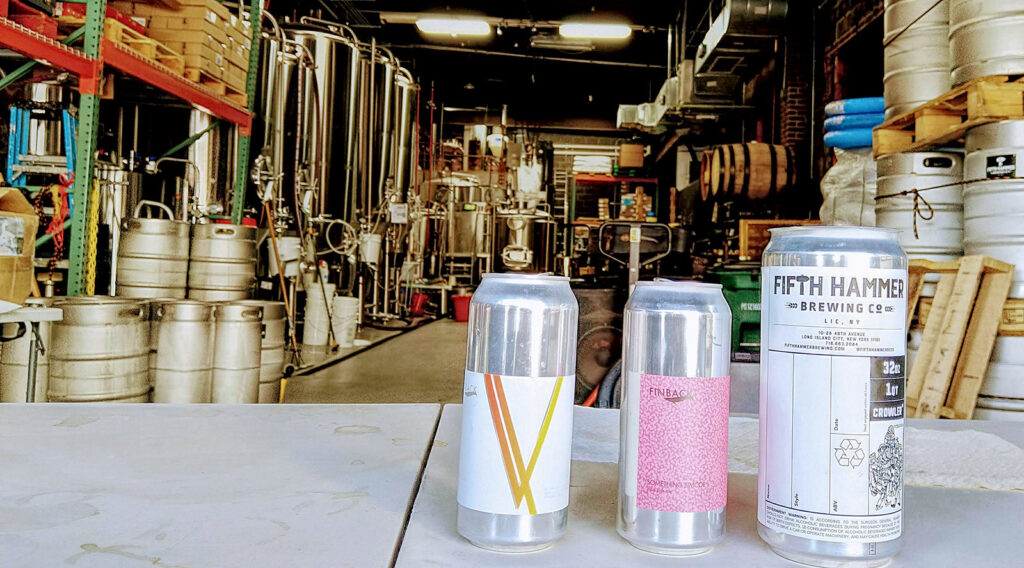 We started the boat tour, which took us down the East River, under the Brooklyn Bridge and into the Upper Bay, giving us great views of the city, Brooklyn, Jersey City and of course the Statue on Liberty Island. The trip lasted about an hour, so we had time to visit the onboard bar and get a beer! It was only Goose Island IPA served in a plastic beaker, but hey, it was better than nowt!
We disembarked where we got on and the next stop was the 9/11 Museum. We all voted to walk it and stop off somewhere at random for a midday beer or two. We ended up in the Irish American Pub – 17 John St, New York, NY 10038. In hindsight, it was a bit of a mistake, as it was probably the naffest pub visit of the whole holiday. Never mind. At least it offered shade and had a modest selection on the bar. I opted for a 6.3% Bronx APA, followed by 6.2% Lagunitas IPA. Both were really average, like the pub.
Onward with the sightseeing and we reached the 9/11 Memorial and Museum at about 13.15. The queues were only modest and we had done the whole thing by about 15.30 so it was off to the next drinkie station. This time, it was a recommendation from my American pal, Mark. It was a fair walk to get there – but we were still going faster than the traffic. But what a pub we were rewarded with! The Blind Tiger – 281 Bleecker St, New York, NY 10014, was rammed to capacity and you could immediately see why it was so popular. Proclaiming itself as 'N.Y's Premier Craft Bar', it's difficult to disagree with them. A modest selection of 12 taps here, but what a selection! Grimm, Trillium, Equilibrium, Other Half and a 'House Beer' from KCBC!
I tried Bloomerang, a 6.4% NEIPA from Two Roads, a Holy Icon 8% Sour from Hudson Valley, and Mmm… Fruit (w/ Plum), a 4.2% sour Berliner Weisse from Other Half. Outstanding! The food was great too. Everybody we spoke to in here were obviously beer connoisseurs, and one chap gave us a list of places to visit during our stay. Unfortunately, we only had one more day so wouldn't be able to visit. If you're ever in NY, the Blind Tiger is a must-visit.
We still had to make use of our pre-booked Empire State Building tickets, plus we wanted to find the building depicted on the album cover of Led Zeppelin's 'Physical Graffiti' album, which is located in the Ukrainian Village area (the building, not the album). We eventually found the building, happily seeming not to have changed one bit. Strangely, we couldn't find any mention of the building's significance anywhere around. Anyone not knowing would just walk past. There was, however, a little cafe situated on the ground floor which calls itself 'The Physical GraffiTea Shop'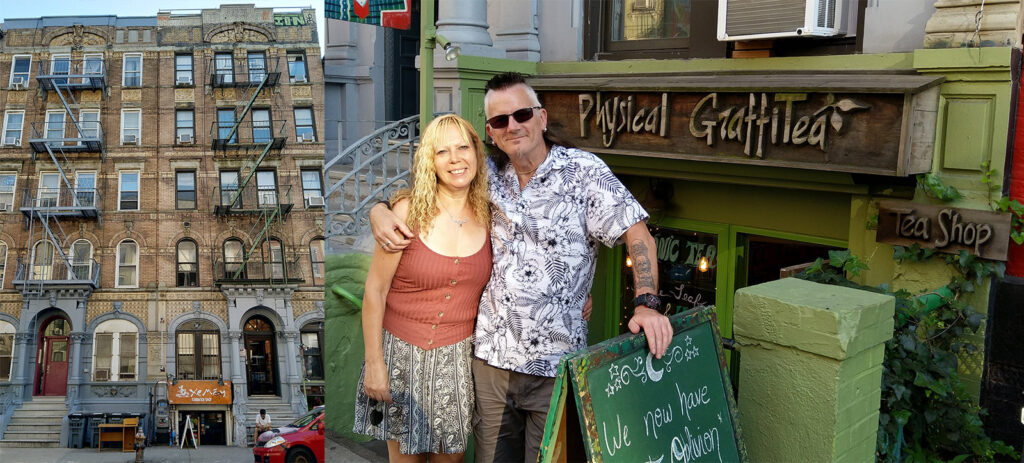 Then it was off to find the Empire State Building, which we did easily (it was that tall mofo on the horizon), only to find that we couldn't secure a time slot for the tour for another couple of hours. So back out onto the street, we killed a few minutes calling into the Grand Central Station to have a gander at the architecture and went to look at the Rockefeller Centre, which we also had tickets for, but alas no time to do the tour. A few hundred yards later, we happened upon the Flatiron Hall – 38 West 26th Street, New York, NY 10010, which is the Heartland Brewery Tap. It would've been rude not to call in, so we did, where I sampled a 5.5% Summertime Apricot Ale by Heartland. It was very average, but no matter, we had to get a move on.
Back to the old Empire to do the tour. The place was absolutely bustling with tourists and to be honest, it's not something I'd generally do but hey, when in Rome (or NY…). By the time we got to the top of the tower, night had fallen but the 360-degree views from the outside parapet over the neon-lit city made the effort totally worth it.
Time for one more stop before home on what had been an utterly exhausting day. Our final call was The Ginger Man – 11 E 36th St, New York, NY 10016. A charming English-style bar of mainly wood construction, with over 20 beers on tap, from which I tried two; a Robot Fish #12 Optic/Centennial 6% APA from KCBC, followed by a Super Stario, an 8% DIPA from Peekskill. Both were absolutely superb and a great end to a very busy day. We were all so tired that we couldn't face the four-mile-long walk home, so for the first time, we ordered an Uber.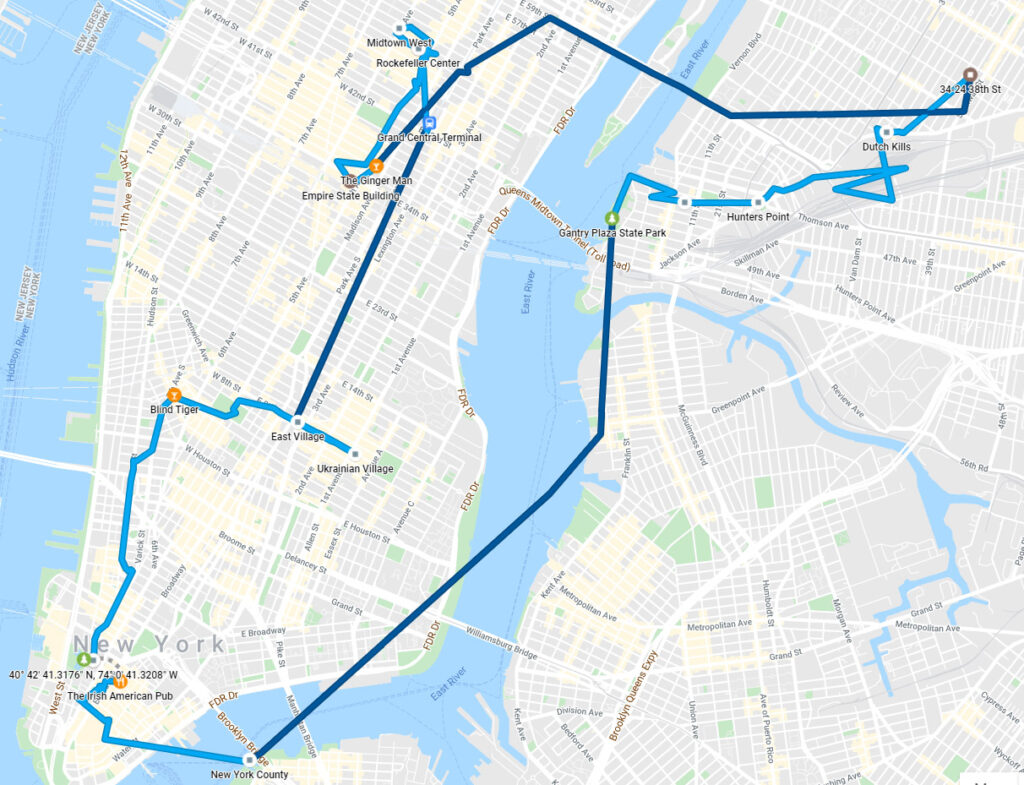 SATURDAY 25/819
A lot pre-planned again today, so we set off early at 07.30, opting this time to make the journey uptown on the Subway (that's a train, not a sandwich). Taking in, amongst other stuff, Central Park, American Museum of Natural History and USS Intrepid floating Air and Space Museum, it wasn't until about 18.45 that we got our first beer, but man! it was worth the wait. Another 45-minute Uber ride dropped us off at the Other Half Brewing Company – 195 Centre St, Brooklyn, NY 11231. In my opinion one of the best craft brewers in the World today, Other Half are at the top of their game. Basically, just an industrial hangar in a run-down part of town, this place is about as hip as you can get. Hip-hop music blasting on the speakers, tattoos and baseball caps a-plenty, the place was heaving with customers.
Like a kid in a sweetie shop here with around 20 tap choices. We'd come a long way for this, so I was determined to make the best of it! I had six; DDH Double Mosaic DIPA 8.5%, Simcoe Daydream IPA 6%, DDH Cheddar DIPA 7.9%, DDH Double Citra Daydream 8.5% DIPA, DDH Hop Showers (w/ Eldorado) IPA 7.4%, and a Go With the Flow IPA at 6.5%. As with the Trillium guys, if you haven't checked this brewery out yet, you really should!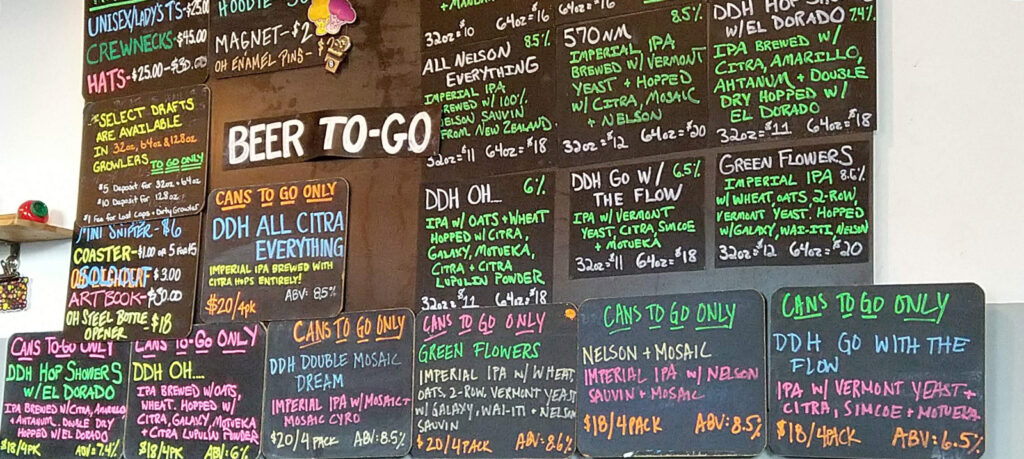 We were a fair way from base, so we ordered another Uber and decided to break the journey at another of Mark's suggestions; Mugs Ale House – 125 Bedford Ave, Brooklyn, NY 11211. Sadly, from researching this article, it appears that after 27 years, Mugs' closed its doors for good in June 2019. I'm glad I got to visit it. To be honest, as soon as we entered the place, I thought it was noticeably quiet for 9ish on a Saturday night. With hindsight, this 'old-timey' (their words, not mine) pub was obviously already in decline and missing out to the trendier places in town. It just shows how you must keep on top of your business and adapt to survive.
Despite being quiet, it was a lovely place, with a homely 'English' pub feel to it and a strong beer line-up, including cask choices. We spent a couple of hours in here, during which I sampled three beers: Splish, an 8% IPA from Grimm, Mercury Rising 6.8% IPA by Foreign Objects and Money, a 7.3% IPA from Barrier. All were very enjoyable and the perfect wind-down to another exhausting day before we took the final four-mile Uber journey home. Tomorrow we set sail (on a bus) for Washington.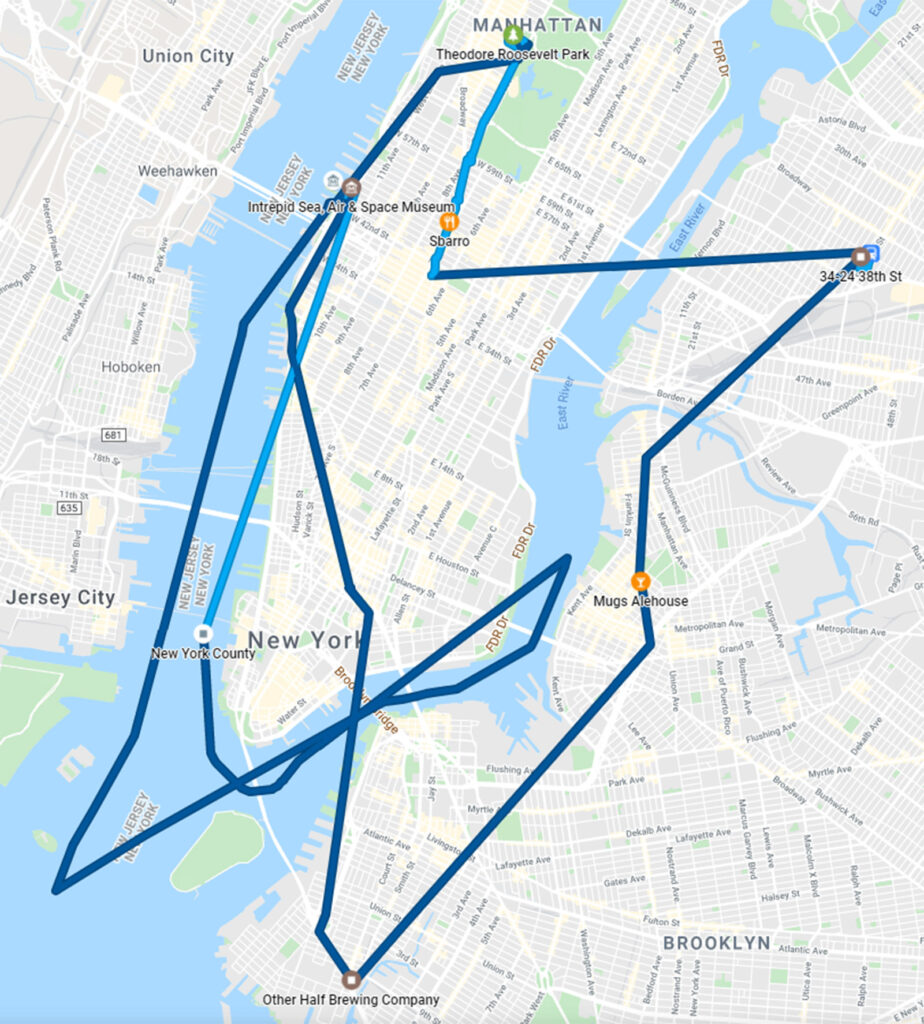 I found New York too manic and busy for me. The traffic was crazy, the crowds in some places (like the Empire State) overwhelming. I prefer things a bit quieter. Maybe spending a little longer there and being able to do things at a more leisurely pace might have made a difference. But it truly is an amazing city and I'm glad I've been.


SEE THE REST OF THE AMERICAN ADVENTURE HERE:
Part 1: Boston | Part 3: Washington | Part 4: Philadelphia | Part 5: Pittsburgh | Part 6: Erie & Buffalo | Part 7: Hamilton & Toronto