SUNDAY 2/9/18
We left our Pittsburgh motel around 10ish to start the 120 mile-odd drive to Erie, which is on the coast of Lake er, Erie. Having not taken advantage of the stale bagels back at the motel, we were all getting rumbly tumblies it was time to look for somewhere to stop for breakfast. After passing several off-ramps, we picked one at random, this one headed to Slippery Rock. And what a winner this turned out to be.
Rolling into the village down a long, green leafy avenue, it resembled a Hollywood movie scene. The sort of American idyll that we had thus far not seen on our journey, and it was lovely. There wasn't a soul about to ask for recommendations, so we parked up and walked a few hundred yards until we came upon the Camelot Restaurant. We opened the door and found what must have been the entire population of Slippery Rock – the place was absolutely heaving! After waiting to be seated for 10 minutes and getting our order, it was easy to see why the place was so popular. Wholesome, home-cooked food at a reasonable price, served on proper plates with real cutlery (for a change). Excellent!
Finishing up a satisfying breakfast at the Camelot, we came back out into the sun and, only 20 yards away, was the North Country Brewing Company – 141 S Main St, Slippery Rock, PA 16057, a beautiful wood-constructed pub originally built as a cabinet maker's shop in 1805. The place was lovely inside and, more importantly, they brewed their own beer. To wash down breakfast, I ordered six, just to make sure: Locals Only 4.5% Session IPA, Paleo 6.2% IPA, Cascade AF 4.6% APA, Summer Dew 5% Honey Beer, Bucco 4.9% Blonde, and the 4.5% Kölsch .45. Six beers already and it was before midday on a Sunday. Me likeee! Slippery Rock was an ace chance find and I was really happy we made the decision to choose that highway ramp at random.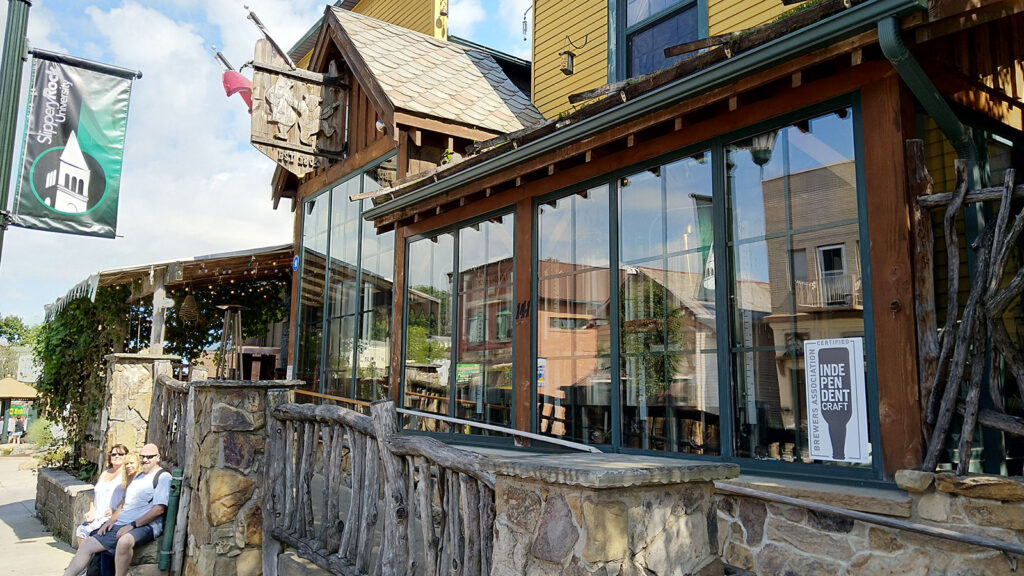 Back onto the Perry Highway 98 and a few miles north, there was a severe weather warning broadcast on the car radio. Within a few minutes, it had started to rain. And by rain, I mean RAIN! Now I know it sounds a cliché, but I've never seen rain fall as hard and fast as this. We had to pull over and stop for some time, waiting for it to abate somewhat before continuing on our journey. Frighteningly, cars were still passing us at full speed during the downpour. Maybe they're used to it!
Reaching Erie around two hours later, we parked up for a quick reccie, this time finding the Lavery Brewing Company – 128 W 12th St, Erie, PA 16501. Lavery seemed to specialise in recreations of classic beer styles. None of them turned out to be spectacular, but I thought I'd better try six (just to make sure): Amarillo Apricot 7.1% IPA, Pretty Visitors 6% APA, Out Come the Wolves 10% DIPA, Vanguard 5% Lager, Rauch Bier 5.8% smoked Lager and a Gold Leopard 5% Farmhouse Ale. It was time to find the hotel whilst we were still capable (although Tracey was in charge and sober).
We found the Avalon Hotel & Conference Centre about 20 minutes away and this place was well posh, for the money we had paid. By 5 o'clock we had all freshened up and it was out again. Lake Erie is mahooosive. If you didn't know, you would think you're at the seaside. And the girls wanted to go to the beach, so we ordered an Uber from the hotel to Pettinato Beach, dropping us lads off at the Sandbar Drafthouse – 2835 W 8th St, Erie, PA 16505, on the way. This place was a bit of a rough-and-ready dive but preferable to the sandy shenanigans that the girls wanted to get up to.
It looks like the Sandbar is another victim of closures since our visit, but frankly, I'm not really surprised. We still spent a couple of pleasant hours here nonetheless, during which Scary thrashed me at pool (I blamed my bad shoulders), and I sampled a pint of 6% Nu Skool IPA from Southern Tier and a 7.5% Fully Loaded IPA by Timber Creek, both average but enjoyable anyhoo.
We had arranged to hook up again with the girls at 7 o'clock, but by half-past they hadn't turned up and seemed to be out of phone signal area so we decided to go and look for them. We walked as far as the Sara Coyne Campground to try the phone again. This place was manically busy, with vehicles queuing to get into the car park. After several tries, we got a call through to find that there had been a traffic accident somewhere between them and us and the tailback was causing delays. They eventually caught up with us and we joined the long queues of folk at the food cabin on the side of the car park. I chose a hot dog. I wish I hadn't bothered – it was utter shite and a waste of money. It's astounding what some people will put down their necks!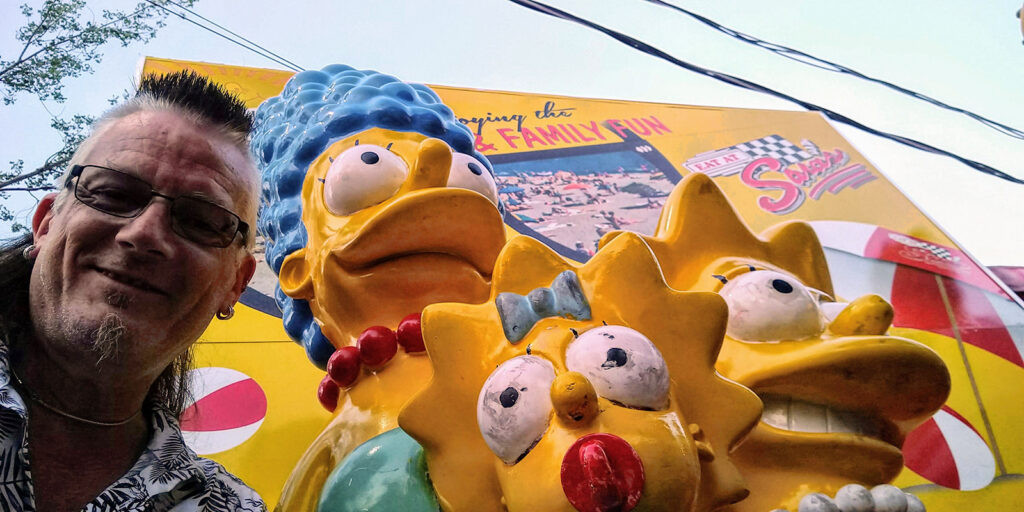 Another Uber was called, which dropped us back in town, and then we found the nearby U Pick 6 Tap Room – 333 State St #110, Erie, PA 16507, a smallish corner bar with 22 taps on the back wall. Another two pints in here before making our way back to the hotel for some well-earned kip. I tried the Fresh Haze, a 6.5% NEIPA from Deschutes, and an 8% Hopsouloution DIPA from Bell's.
It had been a brief stop-off in Erie, but I found it to be a lovely place and the little visit to Slippery Rock had been a nice Brucie bonus.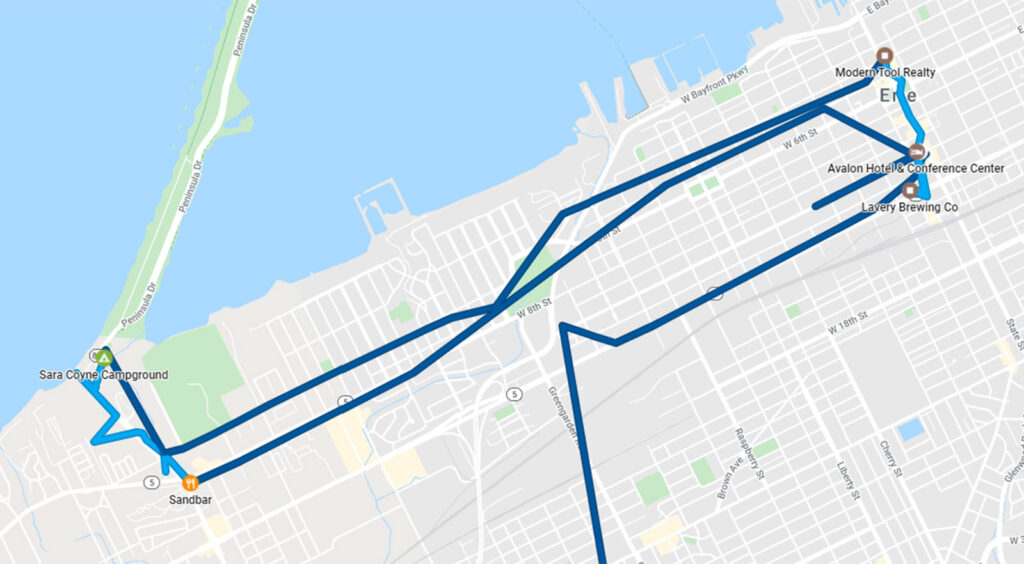 MONDAY 3/9/18
Another 100-mile drive to Buffalo today, and two short stop-offs at Aldi in Dunkirk for some supplies and the Eden Seafood and Pizzeria in Eden for some nosebag. Alas, no beer at either. No matter, we were in our hotel, checked in, and Ubered back into town for a 2 o'clock drop-off at the Buffalo RiverWorks – 359 Ganson St, Buffalo, NY 14203. This was a Massive ex-industrial complex for various sporting events and concerts with large sprawling bars and dining halls. The six enormous 'Labatt Blue' towers at the entrance immediately put us off and, after taking a quick look around one of the bars, we decided not to linger.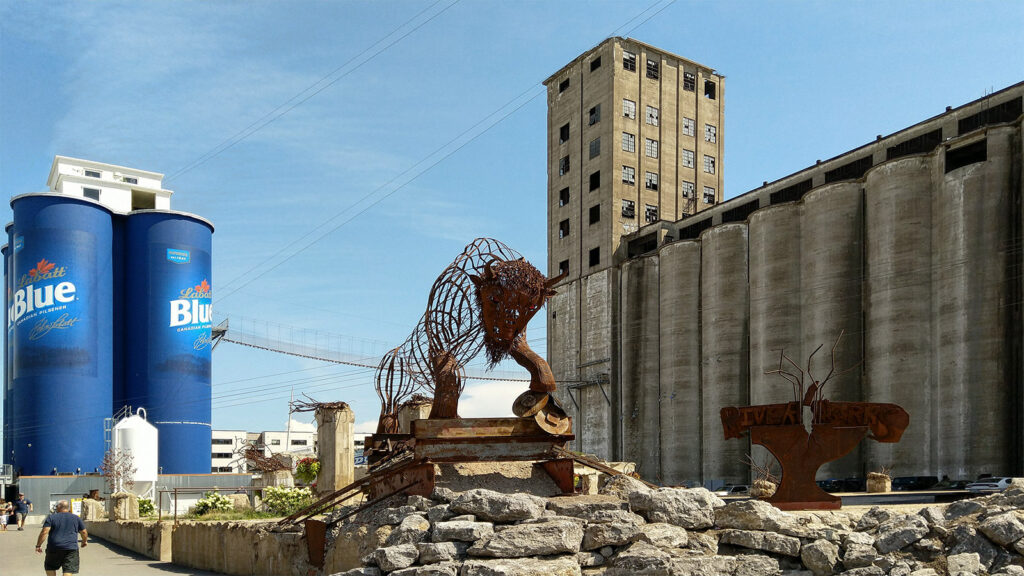 Back the way we came, walking adjacent to the railway lines, we reached the Pearl Street Grill & Brewery – 76 Pearl St, Buffalo, NY 14202, a large and imposing building with a balcony all around it and a lovely garden terrace on the top floor. Now, this was more like it! We found a table on the terrace to take advantage of the sun while it lasted – ominous clouds were gathering on the horizon. I elected to try a pint of Lake Effect 6% APA, brewed on the premises. We were right about the weather; there was soon a downpour and we had to seek shelter inside. It soon abated, however, and after an hour we decided to have a walk to another couple of nearby brewpubs.
What we didn't realise, or obviously plan for, is that this was Labor [sic] Day in the US and almost everything was shut here (apparently everyone goes out of town for the day). Indeed, walking around town in the warm drizzle, we found Buffalo to be a near ghost-town, not even the tram service was operating. We reached the Big Ditch Brewing Company – 55 E Huron St, Buffalo, NY 14203. CLOSED! Next was the Sato Brewpub – 110 Pearl St, Buffalo, NY 14202. CLOSED! We decided to cut our losses and go back to the Pearl Street and have another whilst we waited for an Uber to pick us up for the ride to what would, in my opinion, be one of the beery highlights of our entire trip. I had a pint of aptly-named Nautical Disaster NEIPA, which was delicious.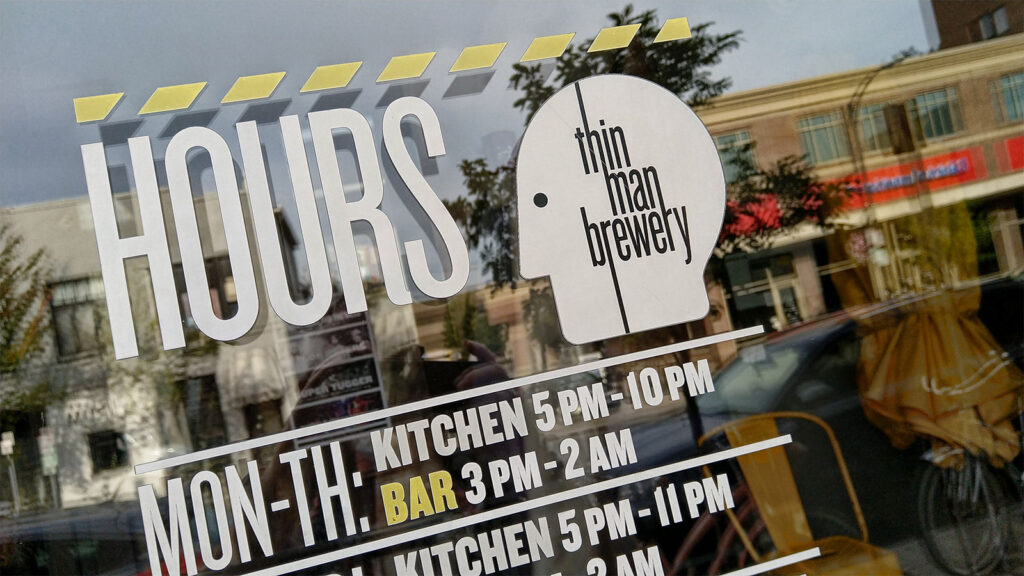 12 minutes and two miles later, we were at Thin Man Brewery – 492 Elmwood Ave, Buffalo, NY 14222. I'd not heard of this brewery before our visit, but it has since become one of my favourite US breweries. The rain had stopped and the sun was back out, so we chose to sit on the balcony, taking in the last of the day's rays. Truly fantastic, world-class beer here. I had a Bliss 8% DIPA, Badger Assassin 5.5% Sour Berliner Weisse, and Burning Money 6.6% IPA, all brewed on-site, plus a None of Them Knew They Were Robots 7.4% IPA by Barrier. We spent almost four hours in here, savouring these splendid beers to the full, before making the seven-mile taxi ride back to base for some sleepy times. Tomorrow we were off to Niagara Falls.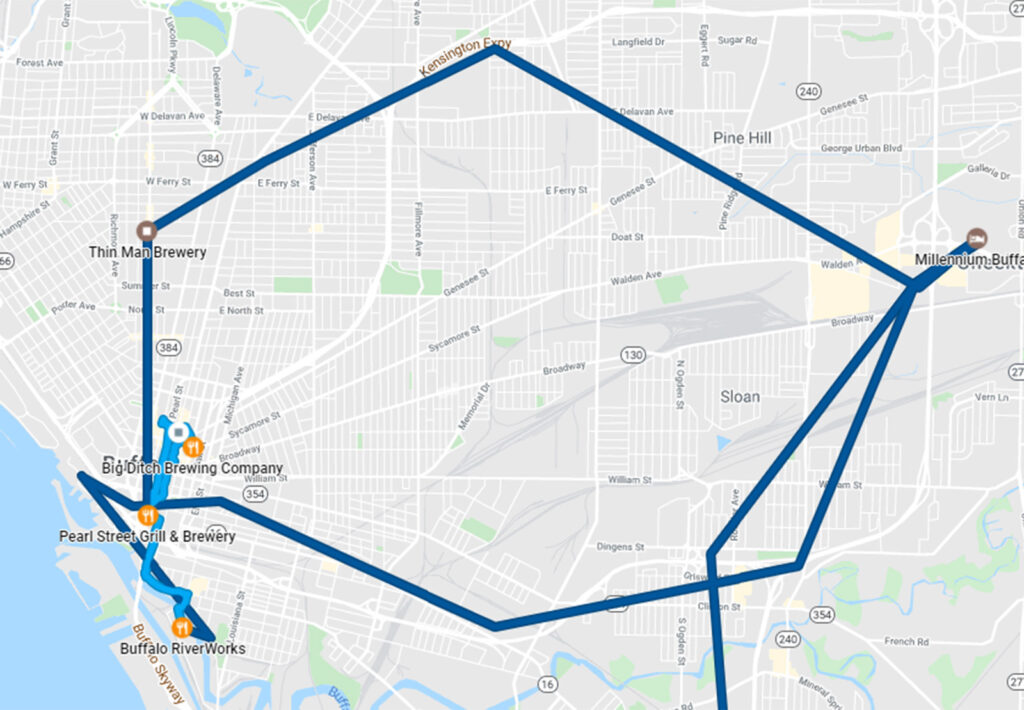 TUESDAY 4/9/18
We started out at around 10 am in the hire car from the hotel for the 20-mile journey to the Niagara Falls State Park, arriving about an hour later. We grabbed some brekkie before going to the visitor centre to buy tickets for the Falls. Coincidently, it was outside here that we encountered the only roundabout of the whole trip. Apparently, they're not a 'thing' out there!
The Falls experience was, to use a cliché, 'awesome'. This natural feature is truly breathtaking and the power of the water has to be seen to be believed. It's hard to imagine that, just three months later, we saw on the news that the Falls became totally frozen. But not today! Tracey and Chris did the 'Lady of the Mist' boat ride into the death pool, but Mrs. Belvoir and I chose to watch them from the relative safety of the parapet above!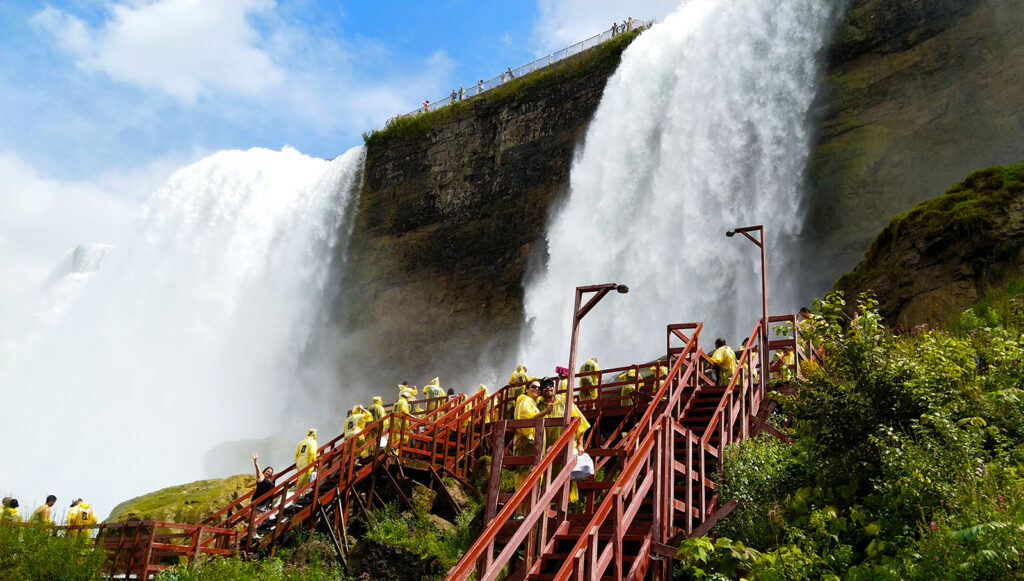 After a really pleasant afternoon visiting the Falls and exploring the adjacent park, it was back to the hotel to freshen up (and dry off). Beer time was approaching. On the way back in, we discovered the Hotel bar – the Twigs Lounge – 2040 Walden Ave, Buffalo, NY 14225. Scary and I decided to do the decent thing whilst we waited for the girls to get ready, so I had a pint of 7.2% Hayburner IPA by Big Ditch, which was very tasty and made the wait somewhat more tolerable.
The Uber arrived and took us out to Gene McCarthy's Old First Ward Brewing Company – 73 Hamburg St, Buffalo, NY 14204, a lovely traditional-style brewpub in the middle of the sleepy Old First Ward neighbourhood which was full when we arrived, apparently due to the weekly quiz that was already underway. We managed to squeeze to the bar and get drinks, which we took outside and sat at one of the benches so we could enjoy the last of the evening sun.
I tried two, both brewed on the premises: The 5.8% This is Not a Pale Ale (which WAS a pale ale) and the 7% Hoppy Oasis IPA. Both were delicious. Whilst we were sipping our drinks, I noticed another brewery a little further up the road – Pressure Drop Brewing – 65 Vandalia St, Buffalo, NY 14204. We took a short walk towards it, but it soon became obvious that they had already shut up shop for the day. Shame.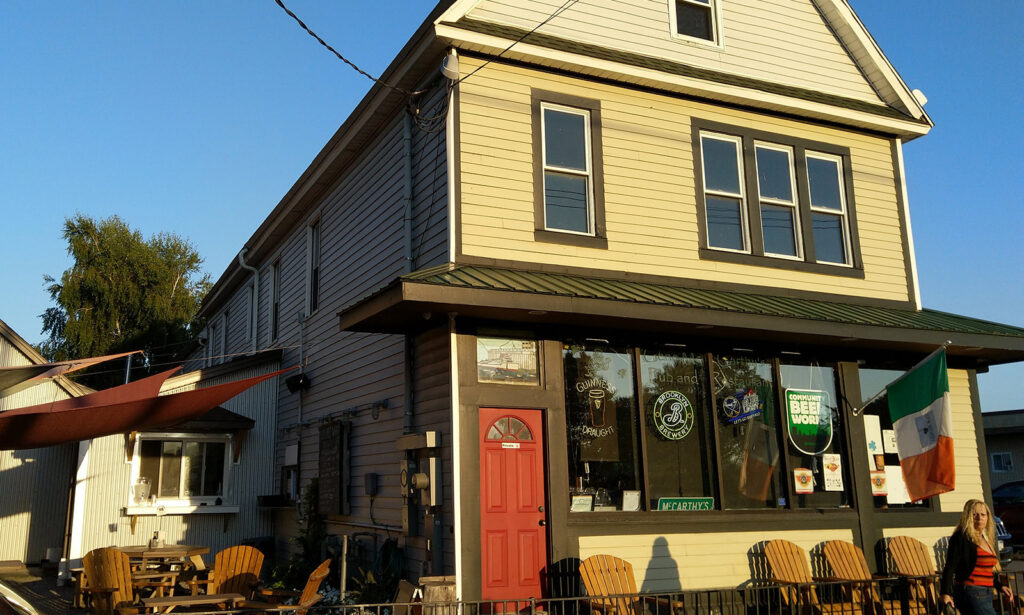 After a pleasant couple of hours, we decided to move on and take another four-mile taxi ride to the Resurgence Brewing Company – 1250 Niagara St, Buffalo, NY 14213. Another two pints here: A CitMo IPA and a Passionfruit Sour, both 6.5%, both brewed by Resurgence, and both delicious! We stayed here until about half 10 before calling it a day and returning to base.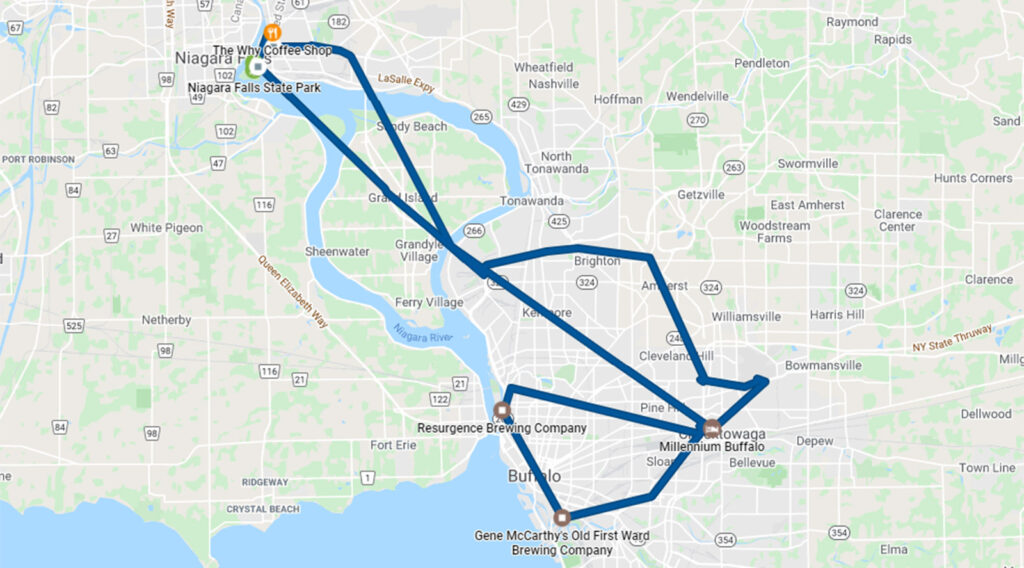 And that was the end of this leg of our journey. Again, only fleeting visits to Slippery Rock, Erie and Buffalo, but from what I saw they were all lovely places that I'd heartily recommend to anyone. Tomorrow we were going over the border into Canada.


SEE THE REST OF THE AMERICAN ADVENTURE HERE:
Part 1: Boston | Part 2: New York | Part 3: Washington | Part 4: Philadelphia | Part 5: Pittsburgh | Part 7: Hamilton & Toronto