As I said in the last post, lockdown has enabled me to catch up on loads of things I've not really had the time or inclination to do. One of them is to record my 2018 visit to the USA with Mrs Belvoir and two great pals, Chris (a.k.a. Scary) and Tracey.
This trip had been a long time in the planning – about two years to be precise – and was timed to celebrate my 60th birthday. None of us had visited the States before so we decided to make it worth our while and stay for three weeks, taking in Boston, New York, Philadelphia, Washington, Pittsburgh, Erie and Buffalo then over the border into Canada taking in Niagara and Hamilton, ending the tour in Toronto. As usual, I had researched the trip extensively and came up with a list of visits beforehand.
Of course, the trip was all about the beer as usual and that's what I'll be concentrating on here. To be honest, most of the beer was excellent, so I'll not waffle on about tasting notes unless they were extra good or exceedingly poor. As it was a long tour with many stops, I'll split this report up into several parts, generally three days/one city's worth, and link to the separate reports at the bottom of the page.
MONDAY 20/8/18
We made the eight hour flight from Manchester, arriving into Boston Logan International Airport at around 15.30 local time. After a laborious one and-a-half hour's queue to get through customs, we eventually caught a bus outside the terminal which dropped us off in Downtown Boston. It was a further 45 minute (a bit further than we'd anticipated) walk to find our AirBnB, where we finally arrived at about 18.45. After dropping our bags and looking around the place (it was to be home for the next three nights), the girls decided that they wanted to crash. Scary and I, however, were gaggin' for a brew so it was back out to search for a bar.
We were drawn toward some bright lights in the distance, which turned out to be Fenway Park – the ground of Boston Red Sox, and tonight was a home game. We turned left onto Brookline Avenue, adjacent to the ground, where we found a string of bars both sides of the street. The first one we tried was Bar Louie – 121 Brookline Ave, Boston, MA 02215. The place was deserted and the barkeep told us that everybody was at the match. So we perched on barstools and watched the game on a TV above the bar. I reckon we had the best seats!
This was a big bar and, to be honest, we were too tired to look around, but they had a decent selection of taps. I chose Be Hoppy, a 6.5% IPA from Wormtown plus a Voodoo Ranger by New Belgium 7% IPA and a Strawberry Rhubarb 6.4% sour from Great Divide. I was certainly ready for these and they all hit the spot.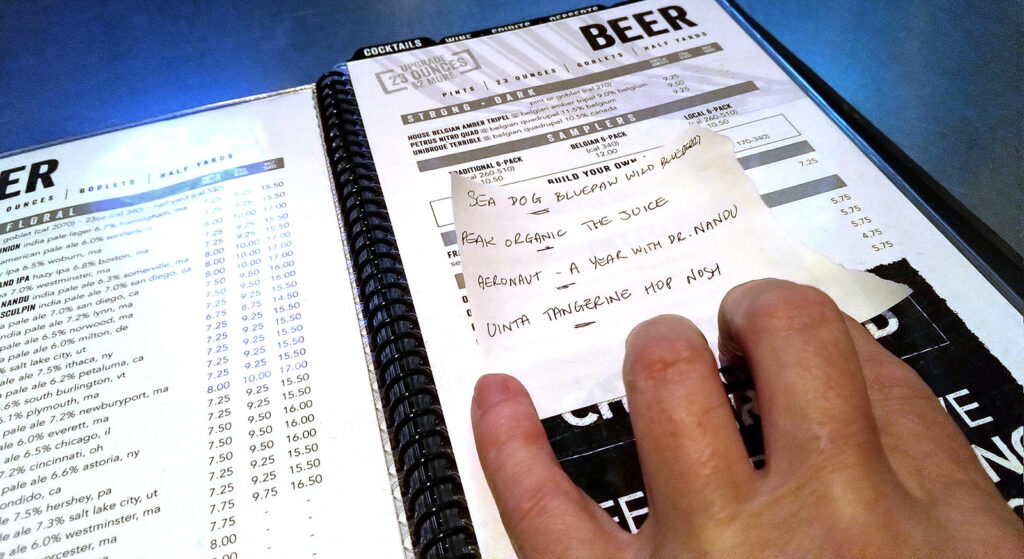 Next we tried the Boston Beer Works, a little further down the road but we were turned away as it was hosting a private party and asked to come back later. So over the other side of the road to the Yard House – 126 Brookline Ave, Boston, MA 02215, which we initially thought was closed because of the particularly dark window glass it was fitted with. To be honest, once inside it did feel a bit dark and dingy, but wow! what a selection. Around 100 taps! Just the three again in here: The Juice 5.8% pale by Peak Organic a Tangerine Hop Nosh 7.3% IPA by Uinta and the 6.6% Half-Stack APA by SingleCut Beersmiths. Fantastic stuff! If this was a preview of what was a head, then Hey, Hey, USA!
Now back to Beerworks Brewing Co. – 61 Brookline Ave, Boston, MA 02215 and we were duly let in, as promised. Again, three were sampled, all brewed on-site: 6.6% Man Da Man APA, 5.8% Fenway Pale and a 4% Watermelon Ale. They were all pretty average, but we'd had our fill by now so decided to make our way back for some well-earned kip.
TUESDAY 21/8/18
Nice 'n' refreshed in the morning, we set off on foot into town for our first full day's exploring, calling in at a diner on the way for some much need brekkie. Looking at the extensive menu, it looked like you you could have anything, as long it was eggs. Anyway, suitably egged up we were off to do a bit of history at the Massachusetts State House before making the obligatory visit to the world-famous Cheers – 84 Beacon St, Boston, MA 02108. Strangely, even though we'd never been here before, everybody knew our name.
Despite it being before midday, the place was absolutely rammed with folk, many of them obviously not drinkers, but only here for a touristy photo-op and to buy overpriced, tacky merch. We managed to get some stools along the wall and tried to squeeze between the people sat at the bar in order get the barkeep's attention which we eventually did and were duly served by a surly woman who obviously hated her job. Our choice was a pint of 6% Harpoon IPA from the local brewery of the same name. It was worth the effort. To be honest, although I'd watched Cheers back in the day, there was nothing here recognisable to me as being an original part of that TV series, apart from the approach to the pub from the street. Whether the place has been re-jigged since the series finished or was never used to film inside I don't know. Suffice to say I found it a somewhat disappointing experience. Still, I can at least say I've been.
Back at the State House, we were talking to one of the attendants about local history and, of course beer, and he told us to visit Green Dragon Tavern – 11 Marshall St, Boston, MA 02108, Boston's oldest pub, so we made it our next stop. This place supposedly dates back to 1795, although I suspect it's the the site of the original tavern, not the actual building. Nonetheless, it was a charming place and we found seats inside next to the open window where we could get some respite from the baking sun whilst people-watching outside. We were served at the table by a very pleasant lady (maybe she should go and have a word with the woman at Cheers), who took our order for a tray full of 6.1% Green Monsta IPA from Wachusett. Just the job.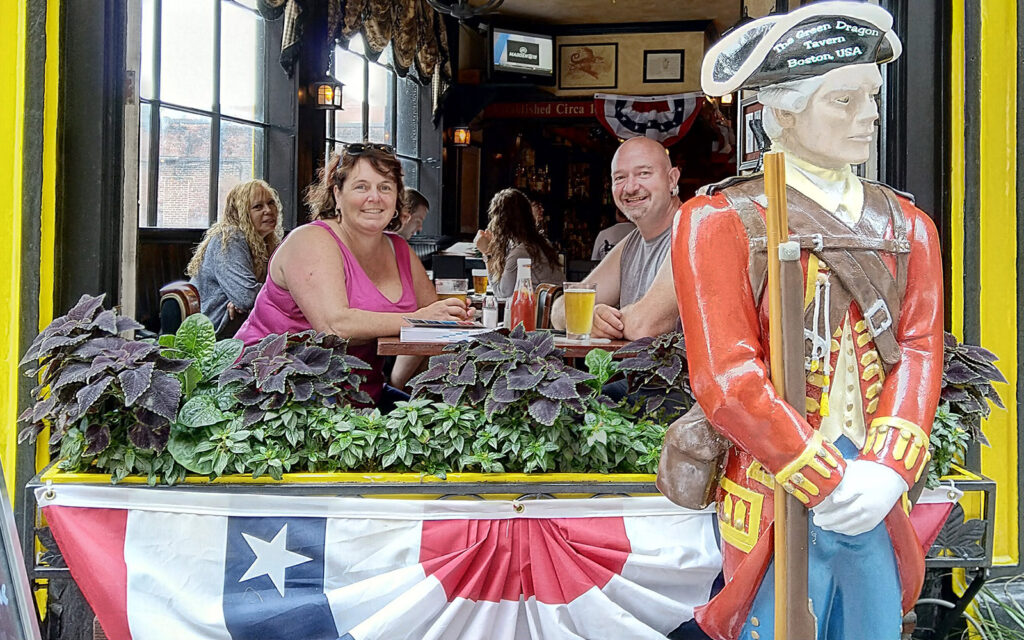 Time for a bit more history and so we trekked through the Boston National Historical Park to the Bunker Hill Monument. Built to commemorate the Battle of Bunker Hill of 1775, this monument stands 67m high. Of course, we had to climb it and by the time I reached the top, my thighs were on fire. The view we were rewarded with from the top was worth it though.
We all thought we now deserved more beer, so we made for the Sommerville Brewing Company – Slumbrew, 15 Ward St, Somerville, MA 02143, and what a find this was! A 45-minute walk brought us to an anonymous-looking car park, where we saw a lady unpacking the boot (or should I say trunk?) of her car, who looked up, greeted us like life-long buddies and told us to 'go inside, I'll be with you in a minute!'
We duly obeyed, settling at the bar. I ordered a taster board with five beers, all brewed on-site; 6% Message in a Bottle NEIPA, 4.9% Gose the Destroyer Sour, 9.5% Hop Angel TIPA, 7.3% Luma Luma IPA, and 5.8% Garden Grove – a 'White' IPA. They were all delicious. The lady from outside came in and introduced herself as the owner (sorry – lost the name) and gave us a brief history and insight into the Slumbrew ethos. As well as a brewery, the place acted as a community centre, hosting things such as bread-baking classes and suchlike. She also gave us a brief tour of the brewhouse and told us of its amazing history.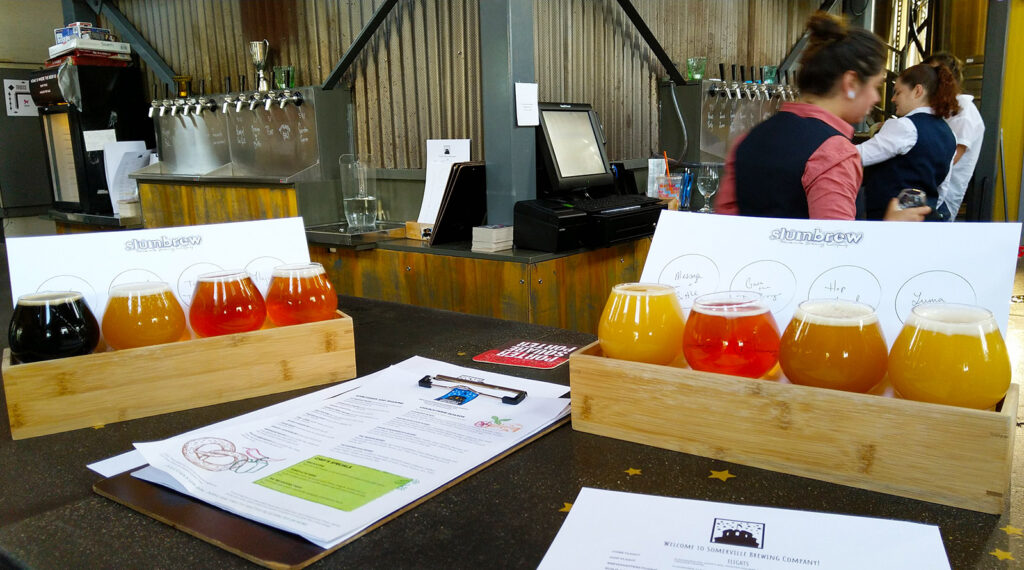 She told us that before it became a brewery, the building was a research lab belonging to the Dept. of Defense (sic) and it was here that scientists had invented the material that was used to manufacture the heat-proof tiles on the American Space Shuttle. After the lab was closed and became a brewery, the top scientist chappie (who was apparently a beer fan) came back to visit and brought with him a beer mat-shaped section of tile which he had made especially. The owner still has it and showed us it back at the bar. Great story, even if it's not true. Which I'm sure it is. Probably.
Anyway, it was a great finish to the day, and seeing as it was now around 20.30 and we were still two-and-a-half miles from base, we decided to call it a day and started a slow walk home over the Charles River. A lovely start to our American Adventure, perfect balance between history, culture and beer.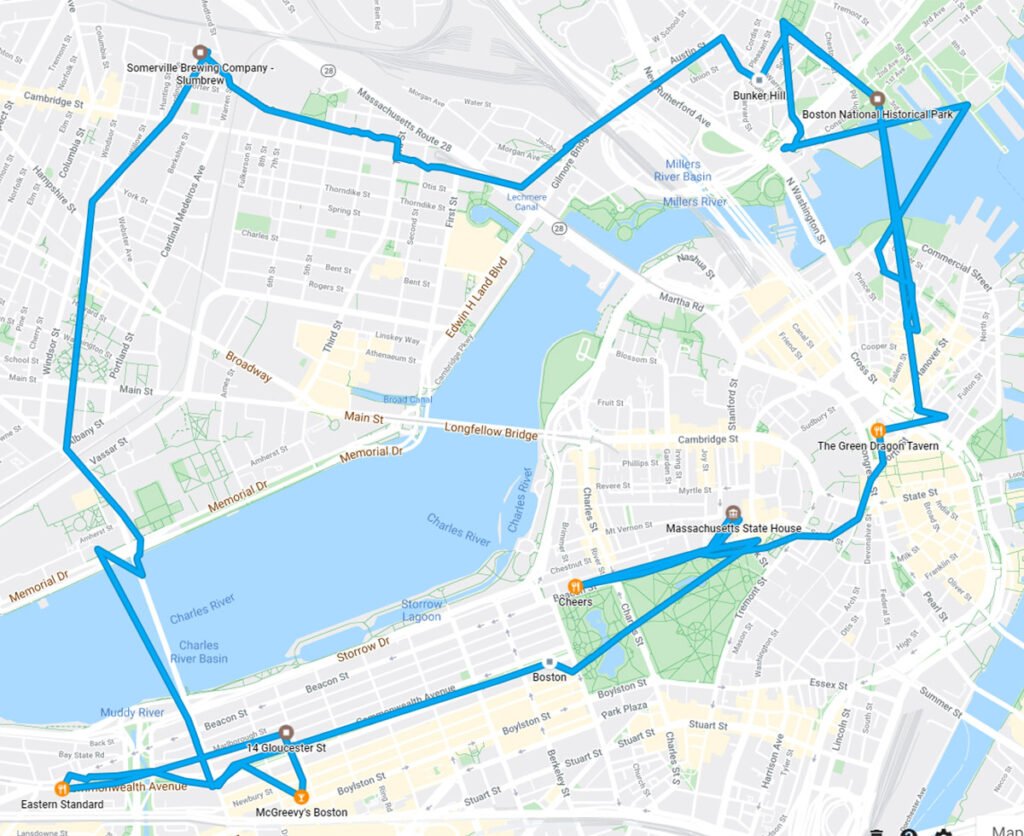 WEDNESDAY 23/8/18
For breakfast today, we stumbled upon the Trident Bookstore and Cafe, a novel place that was actually a book store but also had a food bar. Our selection, chosen from another eggy-orientated menu, set us up for the day ahead. Then it was another walk down to the harbour to visit Abigail's Tea Room where we learned about the Boston Tea Party and had a chance to taste all the types of tea that were thrown overboard on that historic day. A taster flight of teas! How awfully civilised.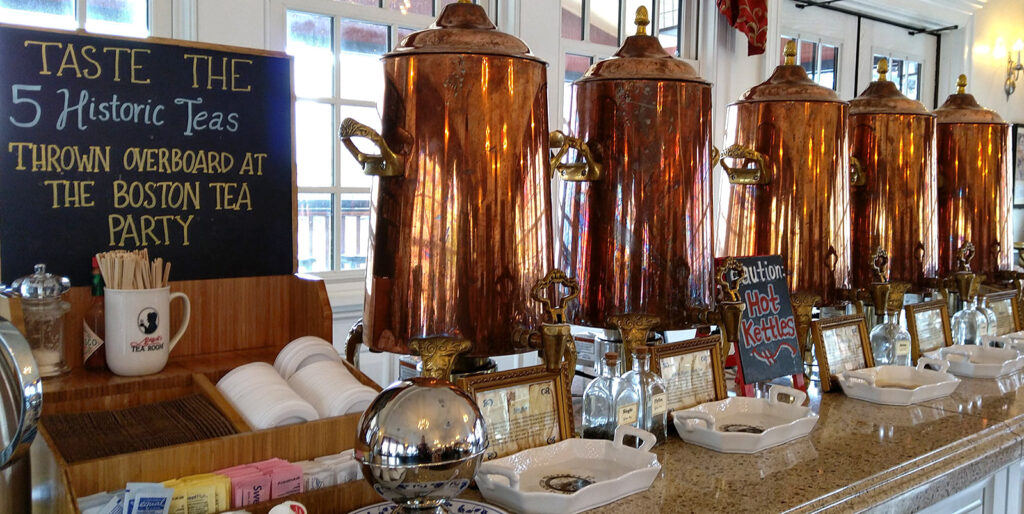 But tea's not really my bag (see what I did there?) man, so we set off to find the brewery of the mighty Trillium, which we duly did, half a mile away at 50 Thomson Pl, Boston, MA 02210. We didn't realise though, that the brewery doesn't have a tap, only a takeaway shop. But were informed that they run a 'pop-up' garden bar, located over the other side of the harbour. We pocketed that info for later, and carried on our walk along Seaport Boulevard to the Harpoon Brewery, 306 Northern Ave, Boston, MA 02210.
It was only 14.00, but this place was rammed already. A big, modern bar area with rows of benches and expanses of windows affording a sea view (if you craned your neck). Small groups of people were being called in for brewery tours every twenty minutes or so. This place must've been raking the money in!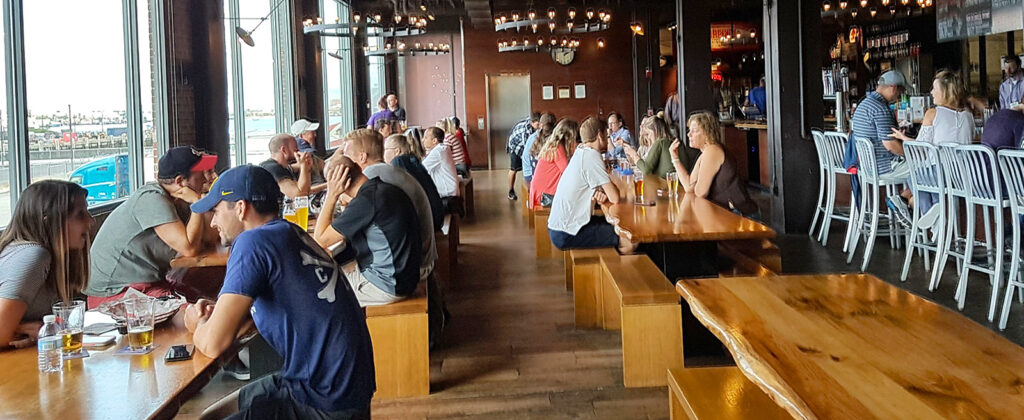 I had a flight with four of their beers; Camp Wannamango, a 5% APA, the House Golden at 4.7%, Lime-y Vice, a 4.7% Gose and Take 5, a 4.3% Session IPA. I enjoyed them all. I also tried a 9% Space Cake DIPA from the fantastically-named Clown Shoes brewery, which was out of this world (geddit?). After a couple of hours, we decided to move on to find the Trillium beer garden we had been told about earlier. We set off back down the way we had come.
Looking out to sea we could see some very ominous clouds and lightning flashes. It was very obvious that a cloudburst was imminent, so we made an unscheduled stop and darted into a Sports Bar called Tony C's – 250 Northern Ave, Boston, MA 02210, just before the heavens opened up. Now I'm no expert, and I realise this was a sports bar an' all, but I reckon they could have squeezed a few more TVs in here – I only counted 34 of them! Anyway, the beer selection was decent – 20 taps in all – from which I chose a Life 4.5% Session IPA from Lord Hobo, which was pleasant enough, and sipped whilst we waited for the rain to abate, which it did about an hour later.
Back out into the evening sun and after a twenty-minute walk, we reached the Trillium Garden on the Greenway – Atlantic Avenue &, High St, Boston, MA 02110. This was literally a cordoned-off area (no door control) situated between two busy roads with a beer van selling some of the best beers in the world. This is a fantastic concept, but with all the red tape and licensing restrictions we have, I couldn't see it taking off in the UK. Shame.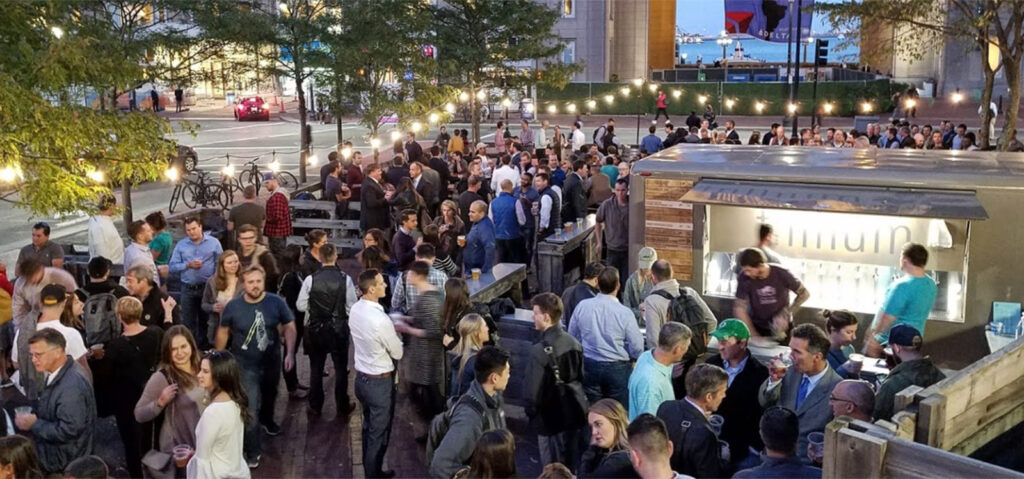 The place was extremely busy despite the recent downpour (there was no shelter here apart from some flimsy foliage) and we ordered some fantastic Trillium beers: Permutation 55, a 5.7% fruited gose, DDH Summer Street (aptly named!), a 7.2% APA and a 5.7% Launch Beer APA. All superb. If you are a craft beer fan, you really have to try these guys. They are the bollocks! We stood drinking and talking to the locals. One chap told us that there was another beer garden in the city and luckily it was on our way back to base. So after a couple of hours, we decided we should start the long walk via the other garden, of course!
We didn't reach the Night Shift Owl's Nest Esplanade – Black Bay East, Boston, MA 02116, until about 21.30. Unfortunately, they closed at 22.00 and we'd 'just missed' last entry, but after Tracey sweet-talked the guy at the entrance and explained that we'd travelled over 3,000 miles to get there, he kindly let us in for last orders! I sampled just the one; The 87, a massive 8% Double NEIPA by Night Shift brewery, which I savoured for the last half-hour. Again, a simple roped-off area, this time situated on a grassed area adjacent to the Charles River, with a pop-up van serving fantastic beer. By this time it was dark and the rope lights in the trees made for a wonderful atmosphere and lovely end to the day.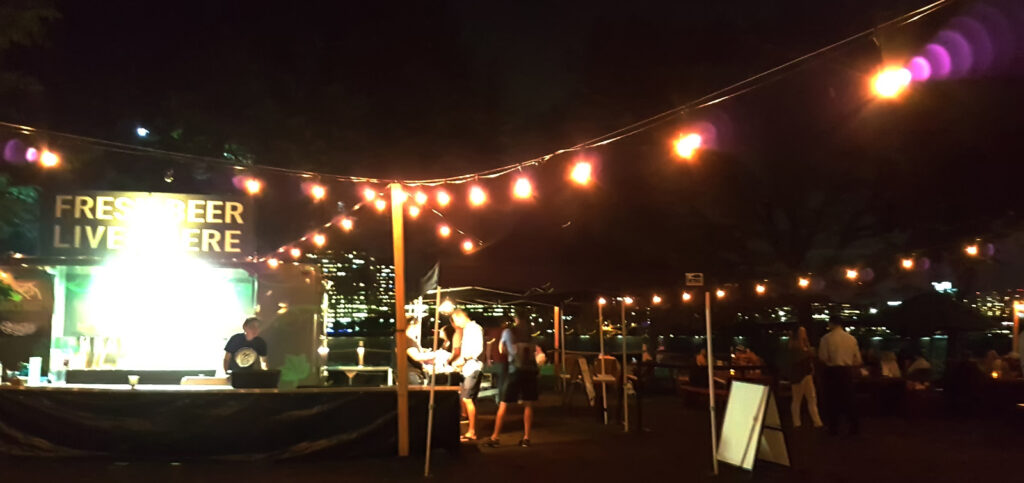 And that was it. The end of the first leg of our American Adventure. Tomorrow it was bye-bye Boston and off to New York. I loved Boston. It was clean, felt safe, the people were friendly and, being New England, it had that homely feel about it that you could feel comfortable in. If I were to recommend anywhere from our journey to a first-time visitor to the States, Boston would be top of the list.


SEE THE REST OF THE AMERICAN ADVENTURE HERE:
Part 2: New York | Part 3: Washington | Part 4: Philadelphia | Part 5: Pittsburgh | Part 6: Erie & Buffalo | Part 7: Hamilton & Toronto