TUESDAY 28/8/18
We boarded the 10.20 Greyhound bus bound for Philadelphia, another four-hour journey including a 20-minute stop-off in Baltimore. It was on this bus that we encountered the only miserable person of the entire holiday. The driver was a surly and downright rude man who could obviously do with some lessons at Charm School. When Tracey made a call on her phone, he shouted back that she was endangering the bus as he was being distracted from his driving. Tracey ended her call and soon after, he spread out a whole picnic across his knees and proceeded to eat his lunch whilst driving on the highway!
Arriving at the Philadelphia Greyhound Terminal I was, as you can imagine, bostin' for a pee, so I immediately went off to find the 'bathroom'. When I got there I had to navigate around a uniformed security guard who was in the doorway shouting into the room: "Come out of there! You've had long enough!" This continued whilst I stood against the wall doing my own thing, until the guard came in and started hammering on a cubicle door "COME OUT, COME OUT!"
The trap door eventually opened and a skinny, shirtless youth darted out, obviously high as a kite, carrying a shirt covered in blood and with three perfectly round (bullet) holes in his torso. "Sorry Sir," he said to the guard "I don't mean to be any trouble". He dodged the guard's attempt to grab him, pushing past me in his dash to the door. He then did a 180 spin and raised his thumbs. "Cool hair dude!" he said to me before he disappeared into the crowds outside! What an exciting introduction to Philadelphia!
After finding our AirBnB, we explored the locality on foot for a bit and found the Roy Pitz Barrel House – 990 Spring Garden St, Philadelphia, PA 19123. We popped in for a bevvy and something to eat. Roy Pitz is a light, airy and modern bar with a glass frontage, trendy artwork murals to one side and tiers of oak ageing barrels the other. The back wall houses the bar, equipped with 15 taps, all dispensing their own beers, plus one hand pump.
I tried a taster flight with five beers: Truly Honest 6% American amber, Cherry Hound 6% sour, Das Pretzel Gose 4.5% sour, Berlina Blue 4% sour blueberry Berliner Weisse, and the superb 5% NEIPA Step Up your Game – their flagship beer. The later was so good, I decided to take a can home for fellow BeerHeadZ colleague, Lincoln Beer Baron to review on his Instagram feed. I think he was suitably impressed.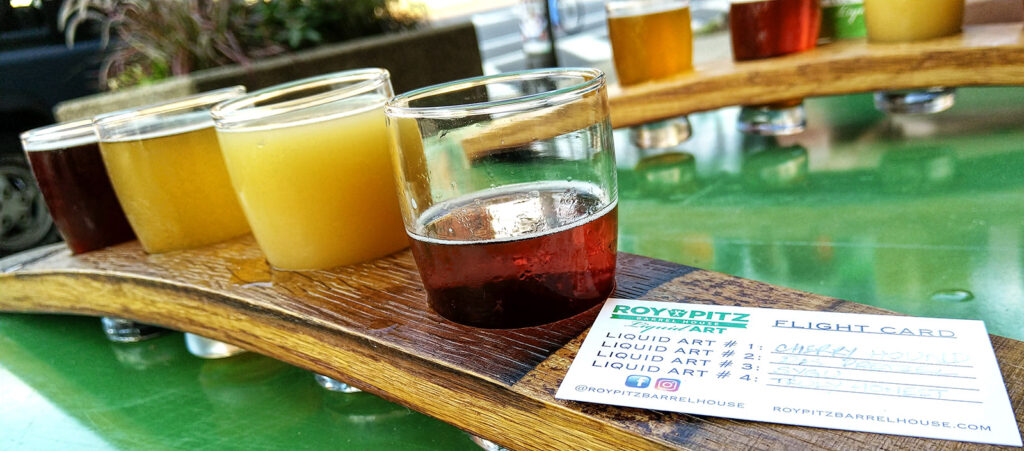 We'd had a pretty long day and I think the heat, travelling and previous eight days of intense drinking were starting to get to us. After a nice relaxing three hours, we elected for an early finish and walked back to the flat (via an off-license we had spotted on the way). Chris and I picked up a couple of cans each, mine being 6.3% Live Transmission Milkshake from Flying Monkeys which I sipped back at the flat with my feet up watching Netflix whilst the girls did the washing. Happy days!
WEDNESDAY 29/8/18
29th August 2018, and today I was 60 years old. This was what all the holiday was about and I didn't care what we did today, as long as it involved beer! After breakfast, we did some general walking and sightseeing, including the Tomb of the Unknown Revolutionary Soldier. Just after midday, we decided to look for a pub and seemed to be wandering aimlessly. Undecided whether to take a left or right turn, we chose right… and bumped into my great pals from California, Mark & Sue! Well, you could've knocked me down with a lump hammer.
Unbeknownst to me, Mark and Sue had secretly been talking to the rest of the gang about meeting up in Philly for a birthday surprise and had planned to meet up at a nearby pub. Before we made the rendezvous, we bumped into them in the street by chance! Despite the random meeting, it was a brilliant surprise and lovely gesture from Mark and Sue, who had travelled the breadth of America to be there.
Less than 30 minutes later, we were in Monk's Café – 264 S 16th St, Philadelphia, PA 19102, a Belgian beer bar. My first beer at 60 was a 6.5% mono.tone.citra IPA by Tonewood. Followed by a 5.5% Monk's Cafe Flemish Sour Ale from Brouwerij Van Steenberge and a 7.5% Confluence American wild ale from Allagash. Great beer with fantastic company. Cheers!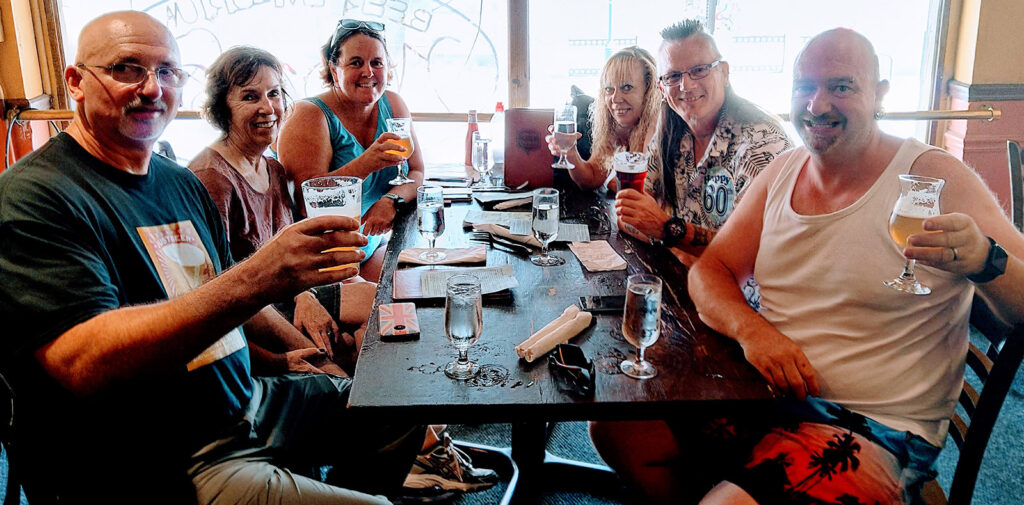 We decided to move on. Yards Brewing Company – 500 Spring Garden St, Philadelphia, PA 19123, was a 20-minute cab ride away. Another tap with an ultra-modern, industrial feel to it. I sampled four of their beers in here: 4.6% Grapefruit Philadelphia APA, 7% Signature English IPA, 5% Sons of Ben Belgian pale, and a mighty 9.3% Cape of Good Hope DIPA. A couple of hours in here before a revisit to Roy Pitz for a quick last pint of Step Your Game Up before Mark and Sue had to catch a train back to New York. It had been a wonderful and memorable 60th birthday and thanks to Chris, Tracey, Mark, Sue and Mrs Belvoir for making it happen.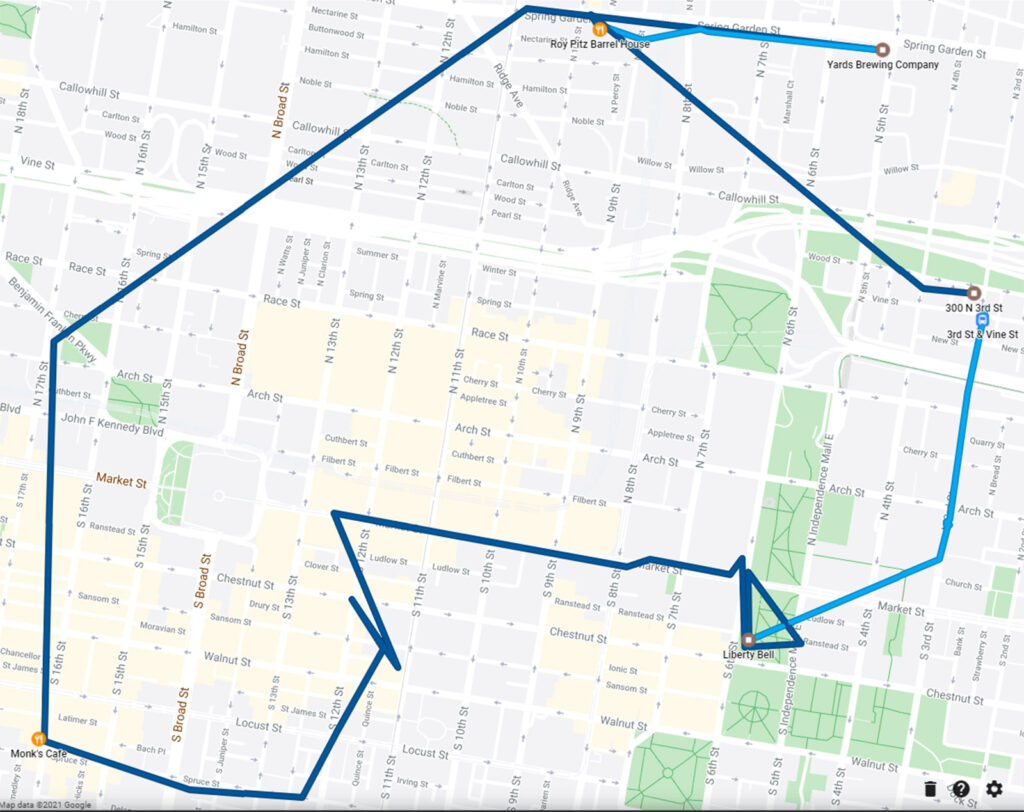 THURSDAY 30/8/18
We decided to separate into couples again this morning to do our own thing for a few hours. Mrs Belvoir and I made for the Independence National Historical Park to do the Independence Hall and see the Liberty Bell (for the compulsory selfie). Tracey and Chris went to visit a local prison. Hopefully, they would get released. Most of the museums and historic attractions around the Independence National Historical Park are free to enter, but you still need to queue to get a free ticket and allotted time slot. Nobody tells you this, so take note if you ever visit!
By early afternoon, we were all Independence Day'd out and it was beer time. We passed the Rittenhouse Square and found the Tria Taproom – 2005 Walnut St, Philadelphia, PA 19103. Another long, deep bar with a small frontage to the street, offering no less than 24 taps. Just the two for me here. 6.9% Citra by Funk and a 5% Action Bronson's 7000 fruited sour from Stillwater Artisanal, both excellent.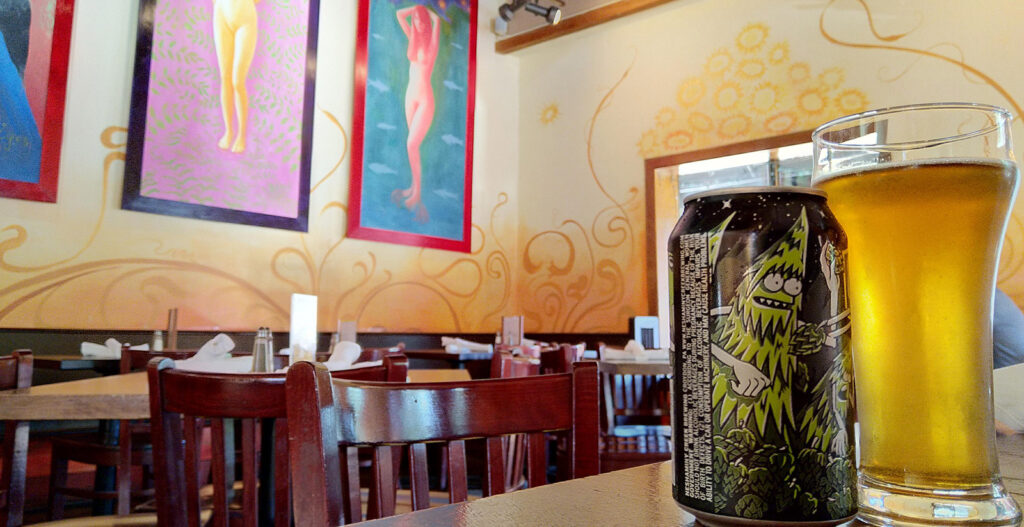 Back out onto the street, right turn and a mile's walk was the Belgian Cafe – 601 N 21st St, Philadelphia, PA 19130, another bar which has sadly permanently closed since our visit. It had a very similar layout to Monk's Cafe, visited yesterday. There was no one inside the pub so we elected to sit under the awning outside whilst we waited for Chris and Tracey, who duly turned up a few minutes later. I sampled four here: 6.6% County Line IPA and 5.2% J.A.W.N, both by Neshaminy Creek, 7% Grapefruit Sculpin IPA by Ballast Point, and a 7.5% Racer 5 IPA from Bear Republic. We spent a lovely couple of hours here. The waiter was very chatty and helpful, giving us a long list of recommended craft bars in town. Alas, it was too late – we were leaving for Pittsburgh tomorrow. However, we made one of his tips our next destination.
Bottle Bar East – 1308 Frankford Ave, Philadelphia, PA 19125, was a hell of a recommendation and Christ on a bike, am I glad we went! I immediately warmed to the place when we stepped through the door as Slayer was playing on the sound system. Then we saw the seemingly endless row of fridges – apparently over 600 beers to choose from in here – where to start? It was our last night in Philly and I was gonna make the best of it!

First, The Fujiwhara Effect, a 7.5% IPA from Captain Lawrence. Followed by a 6.2% My Name is Citrus Maximus by River Horse, Tart 'n Juicy 4.5% sour IPA by Epic, The Flava Influencer 7.8% Milkshake IPA from Evil Twin, Saison Aux Baies Ameres 6.8% Farmhouse from Left Hand, Jenny Says 7.7% DIPA from Singlecut Beersmiths, and finally an 8.5% Fresh IIPA v5 NEIPA from Hubbard's Cave. Wow! Just WOW! It was the perfect end to our Philly visit. It was only a mile back to our digs, but I don't think any of us would've made it so, we ordered an Uber.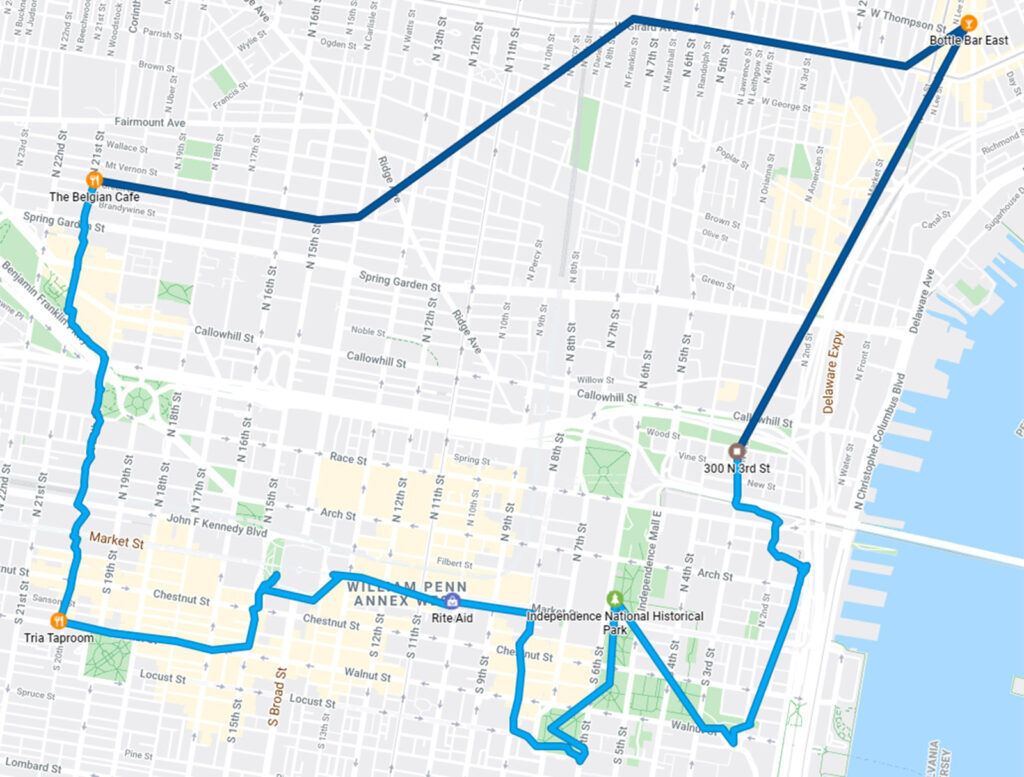 Again, three days is too little time to see even a fraction of this city, but what I did see, I enjoyed. A surprise meeting and drinking beers with great friends made my 60th birthday really special and I'll treasure the memory forever.


SEE THE REST OF THE AMERICAN ADVENTURE HERE:
Part 1: Boston | Part 2: New York | Part 3: Washington | Part 5: Pittsburgh | Part 6: Erie & Buffalo | Part 7: Hamilton & Toronto