Mrs. Belvoir and I have wanted to return to the States ever since we returned from our epic East-Coast tour, four years ago. This West-Coast jaunt was originally pencilled in for last year, but a spiky little bastard named Covid put a stop to that, and so we re-scheduled for 2022. The original plan was to fly into San Francisco and then just improvise for a month as we did on the last visit, but as our dear friends Mark Slezak and Suzanne Ricci invited us to use their house as a base, we felt it right to be a bit more disciplined and so our route, accommodation and transport were all pre-planned from the UK a couple of months in advance.
The plan was to visit seven major cities – San Francisco, Portland, Seattle, Sacramento, Los Angeles, San Diego and Phoenix over the month, with a road trip midway around Yosemite National Park and the surrounding area as a break. I have broken up the report into digestible chunks for those whose attention spans are wanting, like mine.
Obvs, part of the enjoyment was to find great beer and visit new breweries and I can assure you it didn't disappoint in that respect! I'm not one for giving arty-farty nonsensical beer descriptions (which are largely subjective anyway) so apart from the odd 'fab', 'awesome' or 'wowsers', I'll just put my Untappd score (out of 5) after the beer name in square [ ] brackets. You can find me on Untappd here.
THURSDAY 22/09/22
After a full day's (10 hours) flight the previous day we felt pretty fresh on the first day proper of the holiday. As mentioned above, our base for the whole stay was with friends in Concord, about 40 miles out of San Francisco and a one and a half hour ride on the Bay Area Rapid Transit, or 'BART'. Although it wasn't particularly rapid, it was frequent and got you from A to B fairly efficiently. All four of us (Mark, Sue, Mrs. Belvoir and I) disembarked at Rockridge station for our first day's exploring, today in the Berkeley district. A short Uber ride dropped us off outside the University and we took a leisurely stroll through the campus enjoying the sun on the way to our first stop, Triple Rock Brewery 1920 Shattuck, Berkeley, CA 94704.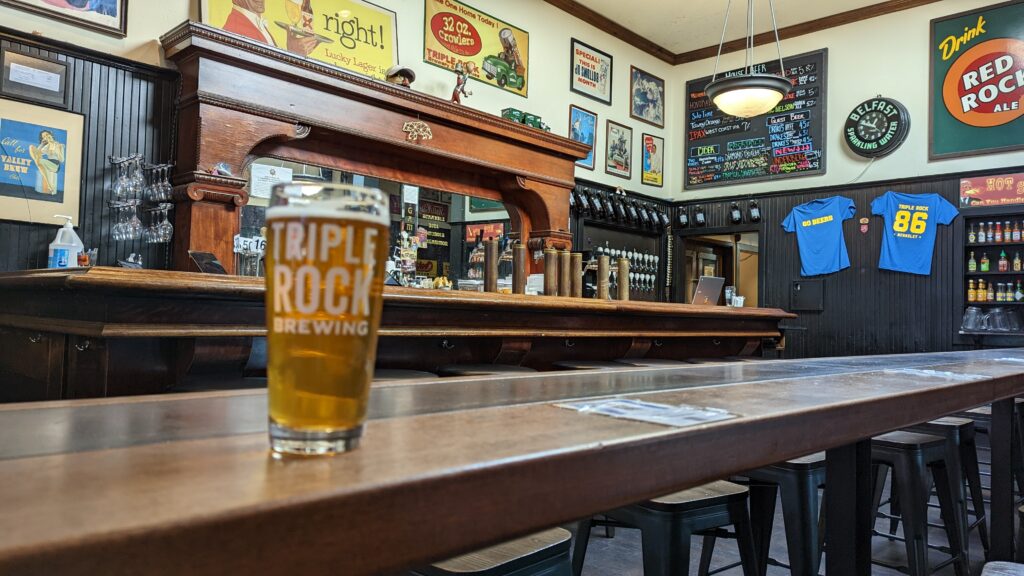 Mark had brought me a Triple Rock T-Shirt to the UK some years ago and I was happy to finally visit so that I can now officially say 'been there, got the T-Shirt'! It's a traditional-style bar with plenty of character, although it was fairly early in the day so still quiet inside. We decided to take lunch here so I chose a pint of premises-brewed Silo Time, a 6.5% AIPA [3.75] to accompany the food. A tasty start to the holiday!
Lunch over, we set out on a short half-mile walk to the next stop, Cornerstone 2367 Shattuck Ave. Berkeley, CA 94704. There are two Cornerstones in Berkeley, one on Durant Ave, which calls itself a music venue and this one, which describes itself as a 'restaurant'. I must admit I get really annoyed when great beer outlets push themselves primarily as a food venue. All too often you google a pub name and it returns pictures of food, as if the beer is secondary. In actual fact, this was a great beer bar with a superb 'draft' beer list.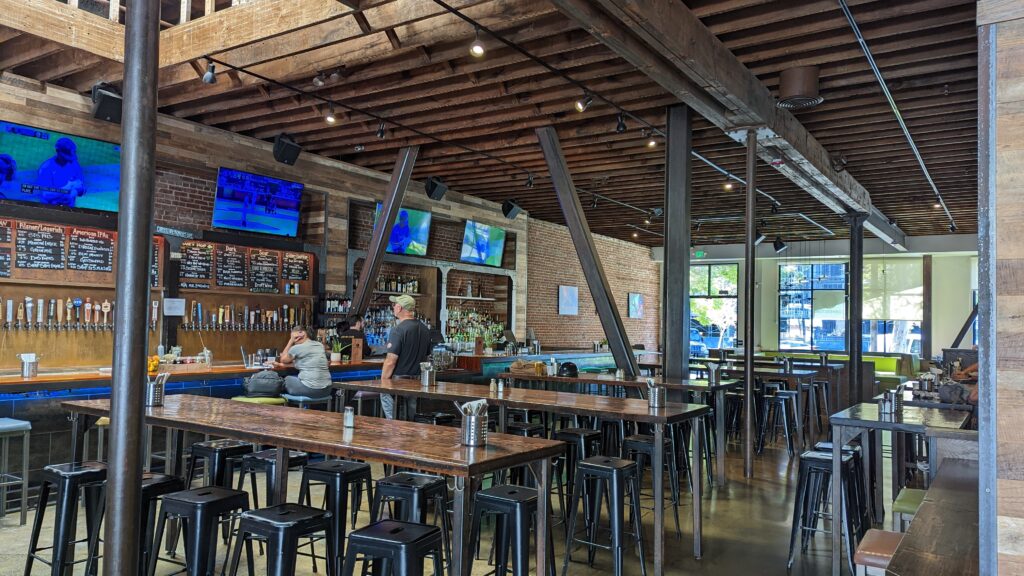 Again, it wasn't all that busy but the place had a great modern/hipster/industrial vibe going on and I loved it there. After much deliberation, I chose three from the extensive choice: Cooperage – Lyrical Dankster 6.9% AIPA [3.5], Original Pattern – Coincidental Calamity 6.6% NEIPA [3.75] and a Laughing Monk – Sister Strata 6.8% AIPA [4].
The last stop of the day was a three-mile Uber trip away. I'd had Fieldwork beers in cans several times back in the UK, but I was now going to try them directly from the source as our next call was Fieldwork 1150 Sixth St, Berkeley, CA 94710.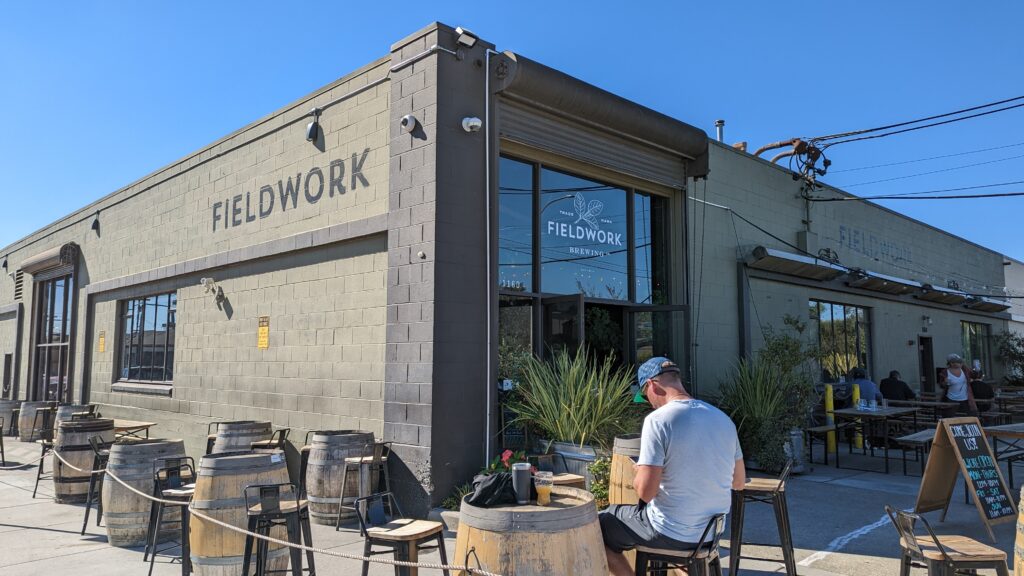 These guys are serious about their beer! 32 of their own brews on tap, from lagers, through sours, to Impy stouts. I, being a jooose boii, opted for a couple of hazies: Space Maze 7.0% NEIPA [4] and a Galaxy Sauce 9.3% DIPA [4], followed by a Blackberry Parfait 6.4% fruited sour [3.75]. It was the perfect finish to the day and an excellent start to the holiday. The evening was marching on, so it was back to Camp Concord via Uber and BART for a well-earned kip and to hopefully shake off the remnants of jet lag.

FRIDAY 23/09/22
Today followed the same pattern as yesterday, but this time we targeted the Haight (pronounced 'hate') district. Once the centre of the long-gone Hippie Universe of the 1960s, this trendy neighbourhood has now developed into a whole new scene with vintage boutiques, cafes, hip restaurants and – of course – bars! Echoes of Psychodelialand of old remain, such as street murals, smoke/bong shops (it's actually legal in the State of California!) and the odd veteran hippie wandering around looking totally lost (or off their tits), but it's a charming and characterful area. After exploring the shops and taking in the chilled atmos, it was time for a beer.
Magnolia Brewing 1150 Masonic Ave, San Francisco, CA 94117 was the first stop. Table service only in here, but it was hard to hear what the waiter was saying as the music was so loud despite the inside being empty, except for us. What I did make out was that Magnolia had recently been acquired by New Belgium brewery, hence several of their beers being on the tap list. I decided to try one beer from each brewery; A Haze Lands 7.5% NEIPA [3.75] from the former and a Dominga Mimosa Sour 6.0% [3.5] from the latter. The sour was average at best. New Belgium had actually been on my to-do list, so as I'd had one of their beers I decided to miss them out and go somewhere else.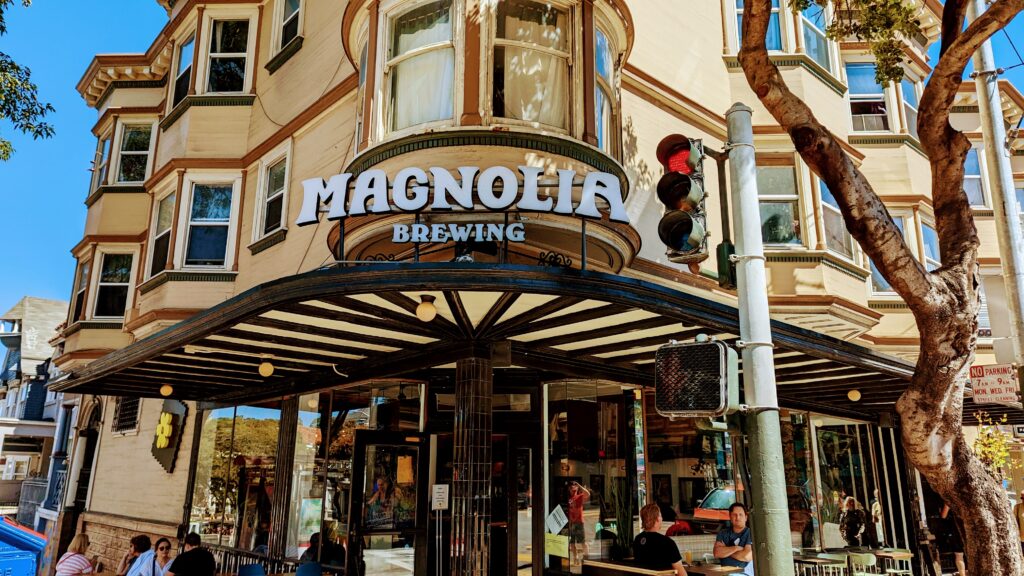 Magnolia was a pretty building and worth the visit but just didn't have the 'wow' factor to keep your interest. Time to move on, and the next one was a classic! A 20-minute walk took us to Toronado 547 Haight St, San Francisco, CA 94117. A true no-nonsense, drinker's beer bar.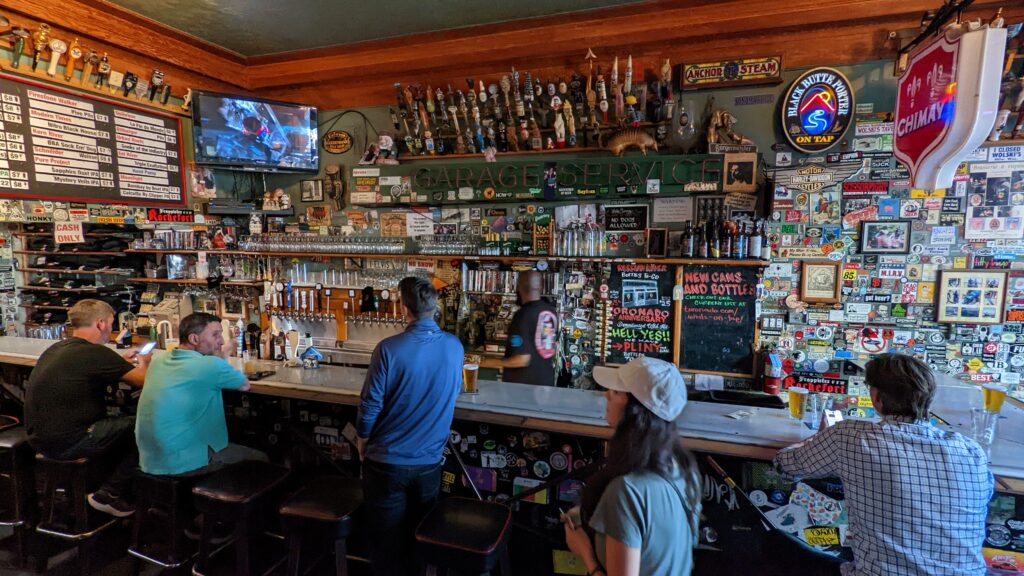 No less than 62 beers on draft here, including one on a hand pump. When I asked for a fruit juice for Mrs. Belvoir, the barkeep replied "No juice, just beer"! I explained that I had a pub back in the UK called Just Beer. Maybe we should twin up sometime? As they didn't do food, we were allowed to order in some fodder from the German Bratwurst shop next door, which I washed down with a very enjoyable pint of Fort George – Strata Architect 6.6% AIPA [3.75]. A proper, proper boozer's pub and a must-visit if you are ever in San Francisco. Sadly we only had time for one, but I will definitely visit this bar again in the future.
As I'd struck New Belgium off my visit list we would get more time at the next call, so it was Uber time straight to Cellar Maker 1158 Howard St, San Francisco, CA 94103.Another hipster-industrial hybrid brewery/taproom with 18 taps serving all their own brews. It was buzzing in here and we had time to savour several, so I opted for three: Medieval Cowboys, a 6.3% AIPA [3.5], a Spectral Delineation 6.4% APA [3.75] and the spectacular Cloudy With A Chance of Dobis 6.8% AIPA [4.5], the best beer of the day by far.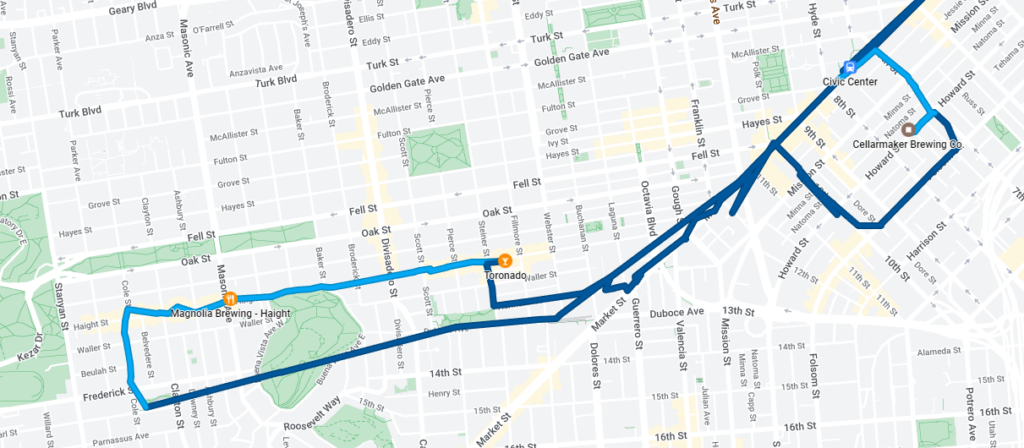 Sadly, the distances between places in big American cities make a meaningful pub crawl nigh-on impossible, but we'd had some great beers and I was satisfied with the six venues we'd visited. This was only the second day of the holiday and we'd had some crackers already. It was time to head back to base and prepare for the second leg of our tour and tomorrow's flight to our second city – Portland.

SEE THE REST OF THE WEST COAST WANDER HERE:
Part 2: Portland | Part 3: Seattle | Part 4: Sacramento | Part 5: Yosemite Road Trip | Part 6: Los Angeles | Part 7: San Diego | Part 8: Phoenix+
The numbers in brackets [ ] are my beer scores (out of 5). Find me on Untappd
Some tinnies wot I have necked.
And some more pics from San Francisco below.