TUESDAY 04/10/22
Hooking up with Mark and Suzanne again, they picked us up at stupid dark o'clock outside the Pangaea on the corner of our street, en route from Concord, to start our three-day road trip. After a couple of hiccups finding the highway, we were finally on our way and 100 miles and two and a half hours later we hit our breakfast stop, the Red Hut Café at Lake Tahoe. Suitably stuffed, we were on our way again heading for our first destination, Virginia City.
Passing through Genoa, we made a stop at the Genoa Bar, quaintly referred to as "Nevada's Oldest Thirst Parlor" – 2282 Main St, Genoa, NV 89411. Supposedly the oldest surviving pub in the state of Nevada, it certainly was a slice of living history, but the pool table and row of flashing fruit machines somewhat spoilt the illusion for me. We thought about having a drink here, but the combination of lack of choice and time of day made us decide against it. So onward it was…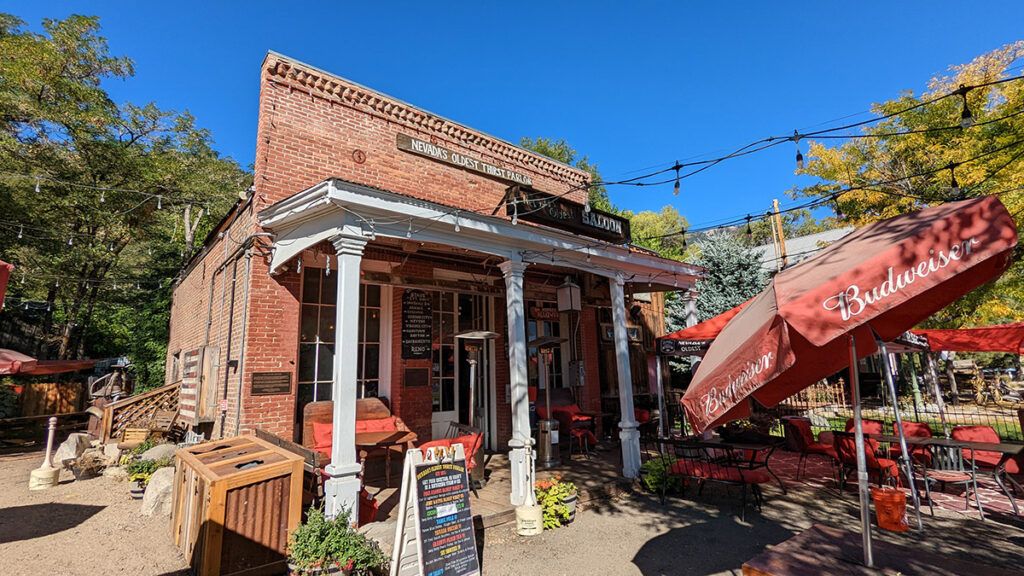 Another hour or so and we were parking up in Virginia City. This place is a small community, the focus of which is basically one long, touristy main street, another slice of 19th Century Old West which is similar to, but less impressive (IMO) than Old Sacramento which we had visited the day before. Of course, we had to have a look inside the two old saloon bars, Bucket of Blood Saloon – 1 South C Street, Virginia City, NV 89440, and the Silver Queen Hotel – 28 N C Street, Virginia City, NV 89440, both had a lot of history, but sadly no beer of interest. Scarily, an air raid siren started sounding and I thought for a split second that Putin might have lobbed a nuke overhead, but apparently, it sounds every day at noon. Bizarre! Time to move on.
By one o'clock, we'd reached our accommodation, the Nugget Casino Resort in Sparks, a mahooosive hotel so posh that it calls its in-house soap a 'cleansing bar'. Suitably installed in our rooms within the hour, it was time to find beer. Our first visit was a seven-minute ride away, Revision brewery – 380 S Rock Blvd, Sparks, NV 89431. Another characterless building on the outside, stuffed with beery goodness on the inside. 24 taps in here, from which I selected three: Hazy Life 7.7% DNEIPA [4], Disco Ninja 7.0% NEIPA [4] and a Vegas As Fuck 6.5% NEIPA [4] all of them totally delicious.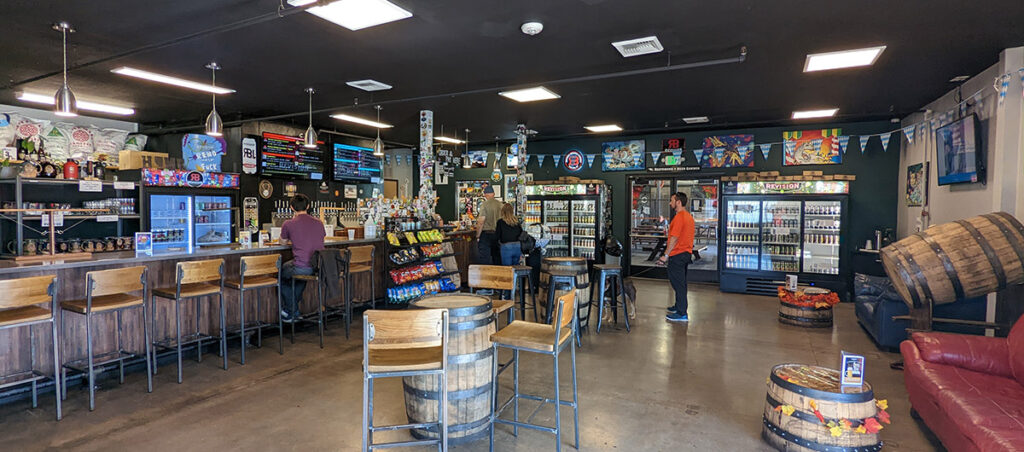 We spent about an hour and a half in here, but the sound system was a tad decibel-y (I must be getting old!), so we decided to move on. In complete contrast to Revision, Great Basin – 846 Victorian Ave Sparks, NV, US 89431, is the state of Nevada's largest and oldest currently operating brewery and the building it is housed in echoes that fact. Infinitely less hipster than the former, it was also much busier, seemingly catering for diners in preference to drinkers. Nonetheless it had a modest yet decent beer list from which I had a Firelit Haze Hazy 7.0% AIPA [3.75] to go with my burger and fries.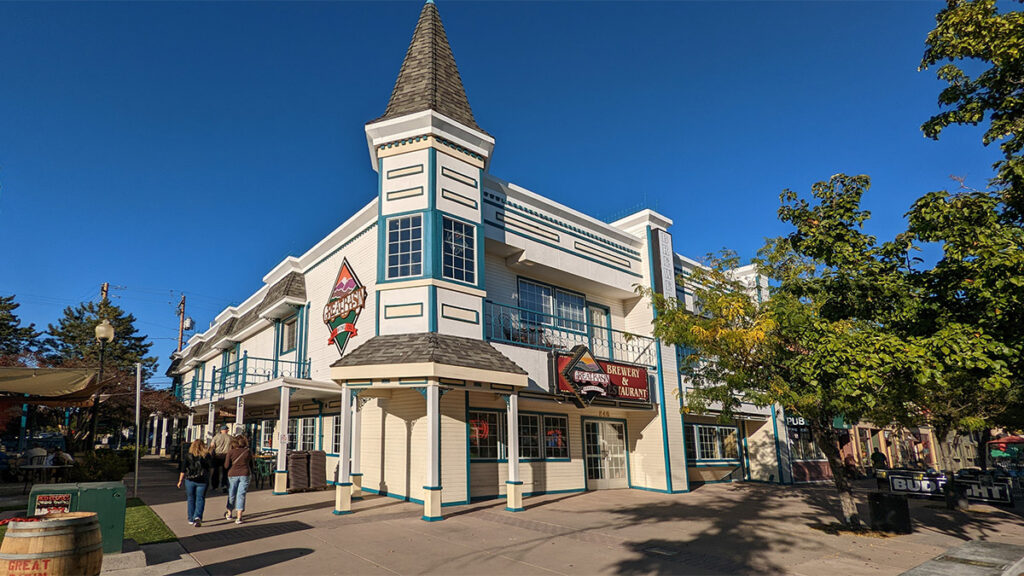 For some reason, we were back at the hotel by 7 o'clock so it was an early night. It turned out that that was just as well really as we were woken up several times by the thundering sound of locomotives shunting rolling stock down the train tracks across the road. Now, despite the magnificent views of (what I assume were) the Sierra Nevada Mountains from our room window, I think the planner who thought it was OK to locate a luxury hotel adjacent to a 24/7 shunting yard needs stuffing with a tin of dried egg.
WEDNESDAY 05/10/22
Suitably bleary-eyed, by 8.30 am we were back on the road stopping at IHOP in Reno for breakfast. Unfortunately, despite its name, there was no beer available. I felt cheated. Our route took us south through Carson City and Gardnerville, past Topaz Lake en-route to our day's destination, Bodie State Historic Park, or 'Bodie Ghost Town'. Following the sign to Bodie, we left the main road taking a bumpy, dusty, unmade track for about a mile and a half before arriving at the pay kiosk and entering the park.
I had wanted to visit this place since I first read about it about twenty years ago. Massive thanks to Mark and Sue for making it possible. Bodie is an old gold mining community, built during the Gold Rush of 1849, but long since abandoned. Despite their ramshackle appearance, the buildings are continuously maintained to prevent their collapse. Nevertheless, it is a remarkable and atmospheric place and, despite its remote location, is well worth a visit.
One could easily spend a whole day at Bodie, but one broken shed looks fairly similar to another and after about two hours we decided to continue our journey. The next scheduled stop was (quelle surprise) – a brewpub! Big Meadow – 241 Main St suite c, Bridgeport, CA 93517, was a small building located on the main street of the town. When we first parked up we thought it was closed. It may as well have been!
The place inside was devoid of character, one customer perched on a stool at the end of the bar and a bar lady with about as much get-up-and-go as a waterlogged newspaper. I ordered a By-Day 6.0% APA [2.5] which was 'meh' at best. Ah, well (as Lemmy said) win some, lose some.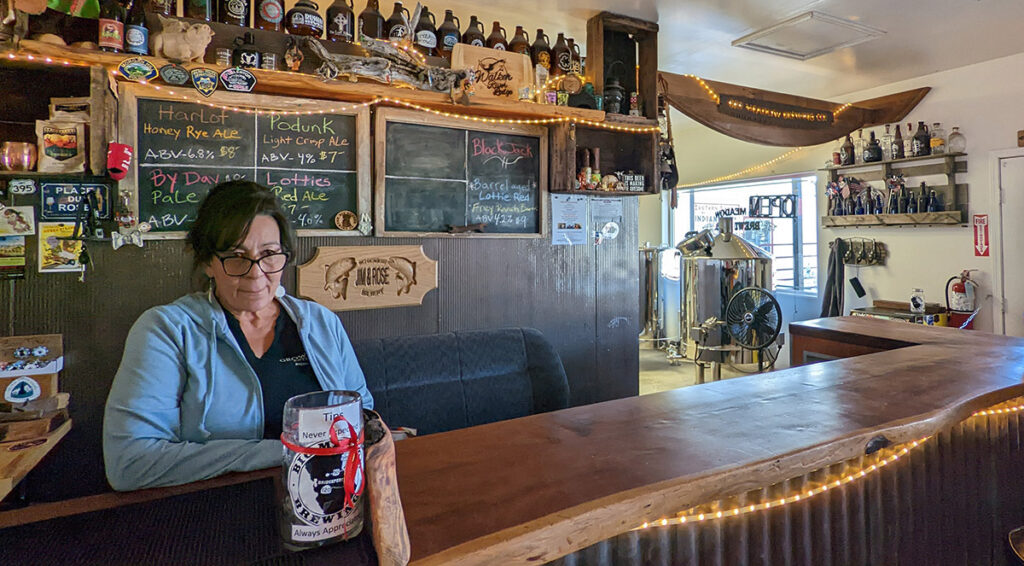 Another hour's drive, passing through Willow Springs, Mono City and Lee Vining and we were at our scheduled overnight stop, the stunningly scenic June Lake. Our booked accommodation was the Villager Motel, a charming small complex of tiered wooden cabins set bang between lakes June and Gull in a green glade overlooked by the mountains. Simply gorgeous! What's more, there was a brewery just down the road!
June Lake – 131 S Crawford Ave, June Lake, CA 93529, was a craft brewery on the outskirts of the town. The car park doubled up as an outside drinking area with a pop-up catering truck serving Mexican food. The place was really busy but we managed to secure a table outside and settled down to make the best of the setting sun's last rays. Inside, a row of 20 taps and two double fridges stuffed with canned hoppage. I tried two on draft: June As Fuck 6.2% NEIPA [4] and a Naaah Bro!!! 7.8% NEIPA [4.25] both monster beers and some of the best I'd had so far.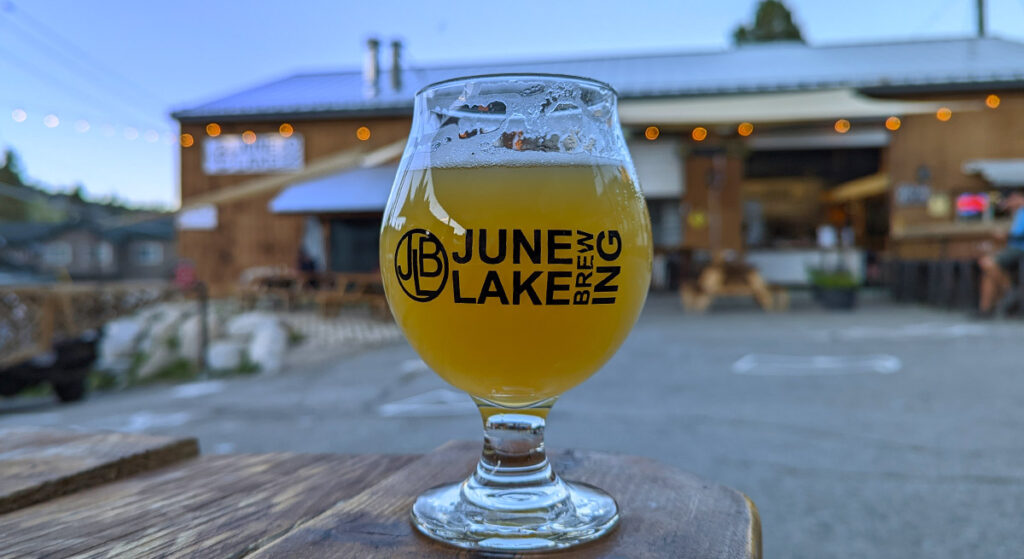 It was a lovely end to a long day and we sipped our beers whilst enjoying the accompanying burritos, soaking up the ambience. A lady came along and started foraging wild mint from the hedgerows outside the brewery gates and the smell wafting in on the gentle breeze was wonderful. They say the sense of smell is the most nostalgic and the memory of that evening will stay with me forever.
Another magical day and one I will remember for a long, long time. Tomorrow was the final leg of the road trip, through Yosemite Park.

THURSDAY 06/10/22
After a quick breakfast at The Lift coffee shop, we were back on the road and after four hour's driving through beautiful scenery, we were parking up in Yosemite National Park. To be brutally honest, unless you're a trekker, camper or photographer, there's not a great deal to do at the Park, but the views in parts are simply awesome.
There is a free hop-on-hop-off shuttle bus that drops off at various points around the Park, and we took advantage of it to visit the historic Ahwahnee, a mega-posh hotel where we had planned to take lunch. The dining room, however, was full to capacity and we were told there was no realistic chance of getting in. So it was back to where we had parked up at the Yosemite Valley Lodge, another hotel-cum-visitor centre.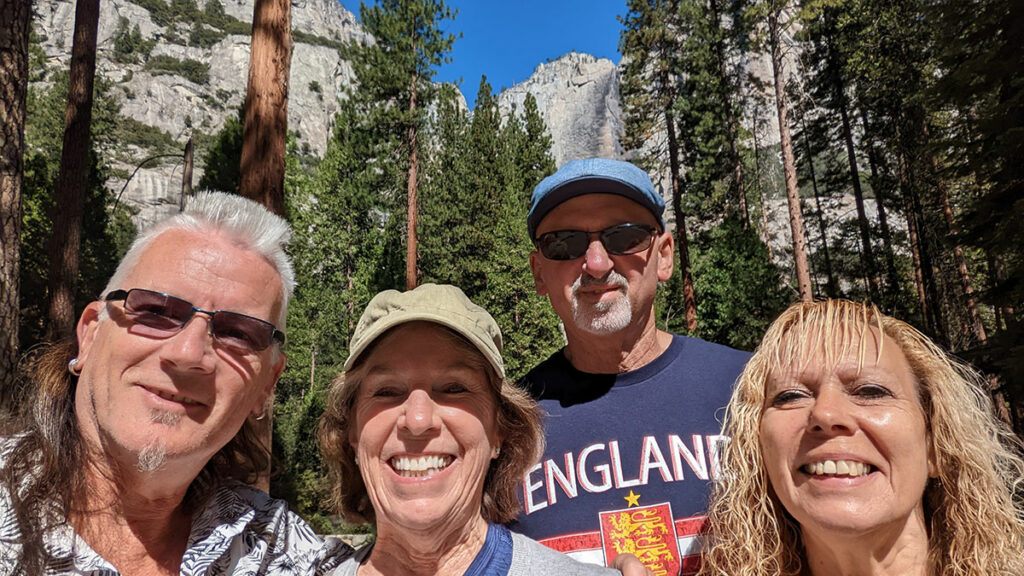 We went into the visitor shop and, during our search for some snacks, found a fridge full of beers! I selected a can of Tioga-Sequoia – General Sherman 7.5% AIPA [3.5]. We took our snacks and beers outside and enjoyed them sat around a shaded picnic table down the side of the lodge.
All too soon we were on our way again, headed toward our overnight stop, the charming Hotel Charlotte in Groveland. We were greeted by an incredibly enthusiastic chap at the reception and efficiently installed in our rooms with gusto. The place had its own bar, the Charlette Tavern, which had a pretty decent beer list for a small hotel, but we'd already decided to visit another brewery, just a mile or so down the road.
Around the Horn – 17820 State Highway 120, Groveland, CA 95321, was another brewery, literally in the middle of nowhere, producing superb beers. The brewery itself was another with an industrial feel inside and a corner of the car park acting as an outside area. It was also fairly busy for a Thursday tea-time. A choice of 14 beers on draft here, from which I had a sampler flight of five: Not NOT Ideal 8.5% DNEIPA [4.25], Fluffy Tutu 7.0% fruited sour [4], Star Party in the USA 8.5% DIPA [4], Put a Little Beer in My Coconut Water 6.5% NEIPA [4] and a Wapama Mama 7.0% fruited sour [4.25], all superb beers.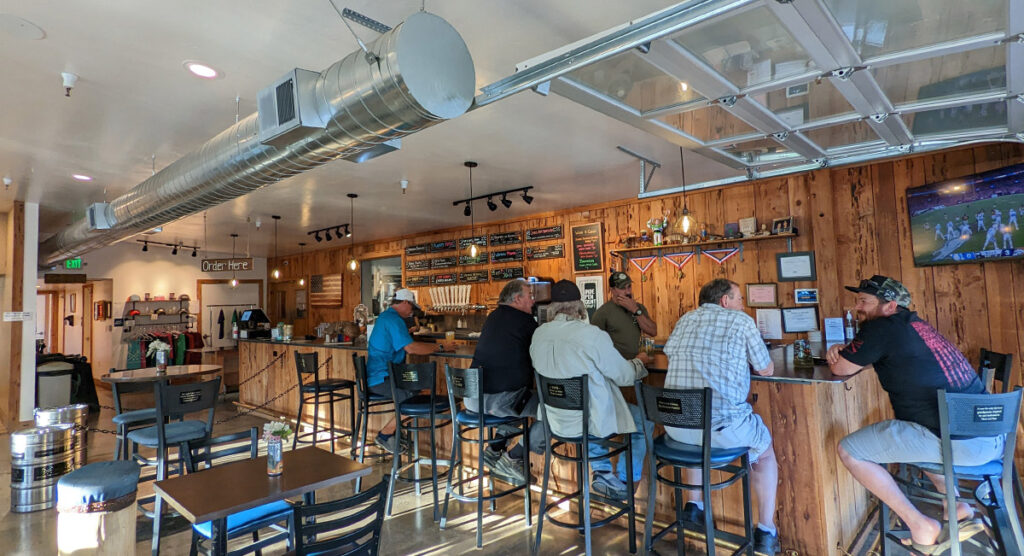 All too soon it was time to return to the hotel and reflect on another lovely day. Sadly we were heading back to Concord tomorrow.

FRIDAY 07/10/22
It was about a 120-mile drive back, taking us through some lovely scenery and seemingly endless walnut groves, and, after a stop-off for an In-N-Out burger at Pleasant Hill, we were back at base by just gone lunchtime – leaving plenty of potential drinking time!
After dropping our bags and a quick freshen-up, it was back out again, this time just Mark and I, whilst the ladies did girly things. I suppose at just over three miles away, in the US at any rate, Hop Grenade – 2151 Salvio St Suite J, Concord, CA 94520, counts as a 'local'. In any case, it would be a local I'd happily walk three miles to any day of the week!
This was a more traditional bar with a homely feel and a small but attractive patio area for outside imbibing. With 21 beers on tap from some incredible breweries, plus a shit-ton of cans and bottles in the fridge, I opted for one draft and one can. The Ghost Town – Ominous 6.7% AIPA [3.5] on draft was a little underwhelming but was more than made up for with the absolutely superb can of Untitled Art – Mango Dragon Imperial Smoothie 8.0% fruited Berliner Weisse [4.5]. Outstanding!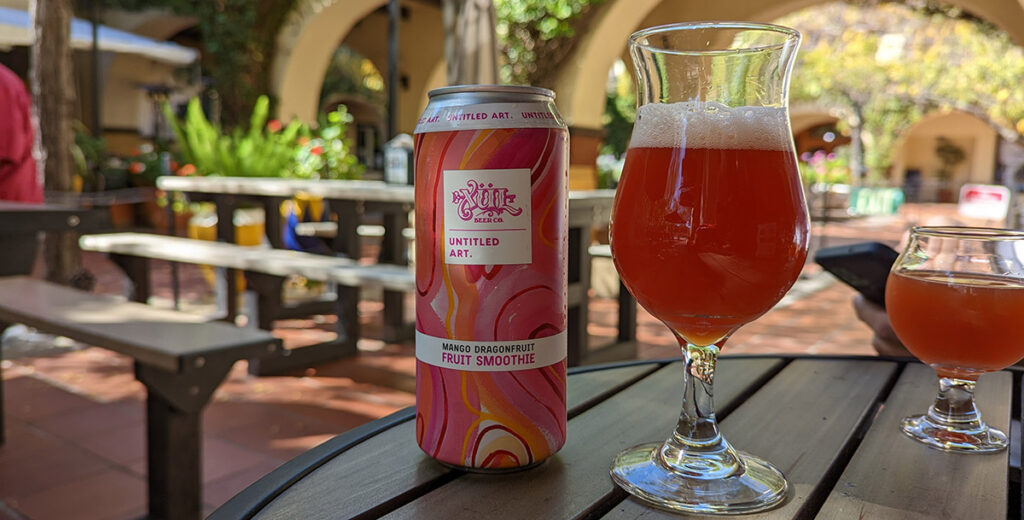 A quick call back home to pick up the girls and then we were back out, this time to local brewery Epidemic Ales – 150 Mason Cir J, Concord, CA 94520. This was back to the tried-and-trusted industrial unit formula with car park seating and pop-up food wagon. As I've said before, it's a format that works well, and this place was heaving.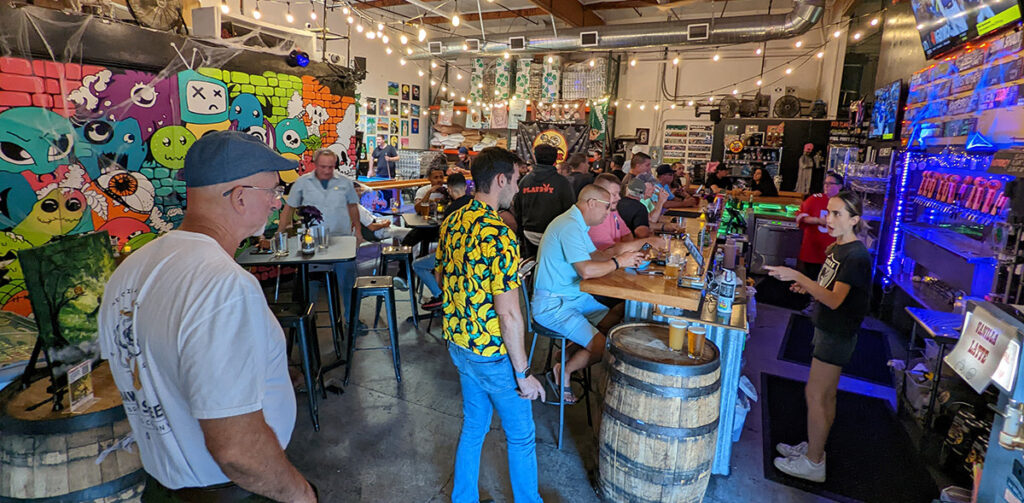 I chose a pint of Chemical Warfare 6.0% NEIPA [3.75], and we sat outside people-watching in the sunshine for a pleasant hour or so. All to soon it was time to return to base to prepare for tomorrow's flight to Los Angeles.

Once again I'd like to thank Mark and Sue for planning this road trip, especially when Mark wasn't in the best of health. They took us to some great places, we saw some beautiful sights, and drank some great beer, the memories of which I'm certain will remain for years to come.


SEE THE REST OF THE WEST COAST WANDER HERE:
Part 1: San Francisco | Part 2: Portland | Part 3: Seattle | Part 4: Sacramento | Part 6: Los Angeles | Part 7: San Diego | Part 8: Phoenix+
The numbers in brackets [ ] are my beer scores (out of 5). Find me on Untappd
Some tinnies wot I have necked.
And more pics from our Road Trip below.