SATURDAY 24/09/22
The day started off so well. Beautiful sunrise, warm morning sun, and a luxury ride to Oakland Airport, thanks to Mark taking us door to door in his Jaguar XJ. We were straight through security and into the departure lounge within 15 minutes and everything was on schedule. Unfortunately, it started going downhill from there…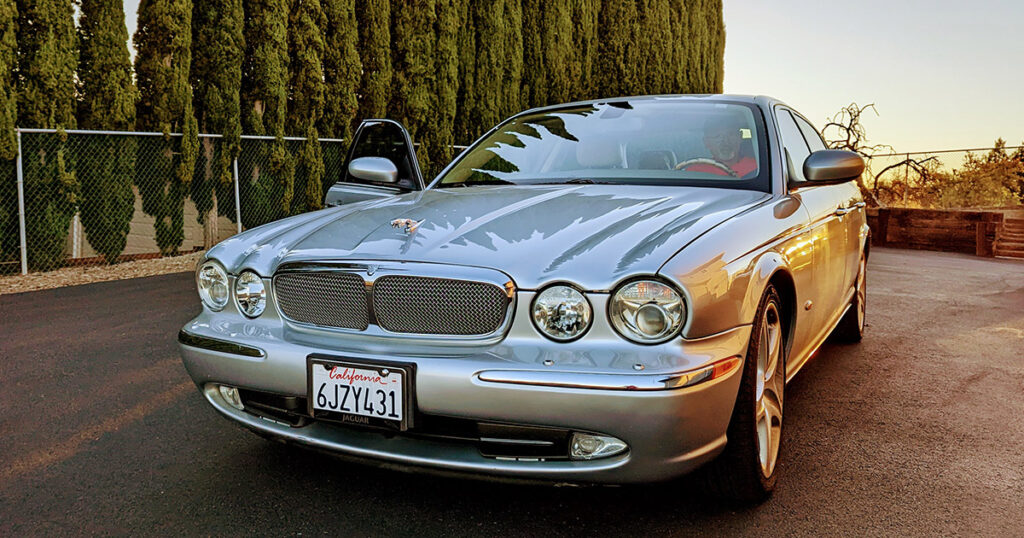 As we boarded Alaska Airlines flight AS 3303, we noticed the passenger in front of us spin a little projection on the cabin door with his finger as he passed by. Mrs Belvoir jokingly remarked that she hoped the door didn't fall off during the flight and we both shrugged it off, shuffled past and found our seats. Sho nuff, when it was time to shut the door, it wouldn't close. After several attempts, the Captain made an announcement that we would have to 'deplane' and wait for the engineers to come from San Francisco Airport to take a look.
We disembarked back into the departure lounge (where we had already spent two hours) to start what would become a several-hour wait. We should really have told the staff about seeing the guy tampering with the door, but I don't think either of us would have recognised him again and it surely was just a coincidence. The thought that someone could stop a plane from taking off with one twist of a finger is a bit far-fetched, isn't it?… Isn't it?
Anyhoo, after a couple of hour's wait, we struck up a conversation with a couple, Glenn and Kathy, from Florida. It was unclear how long our wait was going to be and Glenn suggested going to the lounge bar, the Rockridge. He got the first round in, so I didn't realise the prices, but when I reciprocated, two pints of Sierra Nevada – Hazy Little Thing 6.7% NEIPA [3.75] cost $34; 17 DOLLARS A PINT!!! It was tasty enough but I'm really happy we didn't have a session in there!
We finally boarded the plane four and a half hours later, and a massive roar went out when the door was finally closed before the plane pulled back. It was quite comical watching the hostess get out of her seat no less than four times to check and re-check the door before takeoff. Arriving in Portland mid-afternoon, we were installed in our AirBnB less than an hour later so still had time to go exploring.
A quick google search told me that there was a brewery just under a mile away, so we headed for Breakside Brewery 1570 NW 22nd Ave, Portland, OR 97210. Although the place was fairly busy we managed to get a table, but when I asked the waitress if I could pay with my phone, she said she needed a physical card or cash. We had neither on us, so we reluctantly moved on. Luckily, on our way to the brewery, we had spotted the Piedmont Station Food Carts – 625 NE Killingsworth St, Portland, OR 97211. This was an eclectic collection of shacks, sheds and food vans and a thriving little food cooperative located just off the main road. We went through the gate and I spotted what must be one of the smallest micropubs I've ever encountered. In fact, it was so small, there was no seating inside!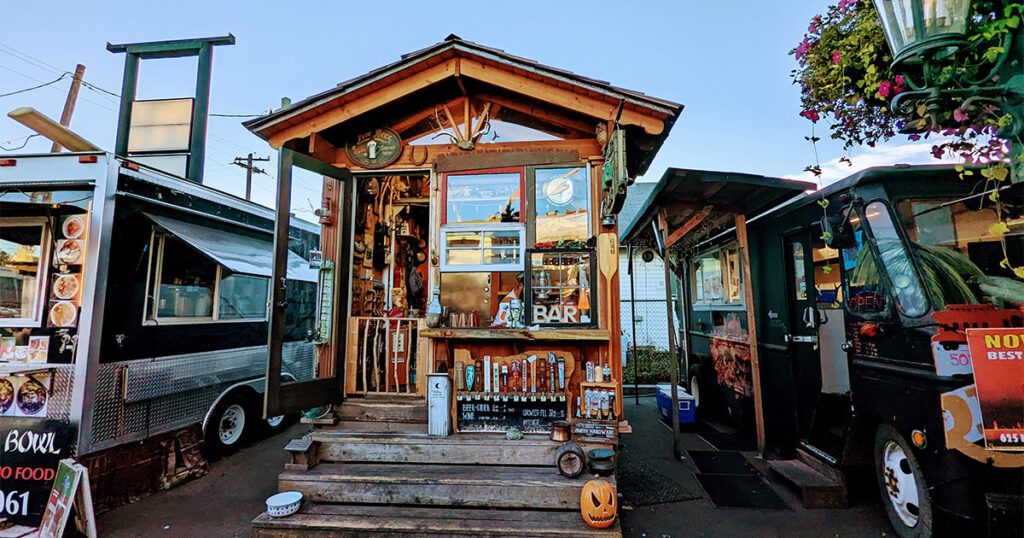 The Beer Shack may have had no seats, but it did have 12 beers on tap, and to make up for the recent abortive brewery visit, I had a Breakside – What Rough Beast 6.8% NEIPA [3.75] which was the perfect accompaniment to the Thai green curry I had from an adjacent food van. We sat on a nearby picnic table enjoying the sun's last rays of the day when a Country 'n' Western band struck up in another bar next door. Time to move on.
Another mile or so away was a brewery whose beers I had enjoyed several times back in the UK, but now I was going to get to sample them straight from the source! Great Notion – 2204 NE Alberta St, Portland, OR 97211 are renowned for their big, juicy, hazy New England-style beers, so I thought I'd try five of them;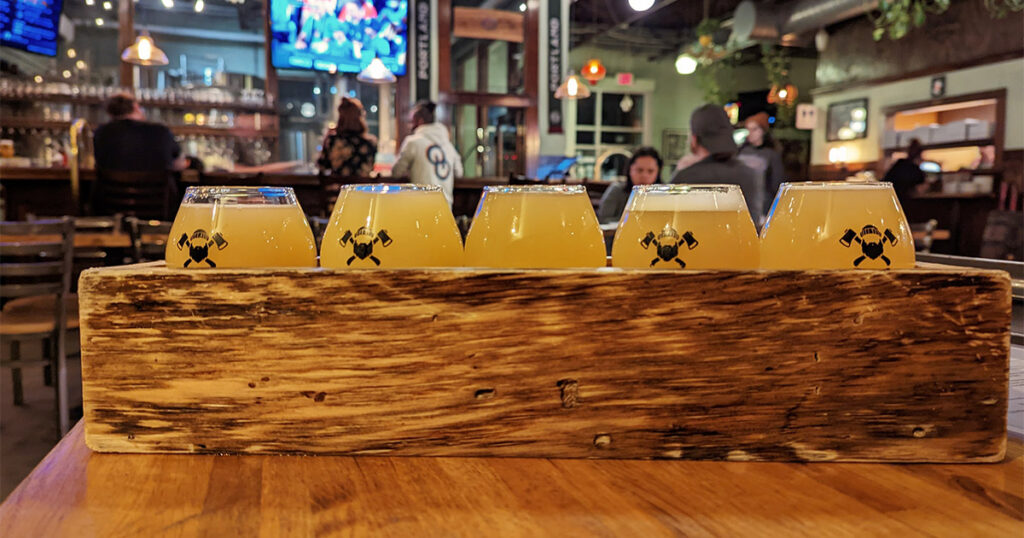 ISMO's Phantastic Ale 7.0% NEIPA [3.75], Ripe IPA 7.0% NEIPA [4], Serpent of the Stars 7.9% NEIPA [4], Thiology of Ghosts 7.8% NEIPA [4] and a Juice Invader Vs. the Thiolizer 7.0% NEIPA [4]. All of them super juicy and massively enjoyable. The taproom itself had a lovely outside yard area with trellised partitions, whilst inside was more industrial with the obligatory formica tables and wobbly chairs. I could've spent all night in here but sadly it was time to get back for some kip.

SUNDAY 25/09/22
Portland suburbs are a mesh of beautiful green and leafy avenues and we enjoyed looking at all the attractive wood-built houses and architecture as we took a leisurely stroll into the 'Mississippi' district of the city, an area bustling with independent shops, boutiques, cafés and bars, just over four miles away.
Our first beer stop of the day was Stormbreaker – 832 N Beech St, Portland, OR 97227 where we encountered what might just possibly be the campest waiter in history. He had a highly impressive macho 'Village People' moustache, an exceedingly limp wrist, unfeasably tight hotpants that left nothing to the imagination and had perfected a little ballet-hop-cum-pirouette every time he ascended the step into the bar. He was also very efficient at his job, and in no time I had a pint of their Supermassive 7.0% AIPA [3.75] in front of me.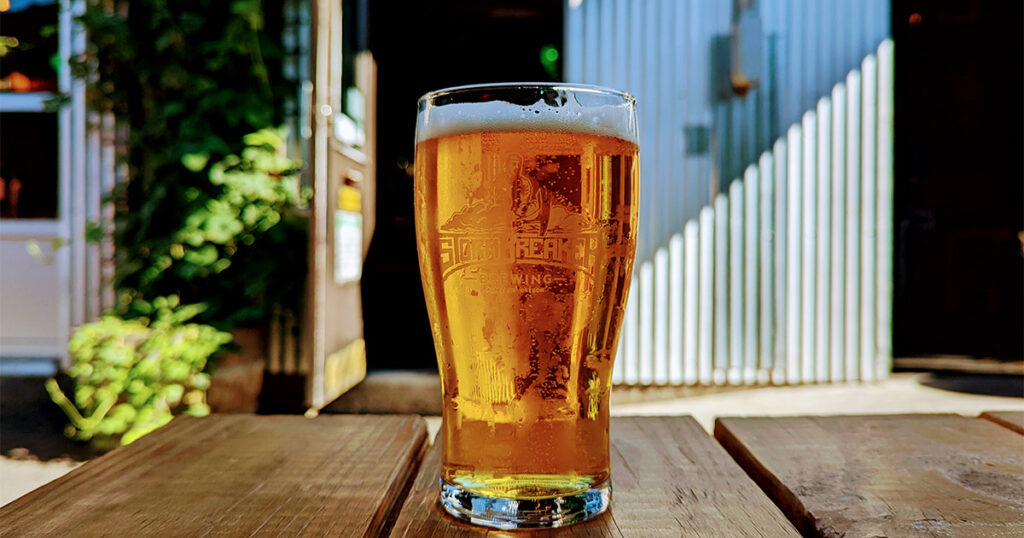 It was a tasty enough pint in a nice beer garden and we were considering staying for some food, until the couple on the next bench started changing their baby on the table. Then when their dog began to eat the sick that baby had previously deposited on the ground, we decided to move on.
The next call was Ecliptic – 825 N Cook St, Portland, OR 97227, right on the outskirts of the city. Here I selected a Phaser 6.5% NEIPA [3.75] which I savoured whilst shifting every few minutes in an effort to stay in the shade of the canopy above us.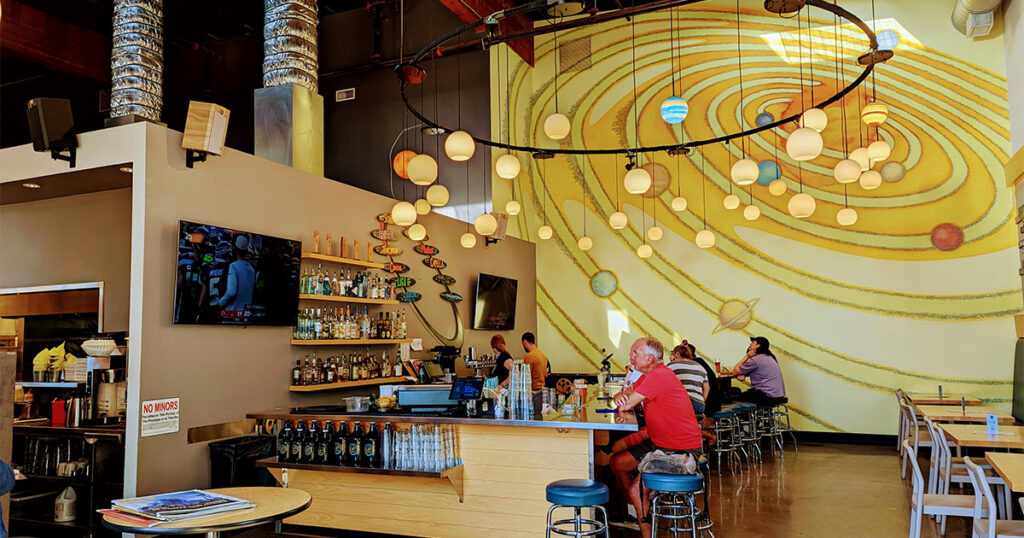 Bizarrely, I got mistaken for Glen Plake (Yeah, I had to google him too – he is/was a famous free-style skier) by the chap on the next bench. I had to explain that no, I wasn't him. I was the good-looking one and Glen was the one with the money! I liked the characterful space-themed Ecliptic a lot, and they also have what has to be one of the best hashtags ever: #poursomespaceinyourface.
The last brewery of the day was located less than a mile's walk away in the Williams area of town, situated in a rather characterless building block. Nonetheless, Migration (Williams) – N Williams Ave, Portland, OR 97227 offered a selection of 18 of their own brews, from which I went for a ReFresh Hazy 6.3% NEIPA [4].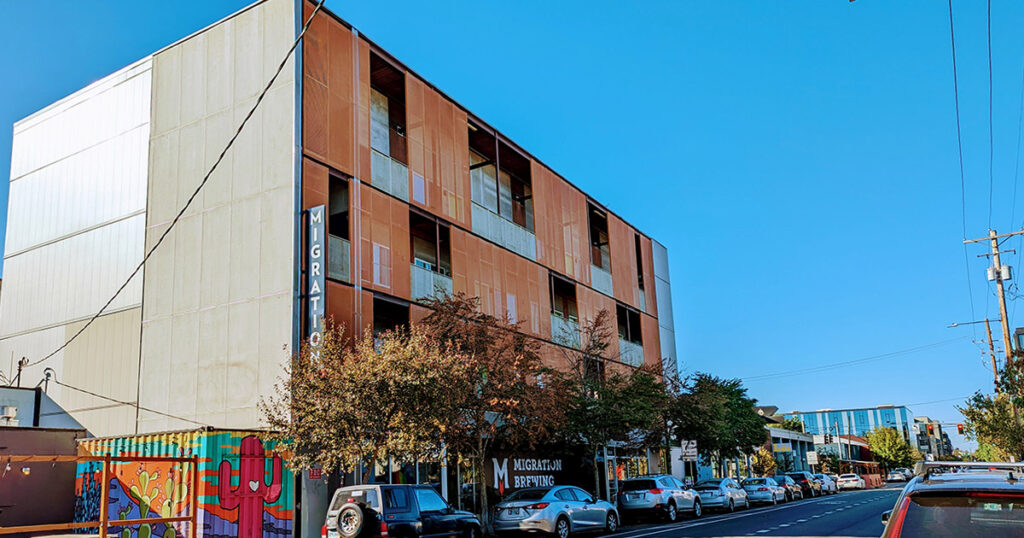 Again, the time had passed far too quickly, but it was a fair walk back to base and it was time to make a move, so I went to pay the bill. There was a sign next to the till 'recommending' a 20% tip. Just beside to that was a big sign that read 'THANK YOU FOR BUSSING YOUR GLASSES' (returning glasses to the bar). I couldn't help wondering what the tip was actually for!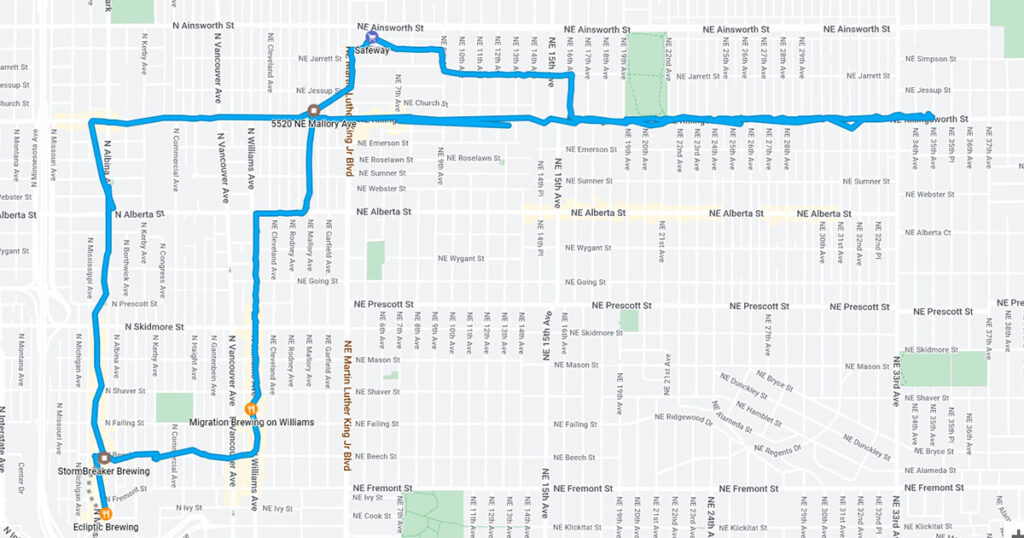 MONDAY 26/09/22
Today, we decided to walk the six and a half miles in the warm morning sun, crossing the Williamette River across the impressive W Broadway Bridge and into the city. After a couple of hours visiting the Washington Park International Rose Test Garden and Portland Japanese Garden it was time for a well-earned pint and first place on the list was Deschutes – 210 NW 11th Ave, Portland, OR 97209.
Two very nice beers here: Trellis Smack 6.6% AIPA [4] and Fresh Hop Strut Your Strata 6.6% AIPA [4.25] with a rather delicious pulled-pork sandwich in between. We spent a couple of hours sitting at the pavement tables outside, just chilling and watching the people and trams go by. The waitress here was from London but recognised my accent from her time spent at Nottingham University. Small world.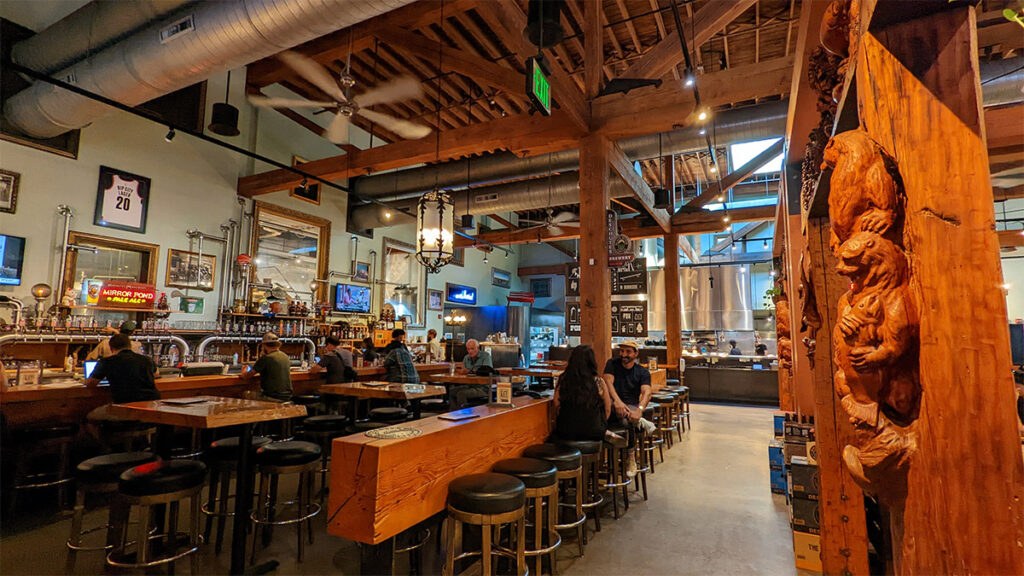 We had been told that no visit to Portland is complete without going to Voodoo Doughnut – 22 SW 3rd Ave, Portland, OR 97204, so that was next on our to-do list. Can you imagine a cake shop with a barriered queue line of about twenty customers waiting outside and a security guard on the door? Unbelievable! We duly waited our turn and about twenty minutes later were ushered in by the guard. I could have ordered the lot, but I went for a Voodoo Doll, with a coconut cake for Mrs Belvoir. Well worth the wait and a must-visit if you're ever in Portland. They also have a great strapline: 'The magic is in the hole'. Oooer!
The next brewery visit was Von Ebert – 131 NW 13th Ave, Portland, OR 97209. An airy and spacious interior here with 21 taps, but I only sampled the one; Fresh Hop Sector 7 7.0% NEIPA [4] which was rather delicious. Unfortunately, time was drawing on and I'd noticed another brewery that was closed when we'd walked it past earlier in the day on the way into the city, and it was on our way home so that was going to the last call.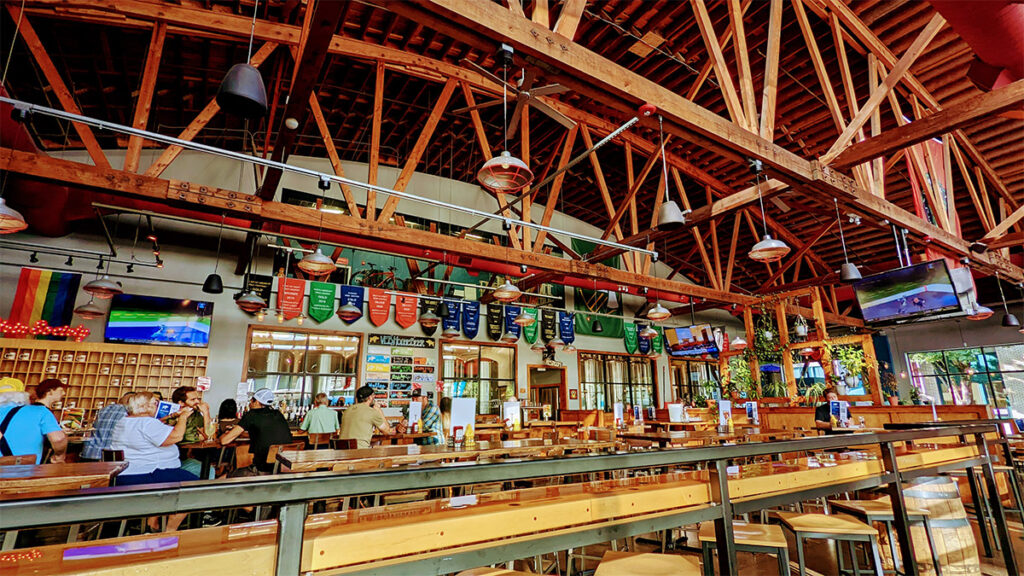 Upon entry, it was obvious that the brilliantly-named Grains of Wrath PDX – 3901 N Williams Ave, Portland, OR 97227 was a metalhead's pub, with its skeleton murals and biker-type clientele gathered around the rather dingy bar area. This theory was reinforced by the sounds of Anthrax and Slayer blasting out of the sound system. I loved it!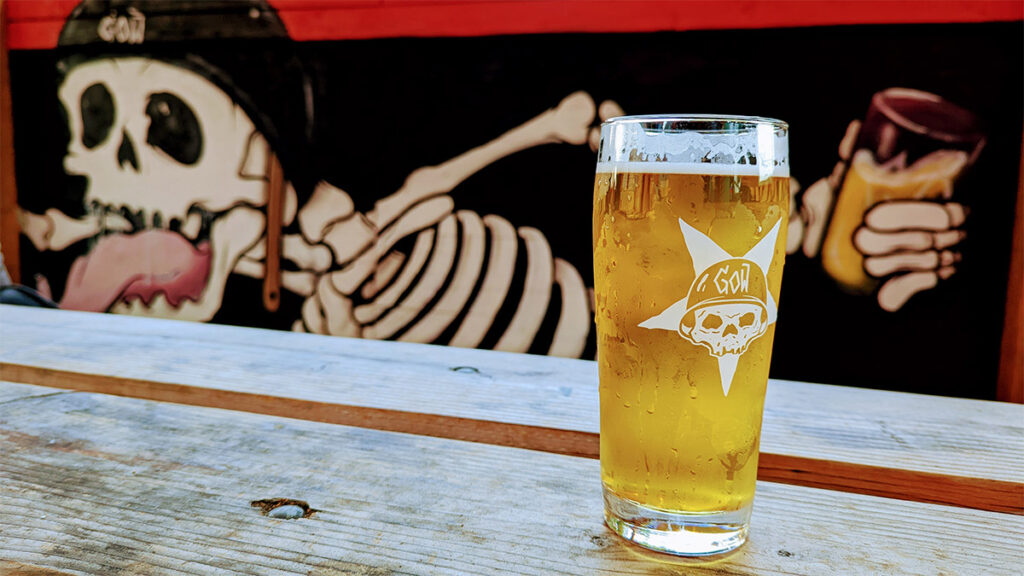 Sadly, no hazies in here, so I chose an appropriately-named Built for Speed 6.7% AIPA [3.75]. Crystal clear, but it still hit the spot! And so back to base to ready for our third leg of the holiday, Seattle.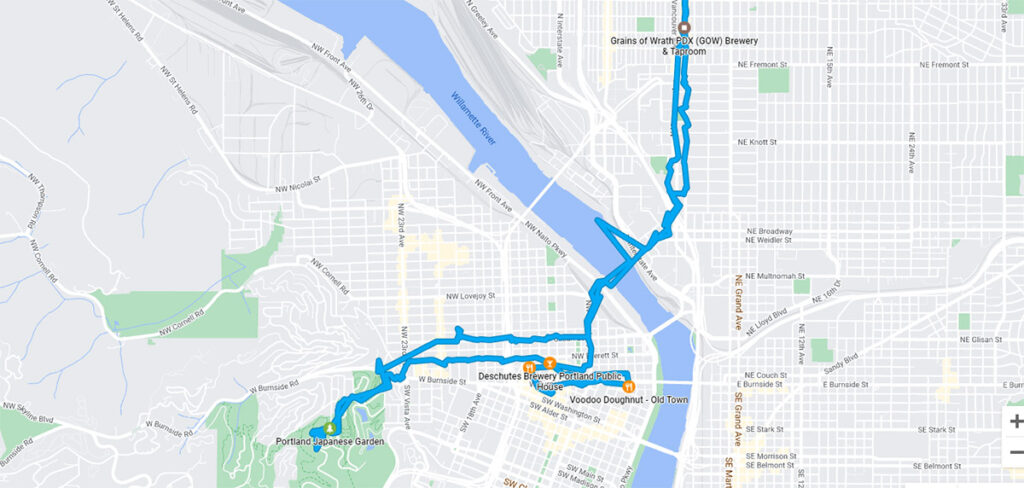 Portland – certainly the areas we explored – the Mississippi, Williams and Pearl districts – was lovely. Our BnB was situated in a beautiful green, leafy suburb within relatively easy walking distance to all these places and we felt perfectly safe and comfortable doing so. Well recommended.


SEE THE REST OF THE WEST COAST WANDER HERE:
Part 1: San Francisco | Part 3: Seattle | Part 4: Sacramento | Part 5: Yosemite Road Trip | Part 6: Los Angeles | Part 7: San Diego | Part 8: Phoenix+
The numbers in brackets [ ] are my beer scores (out of 5). Find me on Untappd
Some tinnies wot I have necked.
And some more pics of Portland below.