TUESDAY 27/09/22
The Portland-Seattle Amtrak train we had booked a couple of months previously was unceremoniously cancelled with just one week's notice, with no alternative routes or transport offered. Nice. We rebooked the 175 mile, three-and-a-half-hour journey on Flixbus which, ironically, departed from opposite the Portland railway station.
Whilst checking the line of passengers on board we thought the driver was being super friendly to everyone, making strange noises and nodding to each person in turn, but as soon as we set off and he started gesticulating toward phantom traffic it became apparent that he had an Alf Ippititimus-style tic. It wasn't very reassuring but he did at least get us to our destination in one piece and on time Phwaaaay!
We got settled in at the AirBnB by about 2 o'clock and so had time to do a bit of exploring. Setting off on foot, we headed toward the centre. Seattle itself is a pretty characterless city. We were wandering around aimlessly when Mrs Belvoir spotted a sign for a bar. This was a hell of a spot, as you may have missed it even if you'd been looking for it. The Flatstick Pub – 240 2nd Ave S, Seattle, WA 98104 was tucked out of sight, in a basement down an alley, but when we went through the doors at the bottom of the stairs, the place opened out into a sprawling space and the place was heaving!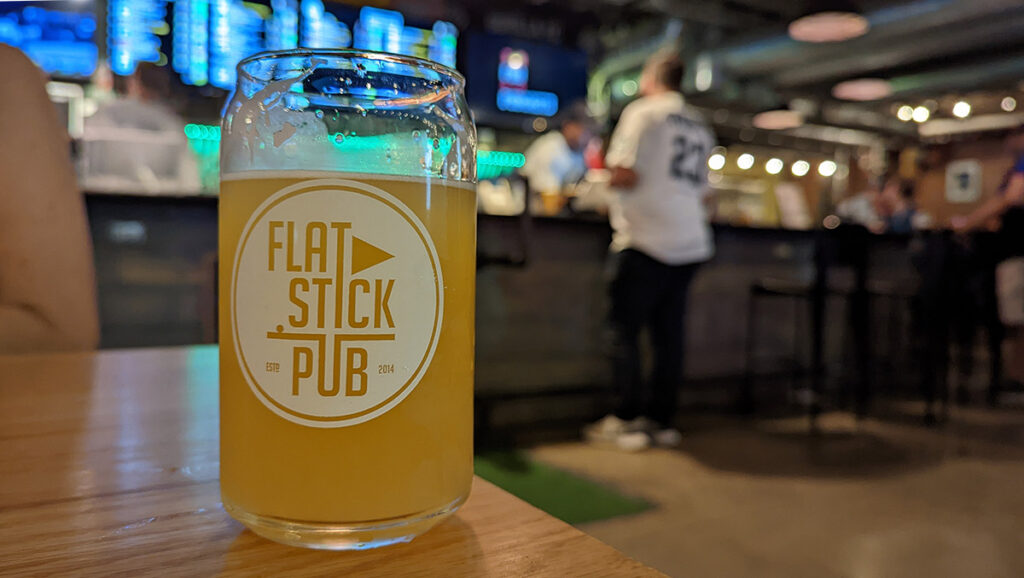 The pub was full of pre-match Seattle Sounders FC fans (the ground was only a few minute's walk away). The pub itself had the usual industrial feel with regimented rows of tables but was really characterful with its colourful wall murals, complete with two 'crazy golf' putting courses. More importantly, it had an absolutely astounding draft beer list. I sampled two pints in here, one either side of a delicious plate of 'dirty fries'. A Varietal – Sup Cuz 6.7% NIPA [4.25] followed by a Seapine – Rainbow Suspenders 8.7% DIPA [4.25]. Both spectacular beers.
We enjoyed our beers and food whilst we took in the noisy atmosphere. The place thinned out quite rapidly just before the game, but we'd had our fill and it had been a long day so set off back for base ourselves. What a brilliant chance find! On the walk home, we passed another brewery. Mental note made for a future visit.
WEDNESDAY 28/09/22
We actually managed to suss out the bus system in Seattle. It was app-based (but cash could be given) and cheap ($8 for a day pass), although we saw loads of people just getting on and not paying, so I don't think the drivers cared much anyway. Anyhow, on our first day in Seattle proper, we bussed back into the city and headed on foot toward the Pike Place Market, an ex-farmer's market. Although parts of it remain for fresh meats, fish and produce, most of it has been nicely repurposed and it is now a warren of small indy shops – and a brewery – more of that later. We spent an hour or so exploring the market, including the stomach-churning 'Gum Wall' and then decided to make our way on foot to the Space Needle.

We had no intention of going up the top of the Needle, but were relieved we had already made that decision when we saw that the ticket price to get to the top was $59 each! I decided that the money could be much better spent on beer, so went on a search for the first pub of the day. The Teku Tavern + Café – 100 Taylor Ave N, Seattle, WA 98109 was soon located a few minutes away on the corner of a faceless street-cum-building site.
A wide range of beer styles in here, dispensed from no less than 45 taps, but my eyes were drawn to the bank of about eight fridges (I didn't actually count them), from which I selected a can from local brewers Ravenna – Parallel Existence 8.5% DNEIPA [4.75]. I took it to the bar to pay for it and the miserable barman, who had followed us in off the street, didn't even acknowledge me when I tried to engage him in conversation. Instead, he ID'd me. What?? I'm 64 years old!! Luckily I had my passport with me and he let me have the beer. I didn't know whether to feel angry or elated – It was the first time I'd been ID'd in about 40 years! Suffice it to say I didn't tip the mardy git. That'll learn him!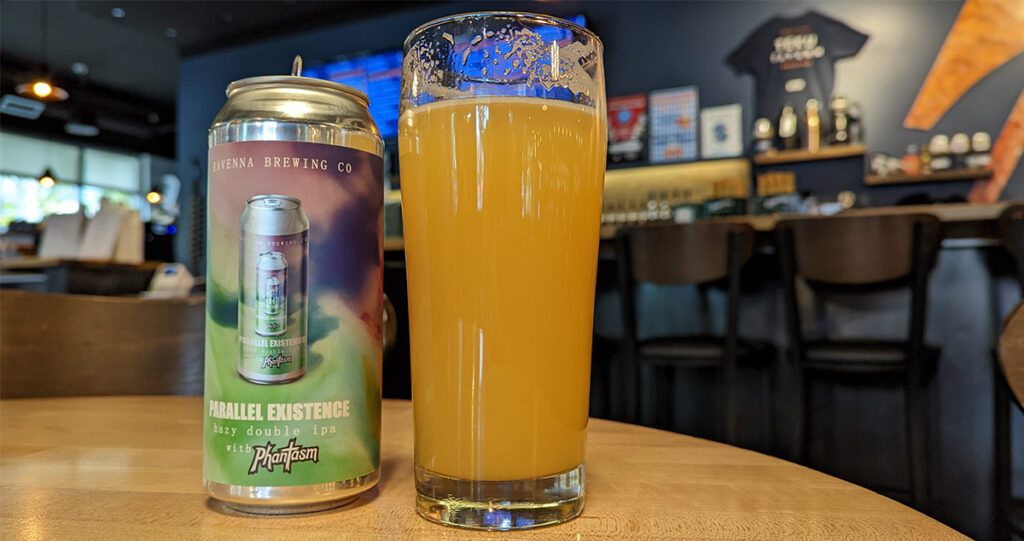 In the event, the can turned out to be a monster, monster beer, made with 'Phantasm' – a powder derived from Marlborough Sauvignon Blanc grapes in New Zealand – and by far the best beer I'd tasted so far. No, I'd never heard of Phantasm either, but I can't wait to find another and, if you like your beer juicy and hazy, I urge you to try it yourself.
Mrs Belvoir and I were the only two in the place and there was no music or atmosphere, just a mardy barman, so we decided to walk back to the Pike Market and visit the brewery we'd spotted earlier in the day. Old Stove – 1901 Western Ave, Ste. A, Seattle, WA 98101 is situated at the rear of the market and its windows back onto the waterfront, making it a pleasant space to be in. Sitting between the large fermentation vessels and the aforementioned widows we were soon served, and before long my two selections were in front of me, both brewed on the premises. A First It Giveth Juicy 6.3% NEIPA [4], followed by a Fresh Hop Citra Hazy 6.4% APA [4]. I'm not sure why, but I wasn't expecting much from this brewery (perhaps as it looked a bit touristy and commercial), but the beers were actually delicious. The food was tasty too.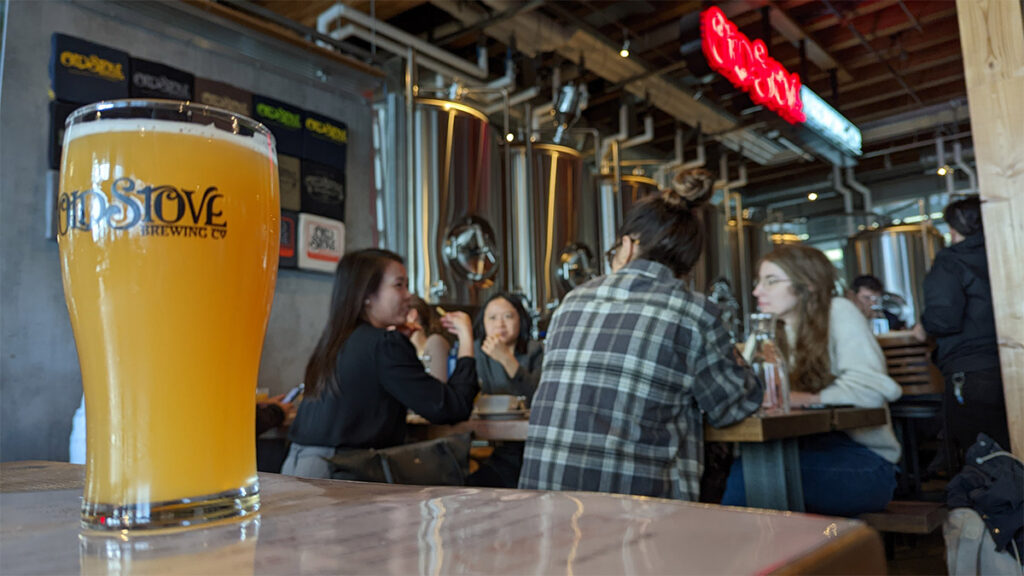 By the time we had finished in the Old Stove, the sun had begun to go down and we decided to make the two-and-a-half-mile journey back on foot to walk off the food and make a visit to the brewery we had spotted the day before as the last stop. On the way, we passed a homeless chap in a doorway, shooting up underneath his toenail.
Métier – 2616 E Cherry St, Seattle, WA 98122 is a one-bar, high-ceilinged room with a glass frontage onto the street. Overall a nice place with friendly staff. 16 taps in here, but just had the one, a Fresh Hop Hazy 5.9% APA [3.5]. Sadly mediocre, but since I'd had some crackers earlier in the day, I wasn't too disappointed.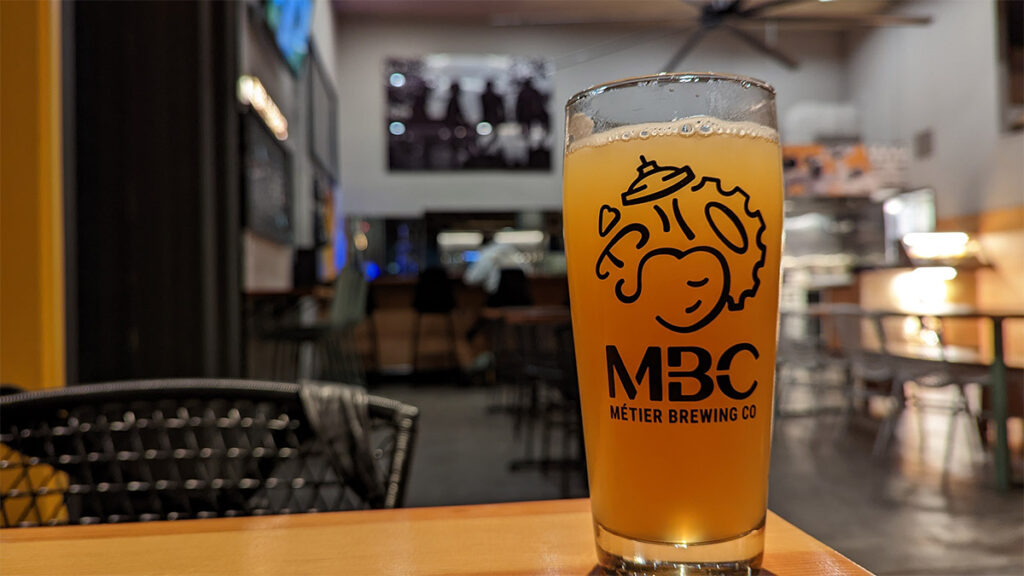 We had to squeeze past another poor homeless zombie-woman and her supermarket trolley on the walk home. The smell from her was overwhelming, the sort that sticks in your nostrils for days. You just couldn't imagine yourself living like that and it's desperately sad to see.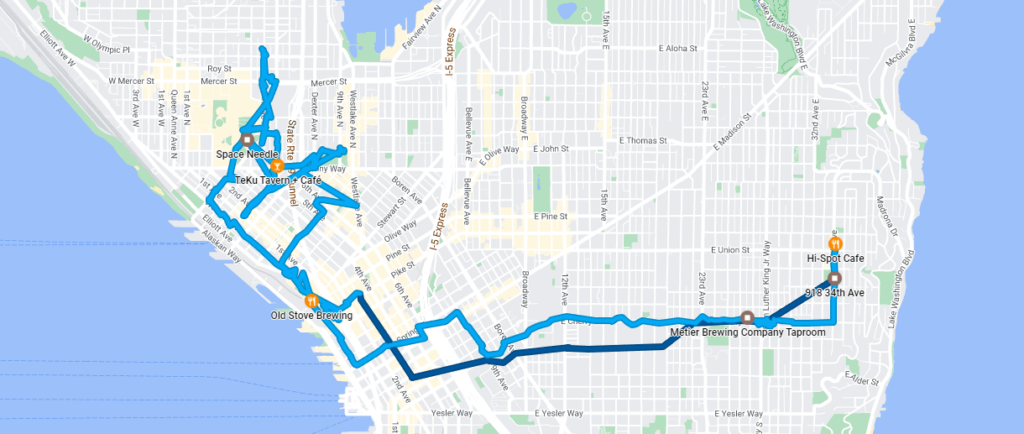 THURSDAY 29/09/22
Having fuelled up for the day at the Hi-Spot Café, we boarded a bus into town. Today we decided to take a bus trip North, crossing the 'Fremont Cut' into the Fremont area of the city. Our first stop, however, was Lumen Field Stadium, home of the Seattle Seahawks, to pick up a couple of souvenirs for a mate back home.
Whilst walking back through the city centre to find our bus stop, it became evident how bad the homeless problem is in Seattle. The entire length of one avenue's pavements was covered in tents and make-shift canopies with some people bawling across the road at each other, others wandering aimlessly into the path of oncoming traffic shouting and gesticulating at some imaginary person in front of them. It was rather intimidating and it was obvious that the authorities had let the problem get way out of control.
We eventually found our stop and boarded the bus, taking the three-and-a-half mile ride over the Aurora Bridge into Fremont. Our first visit was to the Fremont Troll, a large sculpture under a road bridge, created by local artists in the 90's. A few street's walk away took us to the Fremont Rocket, another sculpture, this time made from the fuselage of an old cold-war rocket. En-route, we passed the Lenin Statue. Apparently, the locals have made a pastime of irreverently adorning the statue in various ways. Today he was wearing a dunce's cap.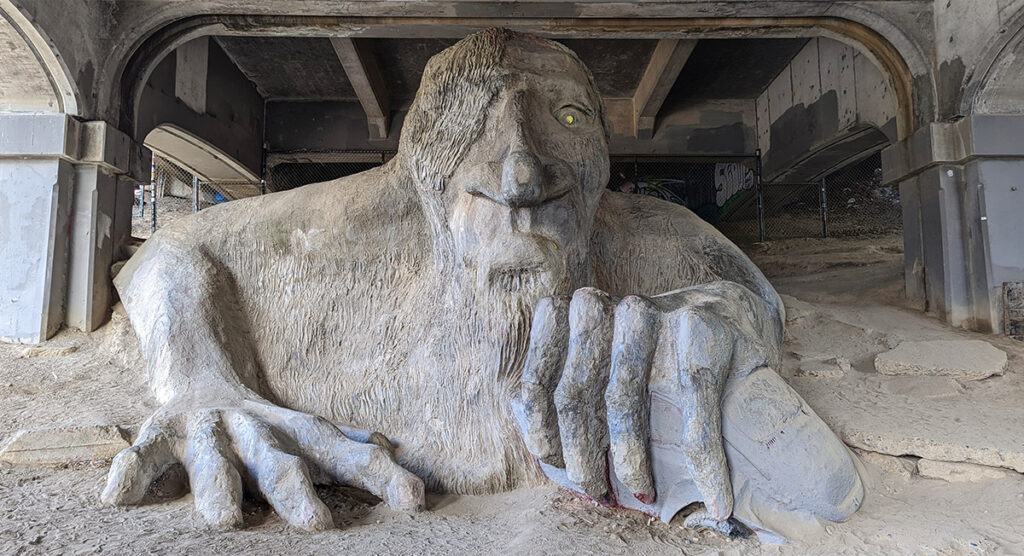 Our final planned visit was the Fremont Dinosaurs, two topiary sculptures of, erm, dinosaurs, that were so poorly maintained you could've walked past without actually noticing them. I was so underwhelmed, I thought I deserved a beer as compensation, so it was a brewery stop next.
We made a slow walk along the canal, past the Google offices and under the hundred-year-old Fremont Drawbridge, which we were lucky enough to see in operation as some canal traffic went underneath it. This was a really pleasant, green, peaceful area and a stark contrast to the Seattle we were experiencing only two hours or so before.
A couple of hundred yards further and we arrived at our destination, Fremont Brewing – 1050 N 34th St, Seattle, WA 98103. Although it was beside the main road it wasn't particularly noisy, so we chose to sit outside in the lovely shaded beer garden. Twenty taps to go at in here, but I just had the one; Head Full of Dynomite (sic) v.40. a 6.8% NEIPA [4]. These boys really know how to brew! I was enjoying the beer, taking in the sun and people-watching, when I spotted another sign of the sort we'd seen in Portland: 'THANKS FOR BUSSING YOUR GLASSES'. I felt like asking for my tip back, but just left our empties on the table out of spite!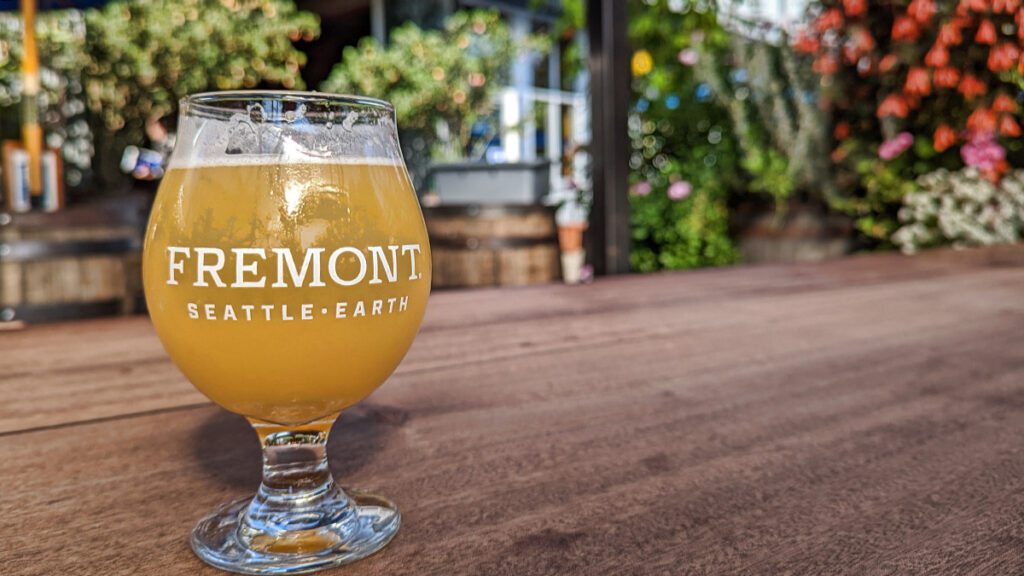 The next brewery was another couple of miles away, so we hopped back on the bus and made our way to Cloudburst – 5456 Shilshole Ave NW, Seattle, WA 98107, located in the Ballard district of the city. This was a lot smaller affair than the last place but nonetheless had 14 beers on tap, from which I sampled two; a Beautiful Distraction 6.6% AIPA [4] and Anyone's Ghost 6.7% AIPA [4], both hugely enjoyable. We sat in the beer garden enjoying the atmosphere, when a boat on the nearby canal sounded its horn. It was so loud that the bloke on the next table jumped and chucked his beer all down his front. Hilarious!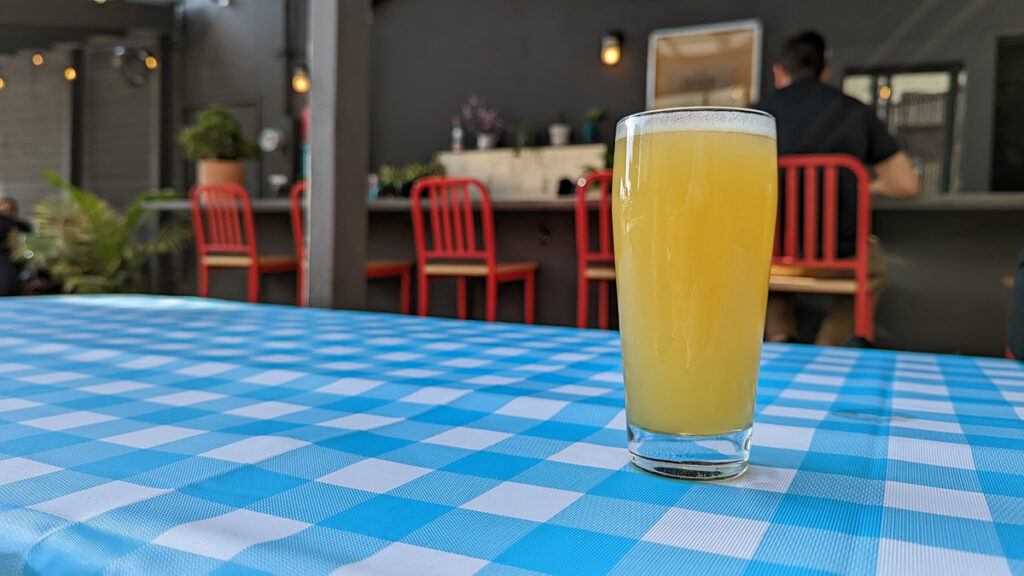 We made our way back over the Fremont bridge and, after a quick fodder stop at Just Burgers, we arrived at our last brewery visit of the day, Rooftop – 1220 W Nickerson St, Seattle, WA 98119. This place was little more than a shack at the side of a busy road, with service from a hatch in the side, leading onto the decked patio. A modest selection of 10 taps in here, from which I sampled just two; Gateway Hazy 5.8% [3.5] APA and Tropical Staycation 6.9% IPA [3.75], both of which hit the spot and made a nice end to the day.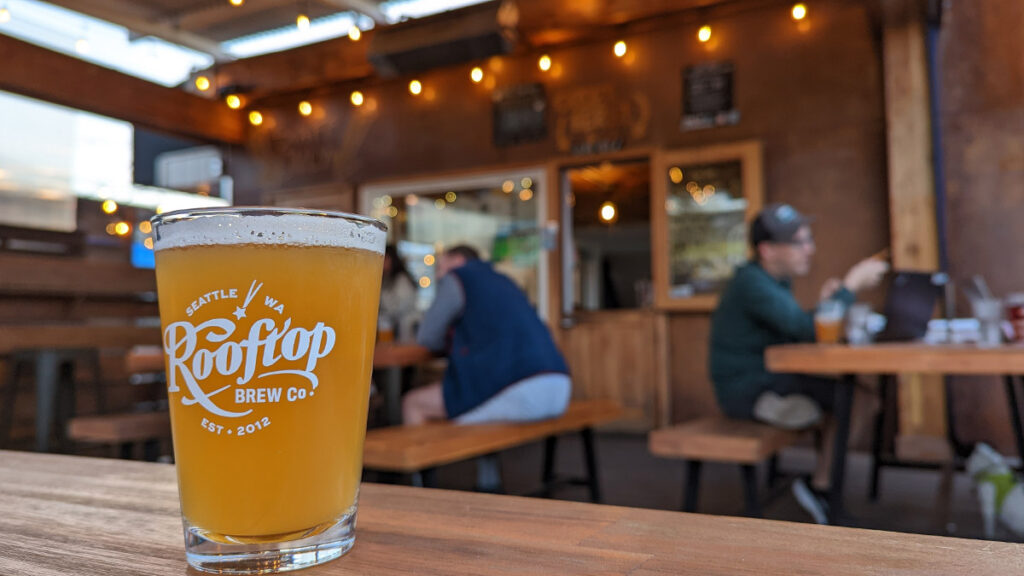 At this point, we were a fair way from our AirBnB, so it was time to make a move back to base. Once back in the city, we had to change buses and found ourselves once again negotiating our way through all the homeless people, trying to find the correct stop. I suppose the locals are used to it, but when you encounter homelessness on this scale – entire communities living on the street, dealing and taking drugs quite openly with no authorities in sight – it can be quite daunting. We boarded our bus and a guy followed us on, bypassing the ticket check, sat on the back seat and sparked up his crack pipe and nobody said a word. Unbelievable! We reached home after a long day and reflected on how lucky we are.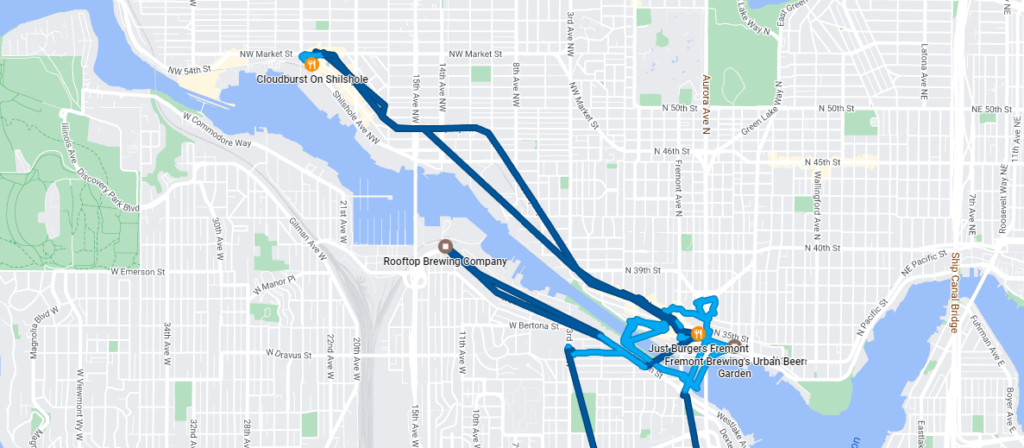 Seattle is a city of contrasts. Parts of the city are filthy and stink. Some main streets are overrun by homeless people on a worrying scale. The north of the city and over the canal in Fremont and Ballard, however, is a different world with lovely green areas and well-kept streets. It's a real eye-opener to see the poverty gap in these big cities. I'm glad I've seen Seattle, but I won't be back. Tomorrow we were flying back for an overnight stop back at Concord before starting the next leg of our tour, Sacramento.


SEE THE REST OF THE WEST COAST WANDER HERE:
Part 1: San Francisco | Part 2: Portland | Part 4: Sacramento | Part 5: Yosemite Road Trip | Part 6: Los Angeles | Part 7: San Diego | Part 8: Phoenix+
The numbers in brackets [ ] are my beer scores (out of 5). Find me on Untappd
Some tinnies wot I have necked.
And some more pics from Seattle below.