FRIDAY 30/09/22
Today was primarily spent travelling. Unlike the last flight, everything went smoothly and we were back at Oakland International by mid-afternoon. An hour or so later we were back with our friends Mark and Suzanne in Concord. Of course, this had to be celebrated with a beer and within half an hour we were all on our way to the Concord Taphouse – 3517 Clayton Rd, Concord, CA 94519. This is a busy, single-roomed local's pub with a great draft beer offer (24 on tap, plus a shedload of cans) and a good food menu to boot.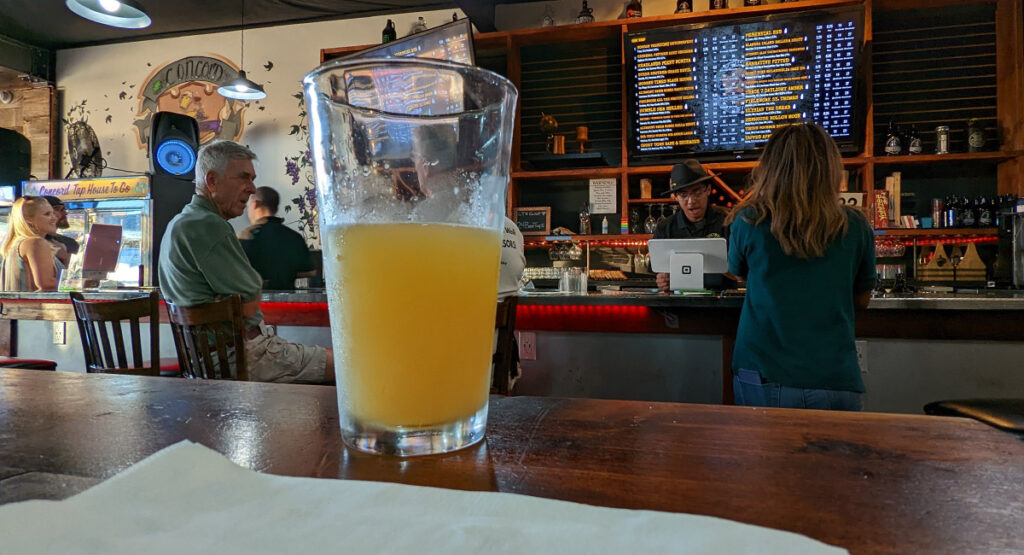 Just the one this evening as we had to prepare for tomorrow's journey to Sacramento, so I thought I'd better make the most of it and chose an Altamont Beer Works – Hella Hoppy 9.0% DIPA [3.75], which certainly hit the spot. It was a fleeting visit but, hopefully, we might make it back here later in the holiday.
SATURDAY 01/10/22
Our Amtrak train to Sacramento departed from the town of Martinez, about nine miles from Concord and Mark kindly drove us there, arriving in good time for its arrival. Once inside the immaculately clean and very characterful station, the departure boards informed us that our train was 'LATE'. Great start! There was no indication of which platform we needed (although there were only two), and no one milling around seemed to know either so I went to ask the person in the ticket office.
The lass behind the glass was being incredibly patient with an elderly lady customer who seemed to be asking for the times of every single train service in the state of California. When she eventually decided where she wanted to go, she handed over a swag bag full of coins, from which the ticket lady had to count out the requisite amount to pay for the fare.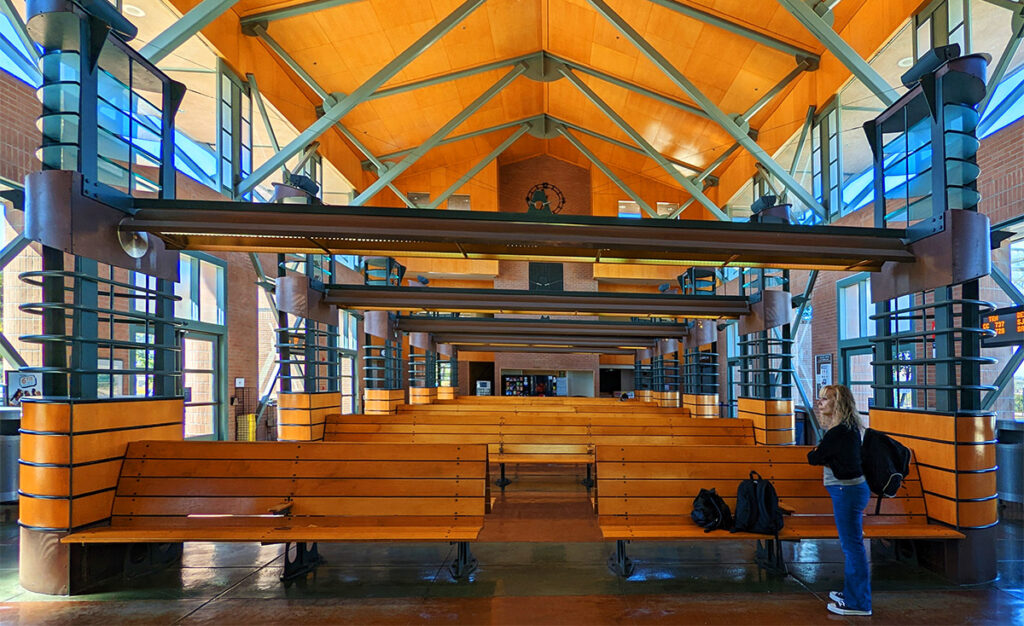 I finally reached the front of the queue to ask for platform information and 'ticket lady' was as clueless as everybody else. "Just stand anywhere until a train turns up" I was told. This is all well and good until the train actually turns up, blocks off the entire far platform (there was no bridge) and you can't get on! Luckily, the public consensus was the 'near' platform and, sho-nuff, the train eventually rolled up, albeit 40 minutes late. We boarded the train and, after being stood for another 10 minutes, slowly rolled out of the station – for about 400 yards – and ground to a stop again! We stood for another 40 minutes and then were eventually on our way proper to Sacramento.
I'd been told how slow and unreliable the trains were in the States so it wasn't totally unexpected. It's strange to think that a country whose history was literally changed by the railways has now let its rail system slip into such neglect. You'd think they would have a world-leading network with all the distances involved between cities and it's a real shame to see everybody prefer car travel, even over long distances. In the event, once on our way, the journey was comfortable enough (despite the girl behind us talking loudly on her phone all the way) and within an hour and a half, we were at Sacramento Valley Station.
We got an Uber through town and were installed in our AirBnB by early afternoon. This was hosted by a lovely lady called Angela (and her elderly dog, Wicket) and was situated on a beautiful, quiet tree-lined avenue and, it turned out, just seconds away from two excellent craft bars. A quick freshen-up and half an hour later we were back out exploring the area. On our street intersection, there was one of the aforementioned bars, an ice cream parlour, and another 30 seconds away, a second craft beer bar. Of course, to please Mrs Belvoir, the first stop was for ice cream!
Gunther's Ice Cream was established in April 1940, being in this location since 1949, and is open seven days a week, serving no less than 50 flavours of ice cream, all made on the premises. The place was heaving with customers, with a line wait of about 10 minutes. The ice cream wasn't particularly cheap, but it was worth every cent, and the wait! It's great to see a little family-run business like this thriving, especially considering its relatively quiet location.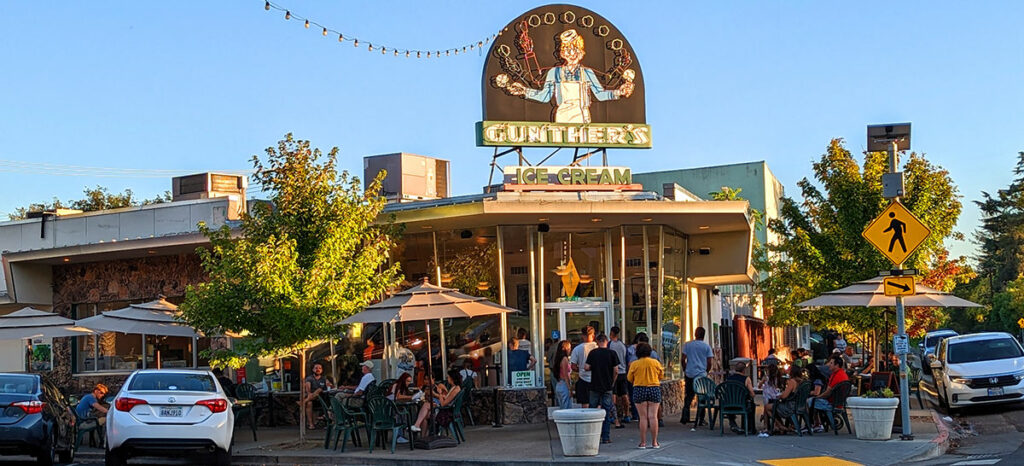 Having earned brownie points from Mrs Belvoir, I was now confident in suggesting we search for a brewery. Google informed us that the nearest option was just under three miles away. Track 7 – 5090 Folsom Blvd, Sacramento, CA 95819, was another brewery in the now familiar format of an industrial unit with a corrugated shutter frontage and make-shift benches inside and outside area in the car park. It's a formula that works well.
A choice of 15 from the tap menu here, including a style I hadn't encountered before, 'Cold IPA'. The very knowledgeable lass behind the bar answered my query quite concisely; "a Cold IPA is fermented at lower temperatures than normal, delivering IPA hop intensity whilst keeping the malt character restrained and ultra-crisp" or words to that effect. I thought I'd better try one after that! I went for their Angel of Abomination 8.0% Cold IPA [3.75] along with a Hazy Panic 6.8% NEIPA [3.75], which were enjoyed over the course of an hour or so, whilst sitting outside in the warm Sacramento evening sunshine.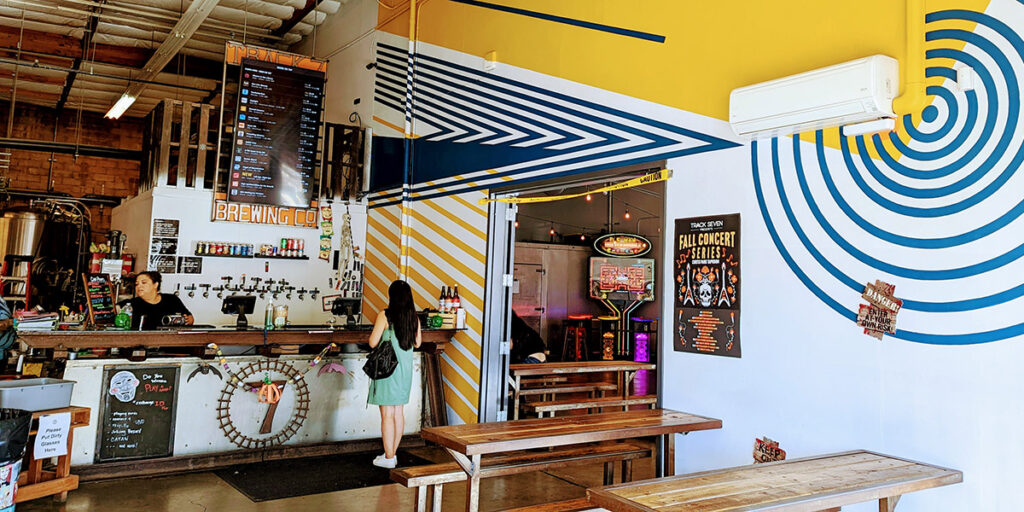 I'd heard that this place had actually closed down, so it was nice to see them back open. It's always sad to see little indy places like this go to the wall. It was a fair walk back to base, so we (meaning me) decided to make the last stop at one of the previously mentioned bars near our AirBnB.
Hop Gardens – 2904 Franklin Blvd, Sacramento, CA 95818, was only a four-minute walk from our digs, and what a cracker this place was! The bar was heaving when we arrived at about six o'clock, and we struggled to find somewhere to sit. I spent the time perusing the 24-tap draft list and generously stocked can fridges. Eventually, we jumped into some just-vacated-still-warm seats in the outside patio area, where I whittled my choice down to three: Tripping Animals – Hedging Bets 8.0% NEIPA [4], Movement – Fruitality Frosé 8.3% pastry sour [4.5] and a Weathered Souls – Who's Got the Juice Now? 7.5% NEIPA [3.75]. Mega, mega, mega!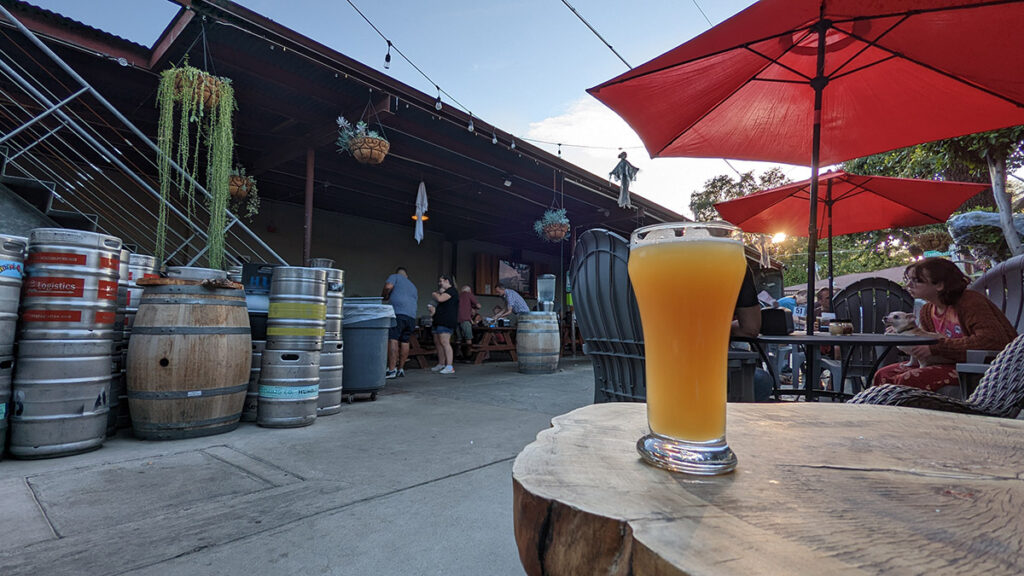 We ordered some 'dirty fries' and buffalo wings to go with the beer but the wings didn't turn up. After telling the serving chappy, they eventually arrived, but the price was crossed off our bill. Excellent service! The only downside to this place was the number of kids running around screaming, seemingly unattended, but I guess this is one of the reasons the place was so popular, and it was a Saturday night after all. This place definitely warranted a second visit.

SUNDAY 02/10/22
When we asked our host, Angela, what the best things to see in Sacramento were, she replied that people don't come to see things in Sacramento! Nevertheless, she told us that Old Sacramento (or 'Old Sac' to the locals) was worth a visit. We duly consulted Google maps and plotted a course – a nice, leisurely four-mile walk away. En route, we passed the original Tower Records building. There was a long queue outside, so we crossed the road to see what the attraction was.
When we got to the other side, we heard a car tooting its horn. Turning around, we saw the driver flashing their lights and waving frantically at us. I was just about to mouth off at them (we had crossed safely), when the car drew to a halt, stopping all traffic behind it. The lady driver got out of the car and picked something up off the road in front of the car. She then ran towards us waving the said item – it was Mrs Belvoir's purse, with all our cash and cards in it! How lucky was that? I wouldn't think that would likely happen back in the UK, but maybe I'm just being cynical. Anyway, we counted ourselves very lucky! In the event, the crowd was queuing for a restaurant so we carried on our journey.
Old Sacramento, a small area adjacent to the Sacramento River, between the Tower Bridge Gateway and I Street Bridges, is a piece of the Old Wild West with beautifully-preserved buildings, railway locomotives and even a paddle steamer. The buildings, of course, have been re-purposed into gift shops, bars and other touristy stuff, but the character of the place can't be denied and it's a lovely area to stroll around for a couple of hours.
By mid-afternoon it was beer time, so we set off towards Urban Roots Brewing & Smokehouse – 1322 V St, Sacramento, CA 95818, just over a mile away. I loved how the streets were just lettered A-Z. I could just imagine some fat council planner leaning back in his leather chair, smoking a cigar going "Hell, what are we gonna call all these streets? Ah, fuck it, let's just name them after the alphabet!". The building was situated in a plain-looking unit down an anonymous (albeit pleasant enough) side street. The spacious and bright interior was inviting, but we elected to sit out under the canopy of the beer patio out front.
The brewery itself was located behind a glass wall at the back of the bar area and was lined on three sides with dozens of oak ageing barrels, so I assumed that these guys specialised in sours and/or Impies. However, there was little evidence of these on their beer menu, apart from the Pause For Sunset 7.5% fruited sour [4] I ordered, along with a No Cuts, No Buts, No Coconuts 6.0% AIPA [3.75], and a Right Right 6.5% AIPA [3.75], all enjoyable beers. We were thinking of staying for some food, but everybody eating outside was getting plagued by wasps, so we decided to move on.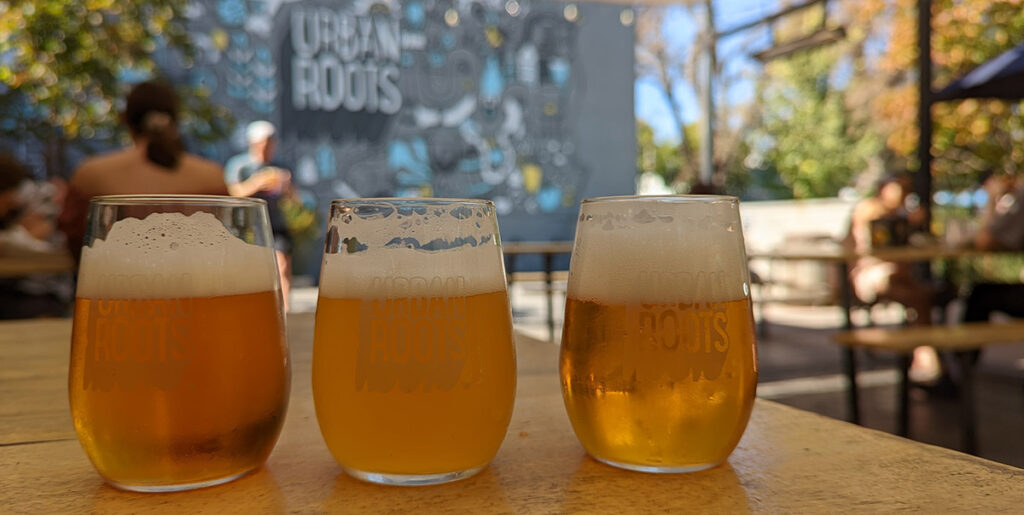 We'd already been to the Fieldwork Brewery, back in Berkeley a few days ago, but these guys had another outlet locally so that was the next port of call. Fieldwork – 1805 Capitol Ave, Sacramento, CA 95811, was smaller than their brewery but still offered a 25-strong tap list, majoring on West Coast IPAs, but I opted for a Hazy Train 6.9% NEIPA [4.25] which was utterly delicious. These guys had glassware of a shape I'd never seen before, made of really thick, heavy glass that felt really good in the hand. I asked if I could buy one, but when I was told they were $8 each, I decided I'd rather spend that money on the beer, not the container. I wish I'd bought one now!
It had been a tiring day (we'd walked about 10 miles at this point, so we decided to make the final stop at the other bar back near our AirBnB. We made a leisurely stroll through the leafy streets admiring some lovely house architecture and started talking to a couple of blokes who were working in one of the gardens. They'd recently bought the house together and were in the process of 'fixing it up'. We wished them luck with their project and carried on our walk, finally arriving at Pangaea Bier Café – 2743 Franklin Blvd, Sacramento, CA 95818 at around six o'clock. A smallish bar on a street corner with just enough room for two or three tables on the pavement outside, it still had 20 beers on tap, specialising in European (mostly Belgian) beer styles.
I chose two beers brewed a little nearer, namely: Crooked Lane – Dank Mode 8.5% DIPA [3.5] and a HenHouse – Avian Surveillance Division 6.2% AIPA [4] which were both enjoyed sitting outside in the setting sunshine, together with an excellent pulled pork sandwich. All in all, a lovely relaxing day. To find an AirBnB within seconds of two quality bars like the Pangea and Hop Gardens was a hell of a stroke of luck!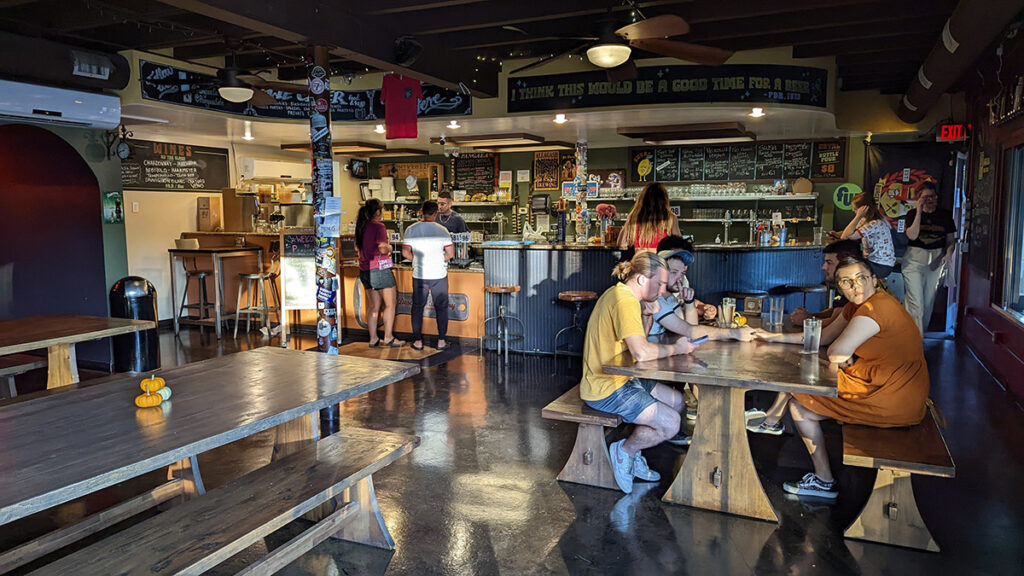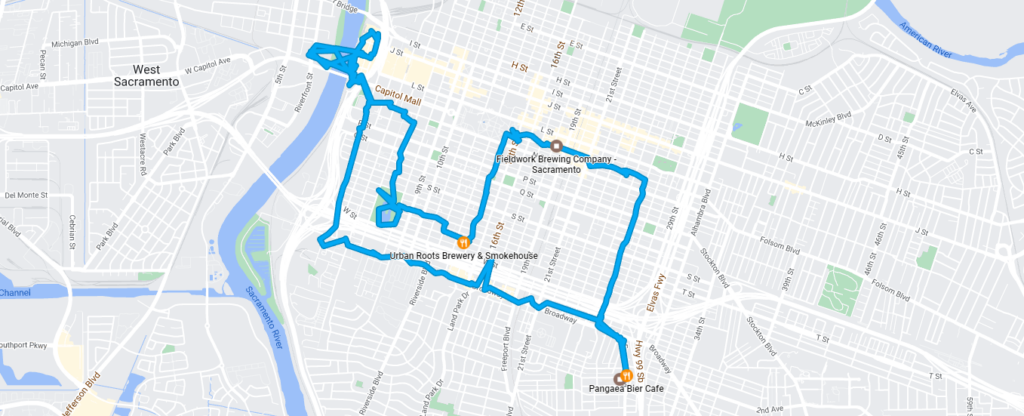 MONDAY 03/10/22
After a breakfast of porridge oats and blueberries, homemade by our host Angela, we set off to explore again. This time we headed towards the 'Capitol Mall', a modern shopping centre. Whilst walking down the main streets lined with office blocks and peppered with coffee shops and food outlets, it struck me how quiet everything was for a Monday morning. Whether this was because of working from home as a consequence of Covid (mask-wearing was still mandatory on public transport) I'm not sure, but the streets seemed eerily still for such a big place.
Even when we arrived at the shopping mall it was very quiet. We wandered around the empty shops for a while, aimlessly window-shopping, when we just happened upon the Yard House – 405 K St, Sacramento, CA 95814, a modern-looking, glass-fronted bar situated on a corner, mid-mall. I took a look through the window, nose pressed to the smoked glass in order to see through. I liked what I saw! A central 'island' bar, lined with beer taps all the way around the back wall. It was still fairly early – about 11.30, but when I heard 'Battery' by Metallica pumping out on the sound system, I was tempted in (as if I needed any persuasion).
We took a stool each at the bar and the bar lady handed over a beer menu. No less than 110 beers on tap! Unfortunately, Mrs Belvoir was complaining about the coolness of the air conditioning, so just a swifty in here, and I plumped for an Elysian – Space Dust 8.2% AIPA [3.75]. This was a big place inside, but besides us, there were only two other blokes perched on the other end of the bar so it seemed a bit lifeless, but I would imagine this place would be banging on a weekend. At any rate, it was a great chance find.
We continued our walk around the city which is, to be quite honest, pretty characterless really, but the streets were clean and well-kept, with some interesting artwork including some giant darts sticking out of the pavement. Not sure what the significance of those was, maybe there's a big darts scene in Sacramento? Suggestions below!
By about 3 o'clock, it was beer time proper and a quick Google search revealed that Device – 1610 R St, Sacramento, CA 95811 wasn't far away. Another ultra-modern glass 'n' chrome establishment with a patio outside area, Device offered a modest 12 beers on tap, with another six 'can pours', so I tried one of each; What the Haze?! 6.5% NEIPA [3.75] and a Sweet As! (can) 7.0 % AIPA [4] which were drunk sat outside on the patio, shifting from table to table in an attempt to stay in the shade. It was fairly busy out here and the beers were very enjoyable, particularly the tinny.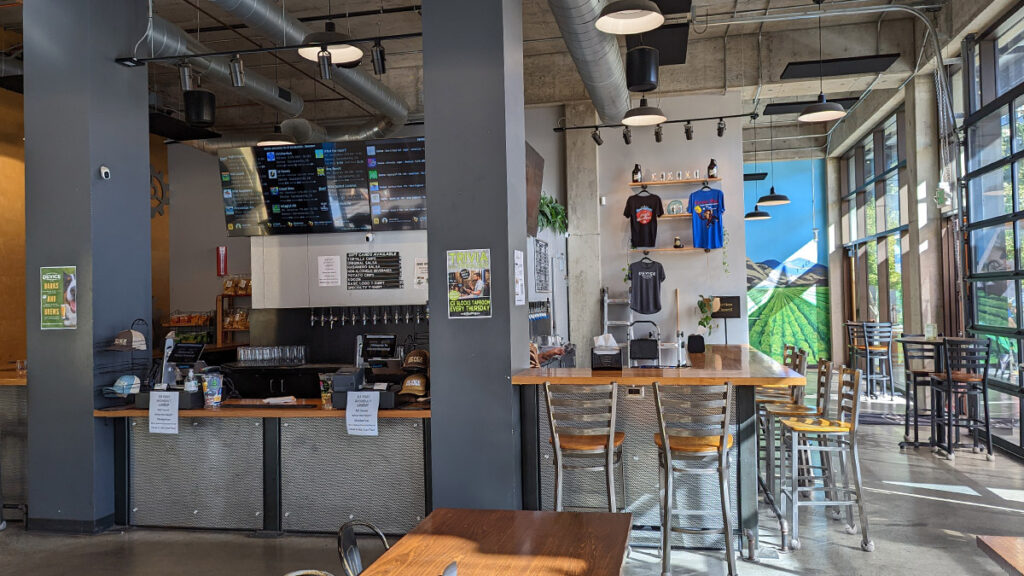 We were a good three miles or so from our BnB, so we decided to make the leisurely stroll back to the mega Hop Gardens we'd visited on our first night. Again struggling with their mammoth beer list, I finally chose a Moonraker – Lazy Jack 7.1% NEIPA [4.25] and an Alvarado Street – Riot Punch 8.5% DIPA [4.25], both monster beers and a magnificent end to our Sacramento visit.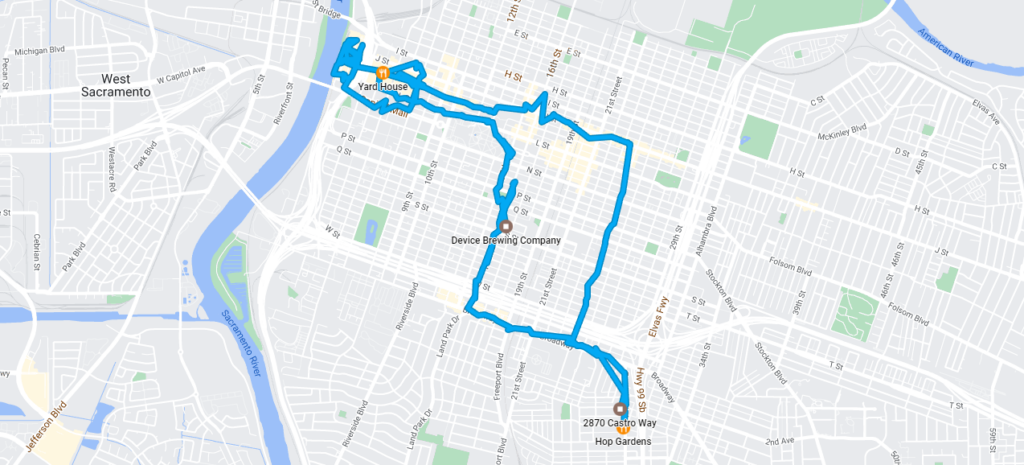 What little bit of Sacramento we saw was a lovely clean, safe city, albeit with no real 'attractions' other than the 'Old Sac' Wild West area. As American cities go, it is on the compact side and we managed to walk everywhere we went. I'm sure there was a lot more to see if we'd had the time. Well recommended. Tomorrow we were meeting up with our friends Mark and Sue again to on a road trip to Yosemite Park.


SEE THE REST OF THE WEST COAST WANDER HERE:
Part 1: San Francisco | Part 2: Portland | Part 3: Seattle | Part 5: Yosemite Road Trip | Part 6: Los Angeles | Part 7: San Diego | Part 8: Phoenix+
The numbers in brackets [ ] are my beer scores (out of 5). Find me on Untappd
Some tinnies wot I have necked.
And some more pics from Sacramento below.