WEDNESDAY 5/9/18
The day started with us making the journey from Buffalo back to Niagara Falls to drop off the hire car, before making the crossing over Rainbow Bridge into Canada by foot. The difference between the US and Canadian sides of the Falls on each immediate side of the bridge is quite different, and if you ever visit, you really should see them from both sides.
The US side is quite tasteful, with lots of green space and treed terraces from which to observe the Falls. The Canadian side, however, is somewhat tacky, resembling something like Blackpool, with amusement arcades, casinos and cheap cafes, which is a shame as the views afforded are far better than the American side. After having a quick scout around (we would be back for a proper look) and picking up another hire car, we made the two-hour drive to our hotel in Hamilton.
If we thought the last couple of hotels were posh, this one was a level above and, to be honest, I felt a bit out of place here! We dropped off our stuff and got a cab back into town for something to eat and quick nosey around before making a pre-arranged meet with an old pal later that evening. After stuffing our faces on some Portuguese nosh, we walked done the street and found the Merit Brewing Company – 107 James St N, Hamilton, ON L8R 2K6. A modern building, purpose-built I suspect, with a spartan industrial vibe, but more importantly, 14 taps on the back wall.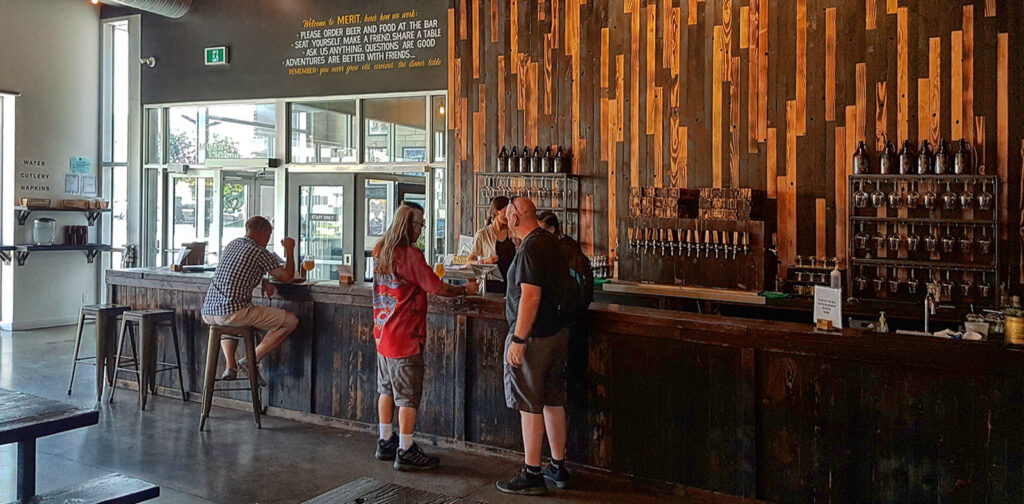 Just the one here, seeing as it was still early doors and we (hopefully) had a good session ahead of us. I sampled their 6.3% Cali Creamsicle Milkshake IPA, which was superb. Just half an hour in here, before having a scout around the town for a couple of hours, then diving into Augusta's Winking Judge – 25 Augusta St, Hamilton, ON L8N 1P6. This was a truly wonderful pub, and I would say the nearest we found to a traditional British pub we found on the whole holiday (see the photo's on their web gallery). Sadly, this is another pub that has closed permanently since our visit. The place was very busy when we called in, despite being 4 pm on a Wednesday afternoon and we struggled to get a seat. It's a real shame that nobody has stepped in to take this place over.
Happily, we were able to spend an hour or so in here, during which time I savoured a pint of 4.5% Fox Hunter Sour w/Mango from the Muddy York Brewing Co which was fab. It was over too soon and we planned to revisit later with our friends to sample some of the food, which looked very good. A quick ride back to base for a freshen up and then out again, this time to Collective Arts, where we were going to meet my old mate, Jonno.
Ian Johnson and I used to play in 80's metal band Paralex. He later moved to Canada, where he has been ever since. We collaborated again, over thirty years later, on our 2016 album Key to a Thousand Doors. I had seen him briefly back home in 2016, but as he only lived a couple of hours away from here in Union, we planned to meet up again over a beer. We arrived at Collective Arts Brewing – 207 Burlington St E, Hamilton, ON L8L 4H2, at around 7 o'clock, with Johnno and his wife arriving a few minutes later. We spent a lovely couple of hours here catching up and talking shit in general, during which time I had three of their excellent brews: 5.2% Jam Up the Mash sour, 4.5% Prophets and Nomads gose and 6.1% Life in the Clouds NEIPA.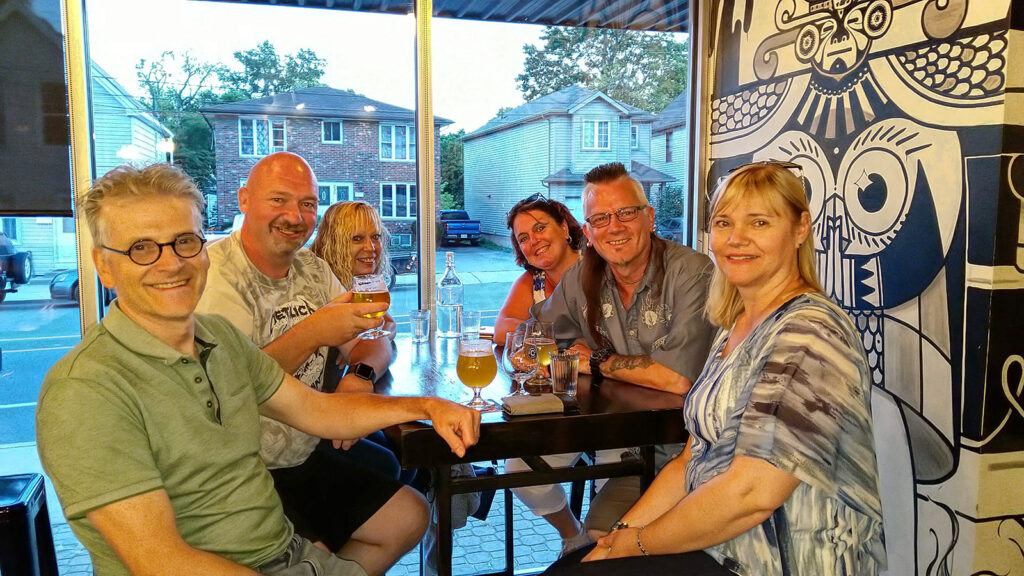 Time was marching on and as Jonno had over a two-hour drive back, we decided to return to the Winking Judge to get some nosebag. Unfortunately, when we got there it was full to capacity and we couldn't even get in. We had noticed another pub at the other end of the street so we decided to call in there. The Ship – 23 Augusta St, Hamilton, ON L8N 1P, was another traditional style boozer, a bit more spit 'n' sawdust than the Judge, but welcoming nonetheless. A half-decent beer selection on the menu here, from which I tried a pint of 5.6% Jelly King sour from Bellwoods, which was excellent and a 4.1% Strawberry Kettle Sour w/Lactose from Anderson Craft Ales which was pants but did a decent job of washing down my pie and mash anyway.
All too soon the evening was over and we had to say cheers to our friends then it was back to the hotel for some shut-eye. Hopefully, I'll meet up with Johnno again before long.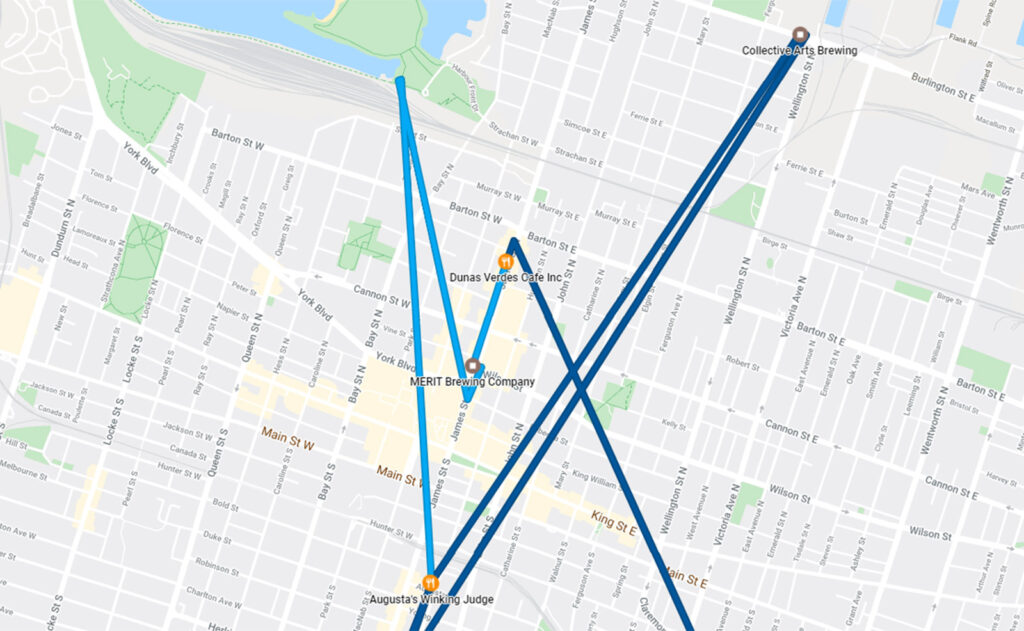 THURSDAY 6/9/18
Today we were exploring the Canadian side of Niagara Falls. We parked our hire car up and took a walk along the Niagara Parkway, which runs adjacent to the river and affords great views of the Falls. We also went up the Skylon Tower and booked tickets for later that evening so we could get a night view. A five-minute car ride took us the four miles or so north to the Whirlpool State Park, where we took a ride on the Whirlpool Aero Car. This antique cable car, in service since 1916, carries passengers over 200ft above the water and interestingly, although it travels between two points on the Canadian shore, it actually crosses the international borderline between Canada and the US a total of four times each trip due to the meander in the river below.
But enough of the touristy stuff! Before we left the UK, a friend recommended that we visited Niagara-on-the-Lake, so that's where we headed for next, just another 10 miles or so away. A quick reference to Google told us that a brewery was nearby, so that's where we headed!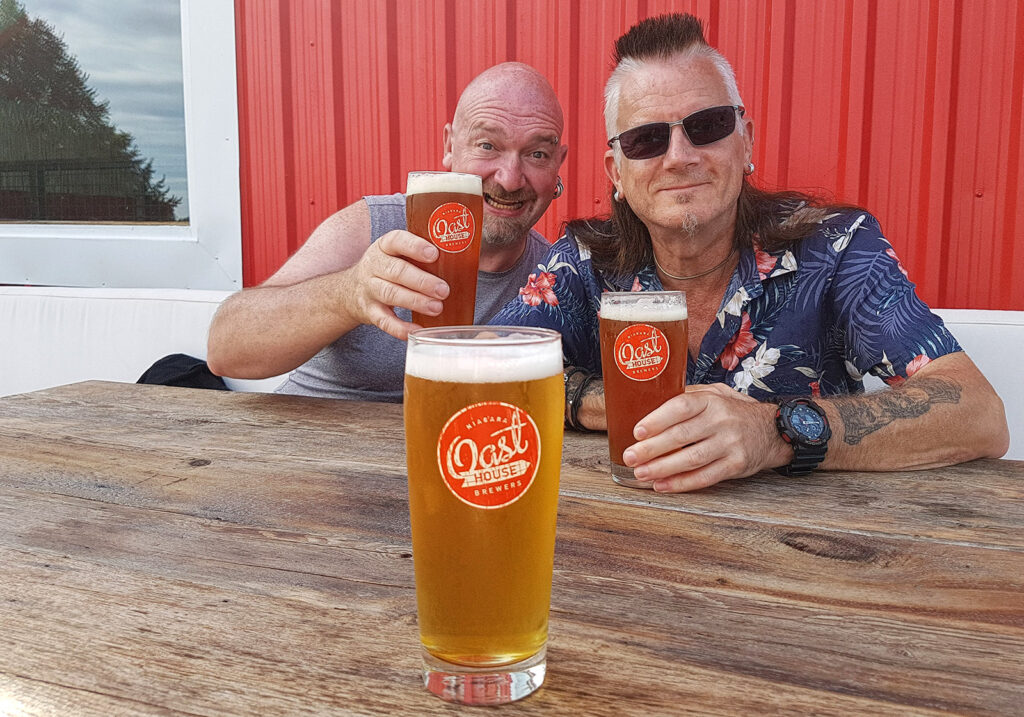 Niagara Oast House Brewers – 2017 Niagara Stone Rd, Niagara-on-the-Lake, ON L0S 1J0, was situated on a country lane on the way out of the town in a ranch-style building. We found a bench on the balcony at the rear of the building the looking out onto the hop fields below. To accompany my excellent BBQ pork, I tried a pint of 6% Farmer's Tan Summer IPA which, although not brilliant, still went down well.
After getting fed and beered, we headed back into the main Historic Old Town, where we parked up. This was basically a long main street with lots of quaint shops and artisan businesses… including a brewery. The girls wanted to go shopping so Scary and I headed for more beer. The Exchange Brewery – 7 Queen St, Niagara-on-the-Lake, ON L0S 1J0, situated in the building of Niagara's first telephone exchange (hence its name), is a tiny microbrewery on the high street and has the brew kit visible at the back behind a glass wall and a small bar as the shop-front.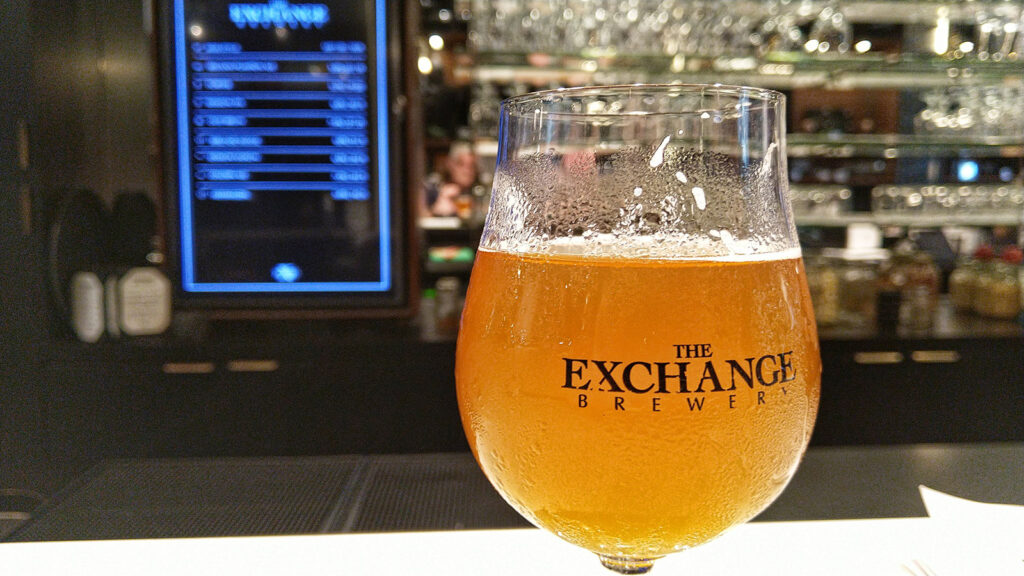 We spent a pleasant couple of hours in here, during which time I sampled three, all very enjoyable: A 5.8% #61 Grapefruit Pale Ale, the 7.6% +Golden Ale (a Belgian Blonde), and the 4.6% #5 Session IPA. The girls caught up with us again and it was time for the short ride back to the Skylon Tower, from which we saw the Falls illuminated at night. Overall, a lovely relaxing day of sightseeing and beer. Tomorrow we were going to visit Toronto.

FRIDAY 7/9/18
We set off on the 45-minute drive to Toronto on the long, straight highway and the appearance of this enormous city steadily growing in size on the horizon as we approached was an amazing sight.
After eventually finding parking space in a multi-storey, we got a fantastic al-fresco breakfast at Fran's Restaurant, followed by some general walking around and sightseeing for a couple of hours before stumbling upon the brilliantly-named Thirsty & Miserable – 197 Baldwin St, Toronto, ON M5T 1L8, and with a fantastic name like that, we just had to pop in for a bevvy. Really rough-and-ready in here with rickety, chipped Formica tables and graffiti on the walls and doors, and the barmaid played the role too and really made you NOT feel at home. But it had a really good beer list. Mine was a superb pint of 6.4% Meanwhile… Down in Moxee IPA from Great Lakes which was very enjoyable and worth the misery.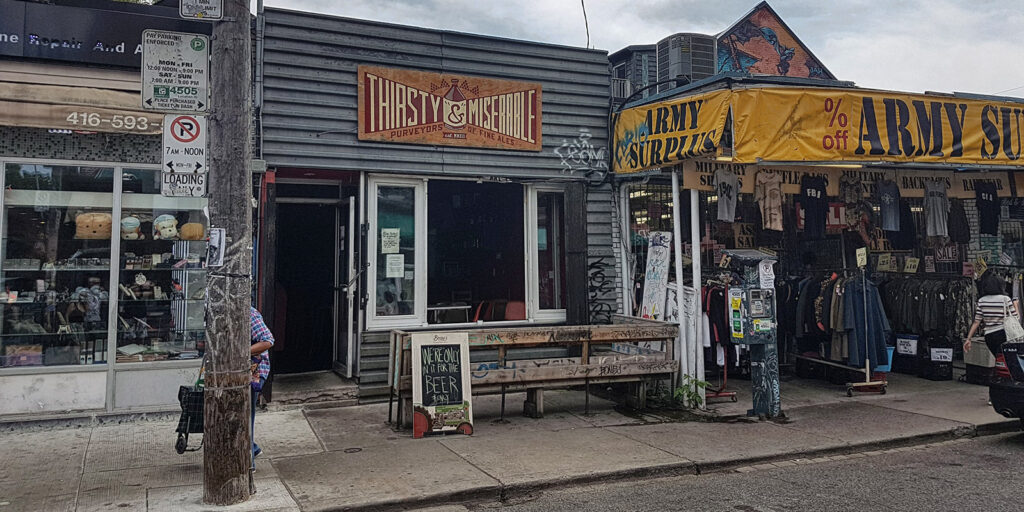 Our next stop was a nine-minute walk away: The Kensington Brewing Company – 299 Augusta Ave, Toronto, ON M5T 2M2. This was another long deep bar with a small frontage to the street and brewing plant situated at the back. I tried four in here. All were good, but the sours were particularly noteworthy. 6.5% FishEye IPA, 8.5% Breaking Point NEIPA, 4.5% Convergence w/ Guava & Passionfruit sour and the excellent 5% Qullqa fruited gose.
I felt quite at home in the Kensington, as my shirt was almost a perfect match for the wallpaper. However, we'd spotted another bar only a couple of doors away, and it was time to move on.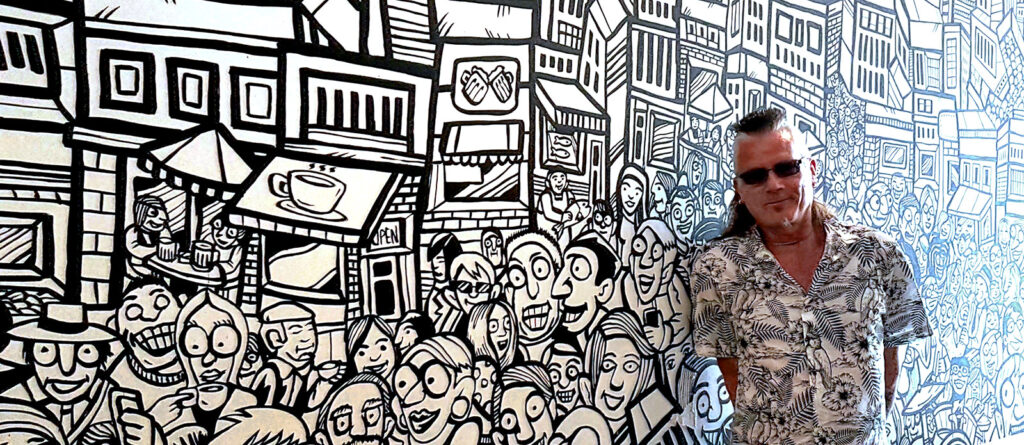 Trinity Common – 303 Augusta Ave, Toronto, ON M5T 2M2, was a bar and grill with plenty of street seating out front. The food menu was excellent and there was a row of 18 taps behind the bar, from which I chose just the two: 4.5% Delta Mango fruited sour by Forked River and a 6% Ale of Two Cities (2018) sour IPA from Stone City, which was absolutely stunning and quite possibly the best sour of the trip. Time was getting on and Tracey had a fair drive back to the hotel and we had one more stop on our list.
A 45-minute walk away, the CRAFT Beer Market – 1 Adelaide St E, Toronto, ON M5C 2V9, was a recommendation from a friend, and wow! Was he right! This place was cavernous, with a central bar sporting an unbroken row of 200 taps around its entire length. Beer is transported from the vast array of kegs behind glass wall panels, over the heads of the drinkers through suspended stainless steel ducts and down to the bar. Very impressive. If you like that sort of thing.
Despite its bewildering range, I thought the actual choice was somewhat disappointing, focusing on mainstream and commercial breweries (maybe we visited on a bad day). There were some gems to be had though, and I tried a 5.2% Armed 'N Citra APA from Rainhard and a 5.5% Bang-Bang, another superb sour, this time from Left Field.

CRAFT was rammed with happy drinkers, and I shuddered to think how much money was going through the tills. This place, though, demonstrated that beer is still big business despite its general decline in recent years. It was late evening by now and a big day was ahead of us tomorrow – we were going home – so we decided to call it a night.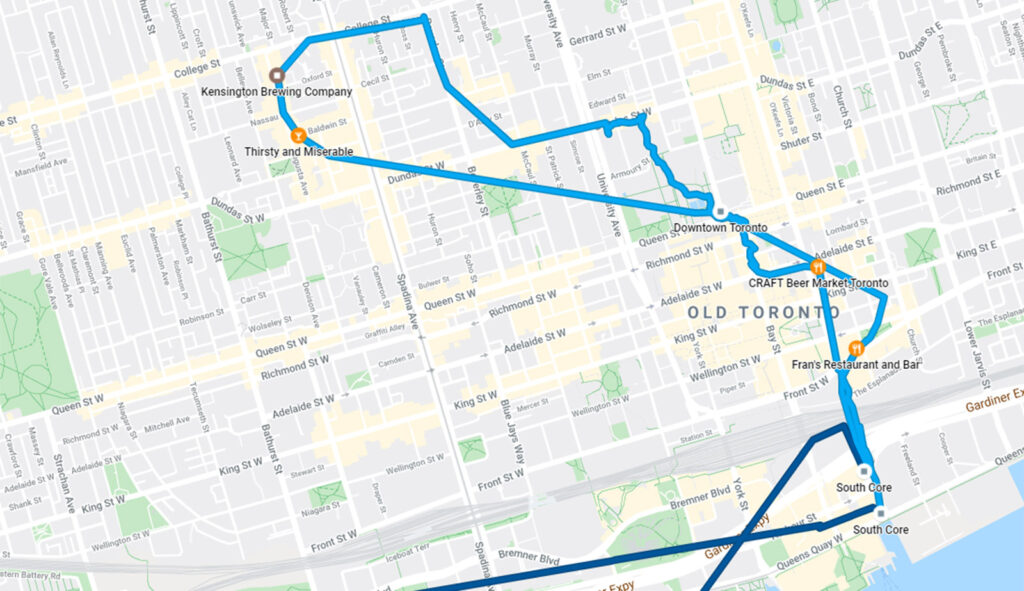 SATURDAY 8/9/18
This was sadly the last day of our epic American Adventure. Luckily our flight wasn't until early evening so we had most of the day to fit in just a few more things (e.g. beer). We took our time packing and didn't check out until midday, arriving back in Toronto at around 2 pm. We decided to take the Jack Leyton Ferry ride across to Toronto Island. It was a long wait and fairly chaotic queue but we eventually made it, arriving on the Island some 20 minutes later.
Toronto Island is a pleasant enough space, but not really much to see there, so we decided to get something to eat at the Toronto Island BBQ & Beer Co – 120 Center Island Dock, Toronto, ON M5J 2E9. This place was about as tacky as you could get. It was a really run-down place in urgent need of some TLC. We sat outside in the beer garden with our complete waste-of-money food and were immediately plagued by what appeared to be the entire wasp population of Southern Canada. Still, the view of the city over the water was good.
Making the return ferry crossing back over the lake to the city, we found the nearby Amsterdam BrewHouse, 245 Queens Quay W, Toronto, ON M5J 2K9, which was to be our last beery stop of the holiday*. This was a large, modern glass and metal constructed building and, being Saturday afternoon, was extremely busy. We had to wait in line for a few minutes to get a table and then were guided by a very friendly and helpful waitress to our seats.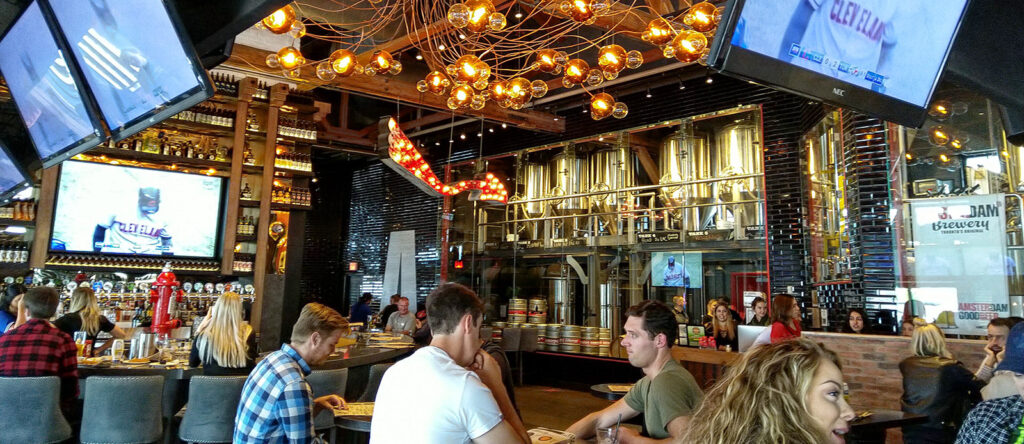 We had a long slog in ahead of us, so sensible was the word, and I only had two, both brewed on-site: A 6% Space Invader IPA and a 4.9% Cruiser Pale. Both were pretty average, but it was a nice end to a perfect holiday.
It was a 14-mile drive to the Airport and a further eight-and-a-half hour flight back via Reykjavik. I only saw the canteen at the airport (where I was charged 14 quid for an inedible sandwich) but at least I can say I've been to Iceland!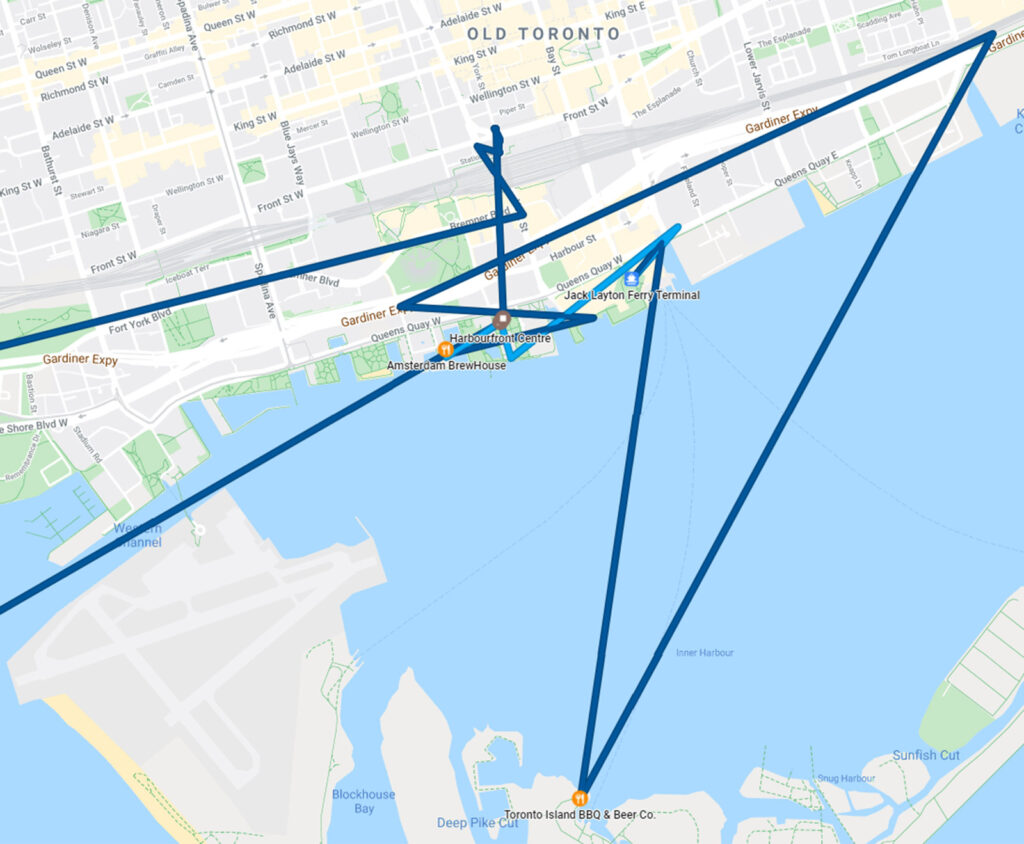 *We did actually have one more beer, breaking the journey down from Manchester airport at Real Ale Corner – 415 Chatsworth Road, Chesterfield S40 3AD, where I had a disappointingly average pint of C-BOMB 4.2% session IPA from The Brew Foundation. My first pint of cask since New York!


FINAL THOUGHTS
I loved everything about this trip, except for the constant humming of air-conditioning units! Granted, we only saw a glimpse of all the places we visited, but all the people we met were super-friendly and helpful (except for the driver on the Greyhound bus), it felt safe everywhere we went (and we walked – A LOT!) and everywhere was clean and seemed to run efficiently. Prices were reasonable, on par with home I would say, and the whole trip, including flights, hotels, Ubers, and spends cost less than £4k each.
The bustle of New York was not really to my liking, but even there you could find some quieter corners. Washington D.C. has some lovely green spaces also, but the most picturesque city for me was Pittsburgh. If I had to recommend just one city to visit, it would be Boston. It just felt a bit less hectic and I felt 'at home' there. And, of course, it's home to the brilliant Trillium Brewery!
I was particularly impressed that everything is built for the purpose. The city blocks are constructed in a grid system so everything is reasonably easy to find. The car parks are huge and parking spaces are big enough to fling your car doors open without bumping next door's vehicle. I could go on… I guess that all comes from being a fairly new Nation and having the space to build on.
I was less impressed with the amount of throw-away waste still being produced, for example, polystyrene plates and plastic cutlery being used in sit-down cafes when proper plates could've been used. I suppose it's no different from other countries, but when you imagine how much rubbish is being generated every day in this giant country, it's very worrying.
I'd like to thank my great pals Chris and Tracey for sharing this adventure with us and particularly Tracey for taking on the driving duties on the latter part of the holiday. Also to Mark and Sue for spending both time and money travelling the width of America to be with me on my 60th birthday and making it so special. I will cherish the memory forever.
Mrs. Belvoir and I have a trip to visit Mark and Sue in San Francisco pencilled in for later this year, but with all this Covid-19 malarkey, it's looking increasingly doubtful. Rest assured though, when we do make the trip it will be fully reported in these pages!
SEE THE REST OF THE AMERICAN ADVENTURE HERE:
Part 1: Boston | Part 2: New York | Part 3: Washington | Part 4: Philadelphia | Part 5: Pittsburgh | Part 6: Erie & Buffalo